If you have never been you should! It's a FREE day out and a wonderful way to keep the kids entertained.
If your little ones have seen The Gruffalo Movie and are as obsessed as mine are, then they'll go mad for this family fun day out 🙂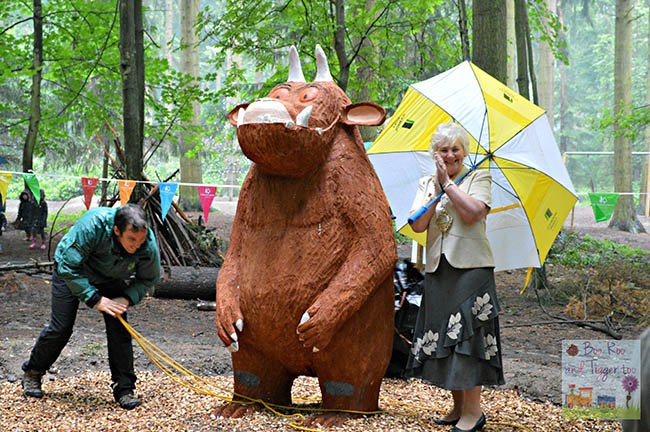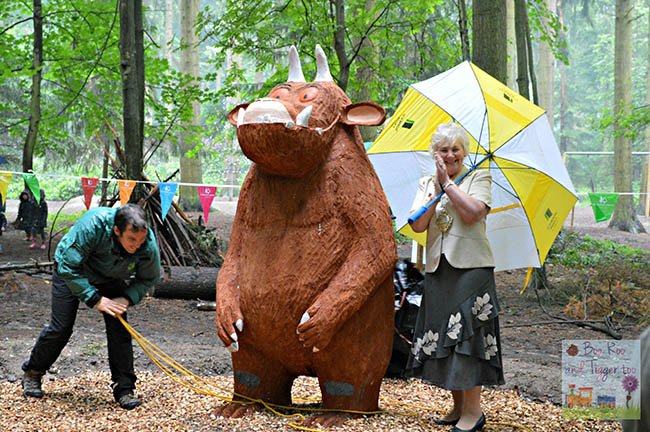 *Why not add even more fun by dressing your little ones up in a Gruffalo costume to really bring the trail to life*
Fifteen lucky forests have been joined by a giant wooden Gruffalo. Each Gruffalo has been carved in a different position – the one at Wyre Forest is fast asleep!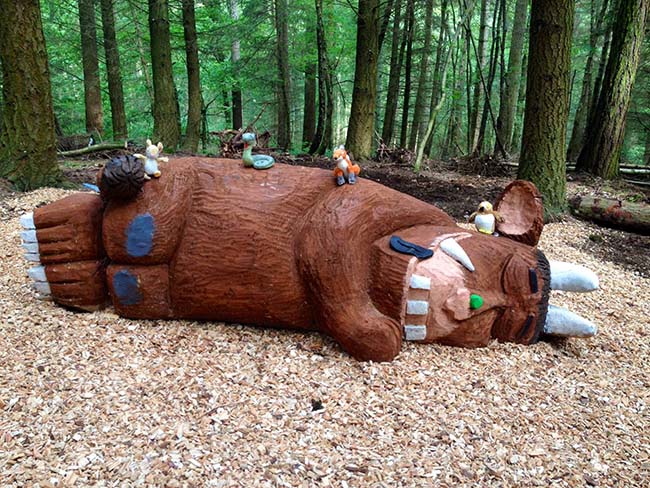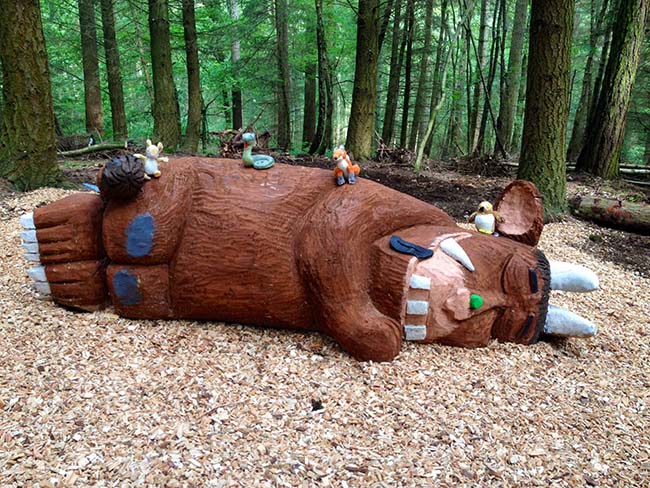 What is The Gruffalo Trail?
A series of self led activity trails across many locations at the Forestry Commission.
Characters from the stories will lead children through the forest with adventure and activities, learning about nature and forests as they go. It's a great opportunity for families to see the forests at their most breathtaking; from the magical colours of autumn through to the stark beauty of winter .
The trails will be open daily during normal forest opening hours. The trail will be in the same format as the Gruffalo's trail, so panels, character cut outs and activities for you to complete.
[iframe src='//players.brightcove.net/4221396001/V19oeQPdg_default/index.html?videoId=5326808762001&applicationId=MEN%20Embed%20Offsite' allowfullscreen frameborder=0 width='640px' height='360px']
Gruffalo Trail Locations:
The Gruffalo child trail locations are:
Alice Holt, Surrey
Bedgebury National Pinetum & Forest, Kent
Beechenhurst Forest, Gloucestershire
Bolderwood Forest, Hampshire
Cannock Chase Forest, Staffordshire
Cardinham Woods, Cornwall
Dalby Forest, Yorkshire
Delamere Forest, Cheshire
Gisburn, Lancashire
Grizedale Forest, Cumbria
Guisborough Forest, North Yorkshire
Haldon Forest Park, Exeter
Hamsterley, Durham
Haughmond Hill, Shropshire
Hick's Lodge, Leicestershire
High Lodge, Thetford Forest, Suffolk
Jeskyns Forest, Kent
Kielder Forest & Castle, Northumberland
Moors Valley Country Park, Dorset
Mountain View Ranch, Caerphilly
Salcey Forest, Northamptonshire
Sherwood Pines, Nottinghamshire
Top Lodge, Fineshade Woods, Northamptonshire
Wendover Woods, Buckinghamshire
Westonbirt Arboretum, Gloucestershire
Whinlatter, Cumbria
Wyre Forest, Worcestershire
Gruffalo Child's Trail Reviews
"Gruffalo child's trail was brilliant!"
We went to the heritage centre to see the gruffalo and weren't disappointed. Our 2 1/2 year old really enjoyed following the story and the wood carvings were really good. There was a fire and wood festival happening when we went which was also quite interesting.
2013, Dean Heritage Centre
Where Are The Gruffalo Sculptures?
We can't give you exact locations (that would be telling! 😉 ) but we can tell you which fifteen lucky forests have been joined by the giant wooden Gruffalos!
You'll see him in different positions – the one at Wyre Forest is fast asleep!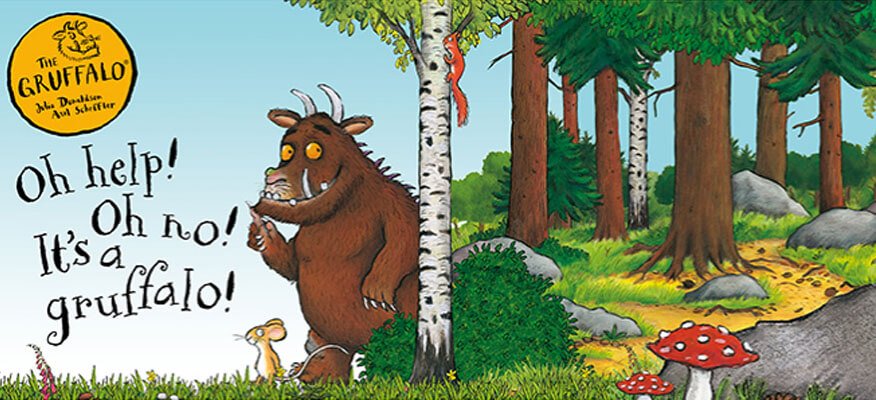 You can find a Gruffalo sculpture at each of the following forest locations.
Alice Holt, Surrey
Bedgebury National Pinetum & Forest, Kent
Cannock Chase, Staffordshire
Dalby Forest, Yorkshire
Delamere Forest, Cheshire
Haldon Forest Park, Exeter
Hamsterley Forest, Durham
High Lodge, Thetford Forest, Suffolk
Moors Valley Country Park, Dorset
Sherwood Pines, Nottingham
Top Lodge, Fineshade woods, Northamptonshire
Wendover Woods, Buckinghamshire
Westonbirt, Gloucestershire
Whinlatter Forest, Cumbria
Wyre Forest, Shropshire
[button link="http://www.forestry.gov.uk/gruffalo" size="medium" color="orange" window="yes"] More Information [/button]
Gruffalo Spotter App