No family holiday would be complete without a splashtastic trip to a water park!! With so many to choose from across the globe, here at familybreakfinder, we decided to make life a little easier for you by rounding up the biggest and the best to suit all ages!
As you can see from the below lists, there is plenty of choice both near and far!
It's no surprise that SIAM PARK in Costa Adeje, Tenerife comes top of the list wherever you look, there's some great family deals to be had!
If you're looking for something further afield… have you considered BRAZIL? There's a surprising selection of parks to keep everyone happy!
If you're interested in booking a water park holiday to any of the below destinations, send us a message here and one of our friendly family travel specialists will be happy to help!
Water Parks In Europe >
Siam Park – TENERIFE (rated 4.5/5 on Trip Advisor)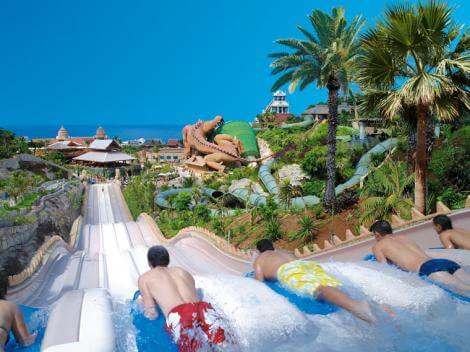 Siam Park is so much more than a water park… it's an exciting adventureland set in its very own tropical paradise! Non swimmers can enjoy the slides too! You don't have to be an adrenaline addict, or surfer to enjoy the Park. You don't even have to be a swimmer! The magical world of Siam water park, with it's Thai theme throughout, is set in a lush, green and tranquil environment that the whole family can enjoy, young or old.
Aquapark Istralandia – CROATIA (rated 4.5/5 on Trip Advisor)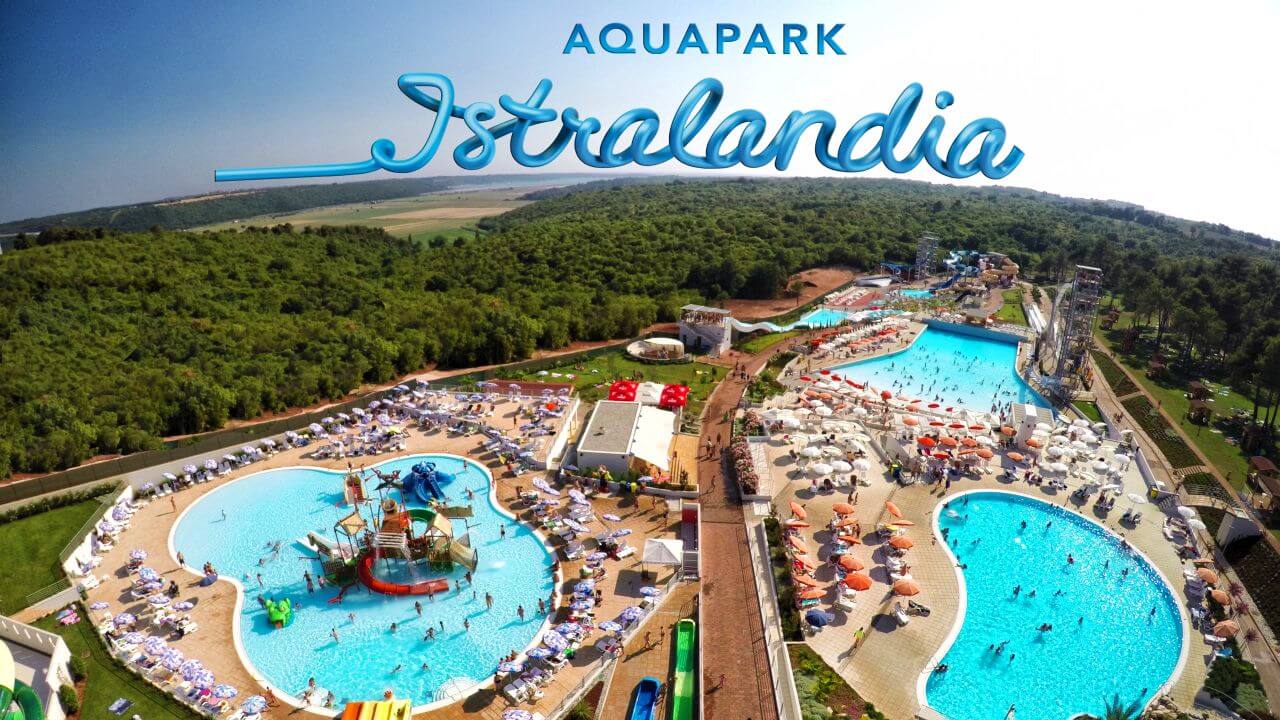 Voted Europe's 2nd best waterpark by Trip Advisor (with Siam Park pipping it to the post), Aqualand is situated on the cost of the most northern part of the Istrian penninsula, surrounded by a beautiful forest! There's over 24 attractions, 20 slides, and the largest wave pool in the whole of the Mediterranean. For the yournger ones, there is a fantastic children's pool, with a lot of theme activities inspired by pirates and a watercastle!
Waterworld Waterpark, Ayia Napa – CYRPUS (rated 4.5/5 on Trip Advisor)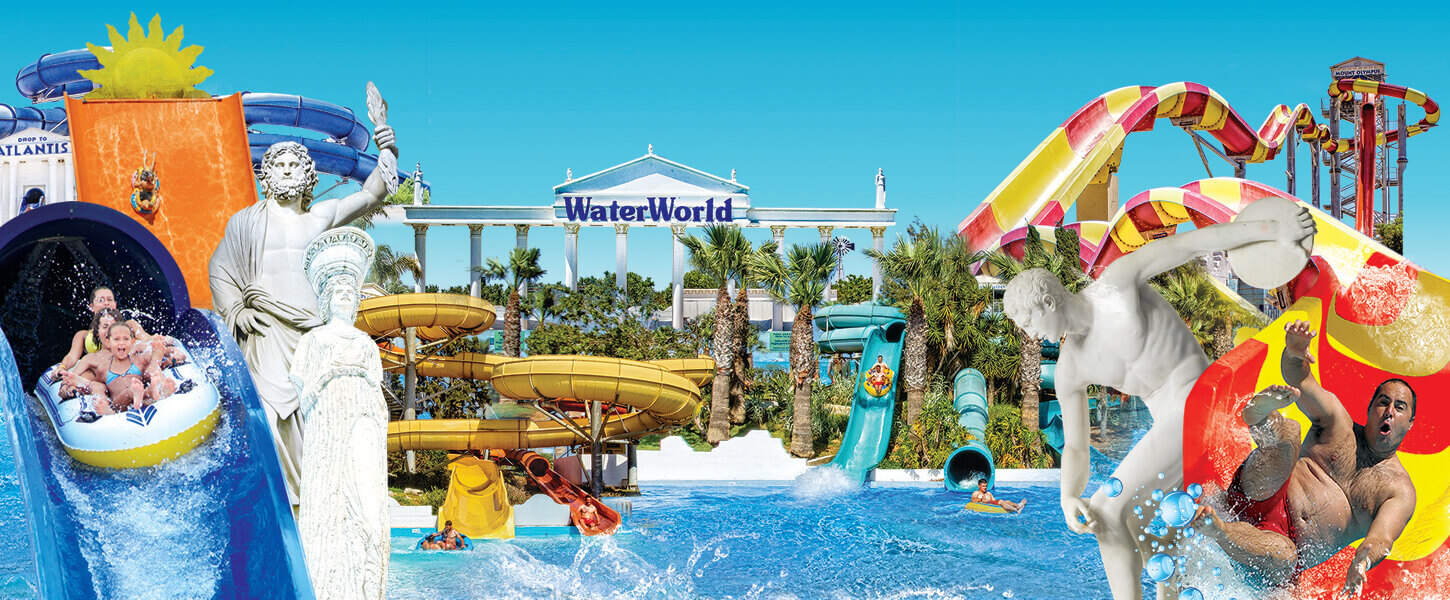 Waterworld is the 'Biggest Themed Water Park in Europe' and winner of 26 international awards! With over 21 thrilling rides for all ages, the park is themed on ancient Greek mythology. Top attractions include Chariots chase, Aeolos Whirlpool, the River Odyssey and Poseidon wave pool. Children are well catered for with the Atlantis activity pool, Pegasus Children's pool and the Trojan adventure. Those seeking a more adrenalin-fueled ride can attempt the Kamikaze slides, Drop to Atlantis and the fall of Icarus!
Action Aquapark – BULGARIA (rated 4.5/5 on Trip Advisor)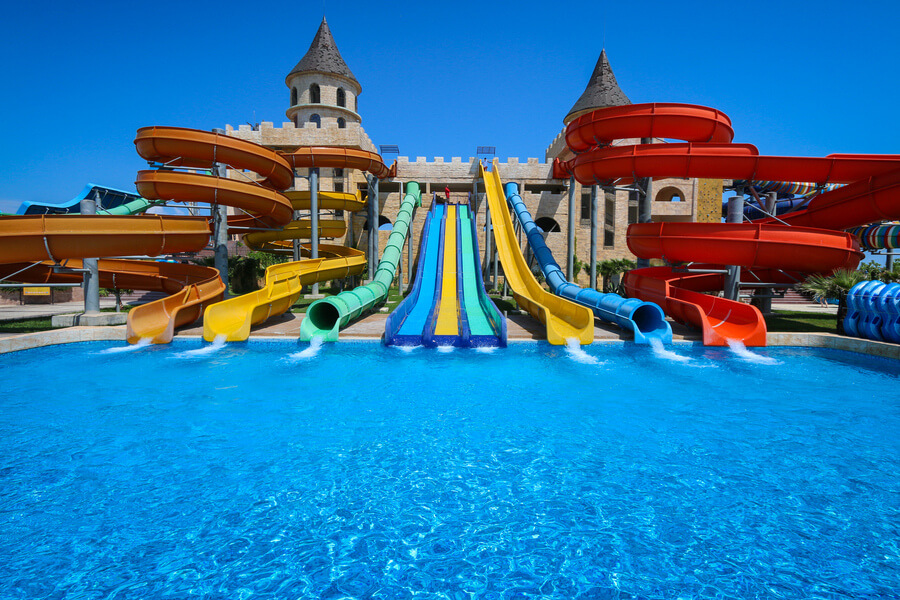 This water park was one of the first water parks to open in Bulgaria, and boasts around 30 water attractions, for both adults and kids. If you like adrenaline rides there is the 'Extreme' with its terrifying 18 meter drop or the 'Free Fall' which is equally fast. If you like it more quite, the lazy river or the wave pool is probably the right thing for you. For the kids there is a kids zone with adventure pool and water castle; additionally there is a mini zoo and animation program, so plenty of stuff for the kids to do, while parents can relax around the beautiful adult pool.
Etnaland – ITALY (rated 4.5/5 on Trip Advisor)

The Sicilian Amusement Park Etnaland, is located at the foot of one of the beauties on Unesco's World Heritage List: the majestic Volcano Etna. Summer in Etnaland offers a full day of excitement with the Aquapark. Incredible slides, aquatic attractions such as the popular Kamikaze, rafts and boats, pools and relaxing areas. The aquatic park makes everyone surf the wave of fun. Visitors will also find one of the largest wave pools in Europe and Miniland, a fully-equipped area dedicated to little guests!
Slide and Splash – PORTUGAL (rated 4.5/5 on Trip Advisor)
Slide & Splash has been considered one of the best and largest water parks in the country and Europe! With a total area of ​​7 hectares, the park offers many aquatic entertainments for all tastes and ages, as well as lawns or sun loungers, zones with animal shows, massage and fish spa, several restaurants and a shop. The Bog Wave (added in 2016) and a new Tropical Paradise children's area are the latest additions!
Aquapark Lebyazhiy – BELARUS (rated 4.5/5 on Trip Advisor)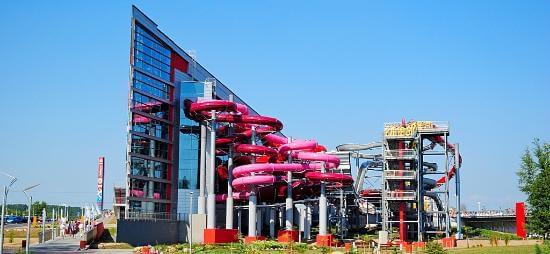 A fun experience for all ages, this aquapark offers a great variety of slides, indoor and outdoor pools, as well as spa facilities. Looking to spend a fun day in Minsk? Head to the Lebyazhiy water park. Located in the middle of the city near the Svislach river, the amusement park is a haven for young kids and adults alike. There are more than ten different types of slides and an aqua zone that will drench you with joy.
Sandcastle Waterpark – BLACKPOOL, ENGLAND (rated 4/5 on Trip Advisor)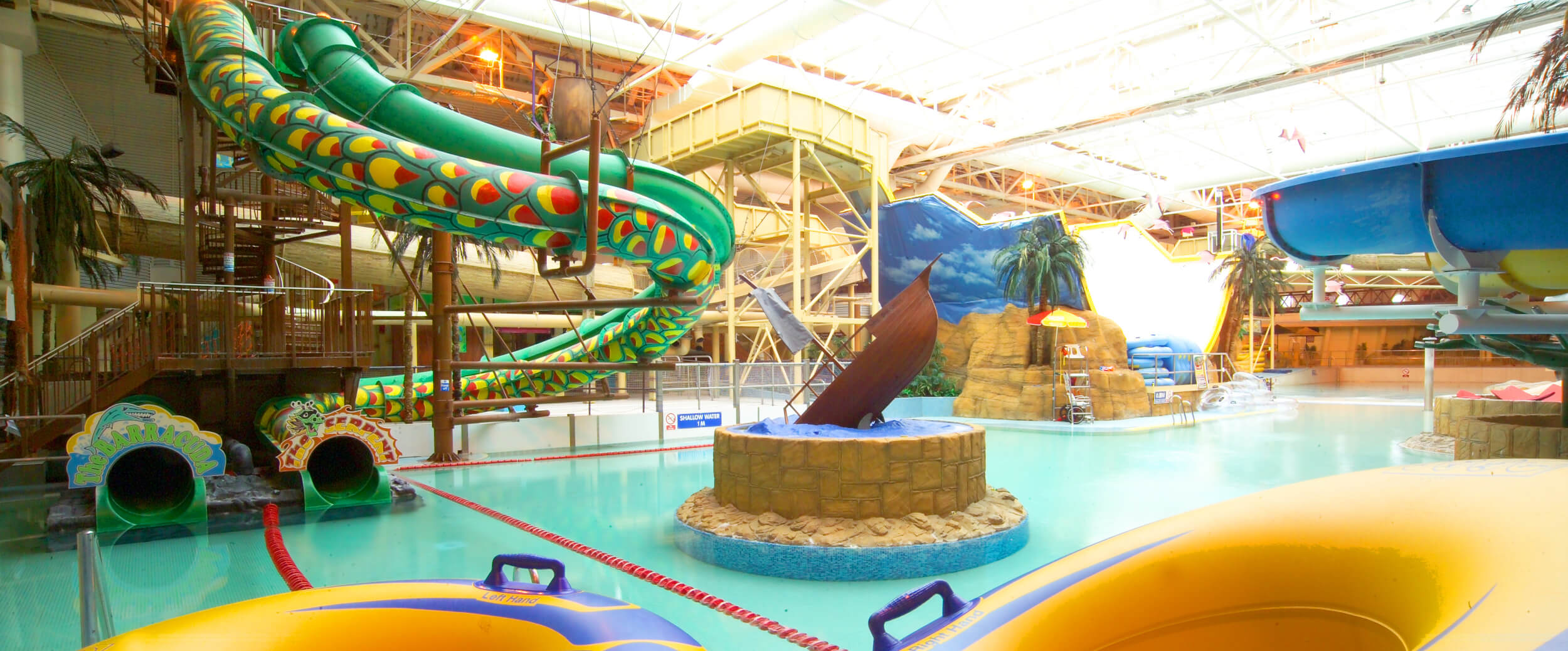 This is the UK's largest indoor water park with more than 18 rides and attractions – including water slides, fun pools, wave machine, water chutes, burger bars, snack bars, arcades, swim shop and much much more! So, if you're looking for things to do in Blackpool and fancy a great day out make sure you visit Sandcastle Waterpark. They cater for families with children of any age and can even organise birthday parties. Sandcastle Waterpark is opposite the Pleasure Beach on the sea side of the promenade.
Aquapark Wroclaw – POLAND (rated 4.5/5 on Trip Advisor)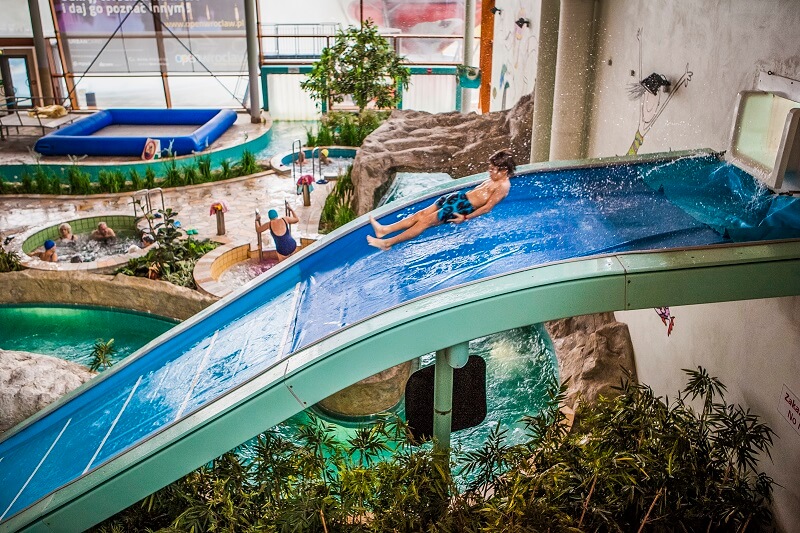 Aquapark Wroclaw opened in 2008. Until today it remains one of the best and most frequently visited water parks in Europe. Not sure what to expect? How about water madness in one of the pools? Then you can relax your body and spirit in a steamy hot sauna. Or maybe you prefer an active recreation at the Fitness and Gym area?
Aqua Fantasy Waterpark – TURKEY (rated 4/5 on Trip Advisor)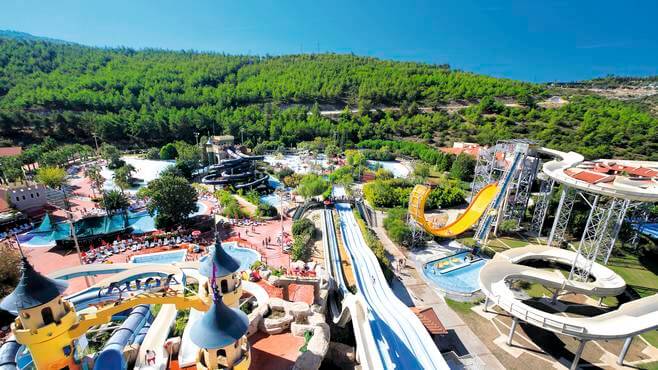 Speedy slides, a lazy river and friendly crocodiles are all in store at the Aqua Fantasy's waterpark. Plus, you've got the beach as your back garden. Take pine-clad hills, the Aegean coast and the supersized Aqua Fantasy hotel and you've got a winning combo. The waterpark a winner, lining up pools, a lazy river, and more than 30 slides.
Aqualandia – SPAIN (rated 4/5 on Trip Advisor)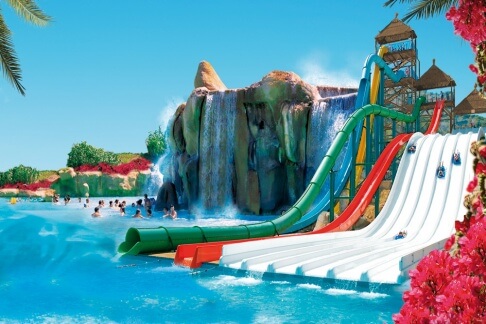 With over 20 rides and areas, Aqualandia has something for everyone. From the adrenalin pumping "Splash" to the relaxing "Amazonas" ! It's splashtastic excitement all the way – wet'n wild, with water thrills and fun for everyone. From the spectacular Big Bang or Kamikaze, to gentle bathing in a Lagoon, come and join the wet-set!! NEW! Vertigo, the hightest capsule slide in the world!
Water Parks Further afield >
Brazil
Beach Park – Aquiraz
Thermas dos Laranjais – Olimpia
Hot Park – Rio Quente
Eco Parque – Arraial d'Ajuda
diRoma Acqua Park – Caldas Novas
Bali
Waterbom – Kuta, Indonesia
Dubai (UAE)
Aquaventure Waterpark – Dubai
Wild Wadi – Dubai
Yas Waterworld – Yas Island, Abu Dhabi
America
Disney's Typhoon Lagoon Waterpark – Orlando, Florida
Disney's Blizzard Beach Waterpark – Orlando, Florida
Wet 'n Wild – Orlando, Florida
Aquatica – Orlando, Florida
Holiday World & Splashin' Safari, Santa Claus – Indiana
Water Country USA – Williamsburg, Virginia
Bahamas
Aquaventure at Atlantis – Naussau Paradise Island
India
Thailand
Ramayana Water Park – Pattaya, Thailand
Malaysia
Sunway Lagoon – Petaling Jaya, Malaysia
Egypt
Makadi Water World – Hurghada, Egypt
If you're interested in booking a water park holiday to any of the above destinations, send us a message here and one of our friendly family travel specialists will be happy to help!