The starting point of any flight search is a comparison site. But which to use? Not just one is the answer! They often all find different results. I've found the 10 below to be the best out there.
I highly recommend running your search in at least three. This list will save you both time and money. Please do read on – you'll also discover 35 different ways to save money. It's not all down to a search engine!
Sign up to our newsletter and we'll let you know of any new flight tips or fab sales.
Skyscanner
Skyscanner website: Skyscanner.net
Loved for it's slick, easy-to-use menus.

It searches over 1,200 different airlines and agents.

Presents fare options over a month so you can see at a glance the cheapest time to travel.
Compare flight prices with Skyscanner using the form below.
Momondo
Momondo website: Momondo.com
Regularly delivers the cheapest flights. Which magazine found the same.
Good for flights covering multiple stops.
Bar charts at the top of the results indicate quickly how the prices vary before and after your chosen dates.
Compared to Google Flights, Momondo presents a refreshing colourful aesthetic.
KAYAK
KAYAK website: Kayak.com
Lots of filtering options and is very good for USA fares.
Filter option for check in bags helps get true costs.
TravelSupermarket
Travelsupermarket website: Travelsupermarket.com
Hipmunk
Hipmunk website: Hipmunk.com
US-based site that we recommend for long haul flights when you also want to look at hotel and

car hire options.

And for cheap internal US flights with the likes of JetBlue and Southwest, give

AirFareWatchdog

a scan.
Google Flights
Google Flights website: Google.com/flights
As you'd expect, Google Flights is very quick. When you're doing dozens of searches you'll soon notice a slow flight search engine.
Handily highlights cheaper flights close to your chosen dates.
Also good for discovering new destinations
Tripadvisor Flights
TripAdvisor Flights website: Tripadvisor.com/flights
Expedia
Like the way it double-checks you understand the fare you are getting
Offers hotels as an up-sell but do check this is not cheaper purchasing elsewhere.
Expedia Flights website: Expedia.com
Adioso
Adioso website: Adioso.com
Not the cheapest but the site is great to use.
You can also use plain English for searches 'NYC to London in May'
Clearly outlines the cheapest, best and fastest trips.
Get your travel insurance STRAIGHT AWAY
As soon as you've sorted your flights, book your travel insurance. That way you're protected in case you need to cancel your flights.
Don't accept the airline or agent's insurance that you are offered when you book your flight – because it's likely to be cheaper elsewhere. Though which one works out cheapest will depend on finer details, like the size of your party and ages of family members.
For a one-off European trip we find Protect Your Bubble the cheapest. Other bargain providers to compare for single trips and family holidays are HolidaySafe and Leisure Guard.
In our research, Insureandaway was best for a one-off trip to long-haul destination (family of four).
If you go away more than once a year it's definitely cheaper to get an annual or 'multi-trip' insurance policy. The top three to compare here are Coverwise, InsureAndGo and Multitrip.
Special policies for the over 50s are offered by Staysure.
Book early – save BIG
Just as with car hire, you'll save money by booking as early as you can. And with some airlines, like Easyjet, it doesn't even matter if the price goes DOWN after you book because you can claim the difference back (more on this later).
Long haul flights totalling thousands of pounds should definitely be booked early. We found that, even during the booking process, a flight with Emirates from London to Sydney went up by £50 in the space of 20 minutes.
But for short and medium haul, take a look at Skyscanner's research which suggests the 'sweet spot' for cheap flights by destination.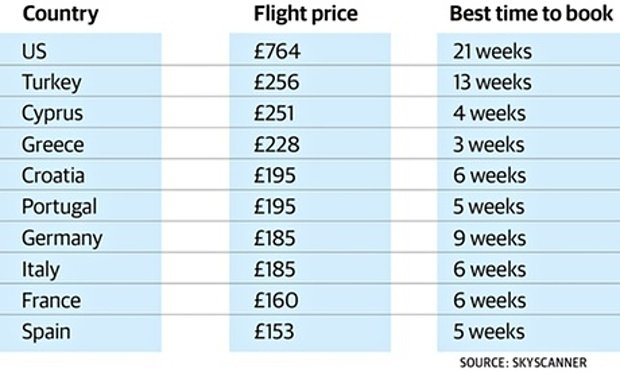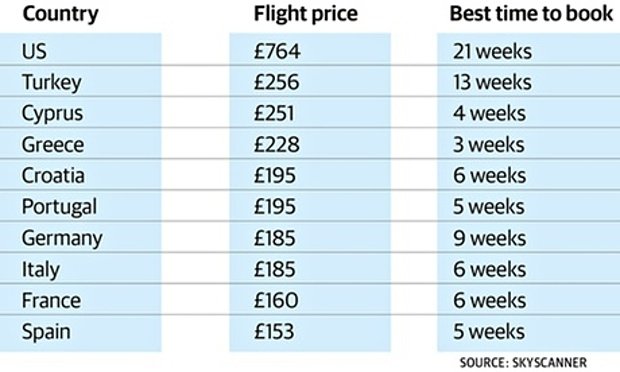 Don't ignore the brokers
Our other top tip is that, as well as using a flight comparison site, you should check out the brokers.
These are websites like Expedia, Last Minute, Ebookers, Opodo and Netflights.
Unlike the comparison sites they don't search everything. Instead they show you deals that they have secured directly and they usually manage the booking process as well.
Brokers are particularly worth looking at if you are interested in cheap flights + hotel or a package holiday.
DOING YOUR RESEARCH
Put the time in – you'll be rewarded
Most flights are a big money purchase, which means there are also big savings to make. The more time you invest in research, the better you'll understand the market for your flight destination.
Don't rush! Spend time to read all the tips here. We guarantee you'll save pounds.
This incredible tool will reveal your best chances of a cheap flight
Work out when the most expensive times to fly are, using this great tool from Momondo.

Pick your destination and preferred travel times, then search. On the results page click 'Flight insight' in the top right. You will then be able to see the best and worst times to travel, price wise, across 52 weeks of the year.
For example, on the London to Sydney route Momondo reveals you would save £700+ by travelling on 2 November rather than 14 December.
A powerful tool for the flexible traveller.
Find out everyone that flies your route
When you use a cheap flight search engine or booking agent, you may only be offered flights from a selection of airlines. But it's worth knowing EVERYONE that flies your route so you can check their prices directly.
Two good tools for that are Which Budget and Fly Cheapo.
Use Fly Cheapo if you're looking for low budget options in Europe – it highlights all the low-cost competitors by route.

Which Budget is useful if you're feeling adventurous enough to plan a long haul journey using low-budget local carriers.
How to be first to the new deals
Here are two ways you can make sure you are quick to jump on any airline offers.

Firstly, once you know the airlines that you are interested in, sign up to their customer newsletters. Most airlines announce new deals through their weekly newsletters and may send out promo codes. There are also independent newsletters that round up new deals, like the popular Travel Zoo email.

Secondly you could try setting a Google Alert for your search term. This means that every time a new webpage is created featuring your term – eg "British Airways discount" – you get an email notifying you.
KNOW ALL YOUR OPTIONS
These next tips are all about the different ways you could secure a cheap flight as well as the 'features' of your deal you should factor in, like food and seats.
Don't rule out charter flights
Planning a Med trip or other European beach holiday? Even if you're not booking a package you can still fly on a charter jet. And it may well be cheaper.
Most people turn to the likes of Easyjet and Ryanair when booking their short-haul holiday flights.
But charter airlines such as TUI and First Choice may have better deals – particularly if you're looking for a late bargain.
Is a package holiday actually cheaper?
Once you've calculated the cost of your flights, accommodation and airport transfers you may also want to consider if a package holiday is better for you. It depends what you want from your holiday.
With flights, accommodation and transfers usually part of the package deal – not to mention food and drink with the all-inclusive – it could be something to think about.
Take a look at Expedia to compare.
Get the best seats with this geeky tool
SeatGuru is a clever site that shows you where the best seats are on your aircraft – and which ones to avoid.
With seat reviews from thousands of users and details of over 800 aircraft, you can make sure you're not getting given a bad position.
SeatGuru looks at everything from legroom and reclining distances to TV screen availability and closeness to the toilets. They also have airport reviews telling you where to find charging stations and how to get free wifi.
See what the food's like
If you have dietary requirements or want to find out who does the nicest meals, use AirlineMeals.net to check out user reviews.
Most airline websites provide a sample menu to inspect, but AirlineMeals.net will tell you what pasengers actually thought of the food.
The food on low budget short-haul flights is usually limited to sandwiches, crisps and chocolate, and you'll pay an extortionate price. So to save money, make sure you take your own food and drink on board (remembering the drink will need to be purchased after security check).
Mix and match airlines for a bargain
It seems natural to book your return flight with the same airline that you're flying out with.
But have you noticed how often the flights going one way are a lot more expensive than those going the other?
It's actually possible to choose DIFFERENT airlines for each of your outbound and inbound flights. And thanks to Skyscanner, there's even a tool to help you pick the best options.
Choose 'Any UK' or 'Any London' airport, for example, as your departure airport and Skyscanner highlights flights that take off and return to different domestic airports but potentially save you money.
Or pick your preferred UK airport and Skyscanner will show you the cheapest single flights there and back, irrespective of the carrier. So you could end up departing with Easyjet and flying back with another airline.
EXTRA THINGS TO CONSIDER
These tips are all about being prepared for extra costs, like car hire and food.
Going to need a car?
Don't delay thinking about your holiday car hire needs.
While we don't recommend just accepting the airline's deal (most offer car hire during the flight booking process) it IS wise to book early.
So check out car hire offers either during or just after your flight booking. These are our top car hire comparison sites to find the best deals:
Travelsupermarket

's strength is holiday car rental and it does a solid job of rounding up cheap deals from dozens of car hire companies. In our tests it often found the best prices.
Kayak

is speedy and has an elegant, easy-to-use interface. It's worth including in your search because it sometimes finds car hire deals you haven't seen elsewhere.
Carrentals

is focussed solely on car hire, unlike others that also compare flights, hotels and holidays. Which means it's very comprehensive, with over 50 suppliers checked. Rated 9/10 on TrustPilot, it works hard to keep its strong reputation and provides excellent detail on each option.
Confused.com

is not best known for car hire, but it has partnered with the highly-regarded global engine Cartrawler which picks out some very cheap prices. Deals are well organised and the booking process is an easy three steps.
But there's a lot more to know about than this. Read our complete list of car hire tips.
Can you handle a stopover?
For many it's a bit of a pain having a stopover on your flight. But if it means a saving of hundreds of pounds it might be worth it.
Using a comparison site like Momondo or Skyscanner or Kayak, make sure you tick 'indirect' in the search filter to see all the route options.
In our research we found the following example price differences which are typical of direct versus indirect. Searching for the cheapest two week return flights in December, we discovered:
London to Bangkok Direct £500 Indirect £338 Difference £162
London to New York Direct £361 Indirect £302 Difference £59
London to Tokyo Direct £620 Indirect £373 Difference £247
Sometimes the savings are large enough to mean you can enjoy a short break in another city.
Why you should pay by credit card
There's a very easy way to protect your flight purchase: pay by credit card.
So long as you're spending more than £100, your purchase is protected by law and – should anything go wrong, like the airline going bankrupt – you can claim your money back.
Just make sure you pay off this high value purchase straight away; you don't need a balance like that hanging around for too long gathering interest.
If you're booking a holiday package with flights and accommodation included, your package provider should be ATOL protected. Most of the big names are, but do check before you click 'submit'. Because it's not uncommon to hear of travel firms going under.
Are you checking all the extra fees?
One weakness of the flight search websites is that they don't always show the airline's extra fees.
So you might click through on a decent deal only to find extra charges for luggage, seat reservations, food and more. Low budget airline RyanAir will charge you for using a credit card and even for check in at the airport!
You need to factor in these charges as you search for fares.
Also there may be ways to get around them.
Avoid checking-in luggage on a low-budget flight with Easyjet, RyanAir or Flybe and you'll save yourself between £9 and £45 extra.
Check in online rather than at the airport and you'll avoid charges from RyanAir (£90) and Wizz Air (£45).
And even though your baby (up to 2 years-old) is sitting on your lap, most budget airlines charge you around £40-50 for having them on board.
All these extras means that sometimes the low budget carriers are actually not the cheapest option. Shop around.
Do you need airport parking?
If you're taking your car to the airport, which is often the cheaper and more convenient option for families, you'll need to pay for airport parking.
Again, the key to saving money is quick action. Don't wait – start looking for the best deals as soon as you book your flight.
Holiday Extras is the best known airport parking comparison site. Simple to use, it provides quotes from a good range of car park operators.
Also worth checking is Skypark, which claims the lowest prices and has more 'meet and greet' style offers than others. Another to try is Looking4Parking.
Going to the USA?
To fly into the US as a tourist you need to make sure you complete an ESTA form at least three days before you travel. You will not be allowed in without it.
The ESTA details your flight information, the place you are staying on arrival and the reason for your visit. It can be completed online and costs $14.
Various websites offer US visa services and ESTA advice. If you are taking a straightforward holiday to the USA, you don't need them. Avoid their big fees.
Should you be collecting loyalty points?
UK travellers can take advantage of a loyalty scheme called Avios.
It used to be known as 'Air Miles' but it's always been somewhat misunderstood. It's not just for frequent flyers.
The money you spend on your weekly groceries, fuel, online shopping and even DIY materials can all count towards Avios points. Those points can then be converted into cheap flights.
The quickest way to understand the scheme's benefits is to go to Avios.com and complete an easy survey of your monthly spending. Then you'll find out what you could be claiming in loyalty points.
In our research, a typical family with average outgoings could earn themselves a free European return flight each year.
Are you paying the right fare for your kids?
We all have to pay a tax on international flights. It's called Air Passenger Duty (APD).
However the government recently scrapped APD for children under 12. And from March 2016 they are also scrapping it for under 16s.
This means that if you're booking a flight that leaves after 1 March you do not need to pay APD.
APD is charged at £13 for a flight under 2000 miles and £71 for a flight above. To give an idea of distance: Egypt is just over 2100 miles from the UK.
If you've got kids, make sure your flight extras do not include APD. Note that some airlines are currently charging APD for children, but then refunding you automatically after checkout.
Use Hoppa to sort your airport to resort transfer
Airport transfers can be a rip off. You don't want to do all the work to save money on a cheap flight and then get stung by an unscrupulous taxi driver or expensive shuttle bus firm.
Hoppa will come to your rescue. It's an online booking tool for airport transfers anywhere in the world, and it's got great customer satisfaction.
Use Hoppa and you'll have peace of mind that there's a driver waiting for you when you land and your fare is paid. Do a search for promo codes before you book.
EIGHT REALLY SNEAKY TRICKS THAT COULD SAVE YOU MORE
These are our guerilla ideas for stealing a bargain. Some of them aren't for the fainthearted!
Avoid the school holiday price hike with this loophole
Some airlines, including Easyjet, offer customers a 'flexi fare' option.
This is where you pay more than the standard rate for your flight, but get a range of extra features like priority boarding and bigger luggage allowance.
You also get the option to change your flight date to another day.
So long as your new flight date is within four weeks of your original departure day there is no charge. This means you can sometimes snaffle a sneaky backdoor bargain by booking on a cheap day and switching to a pricey day after your booking is made.
In our research it was hard to find flexi fares months ahead of departure, but this might be something you can pull off if you're looking for a late getaway as half term approaches.
Can you get a free flight with an airline credit card?
Credit cards issued by airlines come with air miles. That means when you apply for a card and start using it you begin earning reward 'miles' that count towards a free flight.
For example, the Virgin Atlantic Credit Card currently offers 3,000 free miles when you sign up and a further 7,000 miles after you spend £1000 in the first 90 days.
With 10,000 miles you could trade in an economy seat for a premium upgrade – or count them towards a free trip.
Other offers to check out are the Avios-based Lloyds Bank Credit Card, the Emirates Skywards Credit Card and the British Airways American Express Card. These all come with air miles.
There are some people travelling the world for next-to-nothing using airline credit cards. To understand the tricks more deeply, check out Brian Kelly's blog. He's known as 'The Points Guy' and he has flown from the US across Africa for just a few dollars using this approach.
Play the price match card
Many airlines, including popular Easyjet, offer a price match guarantee.
They'll say that, if you see them advertising the same flight cheaper after you've booked, they'll refund the difference. The thing is, few people ever check.
But just by being prepared to keep an eye on prices you can place your booking secure in the knowledge that you got the best price. Set up a reminder to check every week.
Orbitz has a Best Price Guarantee, which entitles you to money back if you find your itinerary for less on another website.
You can set up a price alert on some comparison sites to keep track of falling fares. Kayak does this – you'll get an email when a price drops.Try the agents that specialise in countries or regions.
The UK is home to hundreds of specialist travel agents catering for local immigrant communities.
Their customers often make regular trips to see family and do business, meaning these agents can secure good relationships with airlines and great prices.
Walk around Leicester's Belgrave area or London's Chinatown and you'll see specialist Indian or Chinese agents advertising amazing deals for Asia.
But that isn't always practical, so instead we recommend checking the travel classified sections of UK websites like The Voice (Africa and Caribbean), Jewish Chronicle (Israel and US) or Indian Post (India) to find bargain cheap flights.
Here's our pick of the online specialists – note that you might have to phone and haggle for the very best deals.
Far East
Omega Travel, Jade Travel, Sagitta Travel
India and Asia
Southall Travel
Caribbean
Newmont
Exploit the airline's codesharing arrangements
Most airlines around the world have codesharing arrangements with other airlines. This is where two or more carriers operate the same flights on the same route. And they both sell seats on each other's aircrafts.
The key time to be aware of this is when you are booking directly through an airline's website.
You might notice, for example, when booking a British Airways flight to Amsterdam that there's a small message on your confirmation screen such as: "Operated by KLM'.
This means that KLM, as well as providing this flight, also sells tickets for it – and they may be cheaper.
There are 1000s of codeshare agreements in place. What you should do is, once you have identified your carrier of choice, Google their name along with 'codeshare partners' to discover who else operates your flight. Or just use Skyscanner which searches and compares codeshare prices.
Slash your fare with a split ticket or open jaw price
Struggling to find an affordable flight? There are a couple of other tricks you can try to bring the price down.
First try splitting the ticket. Let's say you're looking for cheap flights to Greece in the summer holidays. You've left it late and the prices are astronomical. It may be that by flying first to, say Poland or Prague, you could then book a second flight to Athens and sneak around the prices set for UK holidaymakers.
Another idea is the open jaw. This is where you don't fly back from the same airport that you landed in. Google has a specialist search engine for finding these fares called ITA Matrix.
It's not a myth – clear your cookies because the airline is watching!
When you look at a flight on an airline's website there's a chance they might record your interest and, next time you go back, hike up the price because they know you're a keen customer.
This is a tactic – using 'cookies' that leave a tracking code in your internet history – that has been reported by The Guardian and by readers of the Telegraph.
We recommend you do all your searching privately. So if using Google Chrome or Firefox activate the 'Incognito window' or 'Private browsing' mode. In Internet Explorer choose 'InPrivate'.
Try the controversial 'hidden city' method
Consumer website Skiplagged got sued last year for revealing this crafty tactic – but the judge threw out the case.

It's not unlawful, but the airlines don't like it and some have been known to cancel the flights of people trying this method.
It works like this. Say you want to go to Toronto, Canada, but the flights are over £1500. You might find that there are flights going to other places – for example New York – that stopover in Toronto on route and cost £1000.
The hidden city method involves simply getting off the plane in Toronto and not getting on the New York flight!
There are some issues. It means you can only take hand luggage, because the airline is not going to take your bags out of the hold for you. And it's advisable to only use this method on single-way flights because, once it's discovered you abandoned the journey, the airline may well cancel your return ticket.
FINALLY: A FEW OTHER THINGS TO TRY
These are our less controversial ideas for saving money on your flight booking.
Buy late?
In most cases it's best to book very early. But if you're prepared to take a risk there may be some last minute deals to be had.
There was a time that stand-by flights were sold in the airport terminal. Now we have the internet, this is highly unusual. Most remaining flight capacity is sold online and it usually all sells out.
Check Kayak, TravelSupermarket and Skyscanner for a late flight deal. Or TravelRepublic and Broadway Travel for a last minute package.
Fly on a Wednesday
If you can afford to be flexible, Wednesday is statistically the cheapest day to travel.
Check for promo codes
Once you're at the online checkout, it's always having a quick Google for a promo code you can use.
Buy flights first thing in the morning
Flight price data is often uploaded during the quiet hours – around 1 am. So get up early to grab deals before others.
I hope you've found this guide useful. If there's anything we've missed I'd love to hear – pop over to Facebook and drop us a message.