In this short guide we've got some surprising findings on cheap airport parking in the UK.
We've picked out the best comparison sites to help you find a good deal and added some alternative ideas for saving money on airport parking.
Book early? Maybe not – here's why you should do your own homework
Some experts routinely advise you to book airport parking early.
But while the 'book early' rule is a strong one when it comes to car hire, train tickets or flights, it doesn't necessarily apply to cheap airport parking.
In our own research, we found numerous examples where the cheapest airport parking was available 12 hours before departure.
One test of parking costs at Gatwick's Long Stay North car park over a six month period showed the the cost INCREASED steadily over time.
The costs were exactly the same using the official Gatwick parking website and comparison site Holiday Extras.
Our tip: try and few different sites and compare the prices at different times of year. It may be worth sitting tight.

Use an airport parking price comparison website
A good way to begin your search for cheap airport parking is by using a price comparison site. Here are our top three choices.
Also try: APH | PurpleParking | GoSimply
If you want official airport parking, check the direct price
If you're only interested in the airport's official long stay car park – which is usually the closest option, if not the cheapest – then before using one of the comparison sites above check the price if you book direct.
Most have their own booking portals where you can choose between long stay, short stay and valet options.
Gatwick Airport official site
Heathrow Airport official site
Manchester Airport official site
Leeds Bradford Airport Parking
Search for other official airport parking sites

Get a bargain airport parking + hotel deal?
Airport parking deals that are combined with a hotel stay are worth a look; you'll sometimes find a night in the hotel is effectively a free bonus when you compare costs with other airport parking offers.
Our favourite site for a cheap airport parking + hotel deal is SuperBreak which searches around dozens of UK airports.

Cheap airport parking alternative 1: Park in a private rental space
Thanks to sites like Park On My Drive, justpark and YourParkingSpace you can arrange to park on the private drives of home-owners that live near airports.
That means you can leave your car safely outside someone's house (or in their garage) and take a bus, train or taxi to the airport minutes away.
Cheap airport parking alternative 2: Take the bus or train
While driving to the airport is often convenient, parking is not often cheap. Consider if you can manage the journey by train or bus.
There are some disadvantages to consider. You may be worried about the reliability of public transport, especially given you can't afford to miss your flight.
Plus, hauling bags around on busy trains and buses – as well as shepherding the kids – isn't much fun.
But public transport, when it works well, can also be less stressful and is likely to deliver you right to airport departures.
Use our guide to train tickets to understand how you can secure the best rail fares.
If you want to check prices right now, we like Virgin Trains which you can use to buy tickets anywhere in the UK.
For buses, check out family-friendly National Express or economy option Megabus.

Cheap airport parking alternative 3: Park on the street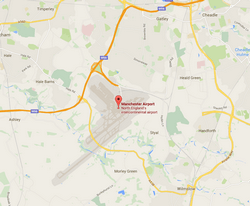 If you're really keen to save money on airport parking, you may consider parking on residential streets nearby and taking a taxi or train to your flight. It's not illegal to do this, but you may be considered a nuisance.
Many councils have taken steps to prevent street parking by non-residents, with voucher schemes, permits and extensive double yellow lines. However, the eager saver will still find free parking, using Google Streetview to assess their options.
Clearly you take a risk parking on residential streets; you may attract vandalism from angry locals. If you do pursue this alternative, our advice is to find a space on a quiet road where you are not depriving a local. And preferably choose the end of a street where you are not directly outside of someone's property.
The shorter your stay, the less likely you are to find a damaged car or upset resident on your return.
But our final word of advice on this topic is, given you could probably secure a week's parking with Park On My Drive for very little, is the 'guerilla' method really worth the holiday worry?
Final airport parking tips
When you park, make sure you note down your car park number and your nearest shuttle bus stop – airport car parks are vast and you'll never remember where you parked after two weeks on the beach!
Take a good look at where your airport car park is situated and how you will be transferred to the airport departures hall. Is there a shuttle bus service and if so how often do they run? If it's a 'meet and greet' valet service, how will you find your driver?
Check the small print on your parking deal – what happens if your return flight is delayed and you need to extend your parking stay?
If you're unsure about a car park's standards, check if they are listed on ParkMark. This is a national quality measurement scheme that requires all member car parks to adhere to certain safety and criminal protection procedures.
QUICK FIND: TOP AIRPORT PARKING SITES TO SEARCH FOR A DEAL NOW
HolidayExtras
SkyPark Secure
Looking4Parking
SuperBreak
APH
PurpleParking
GoSimply