Crazy. Complicated. Cockeyed. Just three words that have been used to describe the UK's train ticket fare system.
But don't despair, FamilyBreakFinder is here to guide you through – and to show you how to buy cheap train tickets at rock-bottom prices!
GETTING STARTED WITH CHEAP TRAIN TICKETS
Compare prices on the big national sites
The first place to check for cheap train tickets is with one of the UK's national booking websites. But which to use?
They all have their pros and cons. You need to consider their booking fees and also factor in loyalty points and special offers. Here are our picks:
VirginTrains is our TOP recommendation. "But isn't it just for Virgin's routes?" we hear you ask. No! Many don't realise that VirginTrains provides fares and times for the whole rail network using the same search engine as Trainline. And the reason we like it is because, unlike others, it doesn't add booking fees or credit card charges. It's also one of the smoothest sites to use.
raileasy gets our thumbs up for their promise to refund your tickets if you find them cheaper elsewhere. They'll also tell you how long it will take and how much it will cost if you took a National Express coach instead.
Trainline is a popular option that's worth an additional try. Why? Because they buy up seat allocations from train operating companies, meaning they can sometimes discount better than others. Reader Natasha from Scotland recommends their Best Fare Finder tool.
RedSpottedHanky is the default choice if you collect Tesco Clubcard vouchers. We'll reveal why further on.
What matters most with all of these national sites – known as rail ticket retailers – is the range of routes and offers they find as well as their extra charges.
Because in most cases, by regulation, all UK rail fares are sold are the same price. So it's the different types of tickets or routes found that lead you to the best offer. Some sites are better than others at finding cheap train tickets.
With that in mind, a few other rail ticket retailers you could try are takethetrain.co.uk, Train Genius, My Train Ticket and of course National Rail which finds the times and prices before sending you directly to the train operating company to book.
ALWAYS check the TOC as well
In a report by Which?, even a rail ticket retailer admitted that it's often cheapest to go directly to the training operating company (TOC) to buy your ticket.
The reason is this: TOCs own the route and are able to offer unique discounts that the rail ticket retailer can't.
So when you know where you are going, find out which TOC operates trains on the route. Some routes have more than one TOC:
London – York (East Coast and Grand Central)
London – Doncaster (East Coast, Hull Trains and Grand Central)
London – Bradford (Grand Central and East Coast)
London – Birmingham (Virgin Trains, Chiltern Railways and London Midland)
London – Exeter (First Great Western and South West Trains)
London – Cambridge (First Capital Connect and Greater Anglia)
London – Brighton (First Capital Connect and Southern)
London – Bedford (East Midlands Trains and First Capital Connect)
York – Newcastle (East Coast, CrossCountry and TransPennine Express)
For a full list of TOCs and their regions, see ATOC.
You're on your own! Become a cheap fare warrior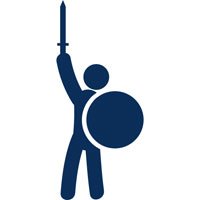 Don't assume rail firms or their staff are just going to give you the best prices. As was reported by the Independent, train companies do not feel they are obliged to do the leg work for you.
Great Western Railways, one of the UK's largest train firms, said: "It is company policy for station staff is to assume passengers had already researched the cheapest routes prior to getting to the ticket office". They also said that it was "unrealistic" to expect staff to always offer tickets at the best price.
This means you have to be proactive.
Use this guide to understand the tricks, tips and oddities that characterise the UK's crazy fares system. Arm yourself with the knowledge to become a cheap fare warrior.
---
THE GOLDEN RULES OF CHEAP TRAIN TRAVEL
Start looking 12 weeks before you travel
Network Rail cannot change its timetable without giving three months notice. Because of this, most train operators will publish their advance fares just after that 12 week period has passed. And advance fares are usually the cheapest train tickets available.
So if, for example, you're looking to go away at Easter – travelling on Friday 25 March – you should set yourself a reminder to start looking for fares from 1 January.
But not all the operators will releases their advance ticket prices immediately. Expect to wait up to two weeks for the bargain prices to appear.
Always buy your train ticket online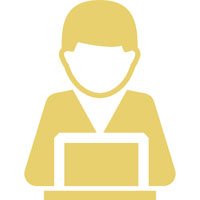 Whether you're looking 12 weeks or two days ahead, it will never be cheaper to buy your ticket from the station.
Notice that most operators add this small print to their online prices: 'Web only fare'. It means you cannot expect to rock up at a ticket office and get the same fares that you saw online.
It doesn't matter if there isn't time to get your ticket sent by post. Most operators offer a system where you can book online and then use the station's self-service ticket machine to print off your ticket up to two hours before you travel.
Or some, like Virgin Trains, offer e-tickets and mobile tickets.
Be flexible, get rewarded
Flexibility is the key to finding cheap train tickets.
If you can afford to be relaxed about the days and times you travel at, and maybe even the station you travel from or to, you can save a LOT of cash.
This is where The Trainline's Best Fare Finder is great.
Using this tool we looked at single fares from London to Newcastle.
With an overview of all the fares across three months, we saw that the most expensive £131.70 price drops to just £20 just one week later.
That's a saving of over £100!
Before you pick your travel day, check out the prices.

Get a railcard if you spend over £90 a year on train tickets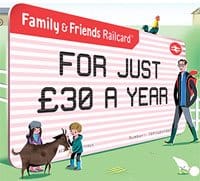 Railcards are available for families and friends, young people, seniors and disabled people.
They're even offered for couples – look for the Two Together card.
They cost £20-30 per year and the biggest saving they offer is a third off train fares. If you are likely to spend over £90 a year then they are usually a worthwhile investment.
You can use them on peak as well as off-peak services.
But be aware that there may be good deals out there – for example 'kids go for a quid' offers – that sometimes make a railcard redundant.
Don't JUST go to The Trainline
While The Trainline's best fare finder is brilliant for flexible travellers, if you're NOT flexible and you're looking to travel soon, beware you don't pay over the odds.
Because if everyone is offering the same prices, you can only save money by avoiding booking fees or collecting loyalty points.
The Trainline does charge a range of different fees according to different situations, as highlighted by This Is Money.
Take the correct bank card to pick up tickets from the machine
A small rule but a golden one nevertheless.
If you're collecting tickets from the station, make sure you take the same credit or debit card with you that you used to buy the tickets online.
There are dozens of stories from upset people who didn't.
---
KNOW THE MARKET: FINDING THE BEST ROUTES, CHEAPEST DAYS AND NEW DEALS
Cheap fares? It's all about demand
As in so many other markets, the laws of supply and demand apply to train travel.
If there are lots of seats available on a train and not many buyers, the supply is high and the demand is low – it's bargain time!
But the more popular a train is, the more it will cost to book a seat on it.
As we've already learnt, the best time to buy is when tickets first go on sale and popularity hasn't yet been established. That's when TOCs issue their advance offers.
However, also bear in mind the times when prices rise steeply.
In the run up to Easter and Christmas some operators have been known to axe advance tickets or only offer them briefly. Fares tend to steadily rise towards holiday season. Leave it late and you'll pay a lot to travel at popular times.
Be aware of the priciest routes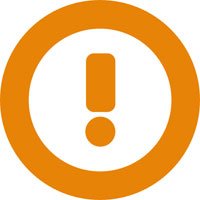 Some rail routes in the UK are more expensive to travel on than others.
A report by the BBC found that costs varied from 20p per mile between Swansea and Cardiff to £1.17 per mile between London and Heathrow on the Heathrow Express route.
The report found Scotland, Devon and Wales to have some of the cheapest fares – and said the south-east was most expensive.
It's true that the south-east is expensive for peak-time commuter travel. But in our research it was no more pricey than other regions when it comes to off-peak.
We found that, to travel direct from Hull to York on an Anytime Day Single – a distance of 42 miles – costs £21.50.
The same ticket direct from Reading to Southampton (58 miles) is £20.10.
Travelling through commuter belt from Aylesbury to London (45 miles) is only £15.20.
However Scotland did appear to have cheaper fares, with an Anytime Day Single from Glasgow to Edinburgh (46 miles) costing just £13.50. In Scotland train fares are subsidised.
Get ticket alerts when fares are released
Be ahead of the game by signing up to the ticket alerts offered by the various rail ticket retailers and TOCs. That way you'll find out when advance tickets become available and new offers are launched.
Check if you're on a Megatrain route
Megatrain, which is owned by the transport giant Stagecoach, is the low-budget sister brand to Megabus. It sells train tickets from £1, so it's worth checking if you're travelling on their patch.
Megatrain tickets are available on networks where Stagecoach owns the train company, including South West Trains, East Midlands Trains and Virgin Trains (which Stagecoach partly owns).
Their key routes are:
Sheffield – Chesterfield – Derby – Loughborough – Leicester – London St Pancras International
Nottingham – Loughborough – Leicester – London St Pancras International
Portsmouth Harbour – Portsmouth & Southsea – London Waterloo
Weymouth – Poole – Bournemouth – Southampton Central – London Waterloo
Exeter St Davids – Exeter Central – Yeovil Junction – Salisbury – London Waterloo
Bristol Temple Meads – Bath Spa – Salisbury – London Waterloo
Birmingham New Street – Edinburgh Waverley
They are usually cheap even close to departure, but why not register for their special offers and see if you can grab something really special.
Consider taking the coach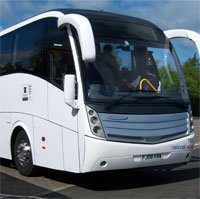 If you get travel sick or hate longer journeys then the coach may not be an appealing alternative – but if you love saving money then it's worth a look.
National Express makes an effort these days to be family friendly, with booster seats for kids, power sockets for tablets, air con and wifi on many coaches.
Child Fare – A child fare is half the price of either a Standard or Fully Flexible adult fare. This applies to children aged between 3 and 15. Children aged 2 years or younger travel for FREE (one free child under two years with one fare paying adult).
Coach travel generally takes longer than rail, but if you've left it late to buy tickets then it can be a very economical option.
We compared train versus coach for a journey from Manchester to London, travelling at 9.30 am on a Friday in a fortnight's time (with no family discount cards).
On the National Express a family of two adults and two children would pay £33.40 – the journey time is 5hrs.
The Megabus is even cheaper at £20.90 for the whole family and a journey time of 5 hr 50 m.
Meanwhile the equivalent journey with Virgin Trains would cost £248.70 (Off Peak Single) and take 2h 05 m.
Consider hiring a car
With the above example train fare costing a whopping £248.70 for the family, you may decide that car hire is worth investigating.
While our guide to cheap car hire is largely written for holidaymakers, you can still use it to find some national car deals and avoid expensive insurance.
Consider taking a flight
If you're making a long journey and the train is looking expensive, you could even look into cheap flights. We've written a guide to finding flight bargains as well.
Again, compared to the train price we found for Manchester to London, this option works out cheaper according to Skyscanner results.
We found that a family of four could fly to London Southend on the same date for around £187 with flybe.
---
FOUR INSIDER TRICKS TO BEAT THE TRAIN FARE BOOKING SYSTEM
Discover the ticket splitting trick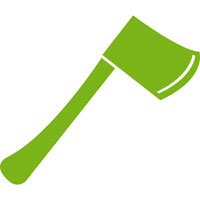 A strange quirk of the UK train fares system is that it can be cheaper to split your journey in half and buy separate tickets for each stage.
For example, a journey from York to London can be cheaper if you buy a ticket from York to Grantham and a separate ticket from Grantham to London.
Grantham is on the route – but you must check that your train stops there or else you'll be travelling without a valid ticket.
Other popular stopping points for cheap fares are:
Birmingham New Street to Edinburgh – day return split at Preston & save £29.60
Bristol Temple Meads to Manchester Piccadilly – day return split at Stoke & save £7.40
Cardiff to London – anytime rtn split at Swindon & save £60.00
Edinburgh to Swansea – anytime return split at Preston & save £44.00
Exeter St Davids to Preston – off-peak rtn split at Bristol TM & save £12.70
Glasgow to Warrington – day return split at Preston & save £31.10
Lancaster to Exeter St Davids – off-peak rtn split at Bristol TM & save £18.50
Leeds to Plymouth – anytime rtn split at Cheltenham Spa & save £88.70
Liverpool to Norwich – day return split at Ely & save £7.90
London Paddington to Swansea – anytime return split at Swindon & save £78.40
Manchester Piccadilly to Nottingham – off-peak rtn split at Stoke & save £9.10
Newcastle to Birmingham New Street – day return split at York & save £9.20
Nottingham to Liverpool – day return split at Crewe & save £26.20
How do you find these fares? Use Split My Fare ticket tool.
Ticket splitting – extreme version!
You can go even further with ticket splitting if you want to really cut costs to the minimum – you can get off the train half way and change trains.
Yes it will add time to your journey. But if you are prepared to switch from a fast train to a slower train, or from one train company to another, it may be feasible to lower your fare.
There are no tools to help you with this, so you'll need to do your own research.
Look out for deals to places in the same direction as your destination.
For example, you might see a £10 deal travelling from Bristol to London – but the only problem is you live in Cardiff, where an off-peak single to London is £43.
Well a train from Cardiff to Bristol costs around £10, so you could save yourself half the cost by going to Bristol first. And potentially you'd only add 20 minutes to your journey time.
Travelling short: the 'hidden station' technique
In our guide to cheap flights we revealed the controversial 'hidden city' tactic where you can sometimes save money by abandoning your journey before reaching the destination on your ticket.
This can work on the trains as well. Be careful though – it's been banned on advance tickets.
The idea can also work by starting your journey later down the line (yet buying a ticket that starts further up it).
Did you know there's a ticket that lets you travel multiple times for one fare?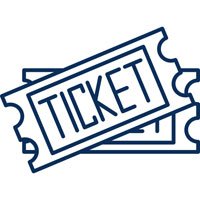 If you're staying within one rail network when you travel, look into the TOC's unlimited travel tickets.
Usually known as 'rovers' or 'rangers' or 'day savers', these are tickets where you pay one price and get unlimited travel on a network or line for a set period.
Network Rail lists ALL the schemes different train operating companies offer and RailRover outlines the unlimited travel tickets in detail. These are long established but little known fares that can sometimes deliver amazing value.
For example, someone using Southern Rail's DaySave ticket could travel off-peak from Milton Keynes to London (Kensington Olympia). They could spend the day in London and then travel on to Brighton or Southampton. Then, if they still had time, they could travel all the way back. All at a cost of £19. Up to 4 children can travel with each adult for just £2 each.
---
NO BRAINERS! THE COMMON SENSE TIPS YOU MUST FOLLOW TO SAVE CASH
Get a season ticket if you're commuting
If you're commuting more than three days per week on the same route during peak hours, it's almost always cheaper to buy a season ticket.
The savings get bigger as you commit to a longer period ticket – from weekly, to monthly, to annual.
A standard peak time return ticket from Sheffield to Derby is £20.40.
Buy a 7 day season ticket and the average journey price drops to £13.90 if you travel five days a week.
The average journey price is £11.58 if you do the same across a year and buy an annual ticket (assuming you take four weeks' holiday).
You can check season ticket costs and savings using National Rail's calculator.
Always 'click here' on the booking page
A story from reader Graeme highlights why you need to look carefully when searching for the best offers.
Graeme used Virgin Trains' booking engine and thought he'd got all the results he needed.
But it was only when he clicked a link lower down the page that he realised he'd found the best price hidden away. Read Graeme's finding below.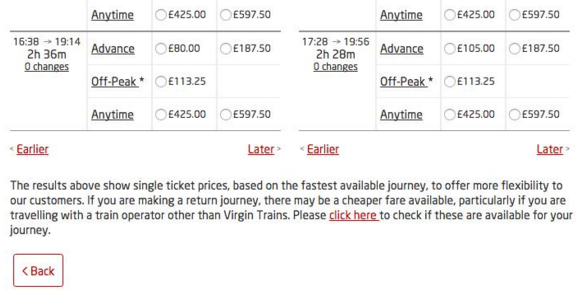 Compare single v return
You might need a return ticket, but that doesn't mean you should buy one.
Compare first class v standard
Sometimes – particularly on advance fares – there are some bargains to be had in first class.
Train operators can be keen to encourage travellers to try the extra comforts in the hope they'll buy a premium seat again. Or they may just have lots of spare capacity.
Get a group ticket
Often people travel in groups without realising they can easily claim a better fare, just by asking for a group ticket.
Going to London? A travelcard usually makes sense
A travelcard, which provides unlimited underground and bus travel in London, is usually good value if you're mooching about different areas of the capital.
Train companies often have special offers for London trips too, so check the TOC's website.
Grab a last minute advance ticket
People think advance tickets are limited to those that buy well ahead of their journey.
But that's not true. You can actually buy an advance ticket the day before you travel.
Below is an example we found of two single Internet Advance tickets that were considerably cheaper than the Anytime Day Return.

Remember these must always be booked online – you won't get this price at the ticket office.
If you collect Tesco vouchers check out Red Spotted Hanky
Red Spotted Hanky have joined up with Tesco to allow Tesco Clubcard points holders to exchange their points for redspottedhanky.com e-vouchers.
This Tesco reward is 'full/part payment' and enables you to exchange £10 in Clubcard vouchers to get a £20 voucher towards train travel.
Once you have exchanged your Tesco Clubcard points for Red Spotted Hanky loyalty points you will need to register with an account (using your Tesco Clubcard email address).
If you collect Nectar points you can use them as well
Not to be left out, Nectar Card owners can also collect points when they buy train tickets and they can redeem them on train travel.
The Trainline is in the Nectar scheme as are Virgin Trains, First TransPennine Express, Virgin East Coast and First Great Western.
Air miles on the railways? Oh yes!
Do you collect Avios points on your air travel, fuel and shopping? If so you can redeem them on the Eurostar.
A standard class return from London to Paris will cost you around 9000 Avios points. Lille, Brussels and Disneyland Paris are other options.
You can also collect Avios points by buying your tickets at Train Genius.
Use a credit card company's cashback offer to get discounts
You could get money off your train fare – and indeed all your spending – if you used a credit card that offers a cashback scheme.
There are deals like American Express's Platinum Cashback Credit Card that effectively pay you to spend money.
They come with terms and conditions, like spending minimums, and it's important you set up an automatic debit to pay off their balances each month (or else you'll lose out by paying interest).
BUT if you play your credit cards right you can use them to your advantage.
Don't forget to claim and use your Gold Card if you are an annual season ticket holder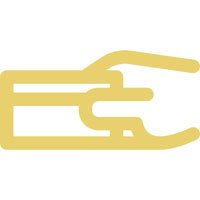 Commuters who buy an annual season ticket in the south east region also benefit by receiving a Gold Card. Make sure you get given yours.
Like other railcards, the Gold Card provides a third off all tickets as well as a selection of other benefits.
---
AND FINALLY…
Know your rail refund rights!
Now you've armed yourself with the knowledge to find cheap fares, make sure you get the service you're paying for.
If your train is cancelled or delayed and you choose not to travel, you are entitled to a full refund.
To get your refund you should return your ticket to the retailer it was bought from (including online retailers like The Trainline or RedSpottedHanky), stating the date and time you intended to travel.
If your train is delayed and you decide to still travel, you may be entitled to compensation.
But the amount of compensation you can claim will depend on which operator you are travelling with.
Each train company sets its own level of compensation. As a minimum, if you are one hour late at your destination, you are entitled to:
Single ticket, or return ticket if both legs are delayed – 50% of the price paid
Return ticket with delay on outward or return journey – 50% of the price paid for the relevant part of the journey
Train companies consider claims on a case by case basis and may not pay out if the delay was caused by something outside the control of the rail industry.