In this compilation of top travel tips and tricks we've rounded up money-saving advice for all kinds of travel. From trains, planes and car hire to package holidays and holiday rentals, these are some of the best resources and ideas picked out from our popular travel guides.
For cheap flights use a comparison site
The starting point of any cheap flight search is a comparison site. But which to use? Well here's the thing: they all find different results. Here's our guide to the pros of each…
Kayak

has got the most filtering options and is very good for USA fares. Add flexible dates, get price alerts and check from a range of agents like Expedia – it's comprehensive.
TravelSupermarket

is our pick for European holiday flights, because it includes charter jets to the popular Med destinations. It lets you search flights from three different UK airports at once.
Skyscanner

is loved for it's slick, easy-to-use menus. It searches over 1000 different airlines and agents. It quickly finds the cheap flights and then links you directly to the airline to book.
Momondo

is a beautiful alternative, with its pretty design and amazing amount of info presented in charts and graphs (see 'Doing your research' below).
Kelkoo

is a good option for medium and long haul flights to places like Egypt, Thailand, India and the Caribbean. Also try

Travelocity

for long haul. Both these sites have unique partners whose deals aren't found everywhere, so it's worth including them.
Get your travel insurance
STRAIGHT AWAY
As soon as you've sorted your flights, book your travel insurance. That way you're protected in case you need to cancel your flights.
Don't accept the airline or agent's insurance that you are offered when you book your flight – because it's likely to be cheaper elsewhere. Though which one works out cheapest will depend on finer details, like the size of your party and ages of family members.
For a one-off European trip we find Insurefor.com the cheapest. Other bargain providers to compare for single trips and family holidays are HolidaySafe and Leisure Guard.
In our research, Insureandaway was best for a one-off trip to long-haul destination (family of four).
If you go away more than once a year it's definitely cheaper to get an annual or 'multi-trip' insurance policy. The top three to compare here are Coverwise, InsureAndAway and Multitrip.
Special policies for the over 50s are offered by Staysure.
Book flights early – save BIG
Just as with car hire, you'll save money by booking flights as early as you can. And with some airlines, like Easyjet, it doesn't even matter if the price goes DOWN after you book because you can claim the difference back (more on this later).
Long haul flights totalling thousands of pounds should definitely be booked early. We found that, even during the booking process, a flight with Emirates from London to Sydney went up by £50 in the space of 20 minutes.
But for short and medium haul, take a look at Skyscanner's holiday travel tip off which suggests the 'sweet spot' for cheap flights by destination.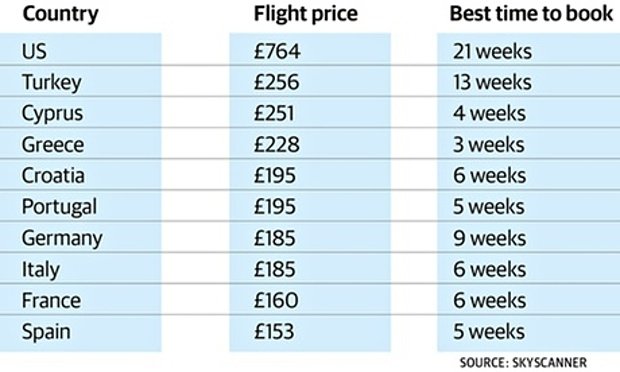 Don't ignore the brokers
Our other top tip is that, as well as using a flight comparison site, you should check out the brokers.
These are websites like Expedia, Last Minute, Opodo and Netflights.
Unlike the comparison sites they don't search everything. Instead they show you deals that they have secured directly and they usually manage the booking process as well.
Brokers are particularly worth looking at if you are interested in cheap flights + hotel or a package holiday.

This incredible tool will reveal your best chances of a cheap flight
Work out when the most expensive times to fly are, using this great tool from Momondo.

Pick your destination and preferred travel times, then search. On the results page click 'Flight insight' in the top right. You will then be able to see the best and worst times to travel, price wise, across 52 weeks of the year.
For example, on the London to Sydney route Momondo reveals you would save £700+ by travelling on 2 November rather than 14 December.
A powerful air travel tip for the flexible traveller.
Slash your air fare with a split ticket or open jaw price
Struggling to find an affordable flight? There are a couple of other tricks you can try to bring the price down.
First try splitting the ticket. Let's say you're looking for cheap flights to Greece in the summer holidays. You've left it late and the prices are astronomical. It may be that by flying first to, say Poland or Prague, you could then book a second flight to Athens and sneak around the prices set for UK holidaymakers.
Another idea is the open jaw. This is where you don't fly back from the same airport that you landed in. Google has a specialist search engine for finding these fares called ITA Matrix.
It's not a myth – clear your cookies because the airline is watching!
When you look at a flight on an airline's website there's a chance they might record your interest and, next time you go back, hike up the price because they know you're a keen customer.
This is a tactic – using 'cookies' that leave a tracking code in your internet history – that has been reported by The Guardian and by readers of the Telegraph.
We recommend you do all your searching privately. So if using Google Chrome or Firefox activate the 'Incognito window' or 'Private browsing' mode. In Internet Explorer choose 'InPrivate'.
Try the controversial 'hidden city' method
Consumer website Skiplagged got sued for revealing this crafty tactic – but the judge threw out the case.

It's not unlawful, but the airlines don't like it and some have been known to cancel the flights of people trying this method.
It works like this. Say you want to go to Toronto, Canada, but the flights are over £1500. You might find that there are flights going to other places – for example New York – that stopover in Toronto on route and cost £1000.
The hidden city method involves simply getting off the plane in Toronto and not getting on the New York flight!
There are some issues. It means you can only take hand luggage, because the airline is not going to take your bags out of the hold for you. And it's advisable to only use this method on single-way flights because, once it's discovered you abandoned the journey, the airline may well cancel your return ticket.
Use these sites for finding cheap hotels
Cheap hotel brokers: Expedia | Booking.com | Hotels.com
Comparison sites: Trivago | TravelSupermarket | Kayak
Late deals and secret hotels: LateRooms.com | lastminute.com | Secret Escapes | Super Break Mystery Hotels.
Hotel reviews: TripAdvisor
Cheap hotel favourites: Premier Inn | Travelodge | Best Western
Found the hotel you're interested in? Here's what to do now to make sure you save money
Once you've pinned down the hotel you like, there are two steps you should take before pressing 'book'.
First go to the hotel's own website and check you can't book it cheaper directly. Many of the big family-friendly chains like Premier Inn and Travelodge offer online saver rates that are better than you'll find anywhere else.
Some independent hotels, too, will do you a better deal directly. Bear in mind they often have to pay commissions to brokers, so money not spent on a middle agent could be money saved for both parties.
Secondly go to Google, type the hotel name and 'TripAdvisor' to find a comparison of prices from sites like Hotels.com, Laterooms.com and Opodo.

Finding a cheap hotel in the school holidays
While finding flights in the school holidays can be a nightmare, hotels are a better prospect. Book well ahead at the likes of Premier Inn and Travelodge and your purse shouldn't suffer too badly. Meanwhile lots of hotels have special school holiday offers.
Q Hotels have 26 four-star properties across the UK. Grange Hotels have a kids stay and eat free offer when you use the 'SCHOOLHOL' rate code.
lastminute.com is a good place to look for half term deals.
Spoil the secret! How to get huge discounts at high end hotels
High end hotels don't advertise discounts, because it's bad for their premium image.
Yet they're as eager for business as every other hotel in the game. Instead they make their deals anonymous using sites like lastminute.com Top Secret Hotels, Secret Escapes and Super Break Mystery Hotels.
Typically on these you'll see a hotel described but not named, so you don't know where it is exactly. But a bit of investigative work and you should be able to work it out.
Using lastminute.com Top Secret Hotels we found a £77 room for two available in two weeks' time at a classy London hotel. It was described as a "modern, 4-star hotel is located in vibrant Kensington and just minutes away from shopping centres, famous museums and parks, and well connected via public transport."
A quick Google of this description and in seconds we discovered this hotel is the The Hilton London Olympia. The same room spec is advertised for £111 on their website and with various brokers.
Looking for cheap hotels USA? Read this
They do things differently in the US. Two sites to include in your hotel are search are Hotwire and Priceline – for different reasons.
Hotwire is America's secret hotel site, except it doesn't just offer premium hotels it searches the WHOLE market. All the hotels are anonymous and there are huge savings to be had.
Searching for a family-friendly hotel in Florida's Orlando, close to Disney World, we found a four star chain hotel with 38% off rooms a night on Hotwire.
Meanwhile Priceline is different concept. A kind of 'eBay of hotels', you bid for a room stating how much you're prepared to pay, the areas you'd accept and the minimum stars. Priceline then either accepts your bid and offers you a suitable hotel or it declines and invites you to raise your offer. It's quite fun!
UK attractions: are their hotel packages a good deal?
If you're booking a trip to Legoland, Thorpe Park, Alton Towers or another of the popular UK attractions, do take a look at the hotel deals these attractions offer. They seem convenient, but are they a good deal?
Before you commit it's worth checking the price of booking a hotel separately. Often these attractions offer cheap ticket deals that can't be used with hotel deals.
Sunday is the cheapest night
If you can be flexible, include a Sunday in your hotel stay – it's generally the cheapest night in the hotel world. However it depends on the market and there could be other good times to find.
A business hotel in a financial district that becomes a ghost-town at weekends may have some great prices for Friday and Saturday nights. While a tourist town like Brighton that has a strong weekend trade may offer cheaper prices during the week.
Be open-minded about hostels if you're on a budget
If you're looking at clean and basic low budget hotels, consider hostels. They're not just for backpackers or young travellers, many are family friendly and attract adventurous older couples too.
Hostels can be a more interesting, sociable experience than staying in a characterless chain hotel on an edge of town retail estate. Check out the YHA's site, where family rooms start at £25 and members get a £3 reduction.
Both Booking.com and TravelSupermarket list plenty of hostels. Or try worldwide specialist site Hostel Bookers which has a filter for family friendly hostels.
University rooms are a real steal
In expensive cities like London, university accommodation is an interesting option – though probably better-suited to single travellers or couples.
When students aren't using their halls, many universities rent them out at a reasonable price. You may have to look on the local uni's own website to find their booking details – some don't have a formal online booking system in place.
Others, like London's LSE for example, do: lsevacations.co.uk. On this site we found single rooms starting from £35 per night. For central locations like Bloomsbury this is a steal.
Try University Rooms to look for student accommodation around the world.
Do a home exchange
Live in a tourist town or attractive area? Willing to let strangers stay in your house while you're not there? A home exchange could save you a fortune.
Most home swap sites operate on a membership fee basis. HomeExchange has over 65,000 properties listed and costs £100 to join, a one-off fee.

Use these sites for a cheap package holiday
Comparison sites: TravelSuperMarket | Dealchecker | Kayak
Travel agents: Icelolly.com | Teletext Holidays | loveholidays.com | On The Beach | Expedia | Travel Republic
Tour operators: Thomas Cook | First Choice | Virgin Holidays | Jet2Holidays | Mark Warner | Kuoni
Daily deal sites: Groupon's Getaways | Living Social's Escapes | Wowcher's Travel Deals20 Look for 'kids go free' package deals
Considering most holidays are charged on a 'per person' basis, you can save a lot of money by getting the kids in free. Many tour operators now offer free places for kids. These are often restricted to certain resorts and holiday types – and they sell out early too.
Try Jet2holidays and First Choice who both promote their 'kids go free' offers.
Be aware that often these deals only apply to ONE of your children. So if you're taking a family of three kids away, you'll still have to pay for two of them.
Travel agent On The Beach gives you a price per adult, with kids going free in most hotels.
Check our guide to all the best child free places.

Try to haggle down a cheap package holiday
Using some of the websites above, you may be able to haggle yourself a bottom-line bargain.
Here's what some money-saving holidaymakers like to do…
Go to a site like Icelolly.com, TravelSuperMarket or Teletext Holidays and find a holiday you like. Note down the flight details, hotel and any other factors that may influence the price, like all-inclusive or bed and breakfast. Note down the tour operator that's providing the holiday.
Then Google the tour operator and find their direct booking website. For example, you'd discover that Sunsave uses a website called bargainlateholidays.com to sell its packages. See what price it is suggesting for the same deal.
You could also check out the cost of separate flights and direct hotel bookings, as long as you're comparing exactly the same.
Finally phone some of the travel agents listed above. Detail the cheapest price you've found for the package and ask them if they can go any lower.
Unimpressed by the holiday prices you've found? Try creating your own package
If none of the websites you've used so far have proved themselves, try creating your own package.
Pick your destination. Use a flight comparison site like Skyscanner to find flights. Use a hotel finder like Booking.com or Hotels.com to search hotels. And you can even use Hoppa to sort your airport transfer.
For more advice on flights and hotels, check our other travel guides.
Cashback sites could save you money on a holiday
If you use cashback sites like Quidco or TopCashBack you could knock some more money off your package holiday.
Quidco offers savings with dozens of big travel firms, including Thomas Cook and First Choice to name just two. TopCashBack has a similarly big list of holiday websites, including loveholidays.com and Thomson.
If you're not sure what cashback is, it's worth spending some time researching. While the idea seems strange at first, even consumer charity Which? has recommended using them in a recent report.
Don't change your travel money at the airport
Exchange rates are the worst at airports. You don't want to squander the time you've put in saving money on a cheap package holiday by wasting £50 or more on a terrible airport currency deal.
Instead buy your currency online. Use a site like MoneySupermarket to see who's offering the best rates. These bureaux will send your money through the post by secure delivery. It's the cheapest way to buy travel money.
Beware of mobile roaming charges
When you're travelling abroad with your smartphone, if you leave your data switched on your phone will automatically connect to one of the country's own phone networks. And that could lead to expensive charges as emails and social media updates come in – not to mention inflated costs to make calls and send texts.
Most tourist hotels and cafes now provide free wifi. Our best advice is to switch your data off entirely while you are away and use wifi to stay in touch. Install an internet phone app like Skype or Viper or use WhatsApp to make calls.
If you think wifi will be an issue, make sure you check out you phone provider's advice on roaming charges. Some like you to notify them before you go abroad and they will provide reasonable data packs you can use. This could come in handy if you're hiring a car and using your phone as a sat nav.

Global: HomeAway | TripAdvisor
European: James Villa Holidays | Clickstay | eBay | CasaMundo
USA: VRBO
UK: Owners Direct | eBay
Cottages: Cottages.com | Classic Cottages | Premier Cottages | HolidayCottages
Historic and quirky: Landmark Trust | National Trust
Babies and toddlers: Baby Friendly Boltholes
Airbnb and alternatives: Airbnb | HouseTrip | Wimdu | Apartments4You | 9flats
Home swaps: Love Home Swap
When checking holiday rental dates, look out for 'fill in' days
Do you like to haggle a bargain? If so, when searching out holiday dates, stay alert for 'fill in' days.
Because most holiday rentals sites show a property's availability week-by-week, you can spot places that have a niggly little gap in their bookings. Villa owners in particular don't like having periods of 5 nights or less in between bookings, as most holidaymakers look for at least a 6 night stay.
Here's your chance to step in. If you're adventurous and don't mind changing villas halfway through your break – or if you're just fine with a shorter break – you can contact the owner and ask for a good price. Tell them you'd consider those fill in days IF they're available at a discount.
Fancy something different? You won't believe where you can stay in the UK and Europe
The Duke and Duchess of Windsor's old bolthole in France. A lighthouse on the Isle of Lundy (population 28). A former prison in Lincolnshire. A Scottish castle. There are some amazing places to stay with the Landmark Trust.
They have properties in the UK, Belgium, France and Italy. Landmark Trust are a charity that rescues and restores historic buildings before making them available to holidaymakers in search of something quirky.
If history and originality is your thing, you might also like the National Trust's selection of holiday homes. Bunkhouses and bothies, Rapunzel-esque water towers and log cottages by the shores of Lake Windermere – there's lots to choose from.


Cheap holiday rentals with a baby
Baby Friendly Boltholes has done a great job of rounding up the world's most child-friendly hotels and holiday rentals.
Their 'shortlist' tool allows you to save places you like as you browse properties from the Canary Islands to the Caribbean. They've thought about all the things a parent is looking for in a family holiday rental – high chairs, outdoor play equipment, a safe environment, cots and more.
If you've got young ones, see what Baby Friendly Boltholes has on offer.
Top tips for travelling with a baby or toddler
Dress your baby in soft layers that are easy to add and remove as the temperature changes on chilly planes and hot car hire pick up desks;
Take a cheap battery-operated hand fan to cool them down and distract them;
If travelling far in a car, try to time the journey with sleep time but take regular breaks if your baby is awake to prevent restlessness;
Always carry a pack of wipes! Essential for messy feeds and other spillages;
Take lots of snacks – dried fruit, grapes, rice cakes – to keep them occupied;
If you're not sure how toddler-safe the property will be, buy some cheap child-proof locks for cupboards and take them with you;
Don't forget pens and crayons, paper, jigsaws, dolls and story CDs to entertain them.
But beware of holiday rentals fraud
While some holiday rentals sites like HomeAway offer buyer protection against fraud, others are more vulnerable to scammers and have been used to con holidaymakers.
This is a growing problem in the holiday rentals market. Make sure you check the site's T&Cs to see what they'll do if it turns out you've had by a fraudster.
Of course many sites where owners list their properties – like eBay for example – offer very little protection: they are simply third-party advertising platforms.
Here are some precautions you should take to minimise the risk of loss:
Check how long the owner has been advertising – be cautious of new ads;
Have a good read of the reviews and look out for tell-tale signs of fake reviews, such as very short reviews that all look the same ("Great villa!", "Perfect") or poor use of English;
Use Google Streetview to try and find the house and check it actually exists. Scammers may steal photos from houses in other areas;
Try and develop a bit of a relationship with the owner before you go, with some relevant questions about the house – ask for their phone number ideally;
Google the house name and the website and check no-one else has reported a problem;
If the property seems incredibly cheap compared to all the others you see, be suspicious;
Ask for a signed contract before handing over money. Make sure the terms of the deposit are outlined – 25% returnable deposit is standard;
Credit card is the best way to pay as it offers protection by UK law. Be VERY wary of money transfer services like Western Union, which are popular with scammers;
Some scammers even manage to hack owners' email accounts using 'phishing' – they then control communications with renters and divert funds to their own accounts. Be on guard!
How to haggle price of a holiday rental down
One of the advantages of holiday rentals for the entrepreneurial bargain-seeker is you're dealing directly with property owners.
That means you can strike a deal – the agreement is between you and them, and while one owner might not like what you are suggesting, another one might be up for negotiation. So it's worth a try.
Your best chance of getting a reduced rate is a late getaway. An owner knows that if they haven't booked out a property six weeks before, the chances are high that they won't book it out at all – because most people book holiday rentals MONTHS in advance.
Tell the owner you are considering a last minute break – if the price is right. Get quotes from other owners nearby and mention cheaper ones to owners: "We really like the look of your home, but it costs a bit more than others we've seen – is there anything you can do for us?"
So long as you are friendly and polite, the owner can only say yes or no.
Making a safe holiday rental payment
Credit card payments are usually the safest when dealing with an owner directly as they come with Section 75 consumer protection. However, be aware that this protection doesn't apply when you use a third party service like a holiday rentals site. So check their own payment protection terms – most are keen to secure your trust and will offer refunds. Clickstay is particularly good on this.
PayPal isn't ideal as its buyer protection is limited to physical goods, though you may be protected if your account is linked to your credit card, which enables a 'chargeback' on the seller (you will need to activate a 'dispute' through PayPal if you cannot sort things out with the owner).
We recommend you avoid wire transfer services like Western Union and Moneygram in this instance. They are popular with scamsters.
Self-catering travel tips – what to take
Small corner shops – whether home or abroad – tend to be expensive. So try and incorporate a stop off at a big supermarket on your way to your holiday rental to make sure you get what you need at a decent price.
If you can't go shopping until after you've arrived at the house, here are some things you might want to take with you:
[unordered_list style="tick"]
Tea bags and a half-pint of milk;
A box of cereal for morning – especially if you're arriving late;
Biscuits or nuts to tide you over if peckish;
Coffee if you need a morning hit of caffeine;
A small bottle of washing up liquid;
For an easy-pack meal that expands, couscous or rice is good.
[/unordered_list]
Use these sites to find a UK or European holiday park break
UK holiday parks: Park Resorts | Park Holidays | Pontins | Haven | John Fowler | Hoburne | Parkdean
UK camping and glamping: Center Parcs | Pure Leisure
European holiday parks: Sunparks | Al Fresco | Breakfree Holidays
European camping and glamping: Eurocamp | Canvas Holidays
Daily deals and last minute breaks: Wowcher | Groupon | Teletext | lastminute.com
Which type of holiday park is right for you?
There are hundreds of cheap holiday parks to choose from and, on the face of it, they all have a similar range of facilities. But the truth is their 'brands' are all quite different.
From cheap and cheerful to chic and pricey, from the loud and brash to the simple and serene, you need to check out what you're in for and make sure it suits you.
And when you DO find the type of holiday park you like, you'll probably fall in love.
When you're looking at holiday parks, read the reviews. What did people like? What didn't they appreciate? See if you can work out the common reasons people like a holiday park and whether they are also things you look for. TripAdvisor is great for this. You can filter results to just see those from families or couples or business people – there may be great differences between them. And you can click on users' profiles and see what other places they like and dislike to see if this person shares your priorities;
Look at the entertainment on offer – it's usually a good giveaway as to the kind of park you can expect. Big name parks like Butlins and Pontins go for TV talent acts! Expect big crowds and a big atmosphere. Center Parcs plays down it's evening entertainment in favour of the adventure activities it offers during the day: climbing, fencing, craft-making and kayaking – expect a quieter crowd. Smaller caravan parks promote their signature characters that kids love, such as Sammy the Seahorse or Freddy Fox. These places are more intimate and less hectic than their bigger rivals;
Check the types of accommodation. The more variety there is, the more mixed the range of visitors. Some parks offer only caravans divided into bronze, silver and gold categories (or similar). The differences between their features is often minimal. Other holiday parks have caravans, lodges, tent pitches, apartments, yurts, wigwams and bungalows;
Where is the holiday park located? Is it a sunny seaside resort that attracts families looking for a bucket-and-spade holiday? Is it an urban park in a European city that attracts those looking for some local culture? Or is it a woodland park where the emphasis is on nature and adrenaline-fuelled activities?
Know what makes a holiday park break attractive
There are some powerful reasons to pick a holiday park getaway. Here are a few:
[unordered_list style="tick"]
Things to do whatever the weather

Kids make new friends

Free activities

Staff on hand to help you

Safe environments

Your own 'home' and garden to hang out in

Take bikes, footballs, tennis racquets etc

No expensive air fares

Often late availability

Can be less hassle – UK trips means no passports, currencies, car hire

Half the cost of a package holiday abroad

You can often take the dog

Low booking deposits offered by many parks

Cook for yourself or use the restaurants

Entertainment for all ages

Close to tourist attractions
[/unordered_list]
Go to a holiday park in a group – split the costs
Holiday parks often have big chalets and caravans that cater for up to 12 people. Since you usually only pay for the accommodation and not the number of people, you can save money by splitting costs if you go as a group.
Note that many holiday parks prevent bookings of more than one unit of accommodation online. To maintain the family environment of the parks they restrict groups of young adults and single sex parties.
So if you are a few families going on holiday together but looking to book separate caravans, you may need to call.

News-worthy? The truth about holiday park tabloid voucher deals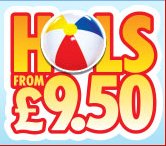 Many of the cheap holiday parks have got involved with eye-catching newspaper deals in recent years.
You've seen them on the front pages of newspapers like The Sun and the Daily Mail: collect a set of vouchers from the papers over a few weeks and qualify for a £9.50 holiday at dozens of different parks.
Are they too good to be true? Yes and no. Yes because it's impossible to book any kind of break with them for a total basket price of £9.50. No because you can still get a heavily-discounted holiday bargain.
The Sun
The Sun periodically runs a holiday park voucher promotion. Typically you have to collect around seven tokens printed in the paper over a few weeks. The promotions usually run during the Autumn/Winter. You have to be quick once the final voucher is printed as these holidays fill up fast. Be aware that the price celebrated is per-person and you usually have to book at least four people to qualify – so a £9.50 holiday is actually £38. Be aware too that you'll also face a 'service charge' levied by the holiday park of between £10-50 and there are booking fees with some cards. And when you get to the park there may be a host of extra charges for entertainment, linen etc. The bottom line is: work out all the extra costs and make sure the deal is worth the hassle.
Check out these top picks for cheap travel insurance
If you just want to find a good deal straight away, here are our favourite travel insurance offers for families. Every week we check the web for the best prices and policies – this is what we like at the moment.
Single Trip Europe: Holiday Safe Standard
Single Trip Worldwide (inc USA): Holiday Safe Standard
Annual Insurance Europe: Leisure Guard Lite
Annual Insurance Worldwide (inc USA): Leisure Guard Lite
Don't just buy the travel agent's insurance
It's quite simple: travel agent insurance is usually overpriced.
If you're booking through a travel agent they may well try to convince you to take out their policy. Agents have a long history of making good profits by 'upselling' insurance during the booking process.
They may even insist that, before they confirm your booking, you give them your policy number to check you have "adequate cover".
See how much their travel insurance quote is and take a note.
Thomas Cook's travel insurance is sold by Holiday Extras who do some competitive family policies, so it's worth a look.
But then, as with car hire firms that try to sell you their excess cover, be firm when you tell them you're shopping around.
It's likely you'll get a better deal elsewhere. And you're within your rights to compare.
'Cheap'
really
doesn't mean 'best'
It's hard to get your head around the idea that insurance can be good or bad 'quality'. After all, it's not a product that you can't touch or see, so how do you know?
Be careful: some cheap travel insurance has all the quality of an imitation Rolex shipped from Hong Kong.
Look out for cheap policies that have huge excess clauses.
Read the small print on policy documents to see how much evidence they require for claims; some make their conditions so impractical it's almost impossible to file a successful claim.
Research reviews for the company on Trustpilot to see what others are saying.
Plenty of cheap travel insurance is ok. But this is a product whose price is set according to statistical risk. If it's very cheap, it's either coming with heavy excesses and low cover or it's frankly too good to be true.
Know when to choose single trip or multi-trip insurance
If you know you're going away more than once in a 12 month period, it usually works out cheaper to buy multi-trip or 'annual' insurance.
It's also more convenient – you'll only have to examine one set of policy documents and won't need to think about cheap travel insurance for another year.
Just make sure you buy a flexible policy that is going to cover you for different holiday needs.
Because where you go (Europe or Rest of the World?), what you do (beach holiday or ski trip?) and who you take (family holiday or single person with an over 65?) will impact on the cost and conditions of your policy. Cover for winter sports trips typically adds about 30% on to the quote.

Get a freebie with your cheap travel insurance – cinema tickets!
It's common for travel insurance to be offered as a free feature of another financial product, like a credit card or bank account (see the Barclays Travel Pack for instance).
But what about the other way round?
Comparison site comparethemarket.com is currently offering a promotion where, if you find an insurer through them, you'll qualify for a free cinema ticket. We found decent CoverForYou and InsureAndGo.com single trip products for around £20 using comparethemarket.com.
Find the cheapest car hire deals by using these comparison sites
This is a quick way to see what's around and how much you can expect to pay for car hire. Scan the best car hire comparison sites to examine how the deals stack up.
Our favourites are:
GOOD FOR: Easy booking process; Great filter options
Travelsupermarket's strength is holiday car rental and it does a solid job of rounding up cheap deals from dozens of car hire companies. In our tests it often found the best prices.
GOOD FOR: Holiday car rental; Over 25 brands compared
Kayak is speedy and has an elegant, easy-to-use interface. It's worth including in your search because it sometimes finds cheap car hire deals you haven't seen elsewhere.
GOOD FOR: User friendly; Nice app
Carrentals is focussed solely on car hire, unlike others that also compare flights, hotels and holidays. Which means it's very comprehensive, with over 50 suppliers checked. Rated 9/10 on TrustPilot, it works hard to keep its strong reputation and provides excellent detail on each option.
GOOD FOR: Huge search; Great info on deals
Confused.com is not best known for car hire, but it has partnered with the highly-regarded global engine Cartrawler which picks out some very cheap prices. Deals are well organised and the booking process is an easy three steps.
GOOD FOR: Worldwide deals; Easy to use
Why your best car hire fuel policy is 'full to full'
Check out fuel policies to save yourself from hidden charges.
Often cheap car hire is not what it seems. Firms have sneaky ways of getting back the money they 'lose' on those rock bottom price deals.
A popular trick is to charge you for a full tank of petrol and ask you to return the vehicle empty.
That tank will cost you well above the average local rate and you'll probably give the car back with some petrol or diesel left in.
So instead, look for 'fair fuel' firms that let you return the car full or on the same level that you collected it at. You could save yourself at least £40 on your booking.
How to avoid that excess insurance fee on holiday car hire
Another way car hire firms increase their profits is by panicing customers into buying excess insurance.
They'll tell you that, if your hire car is damaged or stolen, you'll face a hefty excess charge…unless you buy their insurance to protect you. But their insurance is likely to be expensive.
Here's a great solution: buy your car hire excess insurance independently.
A quick search online finds insurance specialists offering prices of @ £2.50 per day for cover. This is compared to hire firm fees which are often @£20 per day.
But wait! There are even bigger savings to be had:
Take your own car seats for the kids
Child seats are another extra cost you'll face, unless you've packed your own.
If it's a booster seat you need – compulsory in some parts of Europe even for under 12s – we like the clever option of an inflatable seat or a convertible rucksack. These lightweight portable options are perfect for travellers.
Most airlines let you take a child seat either for free or cheap compared to the car hire firm's charges. Research by travelsupermarket.com found weekly hire fees ranged from £15 to £70 across top Mediterranean destinations.
Have your in-car games and entertainment ready
It can be stressful driving abroad. The last thing you need is the kids causing mayhem in the back while you debate the route under a hot sun.
If you're not taking digital devices away with you then you'll need to arm yourself with some good games.
From Car Brand Bingo to the Geography Game for older kids, and Eat the Alphabet and Number Plate Sentences for toddlers, we've found the best games to prevent boredom.
Always buy your train ticket online
Whether you're looking 12 weeks or two days ahead, it will never be cheaper to buy your ticket from the station.
Notice that most operators add this small print to their online prices: 'Web only fare'. It means you cannot expect to rock up at a ticket office and get the same fares that you saw online.
It doesn't matter if there isn't time to get your ticket sent by post. Most operators offer a system where you can book online and then use the station's self-service ticket machine to print off your ticket up to two hours before you travel.
Or some, like Virgin Trains, offer e-tickets and mobile tickets.
Consider taking the coach
If you get travel sick or hate longer journeys then the coach may not be an appealing alternative – but if you love saving money then it's worth a look.
National Express makes an effort these days to be family friendly, with booster seats for kids, power sockets for tablets, air con and wifi on many coaches. Also get up to 25% off if travelling in groups of 4-9.
Coach travel generally takes longer than rail, but if you've left it late to buy tickets then it can be a very economical option.
For a short break at an attraction like Legoland, Thorpe Park or Alton Towers, check SuperBreak
We highlight SuperBreak a lot in our travel tips. In our research they often turn up the best offers. They are particularly good at finding bargain short breaks at top UK attractions.
But there are some other reasons they are a reliable place to find a good package:
Excellent customer feedback (on Feefo)
Their prices include taxes
No sneaky credit card fees
No extra booking charges
Established for 30 years
Last year's 'Best UK Tour Operator' (Globe Travel)
Enjoyed these travel tips? Find hundreds more in our travel guide series