For this post, I have put together a collection of the best science kids for kids currently available.
Our Top Picks
This was hard to pick! It really depends on what fires your children's imagination and their age. All of these are fantastic and get outstanding reviews.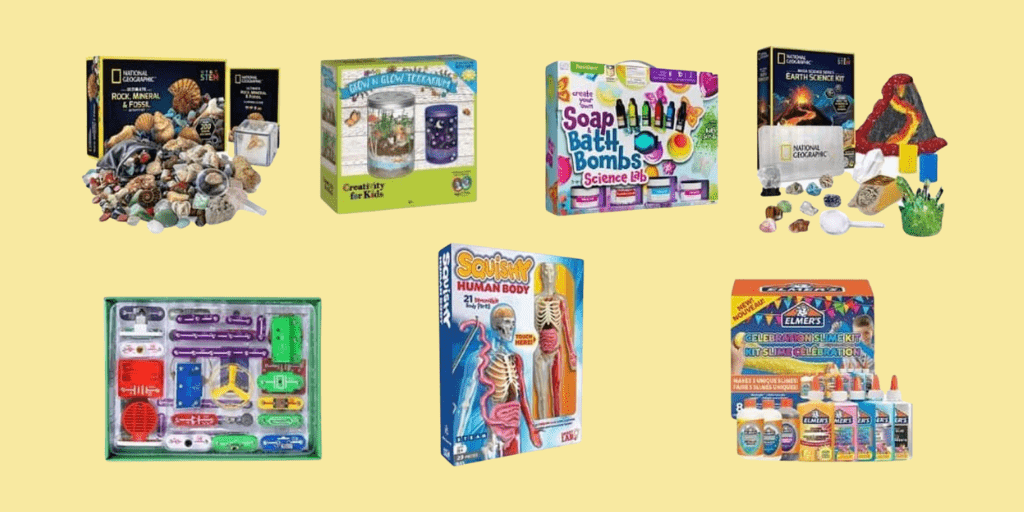 How We Selected
Kids' science kits not only provide hours of fun, but they can also teach your children about the world.
After searching the internet and reading lots of buyers reviews, we've handpicked the best science kits available for kids.
From grow your own plants to high quality slime kits, we've got it covered.
All of our choices have excellent buyers feedback and reviews.
Also check out the best tie dye kits, wooden play kitchens and outdoor toys.
So here is my list of the the best science kits for kids.
National Geographic Rocks and Fossils Kit
The perfect standalone collection (or addition) for any rock mad child.
HUGE set with 200 pieces including geodes, real fossils, rose quartz, jasper and loads more rocks, crystals and gemstones.
Pros: They'll love sorting through their treasure, learning as they go and putting their favourites in the supplied case.
Cons: Quite an expensive kit.
Consumer Score: Fantastic reviews for this amazing kit.
82% of parents gave this 5 stars.
Grow 'N Glow Terrarium From Creativity For Kids
Ideal for budding botanists you can craft, plant, water and grow your own terrarium tabletop garden.
Everything you need for two full plant life cycles.
Kit includes: plastic mason-style jar, decorative lid, potting mix, organic chia and wheat grass seeds, garden figurines, decorative sand, river stones and a plant mister to keep your terrarium watered.
Includes translucent glow-in-the-dark stickers that light up your terrarium at night.
Pros: They'll see quick results with the chia and wheat grass seeds sprouting in 3-4 days.
Cons: No immediate results.
Consumer Score: Brilliant reviews from parents.
Bestselling kit with 8,423 ratings scoring an average of 4.4 out of 5.
National Geographic Earth Science Kit
More than 15 experiment activities and reusable materials to teach your child the wonders of earth science.
Comes with little booklet included with clear instructions on how to do the experiments.
Pros: So many educational and fun activities from growing a real crystal (in 3 days), bouncing magnetic putty and sculpting sound and loads more.
Cons: Quite expensive.
Consumer Score: Exceptional reviews from parents and children.
82% of buyers gave this the maximum 5 stars.
This scored an average of 4.7 out of 5.
SmartLab Squishy Human Body
Discount - Save £5.19
Highly interactive, fun and definitely yucky way to teach little ones about vital organs in their bodies.
30cm high toy skeleton with true-to-scale bones, muscles and soft organs you can remove with tweezers and forceps.
Pros: The bits are sticky and that definitely adds to the 'Urgh' factor – should be a plus for many kids!
24 page lab guide will answer all their questions!
Cons: No storage for after you've used the kit.
Consumer Score: Really brilliant reviews from children and parents.
76% gave this interactive kit 5 stars.
Bestselling kit – it scores an average of 4.6 out of 5.
Elmer's Celebration Slime Kit
Discount - Save £16.31
Large, excellent quality slime kit from Elmer's is a fun way to explore the chemistry of making slime.
Take a look at my guide to the best slime kits.
Create high quality slime kits and these stand out with their shimmer, change colour, sparkle and crunch.
Mix and match different glues and activators to discover new slime creations.
Pros: Washable with soap and water for easy clean-ups, with a child-friendly formula that's made for kids.
Makes 5 batches of slime.
Ideal for beginners and advanced slime experts.
Cons: Once you've made the slimes you've used the kit. It can't be used again.
Consumer Score: Very good feedback from children and experts.
75% of buyers gave this 5 stars.
This scored an impressive 4.6 out of 5.
VFENG 335 Circuit Kits for Kids
Discount - Save £8.00
High quality, educational kit that is easy to use with 335 circuit projects.
A great STEM kit, the perfect starting point for any child interested in electronics.
Depending on your own level of knowledge it's advised you have a look through it all first so you can get them started.
Pros: Perfect activity for siblings or parent and child to work on together.
Cons: Some buyers mention it's difficult to remove placed parts on the circuit board.
Consumer Score: Highly positive reviews with 76% of buyers giving this 5 stars.
This scores an average of 4.6 out of 5.
Dan&Darci Soap & Bath Bomb Making Kit for Kids
Perfect for a child that loves crafts and science – everything they need to create soap, bath bombs and bath scrubs.
STEM.org Authenticated 3-in-1 Spa Science kit.
Create 10 different soaps by mixing  wax, coloring, fragrance, and glitter.
Create 10 bath bombs and a number of different salt scrubs and fizzy bath salts.
Pros: All the ingredients meet or exceed all safety standards and are 100% safe to put in your child's bath.
20-page illustrated guide.
Cons: Once you've made the soaps and bath bombs you've used the kit. It can't be used again.
Consumer Score: Fantastic reviews from 100s of happy parents and children.
72% of buyers give this 5 stars.
This scores an average of 4.5 out of 5.
Things To Consider When Buying Science Kits
Kids Age
Most science kits for kids will give you guidelines for age range.
You will want something which is going to keep your child engaged so its always best to follow the manufacturers guidelines to ages.
Younger kids can also play with kits which are meant for slightly older kids if supervised by parents.
Ease Of Use
You are going to want to opt for kits which kids can use quite easily. If you want to buy them something which they can play with on their own, think about how complicated the kit is you are buying.
Type Of Kit
Choose a subject matter which is of interest to your kids. If they love fossils and rocks, maybe opt for a kit which contains these.
If they love making things, slime kits and bath bomb kits are great.
Think about how your child can engage with the kit they get. Some kits can only be used once and others can be used over and over again.
FAQ's Kids Science Kits
Which is best science kit for kids?
There is no single product which is better than the other. It all depends on what your child is into.
Are science kits worth it?
Yes, they can help to get the kids away from their tablets and do something fun and educational at the same time.
How do you make a home science kit?
There are many ways to teach your children the world of science at home, through cooking, using different home ingredients to make slime, looking at things in the home through a magnifying glass, the list is endless.
Science Kit Deals & Today's Bestsellers
Final Thoughts
The kits from National Geographic are very high quality.
If I had to pick one it would be the National Geographic Earth Science Kit because it has 15 brilliant experiments, both educational and fun.
I've yet to find another kit that has so many glowing reviews from children and parents.
I hope this list of the best science kits for kids was helpful.
If you think I left any out that should be included or have a suggestion for a future article, let me know in the comments below.
Dominic
Last Updated: June 2022
Added 'How We Selected.'
Updated Image.
Added Top Picks.
Added Pros/Cons on all products.
Added 'Things To Consider'.
Added FAQ's.
Added Final Thought.