For this post, I have put together a collection of the best travel kettles currently available.
Show Today's Top Deals
These are today's top deals and bestsellers for travel kettles.

See my top picks for the best camping kettle or kettle and toaster set.
Do you like a cup of tea or coffee on your travels?
Sadly many places do not provide boiling facilities. That's where a travel kettle comes in.
In this article I'll show you 9 of the best travel kettles that are both small in size and lightweight.
Let's get going!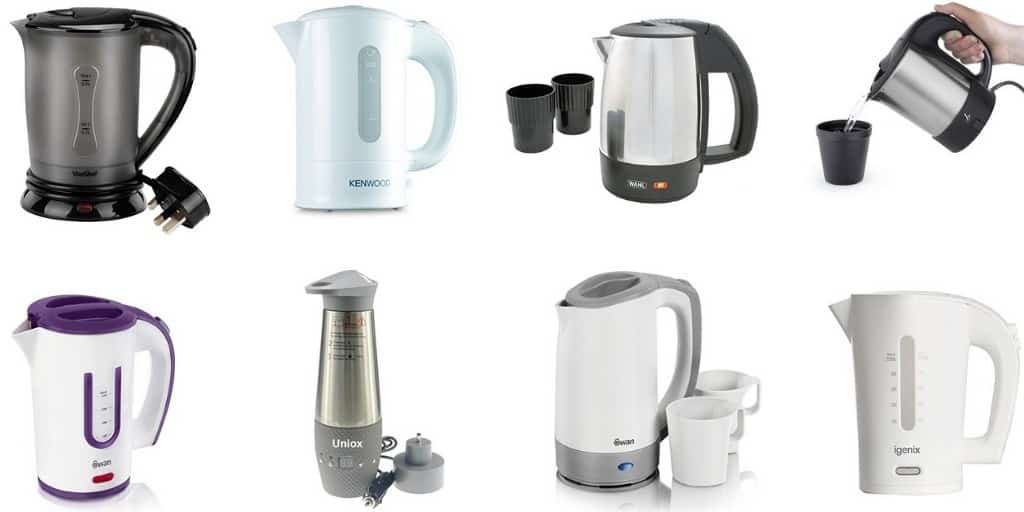 Kitchen Perfected Travel Kettle | E886
Discount - Save £0.76
Holds a deceptively large amount and is smaller than others with similar capacity.
Also benefits from a number of features usually only found in domestic and not travel kettles.
These include automatic switch off, dual power, and boil-dry protection.
Power: 1200 Watts
Capacity: 0.9 litres
VonShef Travel Kettle
Smart looking kettle with a matte black design.
Exceptionally well reviewed.
Boils enough water for two sturdy mug sized cups and is supplied with two cups with handles.
Power: 650 Watts
Capacity: 0.5 litres
Kenwood Travel Kettle
Excellent travel kettle as you'd expect from Kenwood brand.
Very well reviewed – quiet operation, small and light.
Supplied with two beakers and two spoons.
Handy switch on the bottom to change voltage when using overseas.
Power: 650 Watts
Capacity: 0.5 litres
Uniox Car Kettle
No access to a power outlet?
This one is specially designed for use in your car and the 12V power outlet.
It plugs directly into the cigarette lighter of any car.
Bear in mind it will take longer to heat water, approximately 15 minutes if full.
A great feature is that you can then keep it warm, at whatever temperature you wish.
It is more expensive than the other normal travel kettles but can soon pay for itself by saving on expensive motorway beverages.
Swan Travel Jug Kettle | SK19010N
One of the smaller travel kettles this one will fit nicely into a suitcase or backpack.
Simple, clean looking this holds the standard 500ml and comes supplied with two cups.
Bear in mind they aren't the biggest.
It's light, weighing around half a kilo.
Ideal for international visits as it is dual voltage.
Power: 600 Watts
Capacity: 0.5 litres
Russell Hobbs Travel Kettle | 23630
Packs a powerful punch this one and boils very quickly.
Coupled with a large capacity enough to full two standard mugs many buyers use this kettle as a replacement for a standard kettle.
Supplied with two cups and two spoons.
Power: 1000 Watts
Capacity: 0.85 litres
Swan Portable Travel Kettle | SK27010N
Discount - Save £15.00
Excellent, short kettle means it's a good size for using on the move.
The downside is that you don't get quite the capacity at 400ml.
It boils quickly at only two minutes and is very quiet.
Dual voltage so it's set up for use overseas.
Includes two stackable cups that can be stored in the kettle and a storage bag.
Comes with overheating and boil dry protection.
Power: 1000 Watts
Capacity: 0.4 litres
Wahl Travel Kettle | ZX643-200
Very good quality durable kettle made of stainless steel.
Dual voltage means you can take it abroad and with cups inside, saves you forgetting to pack them.
There is a bulky lid so this kettle isn't suited to travel on the move or in a suitcase and best suited to camping or camper van use.
Supplied with two travel cups.
Power: 1000 Watts
Capacity: 0.5 litres
Igenix Travel Jug Kettle | IG7102
Good budget option for occasional use.
Good value considering it includes boil-dry and overheat protection.
Lightweight option and supplied with two cups.
Power: NA Watts
Capacity: 0.5 litres
Lakeland Travel Kettle
Discount - Save £4.99
Solid, durable kettle.
The stainless steel looks good but does mean it's not the lightest weighing 0.8kg.
Popular amongst caravanners where space and weight is not such an issue.
Powerful wattage means it boils quickly and has dual voltage so suitable for international travel.
Comes with handy accessories including two travel cups, spoons, travel bag and divided container.
The cups and sugar pot fits perfectly into the kettle when in transit.
Power: 1000 Watts
Capacity: 0.5 litres
Quest Travel Kettle | 35690
Discount - Save £3.00
Excellent value travel kettle with great reviews.
Boils in approximately 5 minutes with auto-cut off switch.
Comes with two cups that can be stored inside when on the move.
Dual voltage means it's perfect for using internationally.
Power: 600 Watts
Capacity: 0.5 litres
What To Consider When Buying a Travel Kettle
Being small and light are the two key criteria to look at when picking a travel kettle.
Your suitcase or overnight bag might be brimming already so you don't want to add to the weight too much with a travel kettle.
Weight and Capacity
The lightest travel kettles weigh from as little as 0.5 kg and you'll find many at this weight in our reviews above.
Standard full size kettles weigh as much as 1.5 kg.
Obviously the lighter the better but the downside is lighter means smaller capacity.
The Kitchen Perfected model balances both a large capacity of 0.9 litres but has small dimensions and only weights 0.5 kg.
Dual Voltage
If you are planning to use your travel kettle abroad please double check it has dual voltage.
Time to Boil
Travel kettles are smaller and tend to have less power so they'll boil slower than standard sized ones.
Depending on where you're travelling or personal preference will determine how important this is for you.
If you're in a hotel and keen to get out sightseeing you may want faster boiling than if you're in a campervan.
Travel Kettle Deals & Today's Bestsellers
Where To Buy Travel Kettles
We recommend Amazon as they tend to have the widest selection and competitive pricing. Other options include Argos, Asda, Tesco and Sainsburys.
Argos Travel Kettle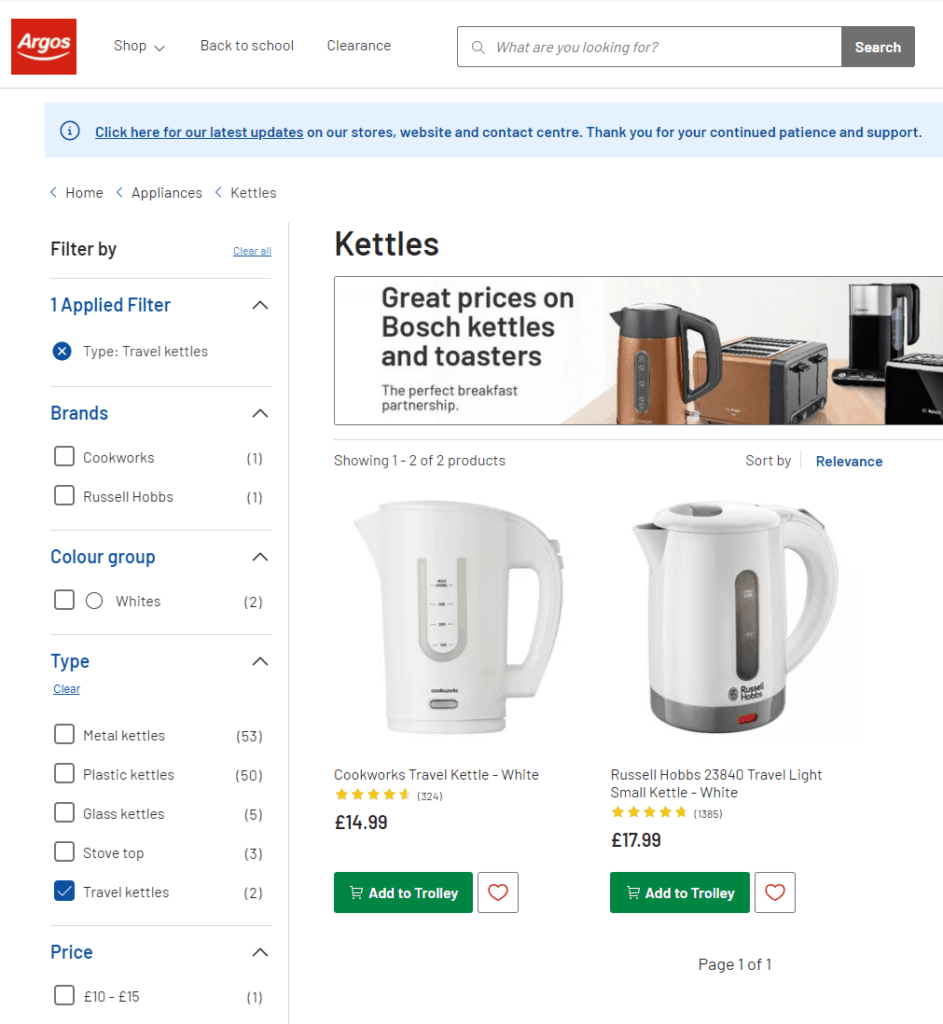 eBay Travel Kettle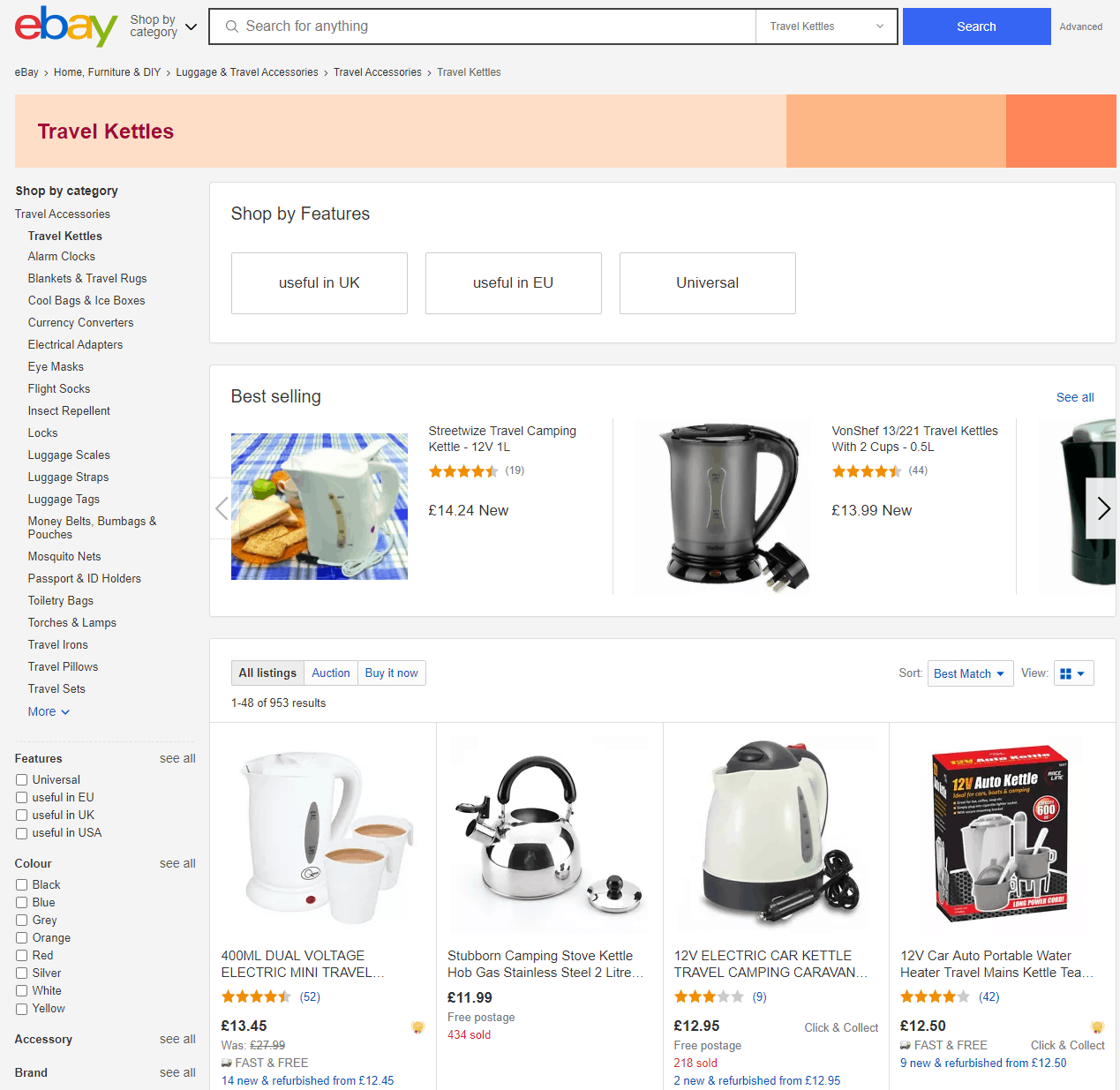 Travel Accessories – Buyer's Guides