For this page, I have put together a collection of the best kettle and toaster sets currently available. See my top picks for all types of kitchen ware.
Our Top Picks
Show Today's Top Deals
These are today's top deals and bestsellers for kettle toaster sets.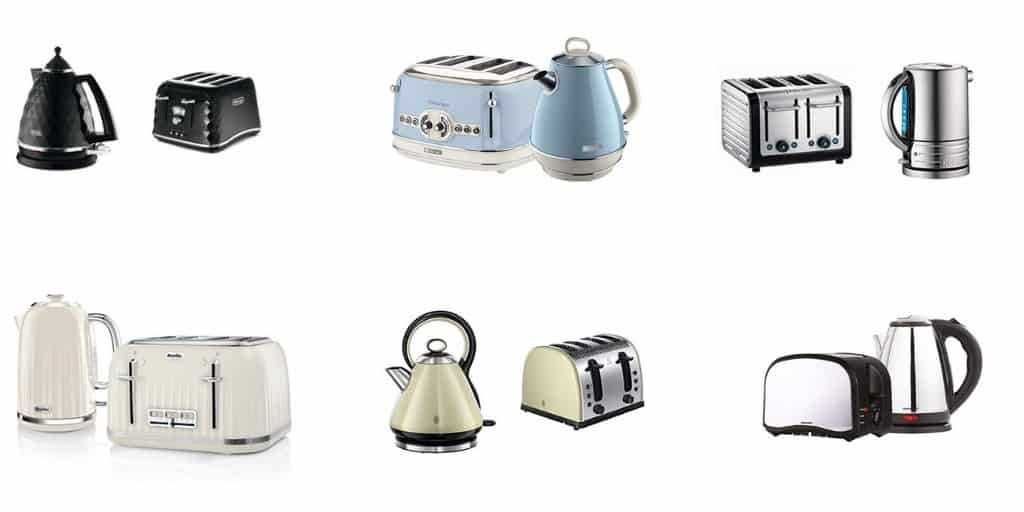 Related: Looking for something smaller? Check out my recommended buys for best camping toaster and camping kettle. Or see my best buys for travel kettles.
A matching kettle and toaster set will certainly smarten up your kitchen.
But it's important they don't only look good – they need to boil quickly and toast effectively and efficiently.
To help you we've put together this list of the best kettle and toaster sets out there.
Looking for more kitchen buying guides? See my top picks for the best oven gloves and digital kitchen scales.
Let's get started!
De'Longhi Brillante Kettle and Toaster Set
Discount - Save £15.98
Eye-catching set with the high gloss design and chrome accents.
4 slice toaster has decent power at 1.8kW.
Kettle is a quick boiler, holds 1.7 litres and has a 360-degree swivel base.
Breville Impressions Kettle & Toaster Set
Another popular high-gloss with the ridged design this one is good value for money.
Buyers like the 'Lift and Look' feature so you can check the toast's progress mid cycle.
The powerful 3KW is a quick boiler and holds up to 8 cups.
Daewoo Stainless Steel Kettle and Toaster Set
If you're after the shiny chrome look this set performs well.
The kettle holds 1.5 litre, rotates 360 degrees and we like the ergonomically designed handle.
Ariete Retro Style Jug Kettle and Toaster Set
This retro set gives a warm 50s style and they both have solid functions.
You can choose cream or green if you're not so keen on the blue.
The 4 slice toaster has simple cancel, defrost and reheat functions, along with 6 browning levels.
The kettle holds 1.7 litre and has an easy to clean removable filter.
Swan Symphony Kettle and 2 Slice Toaster Set
This set from Swan will suit a contemporary kitchen design with its high gloss with matte finish and clean ribbon lines.
Like many on this list, the 3KW kettle is a solid performer and holds 1.7l capacity.
Russell Hobbs Legacy Quiet Boil Kettle and Toaster Set
Lovely traditional design here.
A pricier option with its two selling points for the kettle that it is quick and quiet.
It takes only 45 seconds to boil a single cup.
It is a very quiet operator but there is feedback that is less quiet when it gets scale from hard water.
Make sure you remove the plastic insert as although it's meant to be useful for measuring it can lead to a taste issue.
Dualit 4 Slot Architect Toaster & 72905 Architect Kettle
Discount - Save £21.08
This set looks the absolute business and performs its tasks exceptionally well.
If you have the money to spend this is the recommended set.
The Dualit brand is particularly known for their toasters.
It's designed for commercial use so it will take anything you can throw at it.
There's extra wide slots on the toaster and a 'Peep and Pop' function so you can see how it's browning without it stopping from toasting.
The kettle has an illuminated window with a water level indicator.
How To Choose The Best Kettle For You
These are the key elements to consider as you go about choosing the right kettle for your needs.
Speed
Most of the kettles in our list have a power element of 3kW. You can go for a lower wattage if speed is not an issue.
If they take longer though they can end up using more electricity.
Design
Although there are a few whackier styles the two main designs are dome and jug.
The dome ones are the more traditional styles with lift-off lids.
These can be a little fiddly. Dome designs can have the handle at the top or on the side.
In comparison with jug kettles they usually hold more water and have the handle on the side.
Capacity
Many of our recommended kettles hold up to 1.7 litres.
A cup of tea is around 250ml so you're getting to get over half a dozen cuppas on the go.
If you're regularly using the kettle to heat a single cup then it's worth checking the minimum capacity of your kettle a larger capacity might be more useful for someone who is boiling water for cooking.
Noise
We're not talking whistling kettles here so none are super loud.
However, if you're after a super silent boiler then look out for models approved by Quiet Mark – who test noise levels in decibels output.
Kettle and Toaster Set Deals & Today's Bestsellers
Kitchen Essentials Buying Guide