For this post, I have put together a collection of the best pestle and mortars currently available. For all my recommended accessories see my list of kitchenware.
Our Top Picks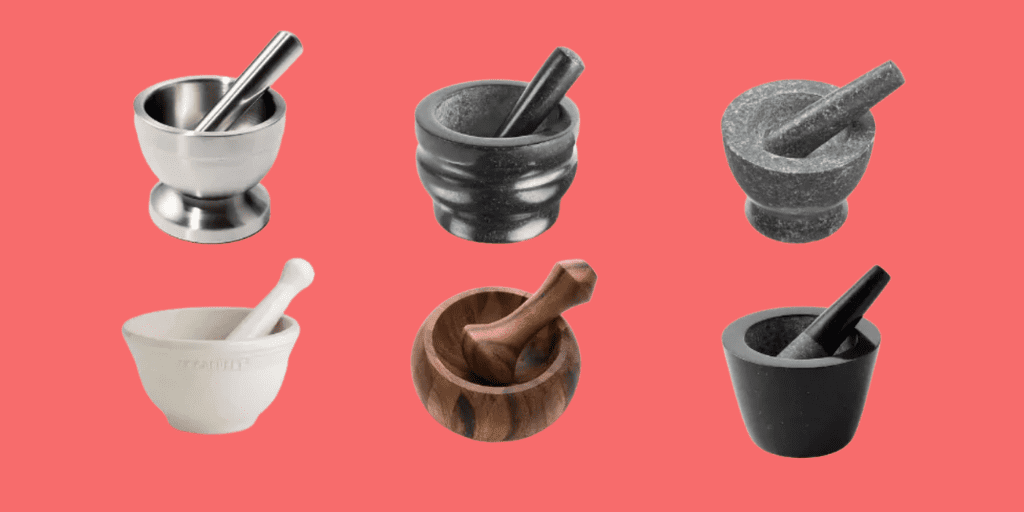 Pestle and Mortars have been used since ancient times to prepare ingredients by crushing and grinding them into a fine paste or powder in the kitchen.
They are ideal for grinding spices to make marinades and meat rubs or even to make pesto and guacamole.
How We Selected
We've selected 10 of the best mortars and pestles available on the market.
All of our recommendations have been highly recommended by buyers and have excellent 4-5 star ratings.
See my top picks for the best bread bins, digital kitchen scales and oven gloves.
Let's get started!
Marble Mortar and Pestle – Green (Fox Run)
Made of beautiful and durable green marble.
Pros: It has a traditional look and the inside of the mortar is unpolished for superior results.
Cons: Some buyers mention is can be quite slippery.
Consumer Score: Excellent reviews with 81% of buyers giving it 5 stars out of 5.
Jamie Oliver Pestle and Mortar – Granite
Discount - Save £4.23
Mortar polished on the outside while the inside has been left unpolished to give an ideal surface for grinding both wet and dry ingredients.
Pros: The pestle has been polished along the edge for comfort in the hand and left unpolished on the end to effectively grind even the toughest ingredients.
Cons: Some buyers mention it is fragile.
Consumer Score: Brilliant reviews with 80% of buyers giving it 5 stars out of 5.
Cole and Mason Pestle and Mortar – Black Granite
Discount - Save £7.68
Large solid granite pestle and mortar ideal for creating and serving freshly made wet or dry mixes, pastes or sauces.
Pros: The mortar is shaped to be comfortably cupped in the hand and the heavy-weight base makes it easy to use with even the toughest of ingredients.
Cons: Very heavy.
Consumer Score: Excellent reviews with 80% of buyers giving it 5 stars out of 5.
Ironwood Gourmet Mortar and Pestle, Acacia Wood, Brown
Made from acacia wood, known for its unique and natural contrasting patterns.
Unique, pre-Columbian design that will look great in any kitchen.
Pros: Effective at reducing herbs, spices and nuts to powders or pastes.
Cons: Mortar is fairly shallow.
Consumer Score: Very good reviews with 73% of buyers giving it 5 stars out of 5.
Argos Pestle and Mortar – Granite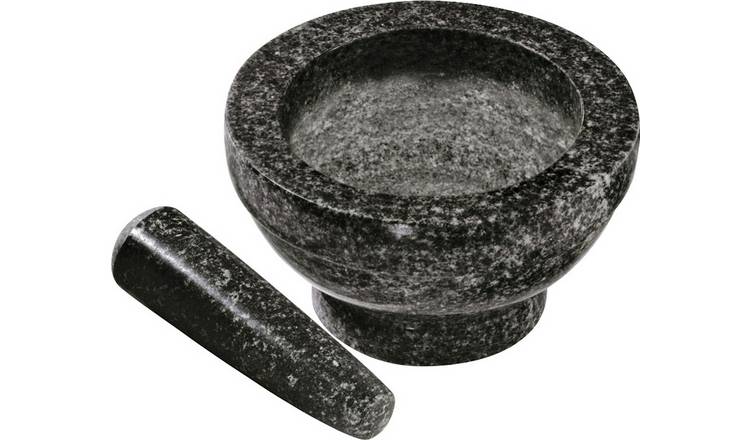 Made of granite, heavy and sturdy, so it is stable when grinding.
Pros: Dishwasher safe, good value for money.
Cons: Could do with something on base to stop it slipping.
Consumer Score: Excellent reviews with 96% of buyers recommending this product.
Pestle and Mortar Set by Stanley Rogers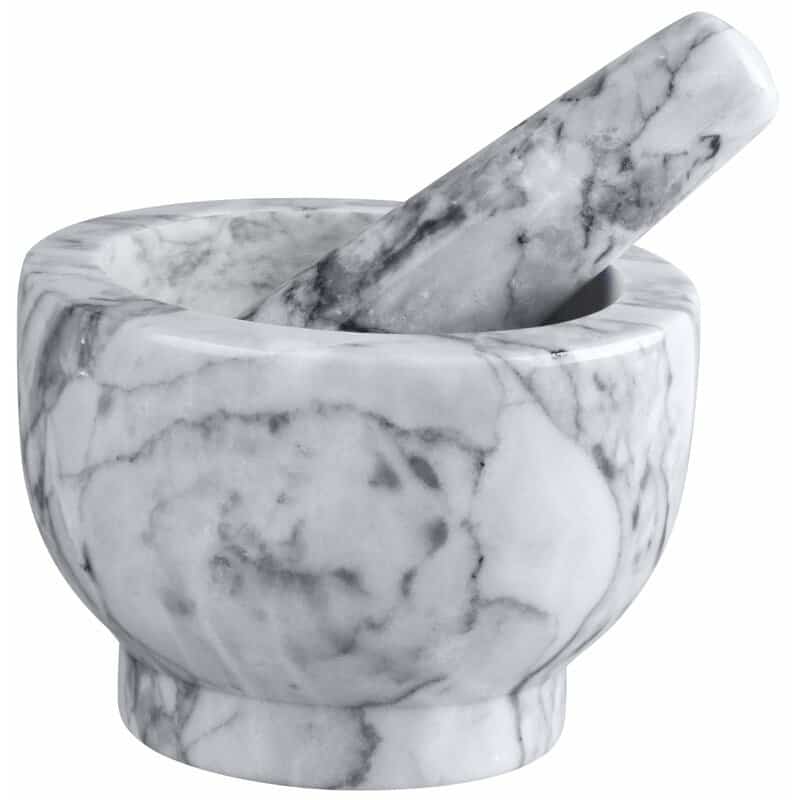 Marble heavy duty pestle and mortar. Excellent quality and good size.
Pros: Large and durable.
Cons: Pricey.
Consumer Score: All 5/5 star reviews.
What To Consider When Buying A Pestle & Mortar
Material
The best pestle and mortars tend to be made of heavy materials such as granite, marble or ceramic.
The heavy weight allows you to grind your ingredients thoroughly without damaging the tools.
Depth
Choosing a mortar which has a deep rounded shape will insure your ingredients don't spill out as you are grinding them.
Size
If you can find a large pestle and mortar, this is always going to work better than a small one, where you can allow yourself enough space to add all of your ingredients and be able to mix them without spillage.
FAQ's Pestle & Mortars
Why Do I Need A Pestle & Mortar?
Nowadays electric food processors often take the place of a traditional pestle and mortar, but they are actually a cost efficient and practical piece of kitchen equipment, especially if you enjoy cooking with herbs and spices.
What Can You Use A Pestle & Mortar For?
– Curry pastes
– Pesto
– Flavoured salts
– Dips like hummus or guacamole
– Spice blends
Where Can I Buy Pestle & Mortar Online (best retailers)
In our product reviews above I've linked to Amazon because they tend to have good stock levels at competitive process.

I do strongly checking these recommended retailers below.
– eBay
– Lakeland
– Wayfair
– John Lewis
– Argos
Cheap Pestle & Mortars & Today's Bestsellers
Final Thoughts
My overall top pick is the Jamie Oliver Granite Pestle and Mortar, 14 cm as it's ideal for grinding both wet and dry ingredients and has great buyers feedback.
If you would like to see more articles like this, please comment below.
Thanks,
Nicola
Last Updated
Added 'How We Selected.'
Updated Image.
Added Top Picks.
Added Pros/Cons on all products.
Added 'Things To Consider'.
Added Consumer Scores.
Added FAQ's.
Added Alternative Retailer.
Added Final Thought.
Moved OOS.
Kitchen Essentials Buying Guide
Le Creuset Stone Pestle and Mortar -Almond (currently unavailable)
High quality enamelled stoneware pestle and mortar.
Oven proof and freezer proof.
Microwave and dishwasher safe.
Comes in a range of attractive colours and is easy to clean.
Stainless Steel Large Mortar & Pestle, Heavy Duty (currently unavailable)
Double stainless steel pestle and mortar is extremely durable and compact.
Functional design with non-skid base and heavy-duty pestle press.
Stain, odour and crack resistant.
ProCook Granite Pestle & Mortar (currently unavailable)
No products found.
Straight sided mortar and pestle sets hand crafted from solid, pure granite.
Extra deep bowls featuring unpolished interiors and matching pestles with unpolished ends to finely grind.
ProCook Chocolate Marble Pestle & Mortar (currently unavailable)
Made from a dark chocolate marble coloured granite, this pestle and mortar is heavy duty and looks luxury.
Hand wash only as not dishwasher safe.