For this post, I have put together a collection of the best mini fridges currently available.
Our Top Pick
If you are looking for the best overall, I recommend the Inventor 66L model because it holds a lot, is available in many sizes and is very energy efficient.
It has a reversible door to save space, is very quiet and also features a handy freezer compartment. Of course the best one for you will depend on how and where you plan to use it.
Show Today's Top Deals
These are today's top deals and bestsellers for mini fridges,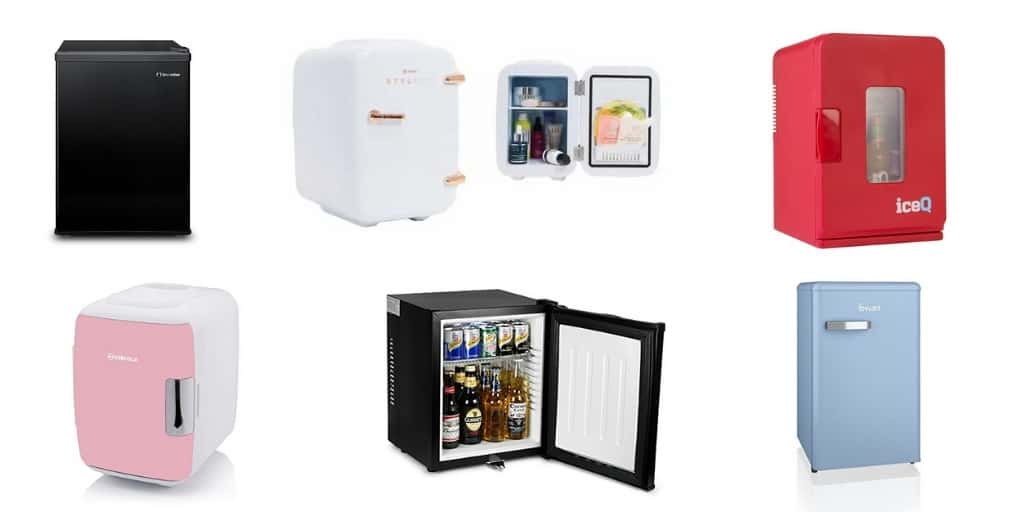 ---
A small fridge is a useful addition to the house for storing drinks or extra food and it can be used in offices, bedrooms or university halls.
There are so many different configurations and sizes, it can be tricky to decide which is best for you. This guide will help you. Let's get going!
Husky Coca-Cola Mini Fridge
Eye catching retro design if that's what you're after
Solid functionality with plenty of storage space.
Stores up to 40 cans or a good amount of food or bar snacks.
Thermostat-regulated temperature means it's suitable for food too.
Black interior colour might put off some as it won't any mess as easily as lighter ones.
Capacity 42.9 Litres
Inventor Appliances A+ Silent Mini Fridge
Huge Capacity of 66 litres
For some this will be a suitable replacement for their main fridge.
Available in other capacities from 42L to 99L.
Very energy efficient and economical with an A++ rating.
Reversible door allows it to fit into most spaces.
Very quiet operator with noise levels at 42dB(A).
Well reviewed all round.
Handy little freezer compartment.
Subcold Store
Cute design available in three colours – white, white/pink and white/blue.
Good option for student off to college or teenage bedroom.
Very mini size with a capacity of 4L. This equates to 6 x 330ml cans.
Good option for bedrooms, offices, fishing, cosmetics, camping etc.
Can be used outside due to it's multiple power options – AC mains 230V power lead, a DC 12V power lead and a USB power lead for a 2AMP power bank.
Gets cold quickly and can keep drinks at a respectable -18°C.
You can also heat things up and keep drinks warm up to 60°.
ChillQuiet Silent Mini Fridge
Capacity of 24L and holds up to 15 standard beer bottles.
Movable single shelf allows for a multitude of different configurations to suit your preference.
Very silent performer so it's ideal for a bedroom.
Lockable and includes a soft interior LED light.
Igenix IG6711 Counter Top Fridge
Capacity of 47 litres with a freezer compartment storing up to 4 litres.
Reversible door so it won't take up too much room.
Lockable door, one wire shelf and two balcony shelves.
Quiet operator.
iceQ 15 Litre Deluxe portable mini fridge with window in red
Capacity of 15 litres and ideal for storing small items like snacks and cans of drink.
Bold red colour, also available in black and blue.
Very portable due to it's light weight and handle.
Eco setting provides very little noise.
It looks good with the matte finish and perspex window design.
Perfect for college goer's lounge or bedroom.
Swan Freestanding Retro Under Counter Fridge Freezer
One of the larger mini fridge options out there.
Available in black, blue, cream and green colours.
Large 90L capacity.
Even comes with a salad crisper drawer.
Internal storage includes 2 adjustable glass shelves and 3 door compartments. Layout can be adjusted to suit your needs.
Very energy efficient with an A+ energy rating.
iceQ tabletop lockable fridge
Good lockable feature makes this one perfect for those communal spaces in student halls.
Capacity of 43 litres.
Features two door racks and a removable shelf inside.
One of the quietiest options out there with a decibel rating of only 40.
Well built sturdy construction.
Kuhla mini fridge
Discount - Save £4.51
Eye-catching design comes in loads of different designs – campervan, gaming etc. Would make a good option for student digs.
17 litre capacity
Features a removable wire shelf and a bottle rack in the door for added storage.
Has a decibel of 40 and most buyers find this a very quiet mini fridge.
ASOS Beauty Fridge
Good for beauty lover to keep their expensive serums and face creams at the right temperature to extend their shelf life.
Beauty fridges are growing in popularity.
Capacity of 4 litres.
They can also reduce harmful bacteria.
Cools products up to 20 degrees below room temperature.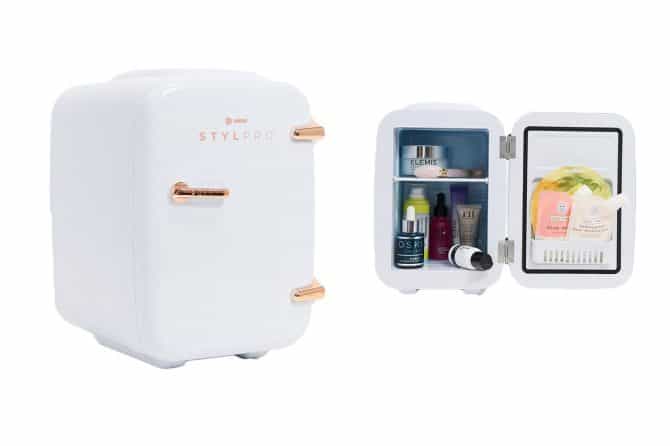 Mini Fridge Deals & Today's Bestsellers
What To Consider When Buying a Mini Fridge?
Noise
If the fridge will be in a bedroom you'll want to make sure you get a quiet one. Make sure to check the decibel level and read the reviews.
Ambient Temperatures
Check what temperatures it operates at. Some mini fridges are not suitable for perishables but if you're simply looking to keep some drinks cool then that's fine.
Door
If space is an issue check for mini fridges with a reversible door.
Adjustable Feet
Uneven surfaces will affect the efficiency of the fridge so check for adjustable feet.
Freezer Compartment
If important you can find many mini fridges with a small freezer compartment.
Lockable
And if the fridge will be in a communal space look for a fridge door that can be safely locked.
I hope this list of the best mini fridges was helpful.
If you think I left out one that is important or have a suggestion for a future article, please let me know in the comments below.
Nicola
Kitchen Essentials Buying Guide