For this post, I have put together a collection of the best camping fridges currently available. See all camping guides and don't forget anything with a complete list of camping supplies.
Our Top Picks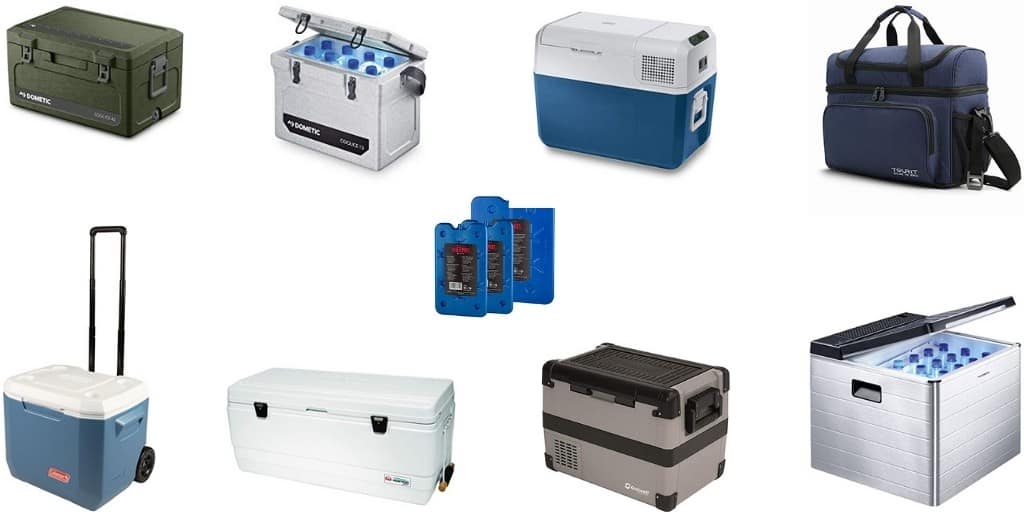 How do you keep your food and drinks cool when you go camping for more than couple of days?
In my exhaustive guide I'll walk you through the different types of portable fridges.
I'll recommend tried and tested product options suitable for all types of situations, whether you are a family (big or small), couples and solo campers.
Technology has come a long way over the recent years and I'm sure you'll find something to fit your budget and needs.
Related: To complete a well organised set up check out my best buys for camping kitchens. You may also be interested in my buying guides for camping stoves and portable bbqs.
Let's get started!
4 Types of Camping Fridge / Coolbox
There is a lot of camping fridge jargon thrown about but essentially there are four types of camping fridge:
1. Passive Coolboxes
The most basic option and what you are likely most familiar with.
Passive coolboxes keep your food and drink cool without using electricity.
They are insulated boxes that use ice blocks (or frozen drinks) to keep the temperature down.
If you are camping for longer than a couple of days, you need to refreeze your ice blocks.
These coolers are the cheapest options and are available in all sorts of sizes from the highly portable to huge chest-sized options.
The performance of the passive coolboxes will depend on the quality of the insulation of the walls and lid.
And if it's very hot where you are this will of course affect how long your items are kept cool.
Remember to keep the cooler out of the sun.
I recommend getting as decent ice blocks as your budget can stretch.
2. Thermoelectric Coolboxes
These are also known as electric cool boxes (or sometimes travel fridges or plug in eski).
Thermoelectric powered camping fridges are insulated boxes that keep items cool with an electric fan. Outside of passive coolboxes these tend to be the cheaper option.
Low performance ones range from £20 – £100 depending on the quality and size.
High performance models range from £150 – £300, again depending on the size and quality.
How cool these cookboxes keep what's inside depends on the outside temperature.
An average model may have a cooling power of 20 degrees celsius below the ambient temperature. So if it's 30 degrees outside it will keep it at 10 degrees.
A home fridge is around 5 degrees. Or you can get a higher performing thermoelectric coolbox that will keep it 30 degrees below ambient temperature. This will cost more. Some electric cool boxes can also harness solar energy.
Avoid cheap models as they will have poor insulation and can be very noisy. They can be powered by the mains-hook up at a campsite or you can use your car adapter. It will drain the battery quite quickly if it's not running.
Compressor Fridges
This camping fridge option acts very much like your fridge at home, but smaller. It's powered by electricity and you can reach temperatures as low as 12 degrees below celsius. If you're looking to store items such as meat, this is your preferred option.
The great benefit of these fridges is that you set the temperate and the unit will keep it at that level.
The warmer it gets outside the fridge, the harder it will work and the more energy it will consume but you don't need to worry about the ambient temperature like the thermoelectric fridges.
You can run them via mains power or your vehicle battery. To get some low temperatures your car battery might not be powerful enough. Due to the nature of how they are made they tend to be heavier than other options.
Gas Fridges
Also known as absorption, LPG or 3-way fridges.
These fridges make use of either electricity or gas to function. They can generate the lowest temperatures at up to 33 degrees centigrade below the ambient temperature.
They are usually the quietest, sometimes making no noise at all which equals peaceful nights for you and any neighours.
The smallest gas fridges tend to start at 30 litres. If they do use gas then they must be placed in a ventilated area. If they run on electricity the use 12/230v.
Best Passive Coolboxes
Coleman Cool Box Xtreme
My recommended option if the size options and budget suit.
The Coleman Xtreme range is available in four sizes: 47, 49, 66 and 91 litres.
Extremely good build quality and most importantly fantastic insulation within the walls and lid.
It will keep your items cool for 4-5 days depending which size you go for.
The 66 litre model can hold three 1.5l bottles upright.
The lid handily doubles up as a seat or serving tray with moulded cup holders.
If you're after a smaller size, Coleman also do a 28 litre model in the Xtreme range.
Dometic Cool-Ice Box
Extremely high quality and effective cooler.
The drain plug is super handy.
Strong hinges and lid fastening system.
Depends on which size you go for but look to have lovely cool contents for three days plus.
Dometic Cool-Ice Box – Green
If you prefer Dometic do a range of cool boxes in this green colour.
IGLOO Marine Ultra Cooler
Another solid option and looks really good.
Loads of size options and we like the 31 litre option.
It has good insulation and you;'re looking at keeping your contents fridgeable for 2 days.
Handy triple-snap drain plug.
The pull-along handle and rugged wheels means it's perfect for dragging over all types of terrain.
Lid contains four self-draining cup holders.
Recommended Iceblocks – Thermos Freezeboards
The insulation of the walls and the lid are key in how effective your passive cool box will be.
But you also need to ensure you invest in decent ice packs inside and I recommend the ones by Thermos.
You can buy them in packs of 1, 2 or 3.
I'd get a few and to maximise their performance ideally you'd want ice packs on the bottom, sides and top.
These freezeboards are way more effective than traditional icepacks.
These ones are thin so they won't take up too much space in the cooler box.
Today's Deals & Bestselling Cool Boxes
I've included the bestselling cool boxes on Amazon.
Look out for any sales on these.
I don't specifically recommend any of these but you might be able to pick up a good deal.
My top recommendation is for the Coleman Cool Box Xtreme range.
Tourit Cooler Bag 22L
Good option if you're looking for a cool bag.
Slings over the shoulder makes it easy and comfortable to carry.
Get a day or two of cold contents.
It comes with a bottle opener in built.
It holds 22 L and there's pockets inside for your picnic gear such as cutlery.
It's well made and tear-resistant.
Best Thermoelectric Coolboxes
Mobicool MCF40
High performer with excellent build quality.
Cools to around 18-20C below the outside temperature.
Operates on 12V and 230V.
Detachable lid – also splits so you don't need to expose the whole cool box to the outside sun.
Space for 1.5 L bottles to stand upright
Outwell ECOlux 24L Cooler
Budget option when it comes to thermoelectric coolboxes.
Available in 24 litres.
Includes a USB port and LED in the lid.
It cools 18-25C below outside temperature.
Can be used with either 12V or 230V
Dometic TCX35 Dometic Tropicool
33 litre and high performer with fantastic build quality.
High tech with display screen and control panel enabling you to set the temperature.
Refrigerates up to 30 degree Celsius below ambient temperature, heats up to +65 degree Celsius.
Unlike many other models the fan is located at the top.
Campinggaz Power-Box
Another excellent model from reputable brand Campinggaz.
Useful features include night mode for quiet operation.
Three other modes depending on how much cooling you'd like versus energy consumption.
Can be powered by both a 12 V car, as well as with a normal 230 V plug.
Best Compressor Camping Fridges
Dometic CoolFreeze CDF
Exceptional compressor fridge but they are pricey.
Available in five sizes from 10.5 all the way up to 31 litres.
Runs on 12/24 V DC or 100-240 V AC.
Refrigeration and deep-freezing down to -18 degrees Celsius.
Handy lift-out wire basket.
Slim line design means it ca be stored that bit easier – for a family of four the 21 litre should be sufficient.
Other pluses – very quiet, uses little power, quick to get going and gets cold within 2o minutes.
Battery saving cut-off means you'll never drain enough from the car battery that it won't start.
If you wish to go bigger Dometic do a CFX range up to 60 litres!
Dometic CFX3 35
An update to the CDF range, the Dometic CFX series will cost you pretty but they are the top of the range compressor fridges with a huge amount of features and functionality.
This unit combines a heavy-duty structure that is extremely durable yet it's lightweight frame and aluminium allow handles means it's light for the size.
The VMSO3 compressor cooling technology efficiently refrigerates and deep-freezes to –22 °C.
The powerful cooling is coupled with fantastic sealing and insulation.
This model holds 32 litres but you can pick up models that will hold 40, 48, 65 and 82 litres.
Just Kampers 45Lt Electric Compressor
One alternative to the Dometic range is this huge 45 litre offering from Just Kampers.
For it's size and features it's very reasonably priced.
Power from 12/24 volt car battery.
Outwell Deep Cool 35L Camping Fridge
Another option, a little smaller is this 35 L compressor from Outwell.
As with the others you can power via the car or mains with 12V and 230V.
It's a quiet operator.
Prefer the handles on these over some other models.
Best Absorption Camping Fridges
Dometic ACX40 Combicool Absorption Coolbox
A big benefit of this range is that they can run on gas or electricity.
Runs on 12V DC in the vehicle, 230V AC in the home, or switch over to gas mode to continue to use the cooler whilst outside.
Very sturdy housing unit with attractive aluminium housing.
Cools up to 30°C below ambient temperature.
You can fit up to eight 2 litre bottles.
40 litre capacity.
Dometic ACX40G Combicool Absorption Coolbox
This is the model up – the G denotes that it will work with a standard gas cartridge, along with a bottle and regulator.
These units from Dometic are extremely efficient helped by the oustanding insulation.
It's completely silent on all three power sources with no fans.
These fridges are expensive but if you're away for a period of time and go regularly, they are exceptional camping fridges.
Today's Top Camping Fridge Deals & Bestsellers
I hope this list of the best camping fridges was helpful.
If you think I left any out that should be included or have a suggestion for a future article, let me know in the comments below.
Dominic
Camping Buyer's Guides
Help ease your shopping with our in-depth buying guides for your next camping purchase.
Your Camping Checklist
There's something you always forget when packing for a camping trip. Use our handy camping checklist to make sure you don't forget anything important.
Get more out of your next adventure in the great outdoors with these 24 brilliant camping hacks.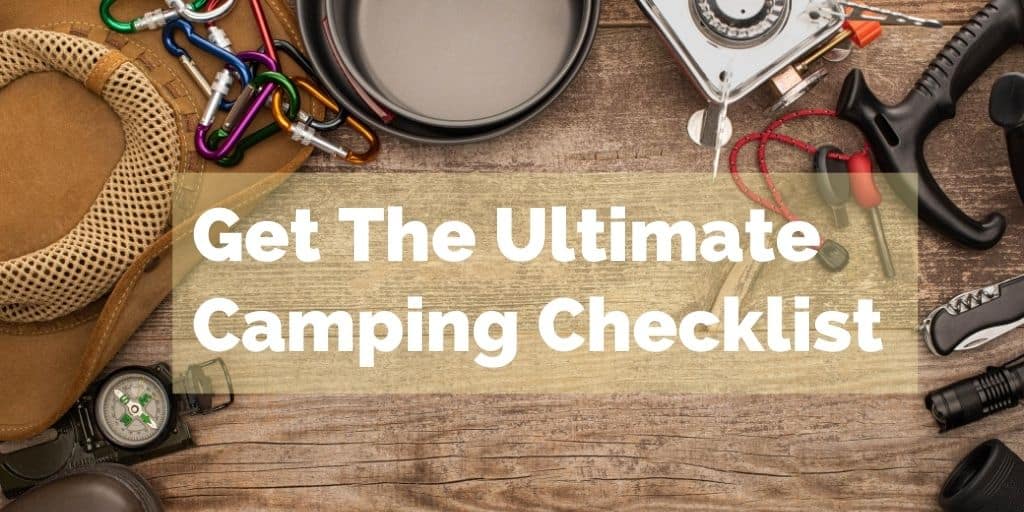 Get more out of your next adventure in the great outdoors with these 24 brilliant camping hacks.