For this post, I have put together a collection of the best camping lanterns currently available. Looking for more camping top picks? See my guide to recommended camping equipment.
Our Top Picks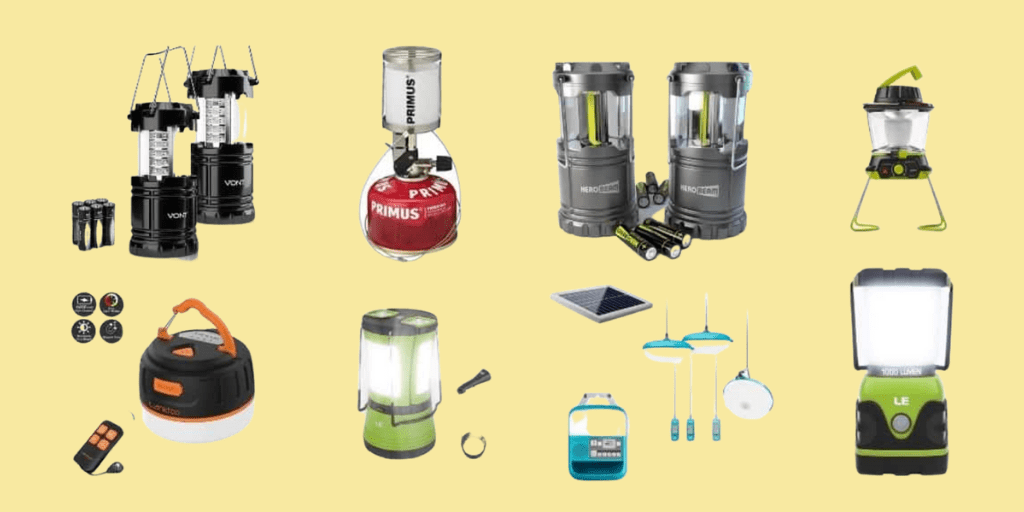 Not too long ago your only choice for a camping lantern was a pressurised paraffin lamp.
You now have numerous options to select something really specific to your needs and budget.
How We Selected
With 100s to choose from we've saved you time to pick out the best.
We scoured the internet and found products with excellent buyers feedback and 4-5/5 star reviews.
A camping lantern is a must as it can make all the difference to the ambience at a campsite.
They'll help illuminate large tents, outdoor dining areas and since they are hands-free you can get on with any tasks at hand.
So here is my list of the the best camping lanterns.
Vont Divine Camping Lantern
Excellent collapsible and compact design.
Perfect for backpacking and lightweight camping as it folds down.
To open you simply pull the lid upwards to reveal the bulb section and it automatically powers on.
Battery powered and should last 90 hours.
Pros: Extremely durable – made from aircraft grade materials – perfect for being bumped around backpacking or toddlers knocking it over.
Cons: Some buyers mention they are "too bright".
Consumer Score: Campers love this lantern. 81% of buyers gave this the maximum 5 stars.
HeroBeam 2x LED Lantern
Budget friendly great all round camping lantern.
To turn it on simply lift the top and push it down to turn it off.
Water-resistant.
Takes 3 AAA batteries and should last 90 hours.
Pros: Great value for money, lightweight, very bright.
Cons: Some say they are "too bright".
Consumer Score: Very popular, bestselling LED lantern. Superbly reviewed with 82% of campers giving this 5 stars out of 5.
Primus Micron Lantern
If you like your lanterns traditional this is a great option.
Primus are a well respected brand that specialises in camping stoves. They've used their experience to create a gas lantern that is extremely economical in its fuel use. Doesn't come with a gas canister.
It gives out an excellent 235 lumens.
It's compact and super silent.
Very simple lighting method via its 'EasyTrigger' piezo ignition system.
Pros: Very effective small gas lantern.
Cons: There's an integrated steel cable to hang it but take care where!
Consumer Score: Fantastic reviews. 81% of campers gave this 5 out of 5 stars.
Looking to keep the tent nice and toasty? See my guide to the best tent heater.
Lanktoo 2-in-1 Waterproof LED Camping Lantern
Discount - Save £13.44
Excellent value led camping lantern with a ton of features.
Doubles up as a useful power bank, handy for charging phones and tablets at campsites.
Remote control works from up to 10 metres.
Lighting modes for you to choose from: cool white, warm white, natural white, red strobe, red SOS.
Features a magnet and hook for keeping in place.
Lightweight and highly portable – measures 3.14*2.36 inches and weights 0.4lb/180g.
Light up to 8-70 hours depending on the mode/brightness you set.
Available in three colours: black/green, black/orange and white.
Pros: Very bright, great dimming settings, sturdy, well made.
Cons: Some buyers mention the "prone to snap hanging hook."
Consumer Score: Really good reviews. 85% of reviewers gave this camping lantern 5 stars out of 5.
LE Camping Lantern
Discount - Save £8.50
Great value choice if you are looking for a super bright lamp. This goes up to 1,000 lumens.
Long battery life – these camping lights are powered by 3pcs D alkaline batteries, It can last 12 hours even under 1000 lumen brightness setting.
Hanging light – It can be hung up from either end, With or without lampshade.
Pros: Water resistant – good for outdoor activities in light rain or snowy day.
Cons: Not many, but some mention the batteries are fiddly to fit.
Consumer Score: Great reviews. This camping light scores an average of 4.7 from over 20,000 reviews!
LE LED Camping Lantern with 2 Detachable Torches
Discount - Save £8.61
Excellent value for money lantern that includes two detachable torches.
The torch is very handy for the kids on late night toilet trips.
Two ways to power – main lantern can be charged via USB cable, you can charge it up in the car on the way to the campsite by using LE car charger (included).
Or it can be powered by 3pcs D batteries (not included).
Water Resistant – Work well in light rains or snowy days
Pros: Great value for money, water resistant, handy detachable torches.
Cons: Can be tricky to reattach the base after changing the batteries.
Consumer Score: . 79% of campers gave this 5 stars.
Vango Camping Lantern Lunar 250 Eco Recharge USB
Good all round camping lantern that you can charge via solar panel or USB.
Nice features including stable design, hanging hook, folding handle.
You can also this as a phone charger.
Only weighs 0.54kg.
Pros: Can be used as a phone charger, affordable, lightweight.
Cons: Some buyers mention it is "too bright".
Consumer Score: Solid reviews. 77% of campers gave this 4 stars or above.
What To Consider When Buying a Camping Lantern
Power
You can choose lanterns that can use rechargeable batteries.
There are also lanterns that you can power using solar or wind up.
Run Time
For a long run time, choose an LED lantern light otherwise you'll chew threw batteries.
If you opt for rechargeable batteries these days they have fantastic run times because of improved lithium batteries.
Weight
This depends if you're lightweight and / or wild camping. There are plenty of ultra light models on the market, with a premium price.
If you're not bothered with weight and camping by car then you can get a chunky lantern (or two as many come in sets). These will be most rugged and give you the most brightness (more lumens the better here).
Brightness
This is measured in lumens.
A domestic torch has around 50 lumens. Depending on your needs you can choose a camping lantern with 100 to 1,000 lumens.
Generally, the more lumens the larger the camping light.
Additional Features
Water resistance
Integrated USB power port for charging devices like phones.
Handles
Collapsible designs to make them more portable.
Detachable torches
FAQ's Camping Lanterns
What should I look for in a camping lantern?
The most important things to consider are what type of power source you will be using e.g. gas, electric or battery and the lumen output.

You will also want to think about weight, how easy it is to carry and any additional features.
How many lumens do I need for camping?
100 lumens or higher is ideal for lighting up your camping area.

If you prefer a more subtle glow, 50-75 lumens is enough.

Lanterns under 50 lumens are good for using in your tent.
Cheap Camping Lanterns & Today's Bestsellers
Final Thoughts
My overall top pick is the Vont Divine Camping Lantern as it is collapsible and compact so great to take camping or even backpacking.
I hope this list of the best camping lanterns was helpful.
If you think I left any out that should be included or have a suggestion for a future article, let me know in the comments below.
Dominic
Last Updated: April 2022
Added 'How We Selected.'
Updated Image.
Added link to external website.
Added Pros/Cons on all products.
Added FAQ's.
Added Alternative Retailer.
Added Final Thought.
Camping Buyer's Guides
Help ease your shopping with our in-depth buying guides for your next camping purchase.
Camping Furniture (Chairs, Tables, Sofas)
Sleeping (Camp Beds, Sleeping Bags)
Cooking / Kitchen
Tents
Roof Racks & Bags
More Camping Products / Guides
Your Camping Checklist
There's something you always forget when packing for a camping trip. Use our handy camping checklist to make sure you don't forget anything important.
Get more out of your next adventure in the great outdoors with these 24 brilliant camping hacks.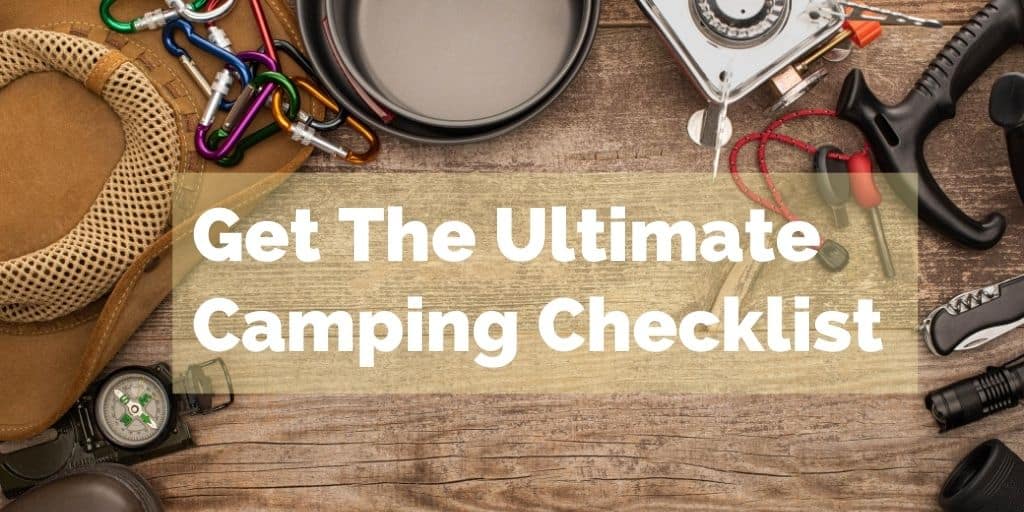 Get more out of your next adventure in the great outdoors with these 24 brilliant camping hacks.
Goal Zero Lighthouse 400 Camping Lantern (currently unavailable)
Standout feature is the hand crank so no matter where you are you will be able to get some light.
There is a rechargeable battery that you can power from any USB port or from a Goal Zero Nomad Solar Panel.
Collapsible legs provide a stand for taller light and fold in for convenient storage.
Stellar reviews. 83% of 526 campers gave this 5 out of 5.
BioLite SolarHome 620 Portable (currently unavailable)
Are you camping off the grid but want the best lantern setup?
This lantern system includes a 6 watt solar array that powers a central console that then feeds up to three hanging lights.
Each light has its own switch.
The console has its own light along with a control screen, FM radio and MP3 player.
You can even charge up to two other USB devices such as phones or tablets.
It's a great solution also for a summerhouse or shed.
Very good reviews. 84% of buyers gave this 4 stars or more.