Like camping but hate 'nature' toilets? A pop up tent toilet will solve your problem and you won't need a degree in astrophysics to put it up (or away!).
Check out our handy camping checklist!
Our Top Picks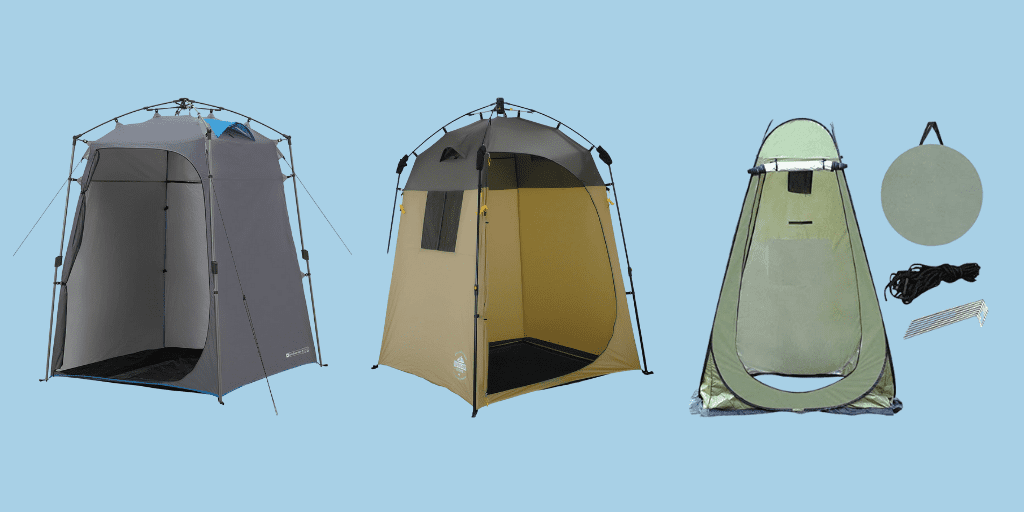 How We Selected
Having a pop up toilet tent is like having your own personal shelter when you are in the great outdoors. Not only is it a place for some privacy, its easy to pitch, waterproof and can even be used for things such as keeping warm while watching the kids sports!
We've searched the internet and compared the top brands, looking at price, features, size and more.
We've also added the best toilet tent accessories to save you the research time!
All of our recommendations have excellent buyers feedback and 4-5/5 star ratings.
Also get my guides for the best camping toilet and camping shower and camping beds.
Find out how to use and maintain a portable toilet at InspectAPedia.
Let's get going!
HYGRAD® Portable Instant Pop Up Tent
Budget option.
Can be used for a shower or toilet tent.
Includes pegs and carry bag.
Pros: Affordable, can be set up quickly and easily.
Cons: No additional features.
Consumer Score: A popular choice with 79% of buyers giving it 4-5 stars out of 5.
Lumaland Outdoor Pop Up Tent
Premium option.
Pricier option but very well reviewed.
Wider and taller than most single ones.
Very quick to put up.
Pros: Large and spacious, easy to put up.
Cons: Pricey.
Consumer Score: A very popular choice with 80% of buyers giving it 5 stars out of 5.
Piaoliangxue Pop Up Sports Tent
The above can be used for watching games though the lack of see through material might be the best. Obviously not so good for convenience breaks – hello world!
Pops up and folds in seconds
Pros: Will keep you protected from the elements.
Cons: Can't be used as a toilet tent due to the clear PVC windows.
Consumer Score: A good choice with 100% of buyers giving it 5 stars out of 5.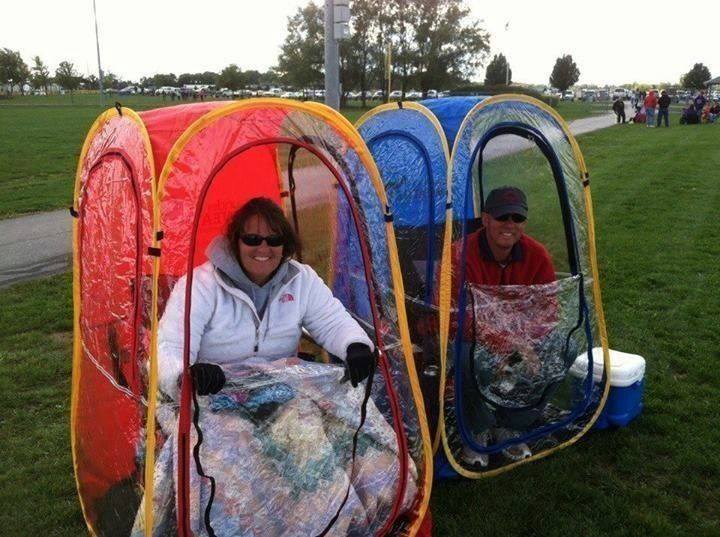 Hillington Portable Camping Toilet with Instant Pop Up Privacy Tent
Stylish and functional toilet tent with camping toilet included.
Adult size toilet seat.
Pros: sturdy and reliable design, lightweight and portable, affordable.
Cons: Some buyers mention the tent is not opaque enough.
Consumer Score: Great reviews with 83% of buyers giving it 4-5 stars out of 5.
Hillington Camping Toilet With Seat
If you're going to use the tent as a loo then here's an excellent choice of toilet.
Features a comfortable adult sized seat and lid.
5L removable waste bucket.
Pros: Affordable, large, adult sized seat.
Cons: Some buyers mention it's quite low.
Consumer Score: Good reviews with 71% of buyers giving it 5 stars out of 5.
Streetwize Tall Toilet
Decent option if you want something not too close to the ground.
This one sits at 40cm high and you'll need some bags to go with it.
Pros: The traditional style seat which snaps on to the bucket, affordable.
Cons: Looks like a bucket.
Consumer Score: Good reviews with 83% of buyers giving it 4-5 stars out of 5.
Elsan Organic
Discount - Save £1.50
Organic toilet fluid with no harsh chemicals.
No chemical smell, nice mild fragrance.
Pros: Organic and kinder to the environment, affordable.
Cons: Would be better supplied in alternative bottle to plastic.
Consumer Score: A popular choice with % of buyers giving it 5 stars out of 5.
Cleenly Blue / Pink
Discount - Save £3.00
Fast-acting formula.
Fresh and clean fragrance.
Pros: Removes nasty odours, affordable.
Cons: Not organic.
Consumer Score: Great reviews with 81% of buyers giving it 4-5 stars out of 5.
Things To Consider When Buying A Pop Up Toilet Tent
Uses
Pop up tents are super useful in lots of situations:-
Perfect for use at camp sites or festivals.
They even come with a netted toilet roll holder.
A zip in the top to allow a shower tube to be poked through, perfect for that solar shower
Storage when camping or at festival.
If your bathroom is being redone why not put this up in the garden for the family to shower?
Privacy
You won't want anyone seeing you in all your glory, so privacy is vital.
Make sure the tent fabric is opaque so people can't see in and choose a toilet tent that provides lots of privacy.
A zipper-lock can also make you feel more secure.
Portability
Choose one which is lightweight and easy to carry from the car when camping or taking to festivals.
Size
Think about what you will be using your pop up tent for! If you are planning on showering in there you will want space to move around. If you are tall you will want to be able to stand up too.
Always check dimensions before purchasing.
Material
Choose a tent material which is waterproof, UV resistant and durable.
Also choose tent poles which are strong and capable of withstanding the elements. Steel is an excellent option as well as aluminium or fibreglass.
Ventilation
Ventilation is essential when it comes to airing a toilet tent. Mesh windows will offer good air ventilation and mesh or clear rooftops will let in daylight so you can see what you are doing.
FAQ's Pop Up Toilet Tents
What additional features do toilet tents have?
Some may include storage pockets, tower hanger, clothesline, shower opening, removable floor base, extra hooks, shelves, rainfly, and much more.
Why buy portable toilet fluid?
To keep your toilet smelling fresh, to clean it out more easily, it is kinder to the environment than strong chemicals and most campsites won't allow strong chemicals to be flushed through their systems.
Will a camping toilet smell in a pop up toilet tent?
As long as your tent is well ventilated and air can circulate properly. Also use toilet fluid to help neutralise the smell.
Do pop up toilet tents require pegs?
You will need to peg your toilet tent as you would a standard tent as strong winds could otherwise blow it away.
Pop Up Toilet Tent Sale & Today's Bestsellers
Final Thought
My overall top pick is the Lumaland Outdoor Pop Up which is a premium option which has excellent 5/5 star buyers reviews.
Not only is it spacious and can be used as a shower tent, it also has added features such as a towel rail and is quick and easy to assemble.
I hope this guide on pop up toilet tents was helpful.
If you think I left any out that should be included or have a suggestion for a future article, let me know in the comments below.
Nicola
Last Updated: February 2022
Added Top Picks
Added Image.
Added 'How We Selected.'
Added links to internal/external guides.
Added Bullet Points on All Products.
Added Pros/ Cons.
Added Consumer Scores.
Added 'Things To Consider'.
Added FAQ's.
Added Final Thought.
Moved Unavailable Products to Bottom Of Page.
Camping Buyer's Guides
Help ease your shopping with our in-depth buying guides for your next camping purchase.
Camping Furniture (Chairs, Tables, Sofas)
Sleeping (Camp Beds, Sleeping Bags)
Cooking / Kitchen
Tents
Roof Racks & Bags
More Camping Products / Guides
Your Camping Checklist
There's something you always forget when packing for a camping trip. Use our handy camping checklist to make sure you don't forget anything important.
Get more out of your next adventure in the great outdoors with these 24 brilliant camping hacks.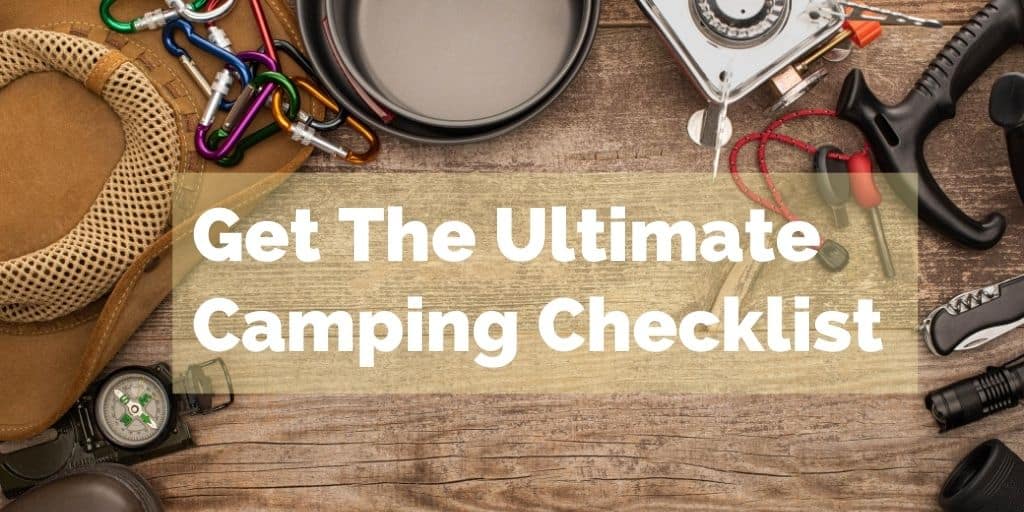 Get more out of your next adventure in the great outdoors with these 24 brilliant camping hacks.
Double Option, 4 Star reviews (Currently unavailable)
Useful for two. Or If it's wet, you need somewhere to store outfits & the second tent can be used & accessed from inside the first tent. The tents can be used completely independently of each other as well.
Discreet Option (Currently unavailable)
If you wish to be as discreet as possible, you can opt for a camouflage toilet tent.
No products found.
Utility / Shower Tent (Currently unavailable)
The Qeedo quick to pitch tents are great. You can be up and running in 30 seconds with the snap in place poles. This is a spacious one so can be used for a mix of functions. There are drain holes in the fold away floor. Can be pricey, if they're in stock.
Branq Portable Camping Toilet (Currently unavailable)
T his is a a single piece bucket with seat and you choose between a 15 or 22 litre option and a blue or pink colour. You can use bio degradable bags for a number two and then just empty it into a regular toilet. Excellent reviews.
Thetford's Aqua Kem Green (Currently unavailable)