For this post, I have put together a collection of the best camping gazebos currently available. Don't forget anything! See my comprehensive checklist for camping essentials.
Our Top Picks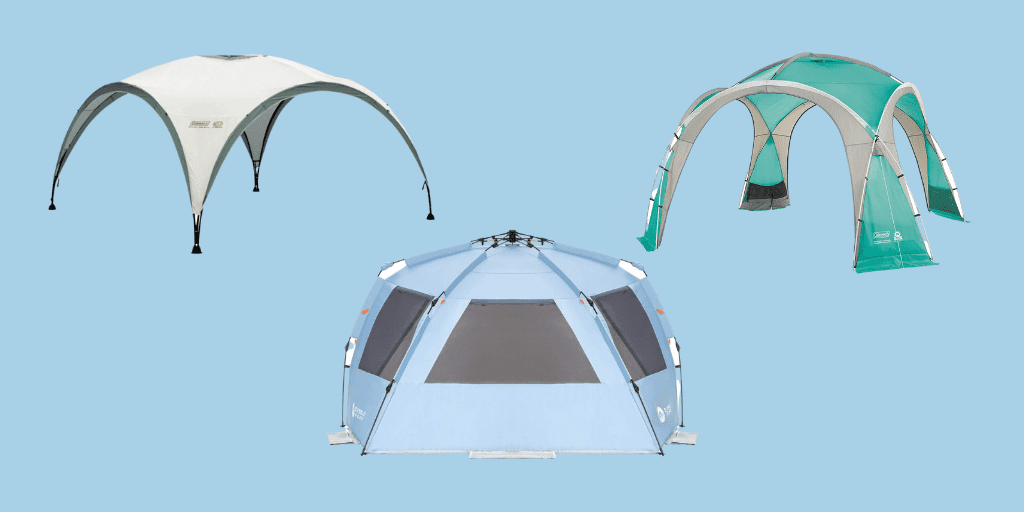 An event shelter has a ton of different potential uses and that's a large reason why we like them so much (along with keeping you dry in wet conditions!)
As well as for camping you can also use many of these at home in the garden as gazebos, sun shades, rain shelters, camper van awnings, hot tub covers and much more.
How We Selected
We've searched the market to bring you the best camping gazebos/ event shelters, which all have 4-5/5 star ratings and excellent buyers reviews.
We've chosen high quality, from all-round options to luxury choices.
You may also be interested to see my top picks for the best inflatable tents, best family tents and teepee tents.
If you are hosting an event under a gazebo, check the safety procedures at www.hse.gov.uk.
So here is my list of the the best gazebos for camping.
Coleman Event Shelter Pro XL
Discount - Save £10.45
This XL version is perfect for large groups.
It's a simple, solid and sturdy design.
This event shelter can be used as a main living space during camping trips.
Also great as a large porch for big tents, caravans and campervans.
Or ideal for a garden party tent.
Ground area is 4.5m 4.5m – also available in large size (3m x 3m)
Pros: Put up in 15 minutes (Follow instructions), fantastic quality, windproof.
Cons: It is pricey but these are built to last.
Consumer Score: Excellent reviews. Very popular large shelter with 75% of buyers giving this 5 out of 5 stars.
Coleman Event Shelter Medium
This is from the same Coleman product line as the one above.
This is a medium sized one measuring 3m x 3m.
Available in white/green or white/grey.
Pros: Versatile, easy to put up.
Cons: Pricey.
Consumer Score: Exceptional reviews. Outstanding feedback, 86% gave this 5 stars.
Common feedback includes: easy to put up, well made, lasts many years.
Coleman Event Dome Gazebo
Discount - Save £14.84
Highly versatile shelter that can be used as a camping gazebo or for outdoor parties in your garden or terrace.
Available in two floor sizes: 350cm×350cm and 450x450cm
Pros: Fibreglass poles means this is lightweight for its size, two foldable, integrated side panels, excellent for protection against the rain and sun.
Cons: Check sizing as some buyers mention it is smaller than expected.
Consumer Score: Excellent reviews. 70% of buyers gave this 5 stars.
Easthills Outdoors Instant Shader Enhanced Deluxe XL
Designed for the beach this can work very well as a camping gazebo because of its height (most beach tents are for sitting in, not standing).
XL size – dimensions measure 250 x 135cm with a height of 145cm.
Provides excellent UPF 50+ protection – relax in the sun whether you're in the garden, on the beach or at the campsite.
Beach tent can be packed down to just 41″ x 8.5″ x 8.5″ in a carrying bag for easy carrying and storage.
The tent fabric is also coated with 300mm waterproof coating, same as most umbrellas.
Pros: Easy to put up and put away, great shelter.
Cons: Not designed for heavy showers.
Consumer Score: Amazing reviews. A huge 81% of buyers gave this shelter 5 stars out of 5.
Alvantor Event Shelter & Camping Gazebo
These event shelters from Alvantor are at the luxurious end with a price point to match.
These are spacious screen houses, providing shelter for 12-15 adults.
Set up is a breeze – simply pops up.
It's made of fibre glass so it's quite light given its size.
Available in three sizes, 10′ x 10′, 12′ x 12′ and 15′ x 15′
Pros: Easy to pop up, lightweight.
Cons: Expensive.
Consumer Score: Fantastic reviews. 76% of buyers gave this 5 stars.
Common reviews include great for keeping out bugs, easy to set up, handy carry bag.
SANHENG Camping Gazebo
Quick and easy to erect with lightweight fibreglass frame.
30UPF +.
Offers space for a bar, trestle tables, picnic table and more.
Approx. 12.25 m² interior.
Pros: Lightweight, affordable.
Cons: Some buyers mention its a bit flimsy.
Consumer Score: Good reviews. 69% of buyers gave this 4-5 stars.
Benefits Of A Camping Gazebo
Protection from the elements
Camping gazebos are a great way to protect yourself from the elements.
Most usually in the UK this is to stay dry when it's raining. A camping gazebo means you can stay dry somewhere yet still enjoy the great outdoors. It's much more spacious than most tents. Think of it as your outdoor living room and the tent as your bedroom. Many gazebos also provide a degree of UV protection – this is perfect for kids to enjoy the outdoors at your campsite without the full sun on their skin.
An event shelter is also somewhere you can hang your clothes to dry.
Privacy
This will depend on how many sides you go for when choosing your event shelter. A camping gazebo with sides is ideal when you don't wish to be seen by any surrounding campers.
You can dine as a family or group with privacy.
It's so much easier to get dressed / into wet suits with more space than a tent provides.
A camping gazebo with sides can also protect you from intruding mosquitoes, wasps and other insects.
Atmosphere
Think of the camping gazebo as your living room away from home.
You can a number of features to make it cosy and relaxing. This is not so relevant if you're lightweight camping but you're less likely to take an event shelter if you are doing that.
You can add things like solar lights, throws, tent carpets, outdoor rugs and much more.
FAQ's Camping Gazebos
Do you need a gazebo when camping?
It's not essential but a gazebo will help you stay shaded from the sun in hot weather or keep you dry in the event of rain.
Can a gazebo withstand wind?
It should be fine in light wind, but if you are expecting stormy weather it is worth taking a gazebo down.

A gazebo should be properly secured in place for safety reasons.
Camping Gazebo Sale & Today's Bestsellers
Final Thoughts
We've selected gazebos for all occasions, from events to family camping. Hopefully you have chosen one to suit your needs.
I hope this list of the best event shelters and camping gazebos was helpful.
If you think I left any out that should be included or have a suggestion for a future article, let me know in the comments below.
Dominic
Last Updated: March 2022
Added 'How We Selected.'
Updated Image.
Added link to external/internal website.
Added Pros/Cons on all products.
Updated Consumer Scores.
Added New Product.
Added FAQ's.
Added Alternative Retailer.
Added Final Thought.
Moved OOS.
Camping Buyer's Guides
Help ease your shopping with our in-depth buying guides for your next camping purchase.
Camping Furniture (Chairs, Tables, Sofas)
Sleeping (Camp Beds, Sleeping Bags)
Cooking / Kitchen
Tents
Roof Racks & Bags
More Camping Products / Guides
Your Camping Checklist
There's something you always forget when packing for a camping trip. Use our handy camping checklist to make sure you don't forget anything important.
Get more out of your next adventure in the great outdoors with these 24 brilliant camping hacks.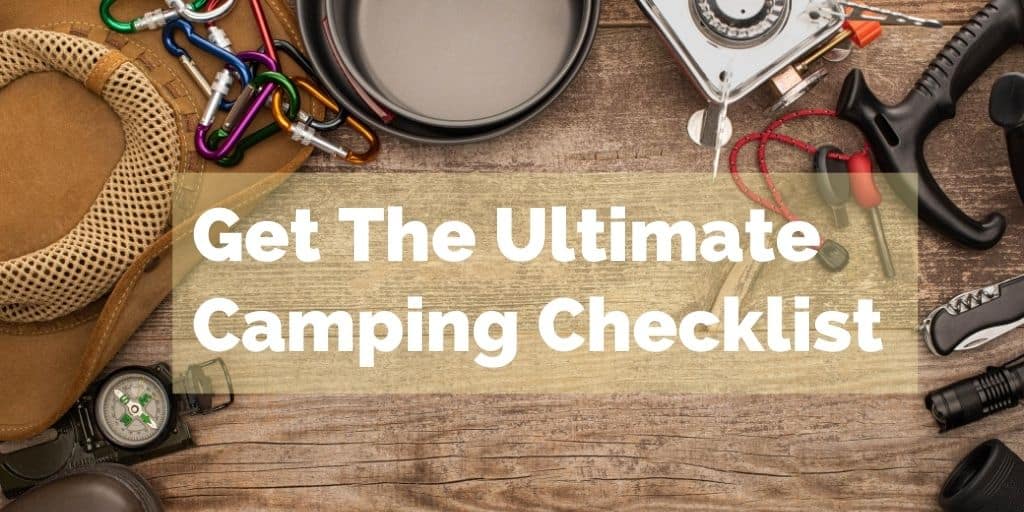 Get more out of your next adventure in the great outdoors with these 24 brilliant camping hacks.
Lumaland Where Tomorrow Pop Up Camping Gazebo (currently unavailable)
Great value, excellent all rounder.
Set up and take down in less than 60 seconds!
Good protection from the elements: rain, wind or heat – the gazebo is water-repellent and weatherproof.
Includes one side wall – you can buy more.
Available in a range of colours – green, black, blue.
With a standing height of 1.90 metres and an area of 2.50 x 2.50 metres, the gazebo is ideal as a party tent in the garden or for camping holidays.
Fantastic reviews. 74% of buyers give this 5 out of 5..
Eurohike Adventure Tarp (currently unavailable)
No products found.
I've added this one for those who are lightweight or wild camping.
It's not a gazebo as such but a great value tarp that gives you porch space or temporary shelter for a small tent.
It's super small and lightweight – around 1.45kg/
It doesn't offer standing room.

No products found.

. From 10 ratings, 76% gave this tarp 4 stars out of 5 or more.