For this post, I have put together a collection of the best kids sleeping bags currently available. Use our handy camping checklist to make sure you don't forget anything important.
Top Picks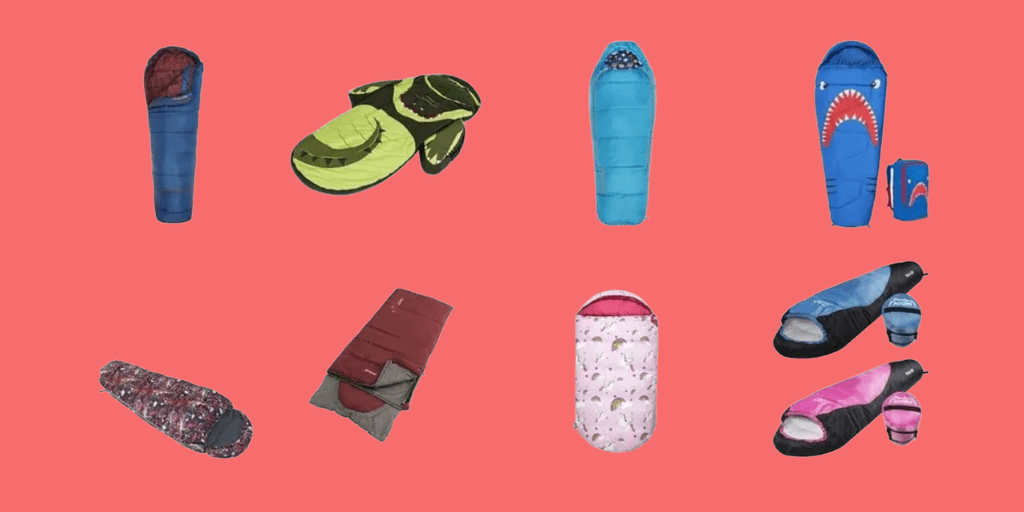 Kids sleeping bags can come in very handy on camping trips, sleepovers or school trips.
There are lots of different styles about from mummy-style sleeping bags that taper in at the bottom and keep kids snug and warm even in cold temperatures, to animal character sleeping bags which look fun and are perfect for helping the kids feel secure and cosy on a sleepover.
How We Selected
Buying the best sleeping bag for your child can be tricky so understanding what features are best suited for them will help you decide which one to go for.
Ideally you want something that will keep them warm, cosy and dry at night.
We searched the internet looking for the best sleeping bags, reading buyers reviews, and narrowing it down to the top sleeping bags, specifically designed for kids. All of our picks have excellent buyers reviews and 4-5/5 star ratings.
For a super comfortable night's sleep see my best buys for camp beds and camp pillows. To keep the tent insulated and warm see my buyer's guide for tent carpets and safe tent heaters.
Let's get started!
Eurohike Adventurer Youth Sleeping Bag
Great quality insulated sleeping bag.
Hollowfibre filling helps to trap heat without being too bulky.
Affordable.
Water resistant shell.
Suitable for use from spring until autumn.
Built-in neck muff and pillow pocket in the hood.
With an internal, zip-up, security pocket.
Pros: The pillow pocket for your own added comfort, the security pocket to stash your phone and cash.
Cons: Not suitable for winter weather.
Consumer Score: Buyers love this kids sleeping bag with 77% giving it 5 stars out of 5.
Snugpak Basecamp Explorer Sleeping Bag
Based on the same great design as the adult sleeping bag.
Suitable for spring and summer weather.
Lightweight with soft lining for comfort.
Can be unzipped and used as a quilt instead.
With handy hanging tabs for easy airing.
Comes with a stuff sack to pack it away.
Pros: Square shape bag which allows the sleeping bag to be used as a quilt, the handy hanging tabs.
Cons: Not suitable for winter weather.
Consumer Score: Buyers really like this kids sleeping bag with 100% of buyers giving it 5 stars out of 5.
LittleLife Animal Snuggle Pod
This is acutally an inflatable air bed for children aged from 18 months, complete with pump and its own bag to pack neatly into.
The fitted sleeping bag has hollow fibre insulation for added warmth and a soft brushed cotton top section, which fits neatly around the contoured airbed with stabilising wings.
Perfect for those first sleepovers.
Pros: Cute animal shaped design, an inflatable air bed with pump.
Cons: Only suitable up to 4 years of age.
Consumer Score: A popular kids sleeping bag with 100% of buyers giving it 5 stars out of 5.
Outwell Contour Kids' Sleeping Bag
With built in pillow and the option to be opened fully and become a duvet this sleeping bag is really versatile.
Keeps kids cosy and warm throughout the night.
Two bags can be zipped together to form a double version of the sleeping bag.
Pros: Rectangular with built-in head support, reversible.
Cons: Quite pricey.
Pod Infant Unicorn Sleeping Bag
This cosy Unicorn Sleeping Pod(TM) is suitable for infants.
It is wide-sided so has plenty of space for them to find a comfy sleeping position to drift off in.
Synthetic insulation with double layer for extra cosiness.
Packs away into compact carry bag for easy transport and storage.
Cute unicorn design.
Suitable for children aged 0-2 years.
Pros: Cute unicorn print design, wide-sided so lots of room to move around.
Cons: Only suitable up to age 2 years.
Consumer Score: Buyers really love this kids sleeping bag with 83% of buyers giving it 5 stars out of 5.
Andes Pichu 300 Sleeping Bag
Especially designed for younger children for camping.
Made with 190T polyester, you can be sure that your child will be comfortable, and kept warm with the 300GSM hollow fibre filling.
The 2-3 season rating means this is a great choice throughout most of the year when the weather is above freezing.
It comes with an internal storage pocket, handy for those children who may want to keep a torch with them if they are scared of the dark.
It also has an elasticated hood for comfort and heat retention, along with a zip baffle.
The compression sack is also included, and compresses the bag down small.
Pros: Good value, comes with compression carry bag, can be unzipped and used as a duvet.
Cons: Some kids may not like the mummy shaped design.
Consumer Score: Buyers like this kids sleeping bag with 62% of buyers giving it 5 stars out of 5.
Cheap Kids Sleeping Bags & Today's Bestsellers
What To Consider When Buying A Kids Sleeping Bag
Insulation
Sleeping bags usually have synthetic or down insulation.
Down insulation provides better warmth but loses its insulating properties if it gets wet.
Synthetic insulation is cheaper and stays warm even if it gets damp.
Most kids sleeping bags are synthetic for this reason.
They can only use them for a limited time until they grow out of them anyway.
Weight
A kids sleeping bag should be light and pack down small so it is relatively easy to carry.
Sleeping bags that are fairly lightweight and roll up into bags are a great option for kids.
Size
A sleeping bag should be long enough to fit the height of your child.
Some sleeping bags are adjustable in length, which can be useful if you want to use the sleeping bag over a few years.
Temperature
Manufacturers of sleeping bags for kids typically use their own methods to determine which temperatures their sleeping bags are suitable for.
It may be worth testing the sleeping bag before taking it away, just to check your child can sleep comfortably in it without feeling cold.
Design
Kids sleeping bags come in a variety of colours, styles and designs.
Some look more like miniature adult sleeping bags and some are funky or shaped like animals, which kids will love too.
It's all down to your own preference.
FAQ's Kids Sleeping Bags
Do kids need a sleeping bag?
Camping is a great outdoor activity for kids but they will require proper equipment such as a good sleeping bag.

A sleeping bag keeps your child warm and cosy while camping out in nature and a sleeping bag can also come in handy for sleepovers at family and friends.
How will I know which sleeping bag to choose for my child?
Sleeping bags come with a seasonal rating to determine what weather they're best suited for.

If you're planning on your child using the sleeping bag for indoor activities you will want something fairly lightweight, whereas for camping outdoors something a bit warmer will be necessary.
Final Thoughts
The type of sleeping bag you opt for really depends on intended use and personal preference. For younger children going camping the Andes Pichu 300 Sleeping Bag is a great choice because it's good all year round, has a handy storage pocket (for torch if scared of dark), it comes in two colours and receives very good reviews – 81% of parents give it 4 stars or more.
For those sleepovers my favourite is the LittleLife Crocodile sleeping bag.
I hope this guide on kids sleeping bags was helpful.
If you think I left any out that should be included or have a suggestion for a future article, let me know in the comments below.
Nicola
Last Updated: February 2022
Added Top Picks.
Updated image.
Added 'How We Selected.'
Added link to external website.
Added 2 new products.
Added Pros/Cons on all products.
Added consumer scores.
Added FAQ's.
Added Alternative Retailer.
Added Final Thought.
Camping Buyer's Guides
Help ease your shopping with our in-depth buying guides for your next camping purchase.
Camping Furniture (Chairs, Tables, Sofas)
Sleeping (Camp Beds, Sleeping Bags)
Cooking / Kitchen
Tents
Roof Racks & Bags
More Camping Products / Guides
Your Camping Checklist
There's something you always forget when packing for a camping trip. Use our handy camping checklist to make sure you don't forget anything important.
Get more out of your next adventure in the great outdoors with these 24 brilliant camping hacks.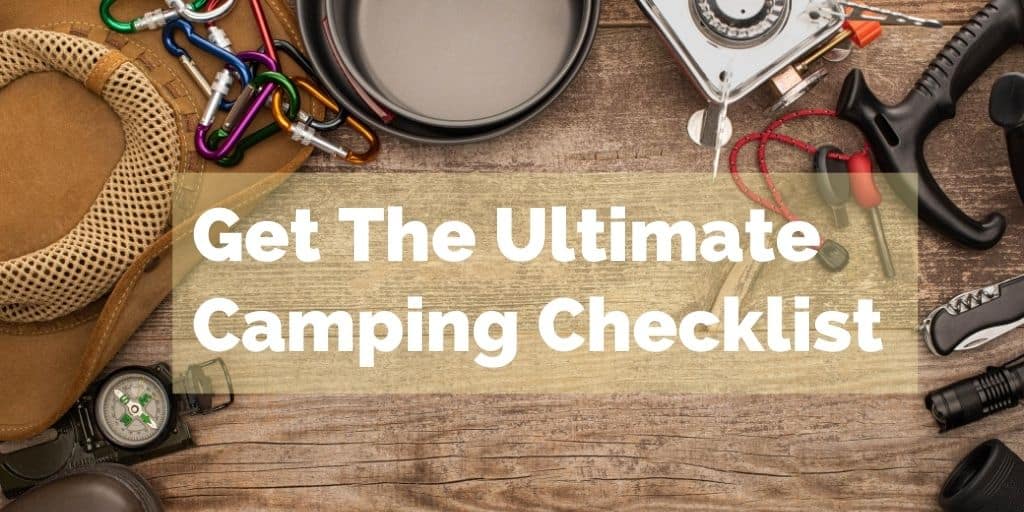 Get more out of your next adventure in the great outdoors with these 24 brilliant camping hacks.
Kelty Big Dipper 30 Degree Sleeping Bag (currently unavailable)
A sleeping bag that grows with your kids. it extends to a full 12″.
With Cloud Loft synthetic insulation which provides durable, long-lasting comfort and warmth.
Top draft collar to keep kids snug.
Suitable for 5-12 year olds.
Vango Kanto Junior 2 Season Sleeping Bag (currently unavailable)
This sleeping bag has soft touch fabrics and excellent warmth properties will ensure your child has a great night's sleep.
Grade A quality fill, superior fibre fill which is designed to be durable, warm and lightweight while retaining its loft and soft touch.
Hanging loops allows you to easily hang your bag for quick and easy drying.
Integrated head rest for extra comfort and warmth.
Cool paint splattered design.
Suitable for children up to 150cm in height.
Kelty Boy Woobie 30F (currently unavailable)
This sleeping bag has Cloud Loft insulation so is durable, reliable and comfortable.
Top draft collar and dual-side locking zips allow top panel to flip down.
Cute animal design inside bag.
Suitable for up to 6 years old.
Highlander Sleep Capsule (currently unavailable)
This is an over-sized mummy style sleeping bag for youngsters, which is warm and spacious.
Soft fabric lining and a full length 2 way zip and baffle.
Lightweight, compact and easy to carry.
Highlander Kids Animal Sleeping Bag (currently unavailable)
This panda design kids sleeping bag has a classic mummy shaped design which helps keep the bag warm at night.
Full length zip baffle.
These sleeping bags are comfortable down to a chilly 6 degrees.
Superbly soft lining fabric.
Comes with its very own backpack style stuff sack your kids can carry their own bag wherever they go.
Available in Turtle, Shark, Panda and Ladybird designs.
Trespass Unisex Sleeping Bag (currently unavailable)
Mummy shaped sleeping bag with an upper limit of 24 degree Celsius and a lower limit of +2 degree Celsius.
This sleeping bag has an elasticated hood so they will be kept warm from head to toe.
Plus a handy two way zip allows them to get in and out easily and it is a machine washable as well, for practical and easy care. Available in funky design.
KingCamp Treck 3-4 Season Junior Sleeping Bag (currently unavailable)
This premium quality 3 – 4 season sleeping bag is made from a ripstop water-resistant 190T polyester outer shell, keeping you warm in extreme temperature down to -13°C.
It's highly versatile and perfect for use in all seasons.
Perfect for those serious campers.