On this page we review 18 of the best camping shops online to help you find the best gear at the best prices.
Which camping stores get the best customer reviews?
Links to each website so you can compare products, brands, stock and pricing.
Links to any current offers so we can help you find a bargain!
Important information on returns and delivery details.
Let's get started!
WildBounds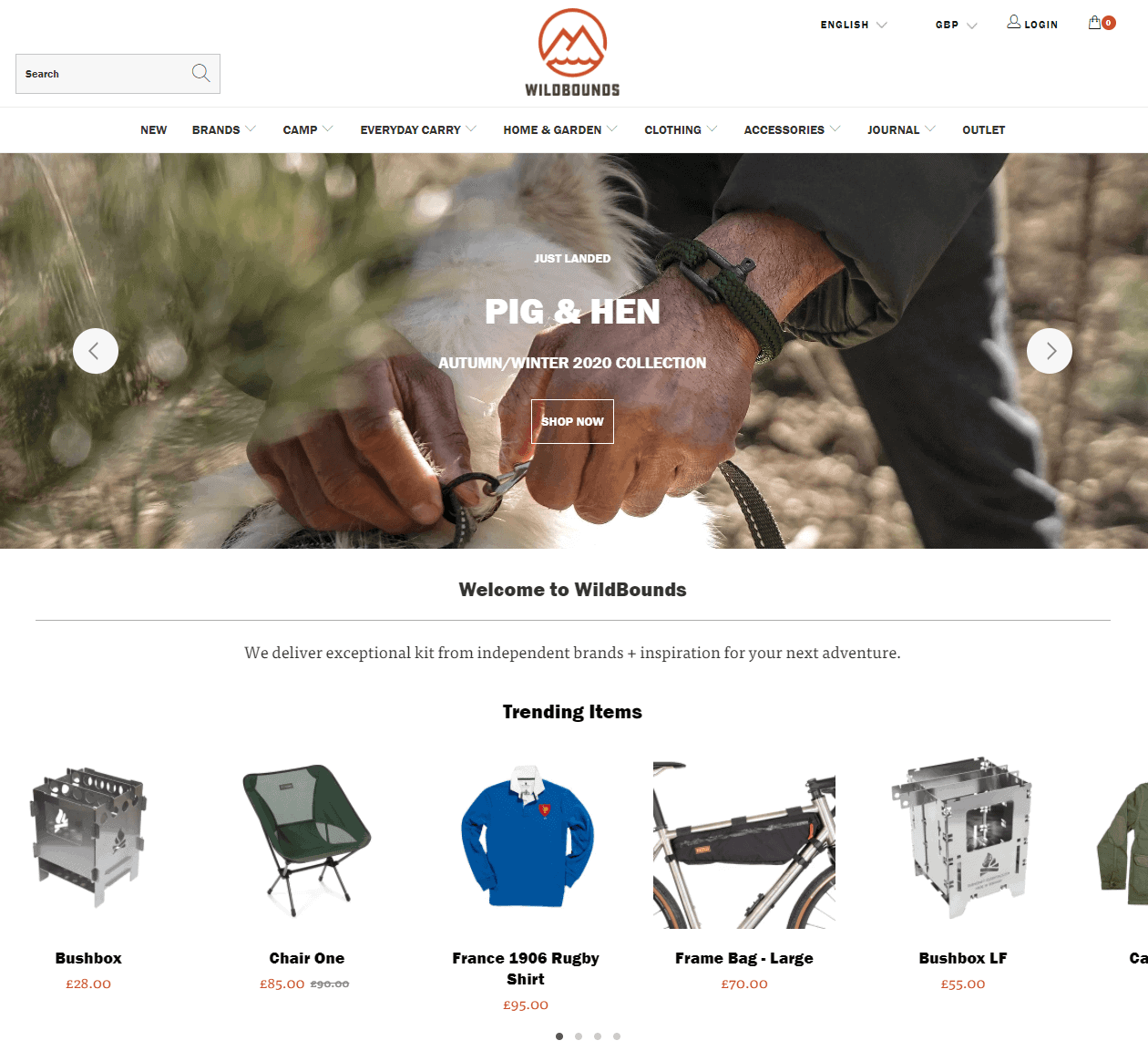 You might not have heard of this UK camping brand, they are quite new and relatively small. WildBounds are specialists in high end brands for camping and outdoor equipment. They have excellent eco credentials and you can browse a growing collection of eco friendly products. You can also browse 100s of products from their British Brands Collection.
What we love: We're camping geeks and love oogling their latest collections and reading their journal that covers field guides, destinations, gear and all sorts of camping tales.
Deals & Special Offers
Delivery & Returns
Free UK Delivery Over £30. Free UK Returns. Same Day Shipping Until 3PM.
Decathlon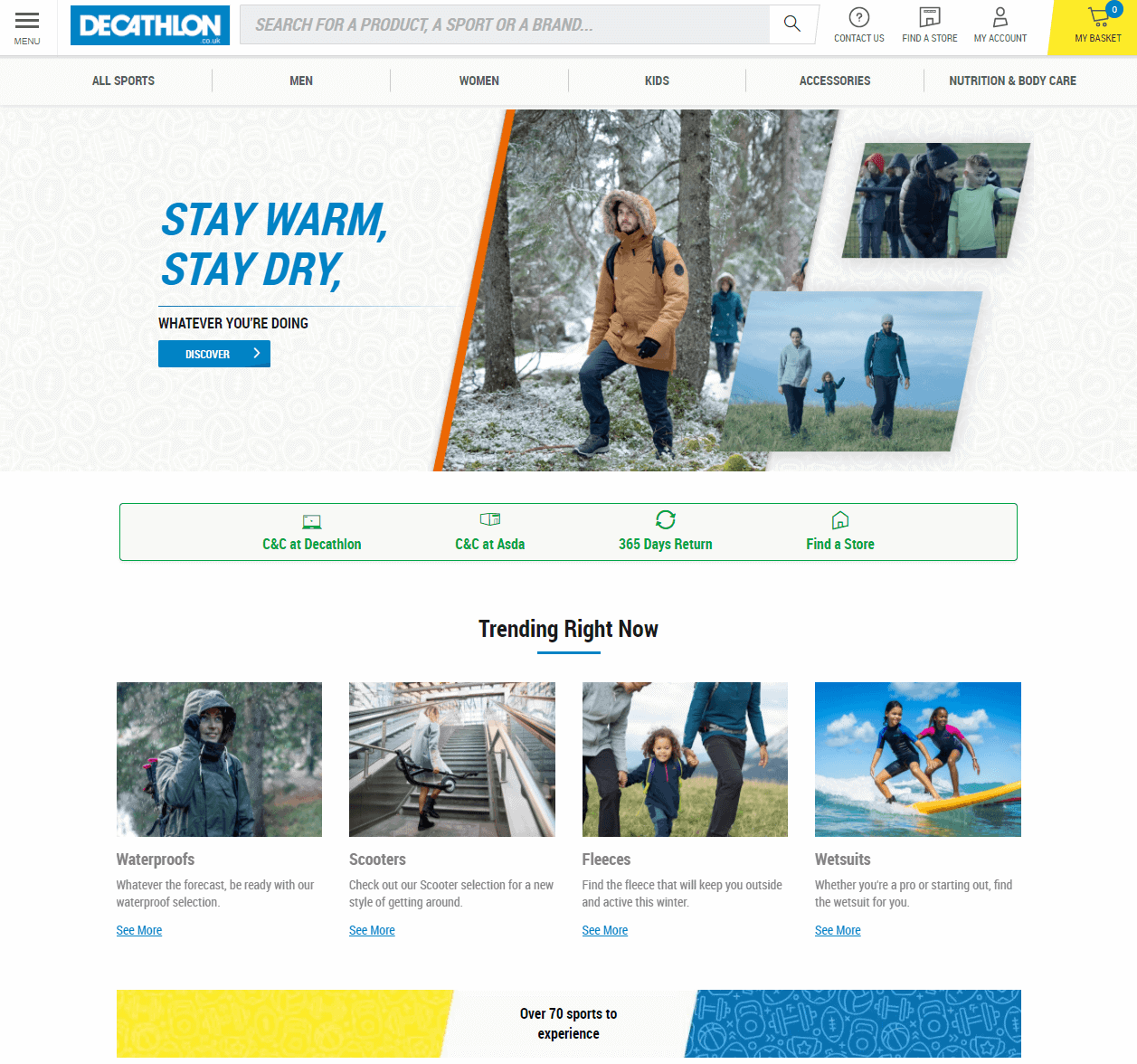 Decathlon have a vast range of camping, sports and outdoor gear. Their size means they can offer excellent prices. Their range of tents such as Quechua and Arpenaz are hugely popular, they are easy to erect and very reasonably priced.
Deals & Special Offers
Delivery & Returns
365 Days Return. Click & Collect at Asda & Decathlon. Standard home delivery starts from £3.99.
OutdoorGear UK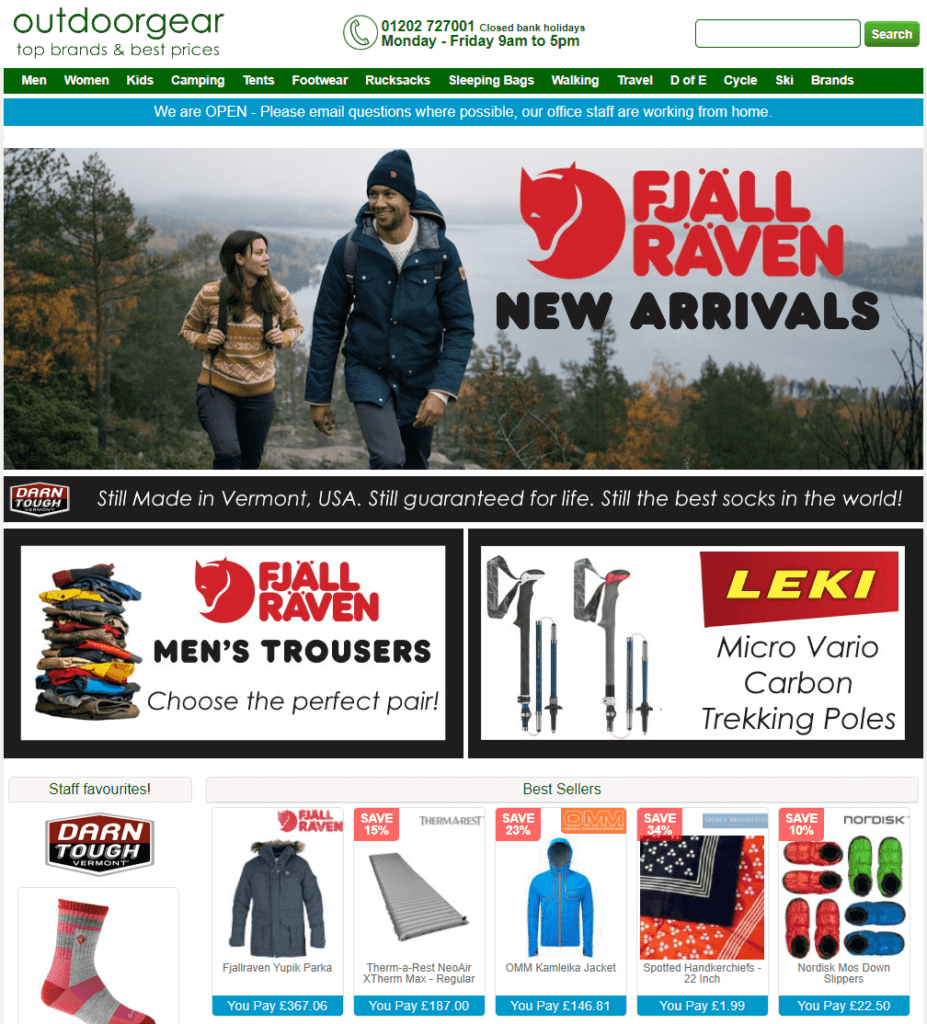 A lesser known outdoor specialist Outdoor Gear has been a UK family business since 1906. They have a massive amount of brands, stocking everything you could think of, and at very competitive prices.
What we love: Perusing their new items page which also includes popular products back in stock.
Deals & Special Offers
We can't see any dedicated sales page on their website but they do list many discounted items.
Delivery & Returns
£1.95 Next working day UK delivery. Free on orders over £50. No Quibbles Guarantee 28 days. You pay the cost, but if you want to exchange, postage back to you is free.
Ultimate Outdoors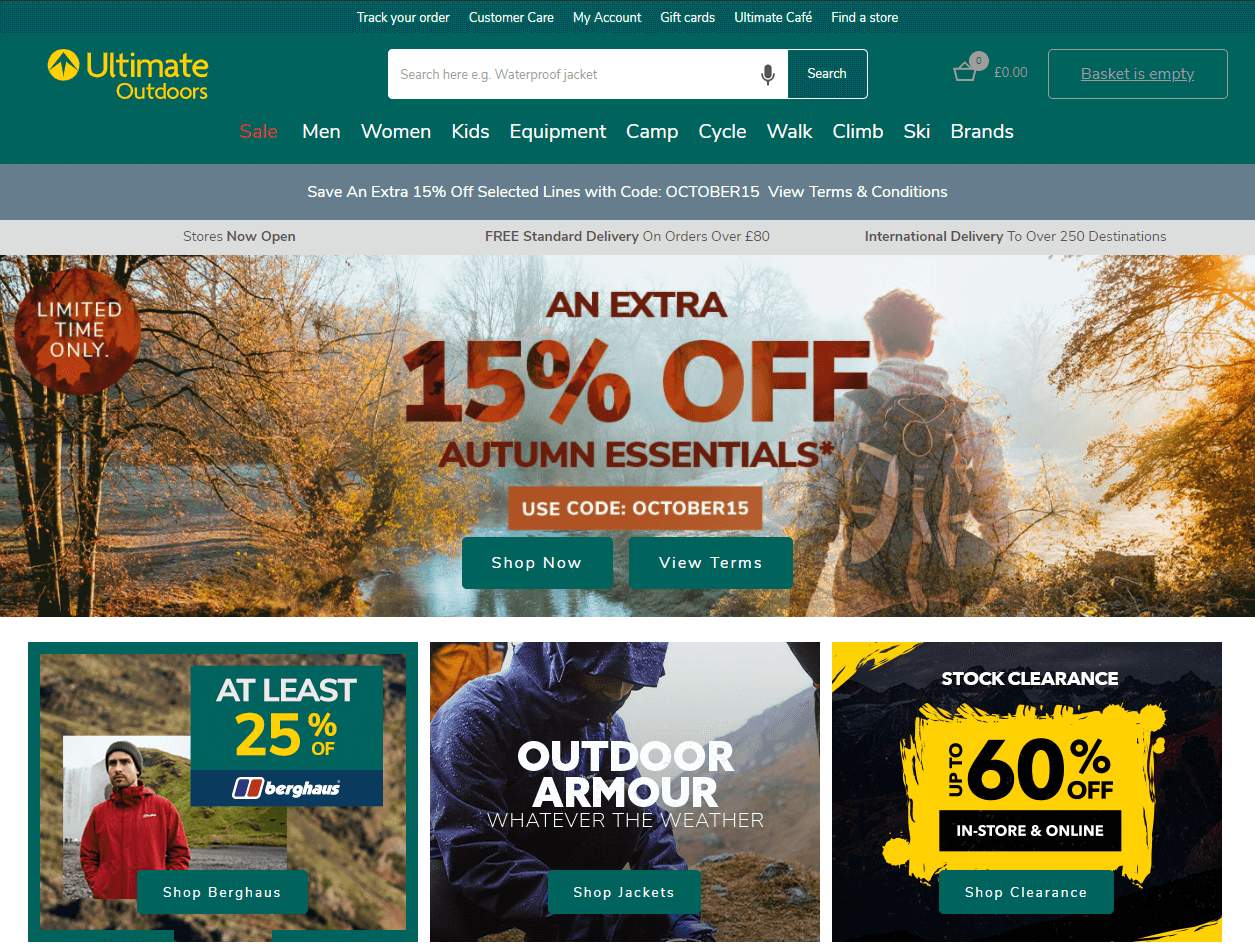 Ultimate Outdoors has an excellent range of outdoor gear, camping equipment and much more. They offer very competitive pricing. Ultimate Outdoors are part of the Blacks family of stores, that also include Blacks and Millets.
Deals & Special Offers
Browse over 6,000 discounted items at Ultimate Outdoors Sale page.
Ultimate Outdoors also often running discount codes that they will advertise on their home page.
Delivery & Returns
FREE Standard Delivery On Orders Over £80. Returns within 28 days and you pay the postage back.
Amazon UK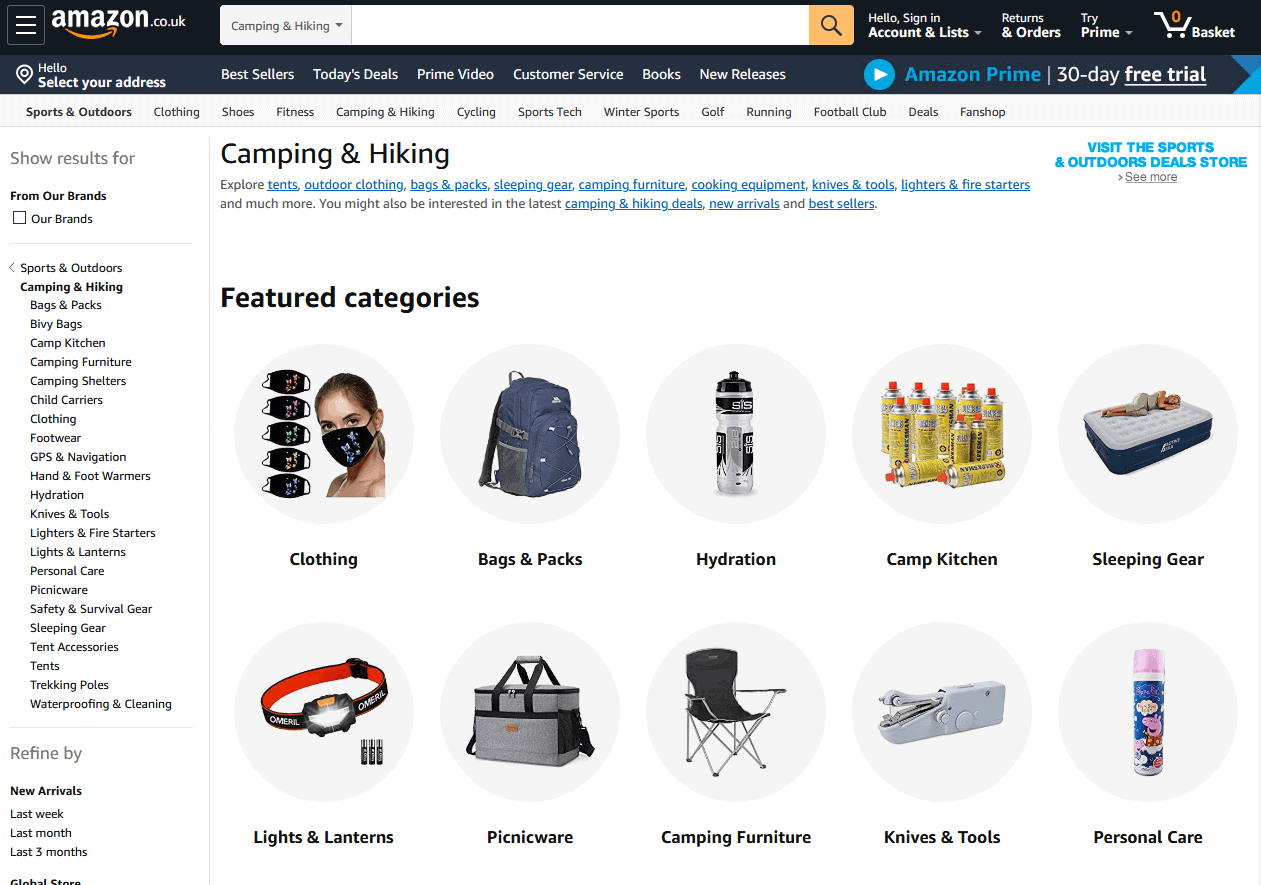 You may love or hate Amazon UK but it's hard to ignore them. When it comes to camping and outdoor equipment they have a huge selection. They also offer one of the most trouble-free returns policy. If you are a heavy Amazon user we still strongly recommend to shop around when it comes to camping products. They are not always the cheapest. Also be wary of reviews, the system is not perfect and many glowing reviews turn out to be fake!
Deals & Special Offers
Delivery & Returns
You may return most new, unopened items sold and fulfilled by Amazon.co.uk within 30 days of delivery for a full refund. There is free delivery based on a minimum spend. Delivery costs charged by third party sellers on Amazon.co.uk may vary. Delivery costs will be shown when you place your order.
Cotswold Outdoor
Cotswold Outdoors offer a range of high quality outdoor and camping brands. They stock a number of tents, camping accessories, walking jackets, boots and more. They might not offer the range of products as others and tend to specialise in premium bads.
They have a handy page where you can keep an eye on any new season product launches.
Deals & Special Offers
Browse 100s of Cotswold's Special Offers. They also offer online exclusives.
Delivery & Returns
Delivery is free over £50 (express and free over £100) and you have to pay for returns unless an item is faulty. £4.95 for orders under £50. 100-day Returns for Explore More members otherwise it's 30 days.
eBay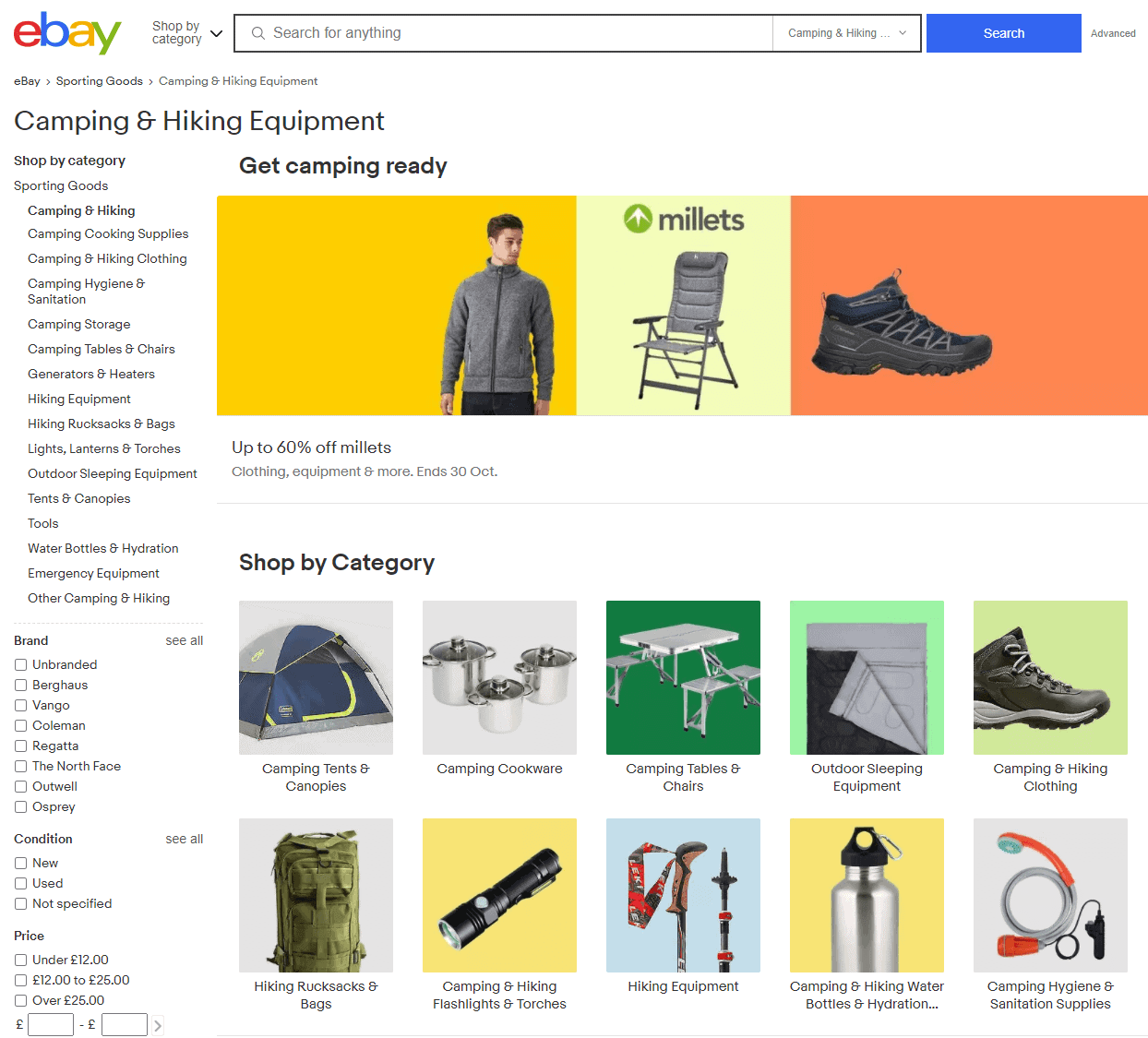 Along with second hand gear, many camping brands have eBay shops for new and discounted gear.
Shop around though, just because it's on their eBay outlet shop doesn't mean it's the cheapest.
And if you are looking for 2nd hand items eBay is a fantastic first point of reference to look.
Deals & Special Offers
eBay offers various time specific deals for different brands. For example, they are currently running a 60% off Millets and up to 40% off Berghaus.
eBay says it has over 1 million camping products on their site. There's an option to filter by those with deals & savings (over 3,000 items).
Delivery & Returns
Simple returns with Amazon and payments are protected.
Regatta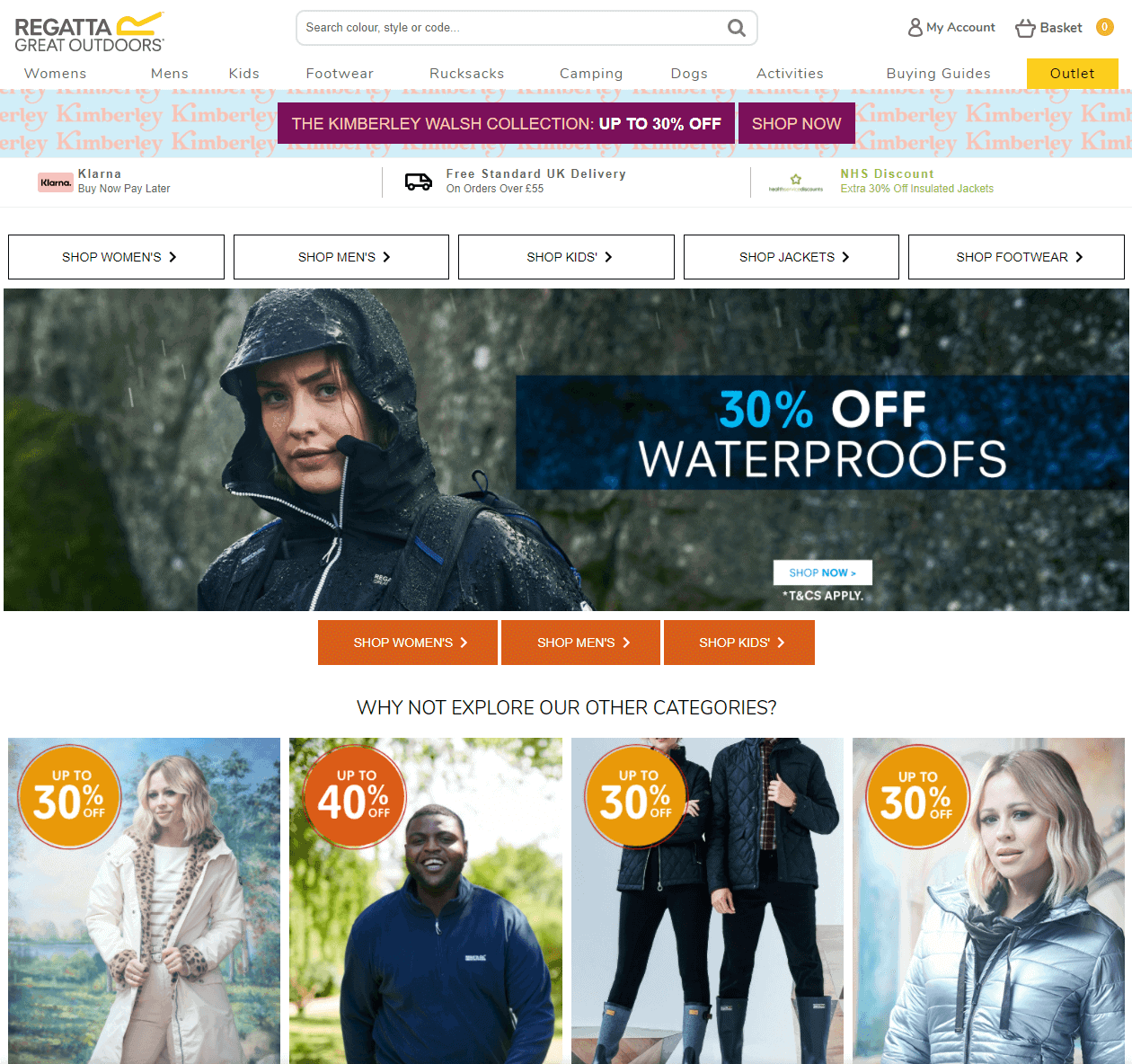 Regatta is an English family-owned outdoor and leisure that specialises in outdoor clothing but also sells a number of outdoor and camping accessories.
The company's clothing is among the most popular including jackets, fleeces, trousers and softshells. Read more about Regatta Fabrics.
Deals & Special Offers
Regatta have an outlet section where they have ongoing sales and currently offering up to 70% off.
Delivery & Returns
Free Standard UK Delivery On Orders Over £55. 90 Day Return policy.
Millets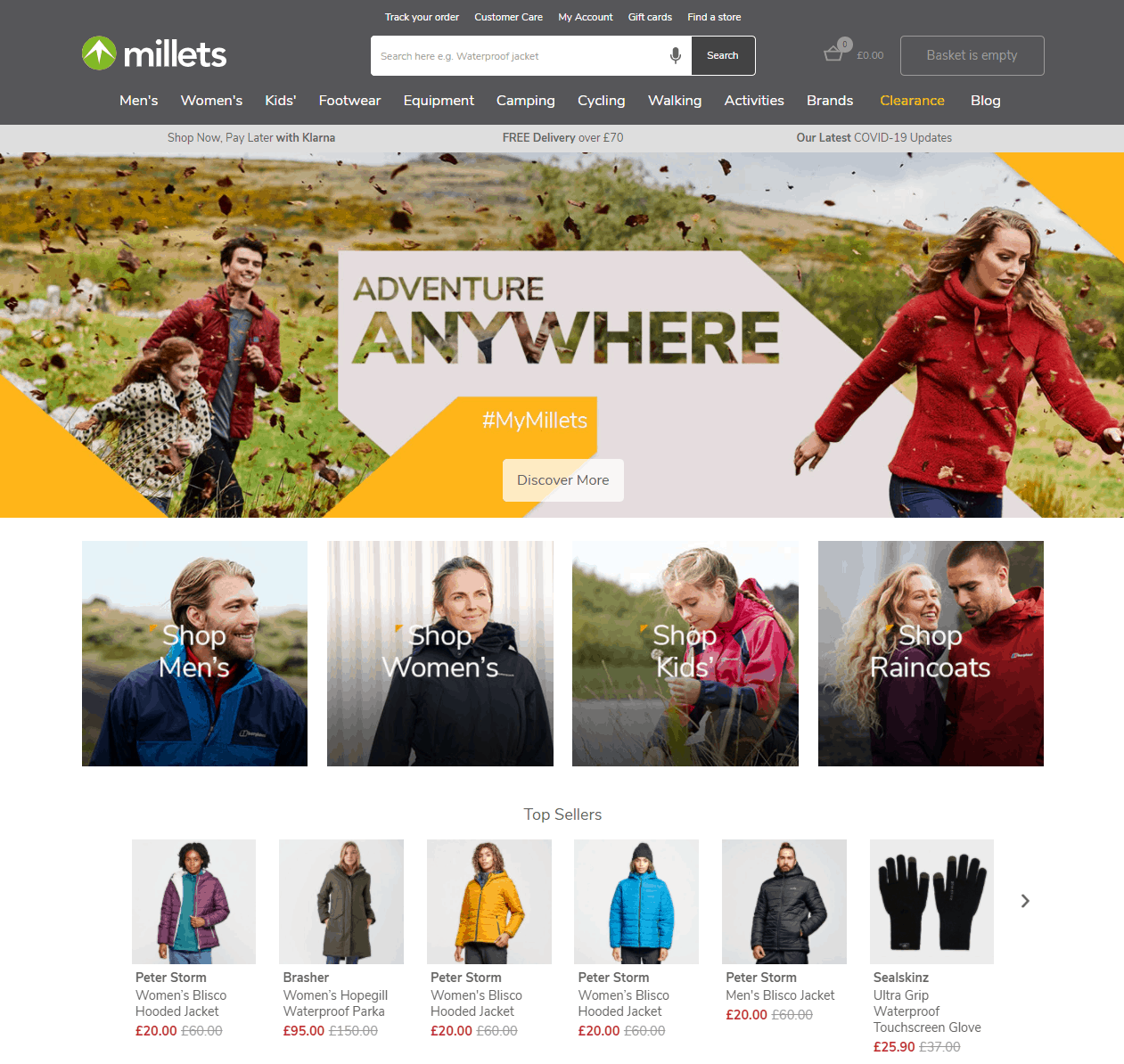 Millets are a long standing fixture of the British High Street opening its first store over 100 years ago. Their sister stores include Ultimate Outdoors and Blacks.
Deals & Special Offers
Millets as of Autumn 2020 had over 5,700 items in its clearance section.
Millets often advertise discount codes on their homepage so it's a good idea to look out for those.
Delivery & Returns
Free delivery over £70. Standard UK delivery is £3.95. Delivered in 3-5 days
Whatever your reason, they offer a refund or exchange within 28 days of delivery or collection.
Winfield Outdoors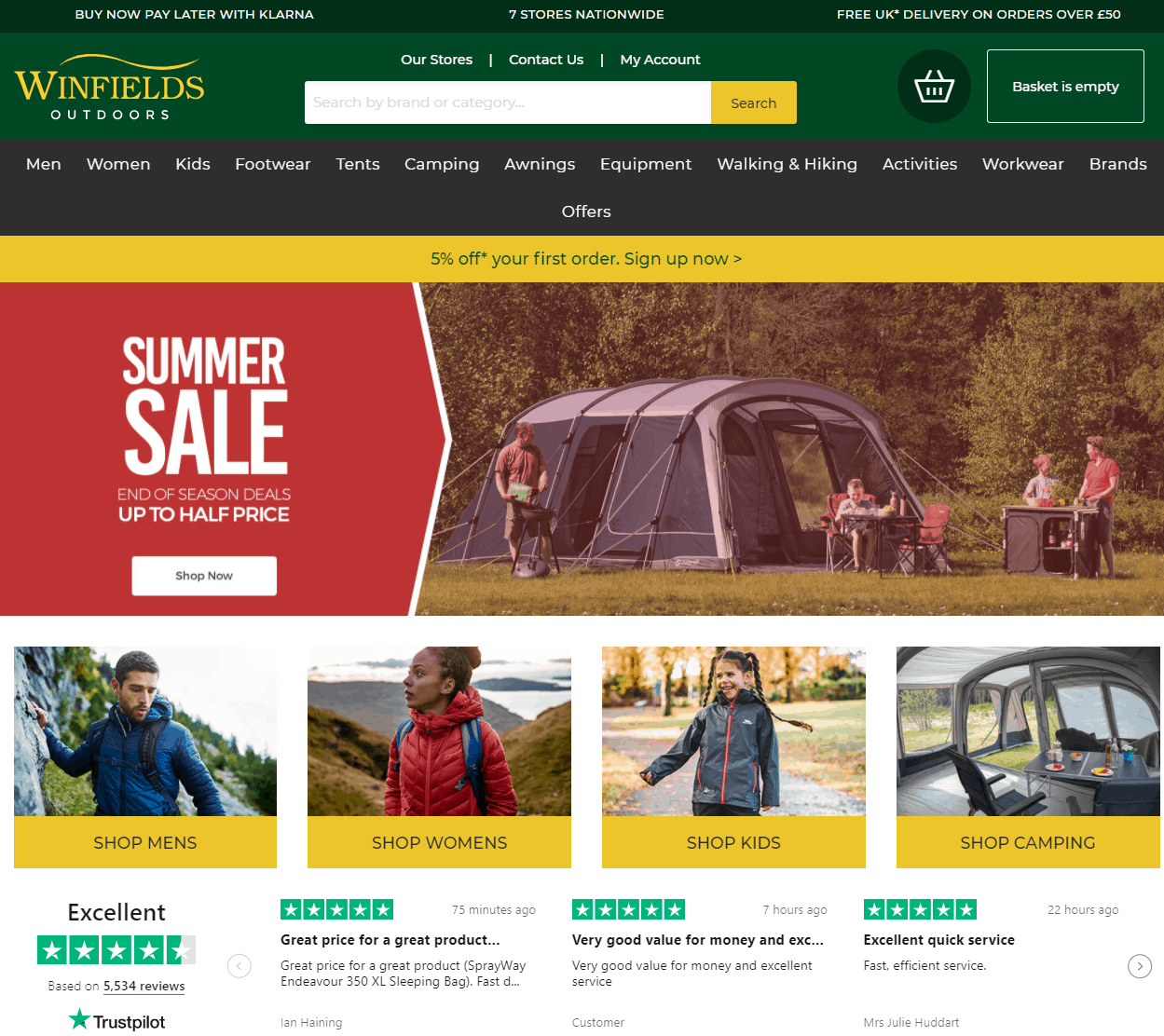 Winfields Outdoor offers a wide ranging selection of outdoor brands for everything from camping and caravanning to hiking and skiing. They have an excellent selection of camping products. Winfields are a UK brand with 7 stores.
Deals & Special Offers
Delivery & Returns
Free delivery on orders over £50. £3.99 for standard 5-8 working day delivery. Most products carry a 12 month manufacturer's warranty, with some brands offering up to 24 months as standard.
Mountain Warehouse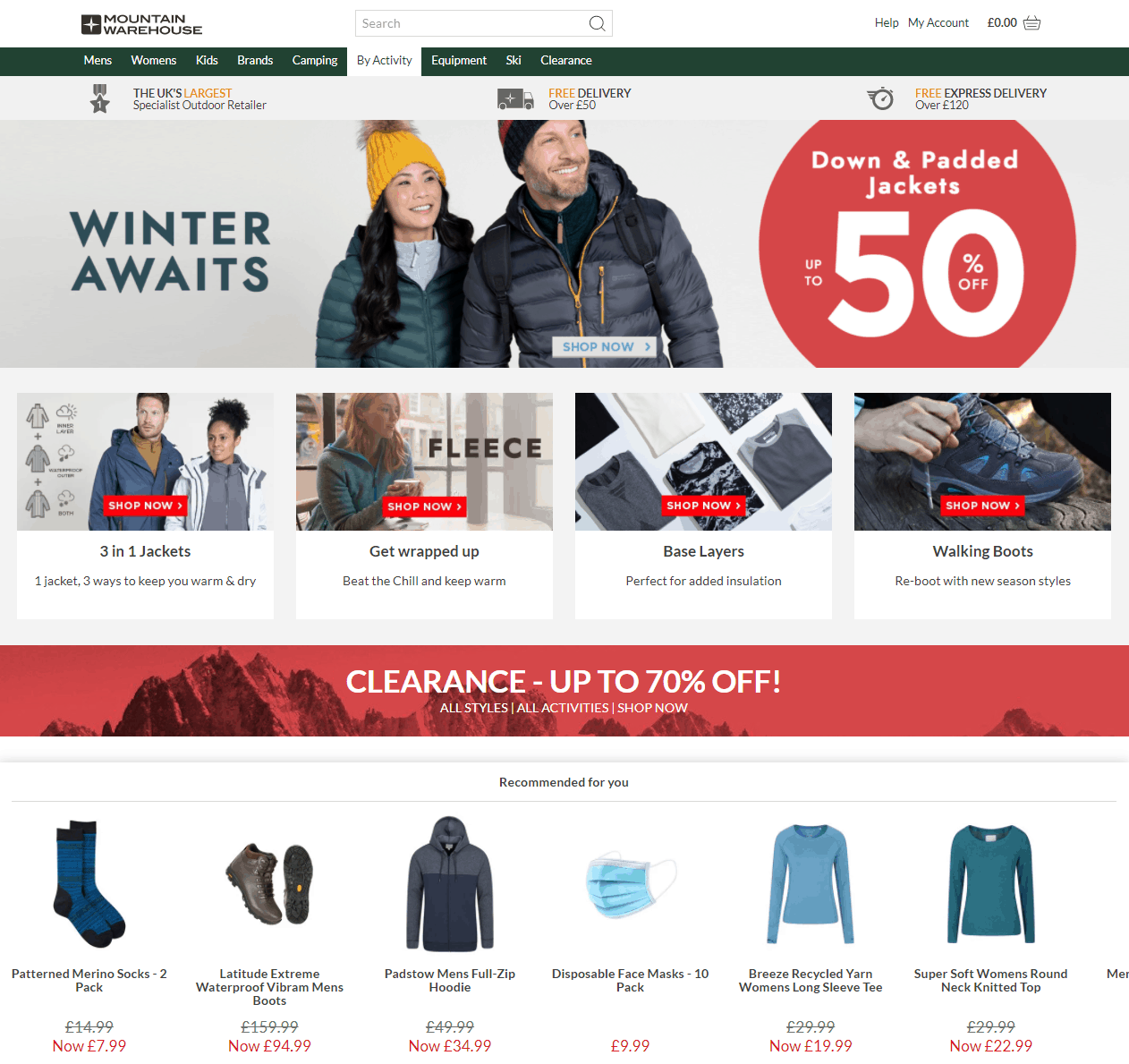 Mountain Warehouse promotes itself as the UK's largest specialist outdoor retailer. They certainly have a large selection of products to choose from.
Deals & Special Offers
Mountain Warehouse have a large clearance section with thousands of products.
Delivery & Returns
Free delivery over £50. Free Express Delivery over £120. Returns must within 30 days of your order being placed.
Go Outdoors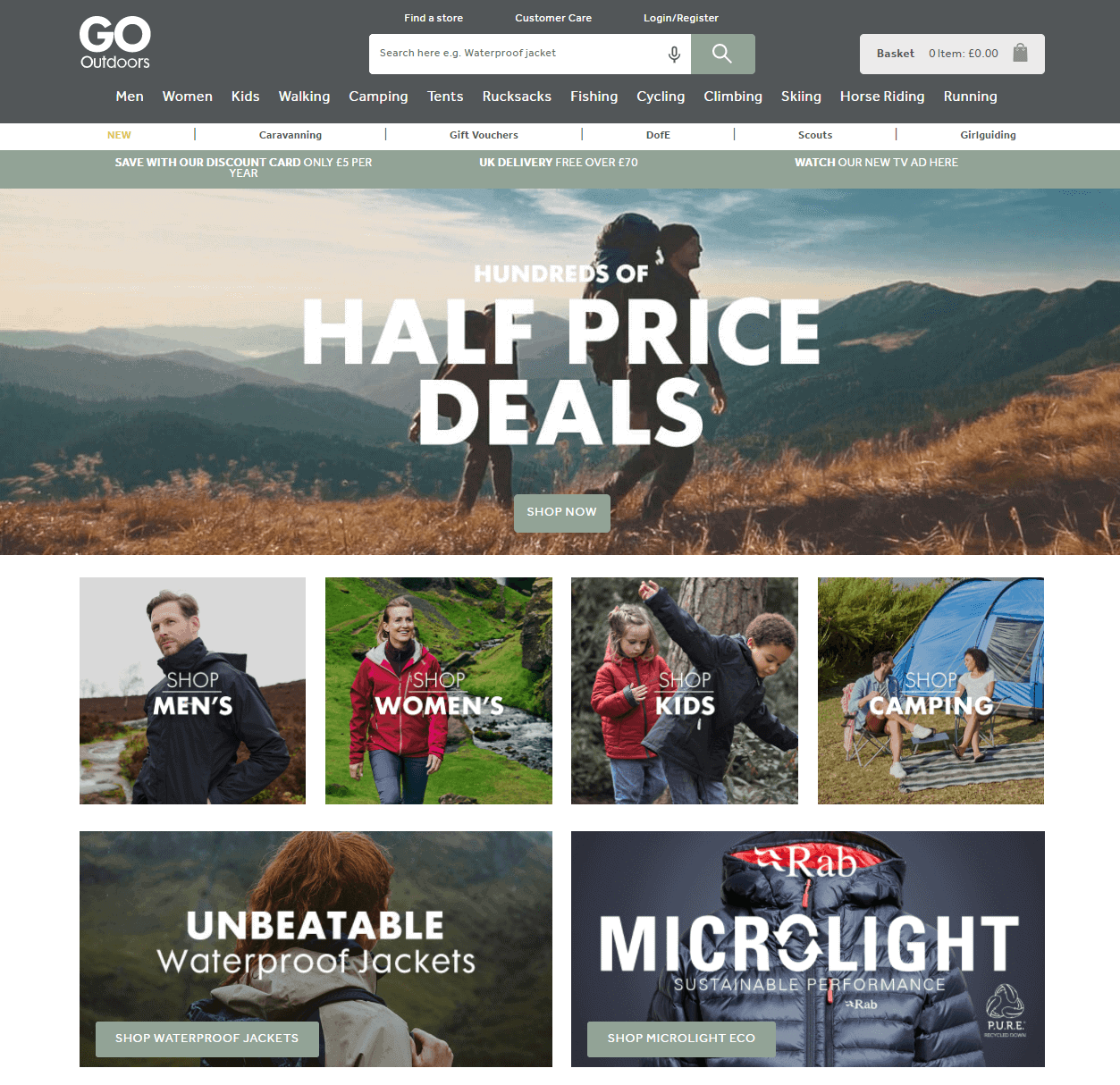 Deals & Special Offers
Browse over 600 discounted items in Go Outdoors Sale.
Delivery & Returns
Free UK delivery over £60. You can return items within 28 days to Go Outdoors.
Blacks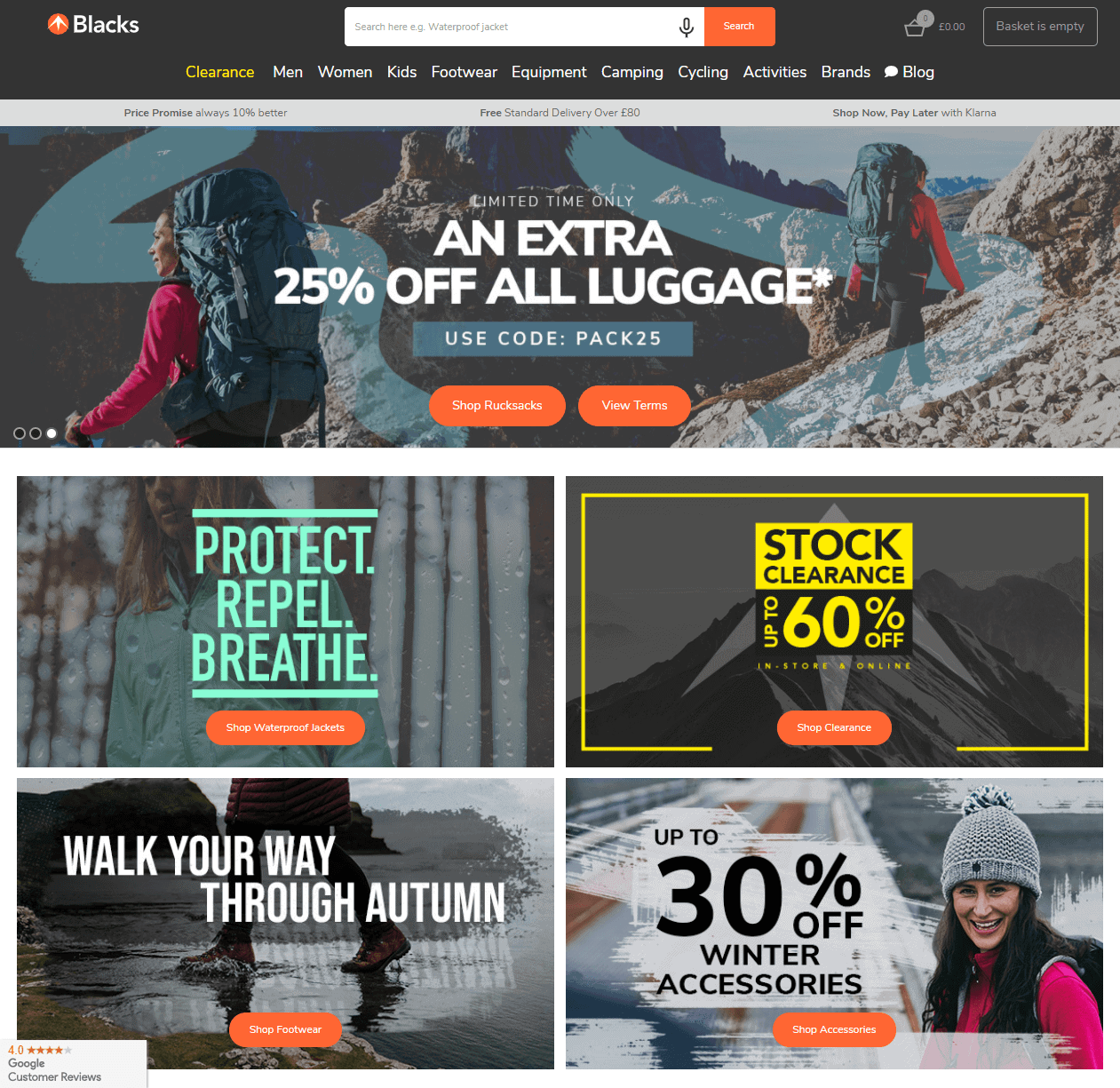 Deals & Special Offers
Delivery & Returns
Free delivery for orders over £80. Standard UK Delivery is £4.95.
Simply Hike
Simply Hike is a relatively new addition to the sector having been launched in 2006. They are popular choice in the camping, hiking and walking market.
Deals & Special Offers
Visit Simply Hike's discounted items.
Delivery & Returns
Free Tracked UK delivery on orders over £50. Hassle-free returns on all orders within 14 days of purchase.
All Outdoor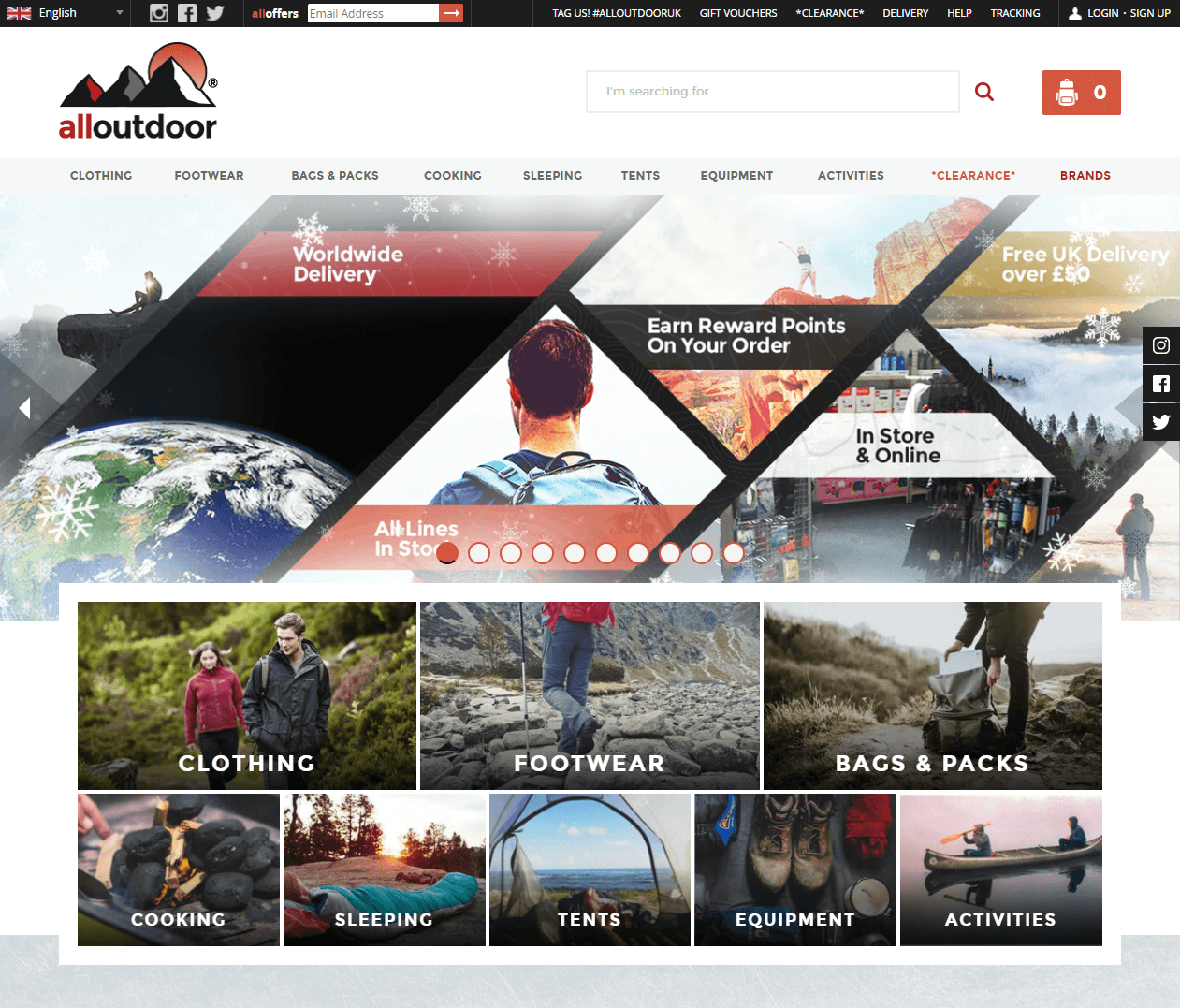 Deals & Special Offers
All Outdoor have an easy to use and browse discount section, with currently over 600 sale items.
Operate a good rewards scheme called allpoints where you can get up to 4% cashback.
Delivery & Returns
Free delivery on orders over £50 otherwise standard delivery is £2.95. You can return your order for up to 60 days hassle-free.
Berghaus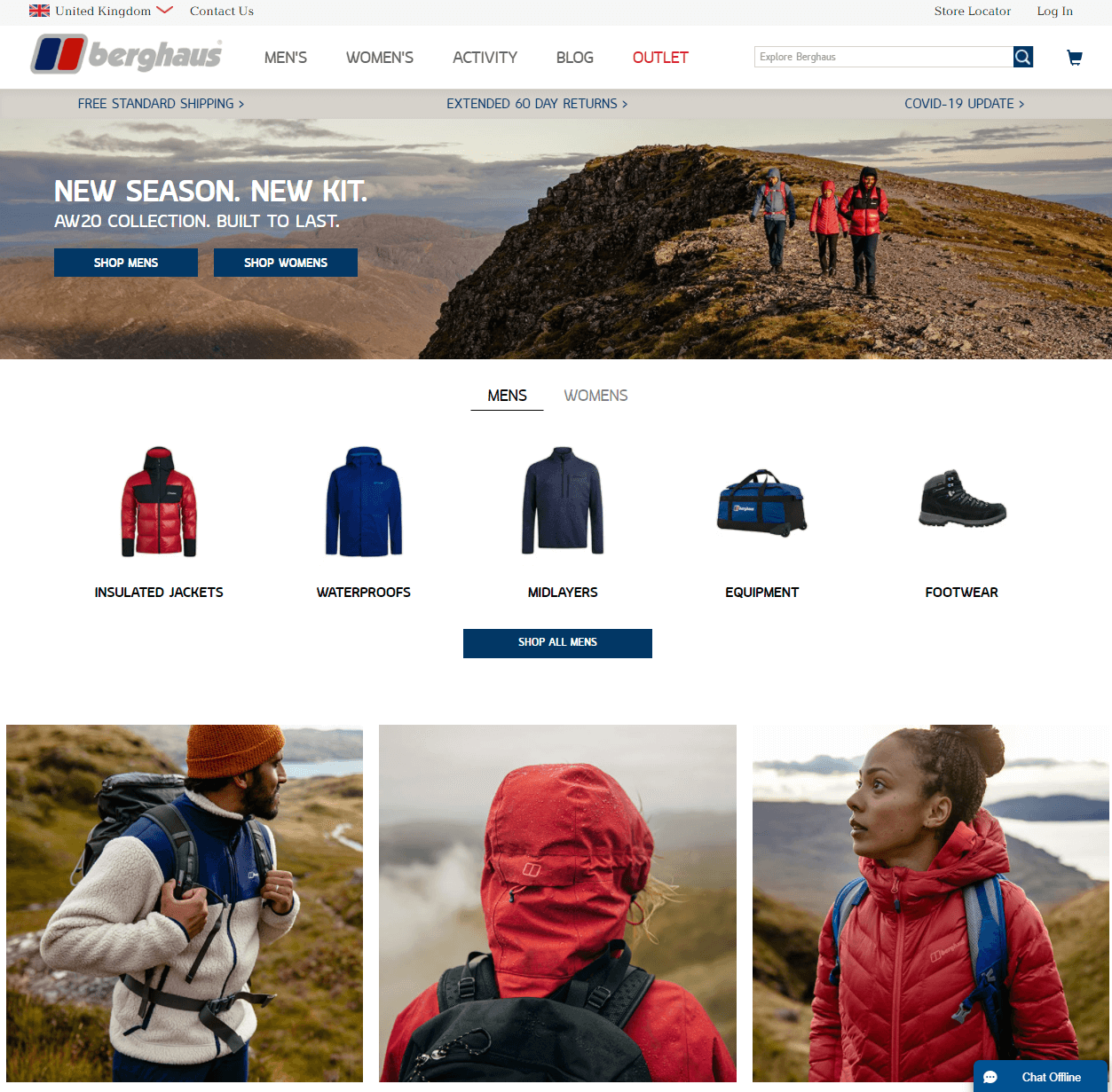 Deals & Special Offers
Delivery & Returns
You have 60 days to return your Berghaus order for an exchange or refund. Standard delivery (2-3 days) is free of charge.
Alpine Trek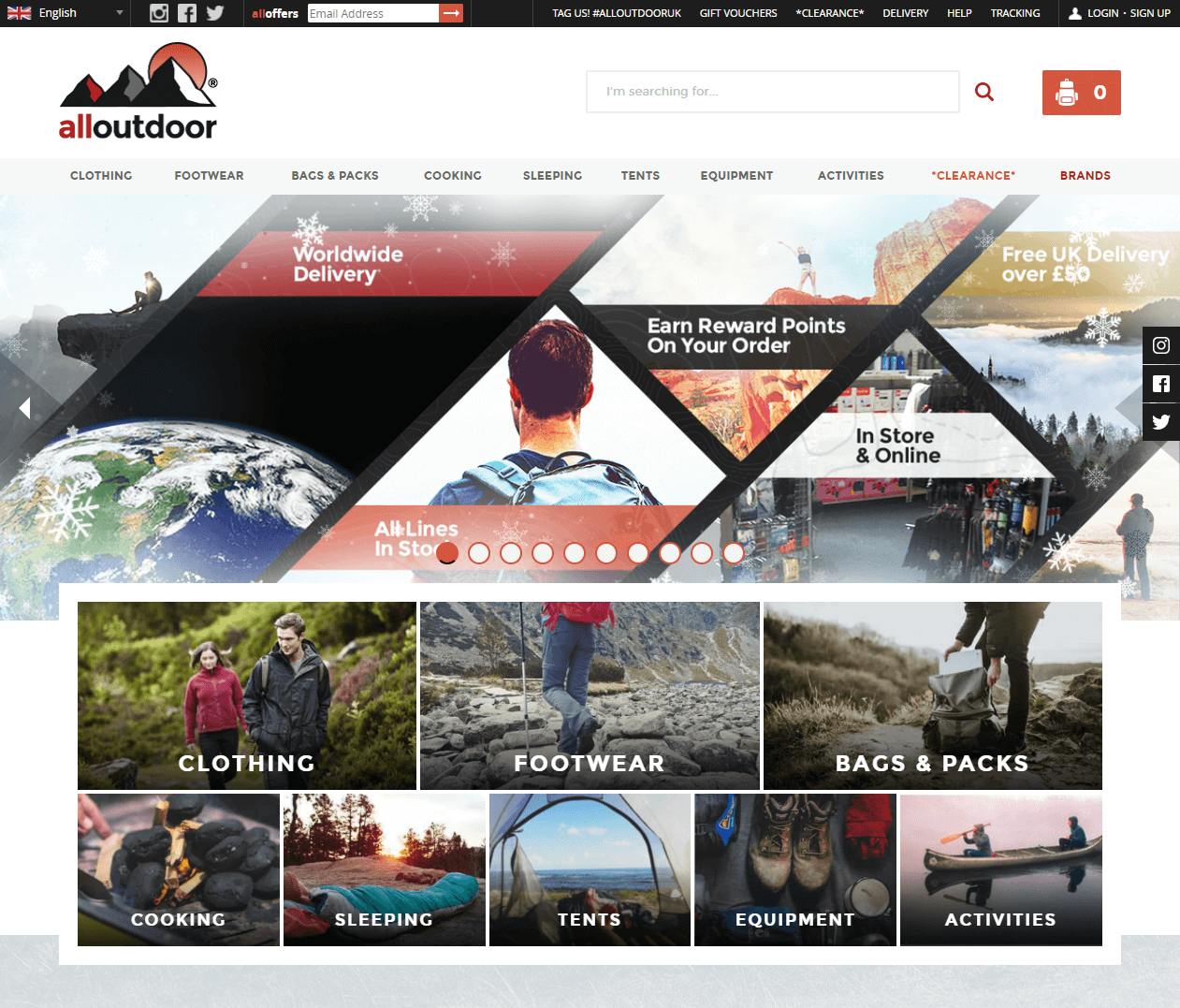 Excellent German retailer established in 2006 with high quality outdoors equipment. They stock over 140,000 items across 500+ brands.
Deals & Special Offers
Delivery & Returns
Free delivery over £50. 100 days return policy.
Dare2b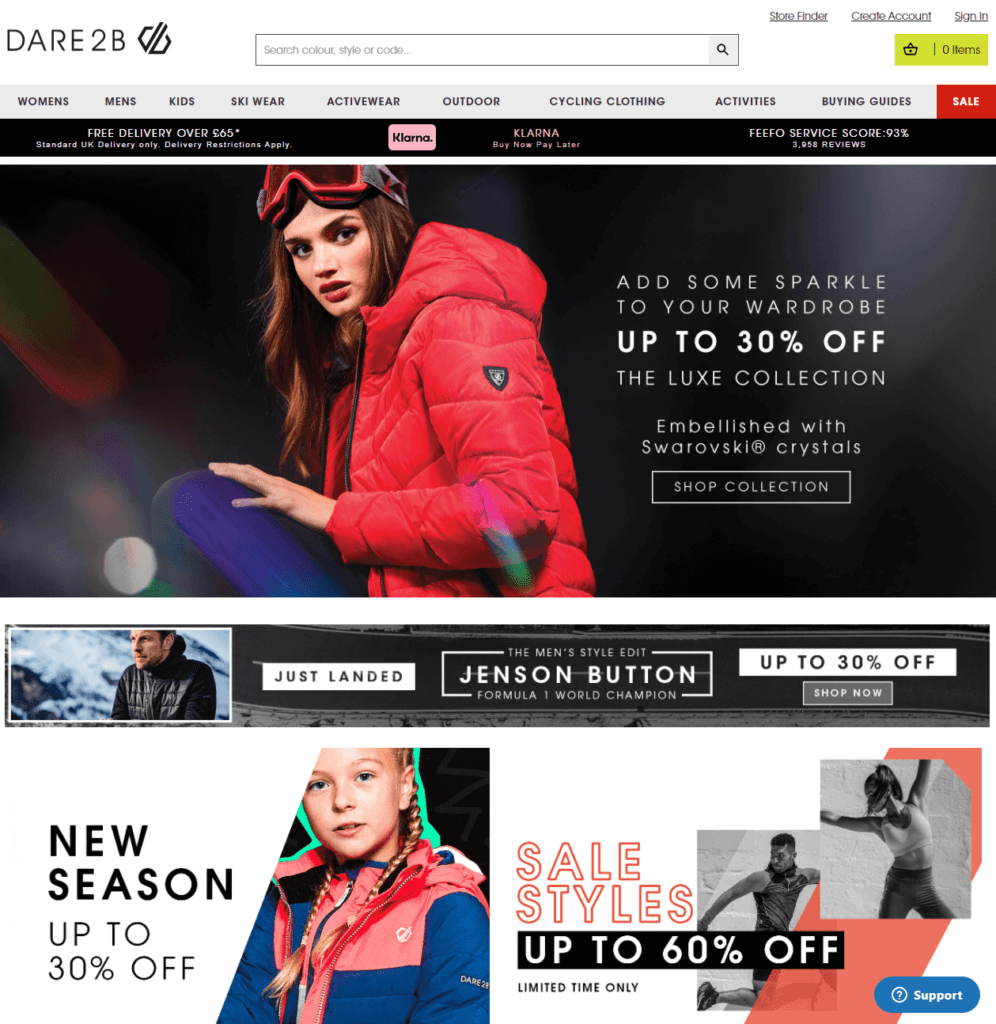 Deals & Special Offers
Browse Dare2b's sale section with over 800 discounted items.
Delivery & Returns
Free delivery over £65. You can return your goods for a refund or exchange within 30 days of purchasing
Camping Store Reviews – How Do They Score?
Trustpilot Reviews
Trustpilot is the most popular website for independent verified reviews. We have found that all of the brands featured on this article did have a listing on Trustpilot.
We have listed all the brands here even if there are only a small number of reviews – so do bear this in mind. For example Wildbounds only have 8 reviews, Dare2b 33 and Berghaus 21.
Interestingly, Mountain Warehouse and Regatta that score the lowest tally on Trustpilot do well on Feefo.
Camping Buyer's Guides
Help ease your shopping with our in-depth buying guides for your next camping purchase.
Your Camping Checklist
There's something you always forget when packing for a camping trip. Use our handy camping checklist to make sure you don't forget anything important.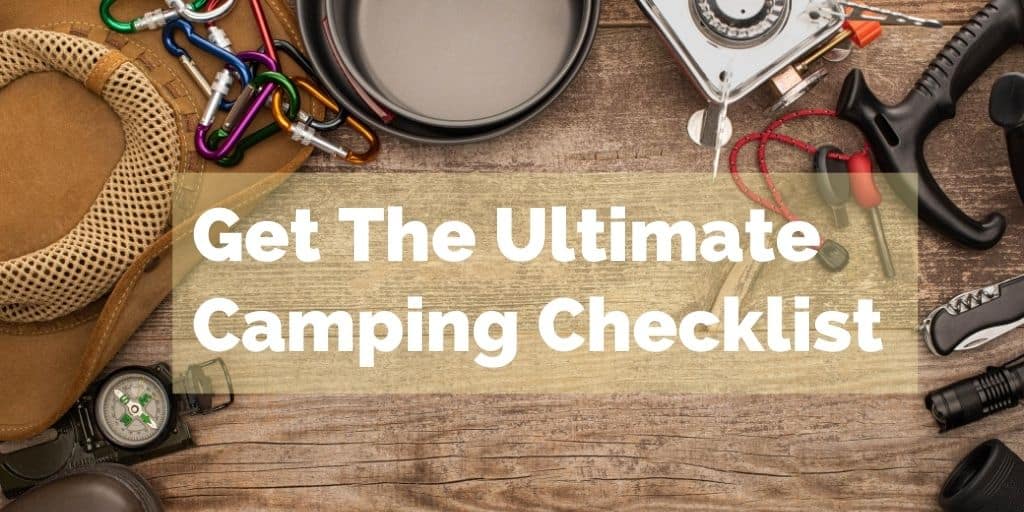 Get more out of your next adventure in the great outdoors with these 24 brilliant camping hacks.