For this post, I have put together a collection of the 10 best camping mugs currently available. Browse my ultimate camping checklist and you won't forget anything!
Our Top Picks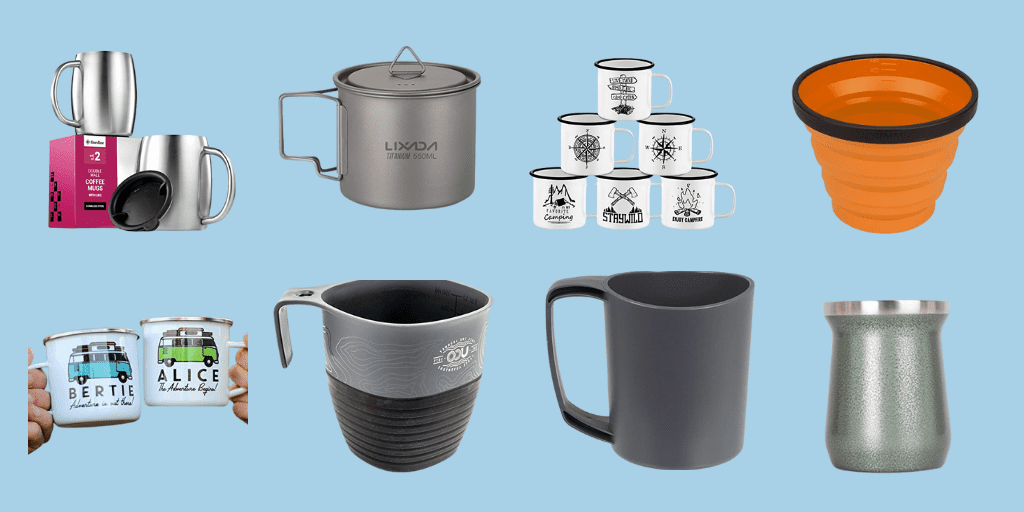 ---
Camping mugs are some of the most essential items you'll ever bring with you on your camping trip.
Whether you go for full on luxury glamping, or just basic backpacking, a camping mug is absolutely crucial for your trip.
A camping mug needs to be easy to carry, easy to clean and easy to store on your trips out.
More camping top buys? See my picks for the best camping cooking sets and best camping kettles
Not sure where you want to go for your holidays? Check out our 100 best glamping experiences.
How We Selected
I have carefully made my selection by searching the web for reviews on all camping mugs to find you the best ones available.
My aim is to look at those that only get the best feedback, with at least 4 star reviews. I have researched the ones with the best design features, weight or that come as a set for trips out with family and friends, as well as offering a various selection on prices, for those on a budget to the more premium options.
I have also based my research on family and friends testing and my own personal experience of many years camping!
So here is my list of the 10 best camping mugs.
Insulated Stainless Steel Coffee Cups
Double Insulated, keeping drinks hot and cold.
Constructed of heavy-duty, breakproof stainless steel.
Brand: FineDine
Item weight: 449g
Capacity: 14oz
Pros: Set of 2 mugs and both come with a spill and leak resistant lid. Dishwasher safe.
Cons: Some reviews mention a metal taste the first few times of using.
Consumer Score: Brilliant reviews From 3,529 ratings 79% gave this 5 stars out of 5.
---
Lixada Portable Titanium Mug
Made of titanium material, lightweight and durable.
With a lid and collapsible handles for convenient use.
Brand: Lixada
Item weight: 90g
Capacity: 420ml (others available)
Pros: Comes with a mesh storage sack for easy storage and transport. Other sizes available from 300ml to 750ml
Cons: There seems to be a variation on what capacity the mugs can actually hold. Premium price tag.
Consumer Score: Amazing reviews From 831 ratings 78% gave this 5 stars out of 5.
---
Joyfair Enamel Coffee Camping Mug Set of 6
High quality iron with enamel coating, Rust free
Wide U-handle for easy grip and hanging.
Brand: Joyfair
Item weight: 1.58kg
Capacity: 16oz/450ml
Pros: The set of six mugs all have different patterns, so it gives you more choice and eliminates the need to worry about mixing cups up when camping.
Cons: The only negative I found was that after a lot of use, slight staining occurred.
Consumer Score: Superb reviews From 56 ratings 90% gave this 5 stars out of 5.
---
Sea to Summit X Collapsible Silicone Mug
Made from 100% Silicone
A rigid ring within the rim keeps it sturdy and easy to drink out of but still allows the mug to be collapsed to a disk that will fit in the palm of your hand!
Brand: Sea to Summit
Item weight: 0.15kg
Capacity: 480ml
Pros: There is a choice of colours, Blue or Orange. Extremely lightweight, and very compact.
Cons: Not insulated, so when filled with hot liquid, can be hot to hold.
Consumer Score: Brilliant reviews From 283 ratings 88% gave this 5 stars out of 5.
---
Personalised Campervan Enamel Mug
A Retro style fine Enamel Mug which is durable and long-lasting.
The design features a campervan image with the personalised message.
Brand: That's Nice That
Item weight: Not specified
Capacity: Not specified
Pros: Each mug is available in a choice of 6 different colour van designs and can be personalised with a name or message up to 50 characters long.
Cons: Seems to have been a few mistakes with personalisation although these have been rectified. On the small side.
Consumer Score: Awesome reviews From 424 ratings 82% gave this 5 stars out of 5.
---
Lifeventure Ellipse Plastic Mug For Camping, Travel & Outdoors.
Discount - Save £0.39
Lightweight, tough and durable.
This vibrant range of plastic camping mugs can be connected to your gear with a karabiner/ clip hook.
Duke of Edinburgh Award Scheme recommended kit
Brand: Lifeventure
Item weight: 75g
Capacity: 300ml
Pros: 7 different colours available. Very cheap to buy.
Cons: The gap in the handle is hard to dry, causing drips of water.
Consumer Score: Brilliant reviews From 1,277 ratings 79% gave this 5 stars out of 5.
---
Ace Travel Buddy Camping Mug
Discount - Save £2.00
Made from double wall insulated stainless steel.
Shaped for the perfect hand fit.
Brand: Ace Travel buddy
Item weight: Not specified
Capacity: 250ml
Pros: Keeps drinks hot and cleans easy .
Cons: Only comes in green. Capacity is quite small.
Consumer Score: Fantastic reviews From 18 ratings 92% gave this 5 stars out of 5.
---
Berghaus Camping Travel Mug
Durable steel main body – can take heavy treatment in your bag or on the trail.
Plastic lid with drinking aperture – provides a full, secure seal to prolong heat.
Brand: Berghaus
Item weight: Not specified
Capacity: Not Specified
Pros: Keeps drinks hot and very lightweight. Long lasting over many years.
Cons: Only comes in red or Grey.
Consumer Score: Brilliant reviews From 26 ratings 78% gave this 5 stars out of 5.
---
Personalised Kids Enamel Mug
Child size enamel mug
Dishwasher proof
Personalised to order.
Brand: Tiger Lily Prints
Item weight: 98g
Capacity: 280ml /10oz
Pros: Comes in an organza gift bag making it an ideal present. 3 gorgeous designs available.
Cons: Quite pricey for a child's mug.
Consumer Score: Super reviews From 64 ratings 85% gave this 5 stars out of 5 out of 5.
---
UCO Collapsible Cup
Flexible base collapses inside to reduce the overall height by 50%.
Ergonomic handle provides a comfortable sturdy grip.
Built in volume gradients (ounces & ml)
Safe for boiling liquids
Brand: UCO
Item weight: 60g
Capacity: 340ml
Pros: Comes in 3 colours. Built in attachment point compatible with common carabiner sizes.
Cons: Measurement gradients very hard to see. Doesn't collapse easily.
Consumer Score: Fab reviews From 505 ratings 76% gave this 5 stars out of 5.
Camping Mugs Sale & Today's Bestsellers
The Most Important Features To Consider
Weather it's a weekend hike or a full weeks holiday, there's nothing better than a warm mug of your favourite beverage as you watch the sunrise.
Or if it's water, juice, or beer that you're carrying along to camp, you need your fluids well contained and kept warm, hot, or cold, as you'd prefer.
Therefore choosing the right camping mug can be a difficult task.
Design
The design really depends on your needs and personal preference.
Do you want a mug with a lid? Investing in a mug with a lid would help keep your drink safe from spilling and helps maintain it's warmth.
Many mugs with lids come with a sip hole that's easy to drink out of. However, ensure the lid securely fits into the mug to prevent spillage.
Think about the importance of having a handle. Do you need your mug to be attached to your backpack or are you after a mug you can wrap your hands around for added warmth?
Think about the capacity of the mug. Will it be just for hot drinks, cold drinks or will it be used for hot food like soup? Check how much each mug holds and if it is insulated.
You don't want your cuppa going cold or your water going warm.
Portability
Whether you are camping, glamping or backpacking, easily stackable mugs and collapsible mugs make efficient use of space, particularly if you're camping as a large group.
So think about where you will be using and storing the mug.
Materials
Along with the mug design, the build material is one of the most vital considerations when choosing a camping mug.
Plastic, stainless steel, and enamel are most commonly used for camping and travel mugs.
Plastics are relatively durable, inexpensive, and lightweight but not great at insulating drinks. They can also taint the taste of your drinks. If you buy plastic look out for BPA free.
Stainless steel is by far the most durable of the materials used for making mugs. They're tough against breakages, corrosion and are generally inexpensive.
But, cheaper versions can often leave you with a metallic taste in your mouth so look out for double-walled insulated stainless steel mugs.
Enamel mugs are fun and colourful. They are aesthetically pleasing, and do not impact the taste of your drink. However they don't keep drinks hot, and the enamel tends to chip off.
Camping Mugs FAQs
What is the best material for a camping mug?
The most commonly used materials for travel and camping mugs are Plastic, stainless steel, titanium and enamel. They all have different qualities so it depends on personal preference and what the mug is going to be used for.
Are camping mugs microwavable?
It all depends on the material they are made with and the manufacturer's guidance.
Enamel for example isn't suitable for microwaves as underneath the enamel coating is a steel material, but some plastic camping mugs would be perfectly fine to pop in a microwave to heat up your drink or soup. Always read the label to check.
Why are enamel mugs good for camping?
Enamel mugs are a great alternative to plastic and stainless steel. They are just as sturdy due to their construction and just as practical but with more class and style. They don't impact the taste of what your consuming like metal or plastic mugs, and they are ideal for families and children as they are robust.

If you think I left any out that should be included or have a suggestion for a future article, let me know in the comments below.
Jo
Camping Buyer's Guides
Help ease your shopping with our in-depth buying guides for your next camping purchase.
Camping Furniture (Chairs, Tables, Sofas)
Sleeping (Camp Beds, Sleeping Bags)
Cooking / Kitchen
Tents
Roof Racks & Bags
More Camping Products / Guides
Your Camping Checklist
There's something you always forget when packing for a camping trip. Use our handy camping checklist to make sure you don't forget anything important.
Get more out of your next adventure in the great outdoors with these 24 brilliant camping hacks.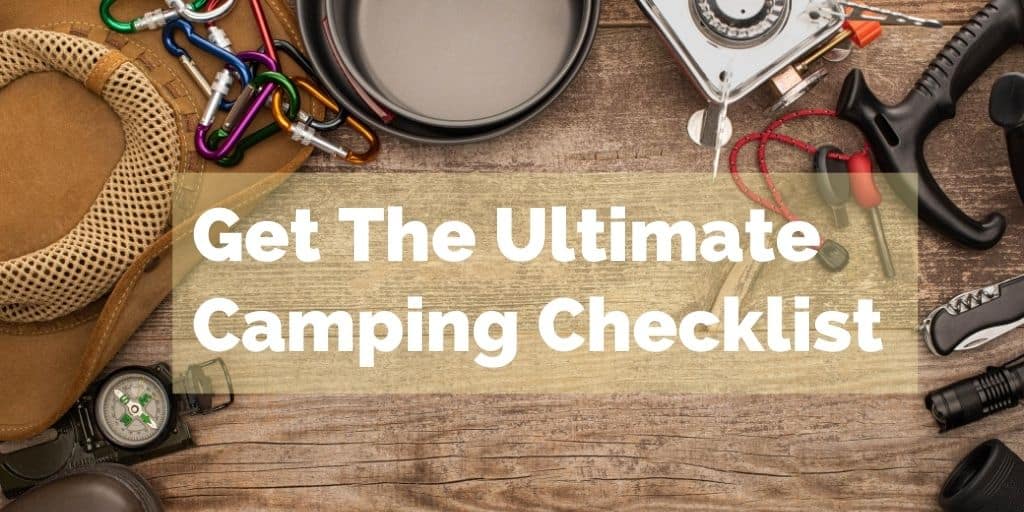 Get more out of your next adventure in the great outdoors with these 24 brilliant camping hacks.