For this post, I have put together a collection of the best kids lunch boxes currently available. See more top picks on my back to school checklist.
Our Top Picks
Show Today's Top Deals
These are today's top deals and bestsellers for kids lunch boxes.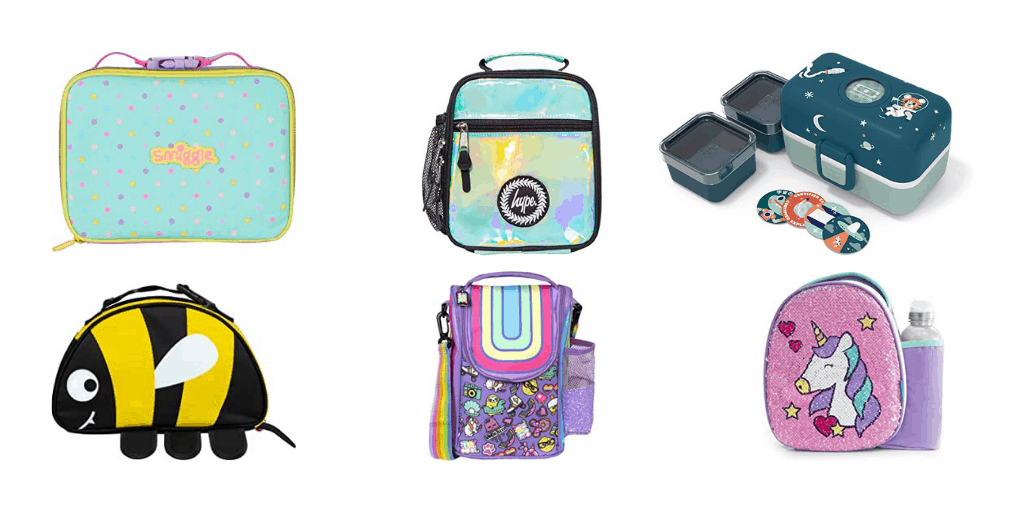 Looking for a kids lunch box to keep their lunch fresh for school or outdoor activities?
We've searched the market to bring you the best kids lunch boxes around, from insulated lunch bags to bento boxes with compartments.
All of our recommendations have excellent customer reviews and 4-5 star ratings.
Related: A reusable kids water bottle is ideal for school, outdoor activities and sports! See our top picks of the best water bottles for kids, from stainless steel to silicone.
Let's get going!
Best Kids Lunch Box
Smiggle Block Square Lunchbox
Size: 7 x 24.5 x 19 cm
This block lunch box/bag will keep kids' lunches cool.
Good space for lunch and snacks.
BPA free, food grade safe and easy to clean.
The carry handle has a handy buckle so you can hang it off their school bag.
The name label is easy to write on.
Durable and well made.
Available in other colours and patterns.
Excellent reviews. From 97 ratings 85% of buyers gave this 5/5 stars.
---
Harry Potter Lunch Box
Size: n/a
Official Harry Potter lunch box/bag.
There is room for a flask or travel cup and a handy elastic drinks holder within the bag.
Kids love Harry Potter? Check out our buyer's guide to Harry Potter gifts.
Great reviews. From 134 ratings 82% of buyers gave this 5/5 stars.
---
Best Kids Bento Box
Monbento Kids Lunchbox
Size: 16 x 9.2 x 10.4 cm
Airtight bento lunch box.
Microwave-safe (without its lids) to enjoy warm or cold meals.
Made of PBT, a safe high quality plastic, which is dishwasher-safe.
Kids lunches can be compartmentalised and distributed on two tiers.
The separate compartments can be removed to stand alone.
The lunch box is specially adapted so that little ones can easily open and close it.
Available in various colours.
Excellent reviews. From 25 ratings 82% of buyers gave this 5/5 stars.
---
Skip Hop Zoo Lunch Box
Size: 17.1 x 14 x 5.7 cm
Cute lunch box, ideal for toddlers to take to pre-school.
It has coordinating clips to snap open and close.
The rubber seal keeps it airtight.
The lunch box includes a separate snack container with lid.
Dishwasher safe.
Available in various animal designs including ladybird, monkey, llama and owl.
Plenty of great reviews. From 1,342 ratings 72% of buyers gave this 5/5 stars.
---
Munchkin Bento Compartment Lunch Box
Discount - Save £2.00
Size: 7 x 21.8 x 21 cm
This brightly Coloured bento box is ideal for toddlers and young kids.
It includes a handy stainless steel toddler utensils set that clip directly to lid for easy storage.
The 5 compartments let you separate their lunch into small sections.
Complete with a handle.
Dishwasher safe, BPA free.
Available in green/ yellow and pink/ yellow.
Really good reviews. From 517 ratings 77% of buyers gave this 4-5 stars.
---
Best Kids Lunch Bag
Fringoo Large Capacity Kids Strap Lunch Bag
Size: 25.5 x 16 x 11 cm
Eye-catching rainbow coloured kids lunch bag with carry strap.
Insulated to keep lunch cool and easy to wipe clean material .
It has multi compartments and a large capacity so you can fit plenty in plus a separate mesh drinks holder.
Machine washable at 30 degrees so handy for messy kids!
There are also matching products within the range.
Amazing reviews. From 782 ratings 76% of buyers gave this 5/5 stars.
---
Dotcom Giftshop Insulated Children's Lunch Bag
Discount - Save £0.51
Size: 20 x 14 x 15 cm
An easy to zip open insulated lunch bag.
Ideal for picnics.
The foil lining and foam insulation help keep food cool and fresh plus it's easy to wipe clean.
2 carrying handles to make it easy to transport.
Great reviews. From 376 ratings 75% of buyers gave this 5/5 stars.
---
Hype Lunch Bag
Size: n/a
Holographic lunch bag which is ideal for older kids.
Come with a side pocket made from a mesh material, perfect for holding a drink.
With a front zipped compartment, main compartment and insulated lining to keep lunch fresh.
The embossed zip puller and holdall handle makes it easy for transporting.
Available in a number of funky prints and materials which kids will love.
Good customer reviews. From 64 ratings 76% of buyers gave this 5/5 stars.
---
Smash Insulated Lunch Bag & 500ml Bottle
Discount - Save £2.48
Size: 8.5 x 25.5 x 25 cm
This cute unicorn lunch box Includes a 500ml leak proof bottle in insulated side bottle pocket.
Both 100% BPA, lead and Phthalate free.
Easy to wipe clean.
Antibacterial lining for hygiene.
Fab reviews. From 1,175 ratings 85% of buyers gave this 5/5 stars.
---
Tum Tum Lunch Bag for Kids
Size: 10 x 30 x 25 cm
These adorable kids insulated lunch bags have 'clippy' handles so they can be attached to a pushchair or ruck sack.
They are made with toddlers in mind, so ideal for pre-school.
They have an internal net pocket for cutlery, freezer pack or any other bits.
There is a handy space on the underside to write your little one's name.
BPA & Phthalate free.
Excellent reviews. From 53 ratings 80% of buyers gave this 5/5 stars.
---
Today's Top Deals & Bestsellers
FAQ's Kids' Lunch Boxes
What do you put in a child's lunch box?
A kids lunchbox should include;-
– Either bread, rice, potatoes or pasta.
– A source of protein like meat, fish or egg.
– A dairy item, like cheese or yogurt.
– Vegetables and a portion of fruit.
Are bento lunch boxes good for kids?
Yes, as they divide up their lunch into small compartments, which is perfect for kids and toddlers that like to keep their food separate. They are also good for portion control. They are also handy to use as food storage containers.
I hope this list of the best kids lunch boxes was helpful. If you think I have missed any or have any suggestions, please comment in the box below.
Thanks Nicola.
---
Back To School Buying Guides