For this post, I have put together a collection of the best school bags currently available for primary and secondary school kids. For more top picks and buying guides, see my back to school check list.
Our Top Picks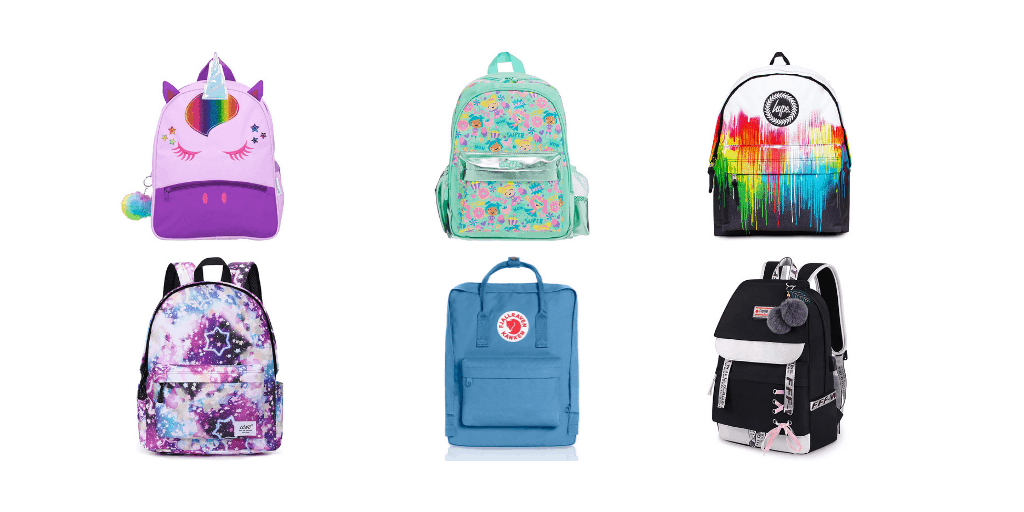 ---
We've rounded up the best school bags for primary and secondary school kids, so they're kitted out for the new school year.
From small to large backpacks and sporty bags to tote bags, there are practical choices here, to suit all tastes.
We've searched the market to bring you the best school bags, all with excellent customer feedback and 4-5/5 star ratings.
Keep lunches fresh and the kids happy with our top picks of the best lunch boxes and kids water bottles.
Let's get going!
Best School Bags For Primary School
Harry Bear Kids Unicorn Backpack
A cute unicorn backpack with fun detailing including a 3D horn and ears, glitter stars and mane.
The furry rainbow pompom keyring is a sweet touch.
With a roomy inside mesh pocket, side pocket and a zipped front pocket.
The hanging loop and write-on name tag inside make this the perfect bag for school or days out.
Dimensions: H:35 x W:28 x D:10cm.
Buyer's like the good quality.
Very good reviews. From 705 ratings 84% of buyers gave this school bag 5/5 stars.
---
Smiggle Cheer Junior Backpack
Eye-catching ice-cream print small backpack.
With dual drink bottle sleeves and 3 zipped compartments.
The main compartment has double zip so it's easy to open and close for little fingers.
Padded adjustable shoulder straps and carry handle for comfort.
There is a handy internal name label and slip pocket to make it easy to label for school.
Dimensions: W 26.5cm x H 36cm x D 11cm
Excellent reviews. From 70 ratings 89% of buyers gave this school bag 5/5 stars.
---
Bansusu 3Pcs School Bag Set
This back pack has a large capacity and multiple pockets design, so ideal for older primary school kids.
The S-shaped shoulder straps are wide and padded for comfort.
The bag also comes with a matching lunch bag and pencil case.
Dimensions: 31(L)15(W)40cm(H)
Available in 13 colours.
Fab reviews. From 1,530 ratings 79% of buyers gave this school bag 5/5 stars.
---
Hey Duggee Toddlers Shoulder Bag
A fully licensed Hey Duggee messenger bag which is ideal for younger kid.
Made from excellent quality fabric for durability.
The print is high quality definition.
Will easily fit a tablet and school books.
Dimensions: 30 cm (Length), 22 cm (Width), 7 cm (Depth)
Buyer's say it's a perfect size and well made.
Very good reviews. From 201 ratings 85% of buyers gave this school bag 5/5 stars.
---
LCNC School Bag
A lightweight backpack, ideal for school.
Available in bright, funky prints.
It includes a padded sleeve for 14-inch laptops or iPad.
2 side pockets can carry a water bottle and an umbrella.
Will fit A4 files.
Three small interior pockets and two zipper pockets will help keep bag organised.
The straps are padded and adjustable.
Dimensions: 16.9″H 11.8″L 6.7″W
Available in 4 different designs.
Great reviews. From 1,212 ratings 80% of buyers gave this school bag 5/5 stars.
---
Kids Personalised Backpack
A personalised rucksack where you can choose to have your own name/ text printed on the front of the bag.
The rucksack is lightweight and durable with padded straps and a zipper front pocket.
Ideal for school. No mistaking whose bag it is!
Customers rate the high quality.
Dimensions: 29 x 13 x 40 cm
Available in black, green, red, blue, navy, royal blue, surf blue, purple.
Good reviews. From 103 ratings 76% of buyers gave this school bag 5/5 stars.
---
Harry Potter Kids Backpack
Cute backpack with cartoon charms design based Harry Potter characters.
The bag is made of hard wearing synthetic with large zip compartment which provides plenty of space.
With twin adjustable shoulder straps, two side mesh drink holders and carry handle.
Dimensions: 30cm x 25cm
Excellent reviews. From 175 ratings 81% of buyers gave this school bag 5/5 stars.
For more Harry Potter gifts see our buyer's guides.
---
Ayra Book Bag With Strap
If you're looking for a functional book bag, this one is ideal.
With a detachable shoulder strap with adjustable length.
Attached pencil case inside school bag.
Name card holder with fastening so it's easy to see whose bag it is.
With a strong and durable handle and reflective stripes.
This is the perfect shape for holding reading books or homework books from primary school.
Dimensions: 37cm Height x 30cm Wide x 6cm Depth.
Available in black, navy, green, purple, brown, red, maroon, royal blue.
Very good reviews. From 774 ratings 74% of buyers gave this school bag 5/5 stars.
---
Best School Bags For Secondary School
Hype Multi Drips Backpack
The HYPE backpacks are super popular among secondary school pupils. They come in a wide variety of colours and patterns.
This multi drips backpack has a monochrome fade fabric, with a rainbow drips overlay which looks super cool.
The straps offer supreme comfort with just the right amount of padding.
There is an external front zip pocket, hidden zip, adjustable padded straps and back for comfort.
Customers love the high quality of this bag.
Dimensions: 42cms x 30cms x 12cms
Great reviews. From 58 ratings 82% of buyers gave this school bag 4-5 stars.
---
Nike Elemental Backpack
If the kids are into sports brands this will be top of the wish-list.
A Nike branded backpack which is ideal for school.
Has a main compartment with double zipper and two smaller front zipped compartments for accessories.
The adjustable shoulder straps are lightly padded for comfort.
Available in black.
Very good reviews. From 1,688 ratings 82% of buyers gave this school bag 5/5 stars.
---
Eastpak Padded Backpack
A practical bag which comes complete with padded shoulder straps, a roomy interior, and a spacious front pocket.
Made of 100% nylon, it's extremely durable (and vegan).
Simply stylish.
Available in 12 designs and colours, from simple plain grey to multicolour girls rock print.
Very good reviews. From 730 ratings 77% of buyers gave this school bag 5/5 stars.
---
Asge School Bag For Girls
A cute school bag with lots of pockets to store books and stationery.
With added pompoms and ribbons for a tactile look.
Super light design, adjustable straps and unique handle.
Adjustable wide shoulder straps for more comfort.
Available in black, grey, pink.
Dimensions: 30 x 16 x 42 cm.
Plenty of good reviews. From 6,536 ratings 79% of buyers gave this school bag 5/5 stars.
---
FJÄLLRÄVEN Unisex Rucksack
A popular, stylish and practical rectangular backpack, ideal for carrying books.
With two flat pockets on the side and one on the front.
The vinyl fabric is lightweight and durable.
There is a foam seat in the inner back pocket which makes it comfortable to carry.
Available in 13 colours.
Dimensions: 13 x 27 x 38 cm.
Very good reviews. From 7,079 ratings 83% of buyers gave this school bag 5/5 stars.
---
Vans Realm Backpack
Popular branded backpack, which is well made and durable.
It has one large main compartment and a laptop sleeve.
100% Polyester so sturdy and suitable for daily use.
Hidden zippers to keep moisture out.
Available in Black (New), Black (Onyx), Checkwork, Golden Haze-black, Green Spruce, Multi Tropic Dress Blues, Zen Blue.
Dimensions: 42.55 H x 32.39 W x 12.38 D cm
Very good reviews. From 3,203 ratings 87% of buyers gave this school bag 5/5 stars.
---
CHICECO Handbag For School
Tote bags or handbags seem to be really popular at the moment among school girls.
This handbag has a large capacity and space for a 14″ laptop, lunch box, A4 files, books, cosmetics, cellphone, charger, etc.
Waterproof nylon shell with leather detailing.
With keychain strap so you don't have to rummage through bag for locker key.
Available in M-XL.
Dimensions: Extra Large: 58(Upper)/ 42(Bottom) x 32.5 x 19 cm (L x H x D) ; Large: 52(Upper)/ 39.2(Bottom) x 30.5 x 18 cm (L x H x D); Medium: 42(Upper)/ 33(Bottom) x 27.5 x 16 cm (L x H x D)
Very good reviews. From 146 ratings 72% of buyers gave this school bag 5/5 stars.
---
What To Consider When Buying A School Bag
Quality
A good quality school bag or back pack will be durable enough to last the day-in-day- out uses for the whole school year and beyond. A few tips on choosing a good one;-
Avoid poor stitching that could easily come undone and split.
Steer clear of frayed fabric edges.
Choose zippers that have fabric flaps over them to keep inside of bag weather-proof and free of moisture.
Fit
If you're buying a backpack/ rucksack for your child, you want to make sure the width of a backpack is proportionate to the child's width to disperse the weight evenly so it doesn't cause any back or shoulder ache. Opt for adjustable and broad straps with padding for the shoulders.
Style
Get your kids involved in the choice of school bag, so that it reflects their own style. Just encourage them to make a smart purchase and get a good quality bag which will be both practical for school and show their personality to their friends.
Today's Top Deals & Bestsellers
Back To School Buying Guides