For this post, I have put together a collection of the best lightweight camping chairs currently available. Browse my ultimate camping checklist and you won't forget anything!
Show Today's Top Deals
These are today's top deals and bestsellers for lightweight camping chairs.

---
Looking for a camping chair (or beach chair) but want one is super lightweight?
Anyone can benefit from a highly portable folding chair – not just those who are hiking and camping and need the latest lightweight gear.
Lightweight chairs are perfect for days out, picnics and beach days where you want to travel as lightly as possible, but without sacrificing comfort or ease of set up.
I've scoured the web to bring you the best reviewed camping chairs that are under 1kg and even down to the most ultra-lightweight at 0.38kg!
Want to cosy up with a loved and save space? See my top picks for the best double camping chair.
So here is my list of the the best lightweight camping chairs.
Helinox Chair Zero
The lightest chair on our review this is expensive but Helinox are the market leading brand for light camping chairs.
Ideal for compact camping this packs down smaller than a water bottle!
Weight: 526 grams.
Weight Capacity: 120 kg
Colours Available: Black, Grey, Sand.
Outstanding reviews. From 854 ratings 86% gave this 5 stars.
Helinox make a number of highly portable folding chairs in addition to the Helinox Chair Zero. They are all light for what they are but you can get bigger ones (that might be more comfortable) if you don't need the absolute smaller/lightest:
Helinox Chair One Mini
Helinox Chair One
While we're looking at the lightest camping chair option let's look at two others that aren't quite the same i.e. chairs with legs:
---
Trespass Camping Stool
If your needs or preference don't require back support then this is great value option.
Versatile use for camping, beach, picnics and festivals.
Weight: 500 grams.
Max Capacity: 80 kg.
Good reviews. From 343 ratings, it scores an average of 4.2 out of 5.
---
Highlander Lightweight Camping Seat Chair
A chair without legs this is a comfortable lightweight seat perfect for camping or any other days out activities.
These don't provide top level comfort compared to say the Helinox but they're extremely light and portable.
Hard wearing base and waterproof coating means you'll stay dry!
Folds flat and carry handle makes it easy to transport.
Colours available: Blue, Black, Olive & Orange.
Weight: 380 grams.
Very good reviews. From 1,624 ratings, 81% give it 4 or 5 stars out of 5.
---
Coldshine Portable Lightweight Camping Chair
Budget friendly option
Weight: 850 grams.
Very good reviews. From 65 ratings, this scores an average of 4.3 out of 5.
Customers love its competitive price.
---
Kamui Portable Lightweight Camping Chair
Discount - Save £7.00
Bestselling, good value camping chair perfect for fishing or camping.
Includes handy side pocket for your phone, bottle etc.
Has wider feet than some other chairs which helps improve stability.
Durable, made from aviation grade aluminum alloy.
Weight: 950 grams.
Max Capacity: 100 kg.
Fab reviews. From 283 ratings, 77% give it 5 stars.
Customers love this chair! Lightweight, comfy, great value are common comments.
---
TREKOLOGY YIZI GO Portable Lightweight Camping Chair
Brilliant, bestselling folding camping chair with excellent all-round comfort.
Good for hot weather as it has a number of mesh areas, good for air circulation.
Useful side pockets for storage and convenience.
Packs down very small into handy carry case.
Colours available: Black, Blue and Red.
Weight: 952 grams.
Max Capacity: 135 kg.
Brilliant reviews. From 5,523 ratings, 77% gave this 5 stars.
---
Umi. by Amazon Portable Camping Chair
Well priced, good all round comfy compact camping chair from Amazon.
Lots of airflow with the mesh panels to keep you cool.
Weight: 998 g.
Max Capacity: 120 kg.
Colours available: Blue and Red.
Strong reviews. From 101 ratings, this scores an average 4.4 out of 5.
---
TAOPE Folding Lightweight Camping Chair
Slightly heavier than the others but has a higher backrest and pillow.
Colours available: Blue and Red.
Excellent reviews. From 91 ratings this scores an average 4.2 out of 5.
---
Helinox Sunset Chair
Half a kilo heavier than some on this list but this one features a taller profile for more comfort and support.
It also includes a stuff sack that doubles as a pillow.
Weight: 1.5kg.
Max Capacity: 145 kg.
Colours available: All Black, black, blue block, blue paisley, forest green, scarlet and tie dye orange.
Amazing reviews! 88% of 454 buyers gave this 5 stars.
---
Lightweight Camping Chair Deals & Today's Bestsellers
I hope this list of the best lightweight camping chairs was helpful.
If you think I left any out that should be included or have a suggestion for a future article, let me know in the comments below.
Dominic
Camping Buyer's Guides
Help ease your shopping with our in-depth buying guides for your next camping purchase.
Your Camping Checklist
There's something you always forget when packing for a camping trip. Use our handy camping checklist to make sure you don't forget anything important.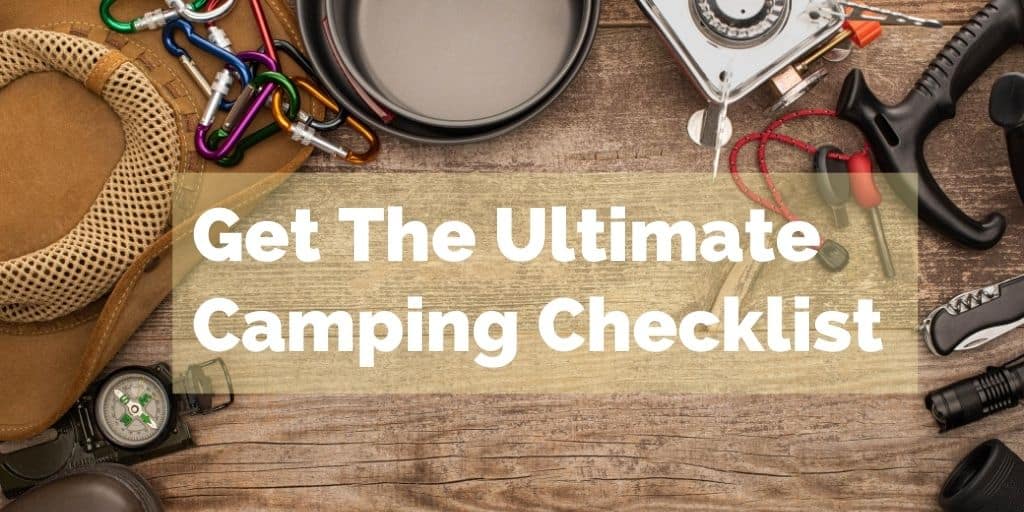 Get more out of your next adventure in the great outdoors with these 24 brilliant camping hacks.