For this post, I have put together a collection of the best roof boxes currently available. Or enter your number plate/car model here and see what fits your vehicle. See my top picks for all the best car roof storage.
Our Top Picks
Show Today's Top Deals
These are today's top deals and bestsellers for roof boxes.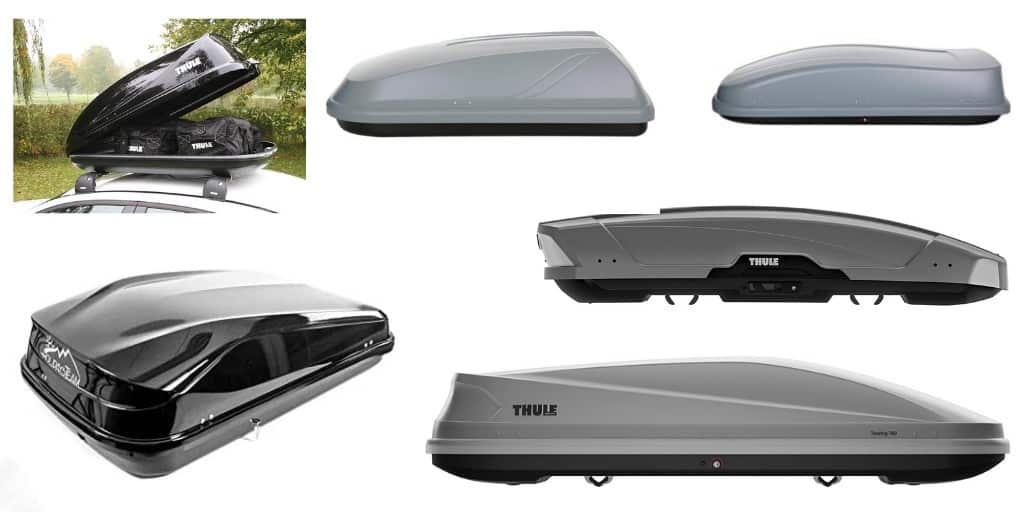 ---
What Size Car Roof Box Do I Need?
Click here to enter your car registration or the vehicle make and model to get one that will be a perfect fit:

Car roof boxes are large, sturdy boxes that attach to the top of your car and provide secure, weather-proof storage for all types of gear. They free up passenger space and are available in a range of styles and sizes.
They do cost a fair bit but we've compiled a list to suit all budgets. Also see my top picks for roof bags for alternative, budget friendly options that are a great option if you are low on storage space.
In this guide I've handpicked only the top car roof boxes that receive the most positive and enthusiastic reviews from 1000s of happy buyers.
Further down the page I've also added helpful guidance on what to consider when choosing the perfect roof box for you.
So here is my list of the the best roof boxes you can buy in the UK.
Best Thule Roof Boxes
Thule Ocean 80 (320 Litres)
Ideal for smaller cars where you don't want a huge roof box but still with good storage capacity.
Capacity: 320 Litres.
Max Load: 50kg
Number 1 bestselling roof box. From 299 reviews, a massive 81% of buyers gave this the maximum 5 out of 5 stars.
The Thule Ocean is also available in:
Ocean 100 (360 Litres)
Ocean 200 (450 Litres)
Ocean 600 (330 Litres) – The Ocean 600 is narrower but longer than all the other models in the Thule Ocean range.
Thule Touring L-780 (420 Litres)
Stylish, highly functional long roof box that will take skis and snowboards.
Dual side: opening on both sides for convenient installation and comfortable loading / unloading.
Easy and safe installation thanks to 'FastClick' system.
Capacity: 420 Litres.
Max Load: 50kg
Exceptional reviews. From 447 reviews, 86% gave this 5 stars out of 5.
Thule Motion XT Sport (300 Litres)
Stylish, sleek, excellently reviewed Thule roof box that optimises space efficiency and aerodynamics.
Easy to mount with the extra wide, pre-installed PowerClick system.
Capacity: 300 Litres.
Max Load: 75 kg
Colours available: Titan Glossy & Black Glossy.
Glowing reviews. From 810 ratings, 87% gave this model 5 out of 5 stars.
Buyers love the superb design, low height, minimal impact on fuel consumption.
The Thule Motion XT is available in other sizes:
Thule Motion XT Medium (400 Litres)
Thule Motion XT Large (450 Litres)
Thule Motion XT XL (500 Litres)
Thule Motion XT XXL (610 Litres)
Best Halfords Roof Boxes
Halfords Grey Roof Box (250 Litres)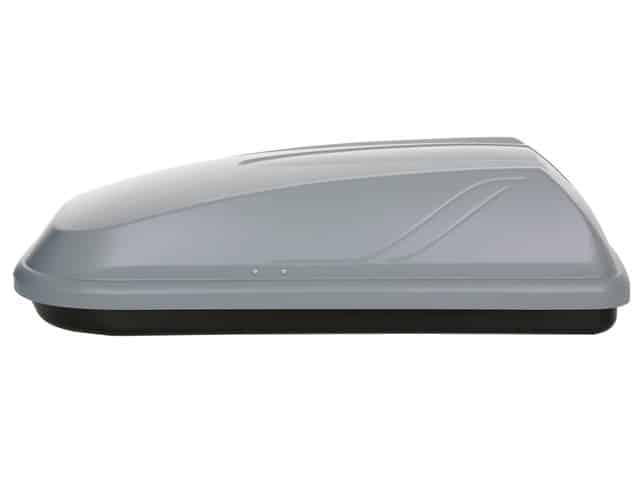 Small, budget friendly and durable option.
Mid sized capacity but has a tall body so it's handy for larger items.
Rear opening so you can load/unload from both sides.
It's not the same build quality but far cheaper.
Capacity: 250 Litres.
Max Load: 50 kg
Well reviewed. From 34 reviews it receives an average of 3.9.
Halfords Grey Roof Box (320 Litres)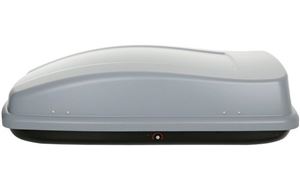 Good medium sized option perfect for family holiday.
Features scratch-resistant  ABS and UV protected material 
Single side opening.
Capacity: 320 Litres.
Max Load: 50 kg
Fab reviews. From 41 buyers it receives an average of 4.7.
Halfords grey roof box (420 Litres)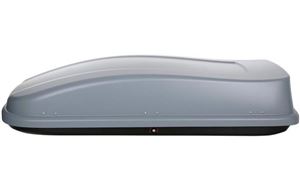 Large-ish, excellent value option from Halfords.
Good aerodynamic design to help reduce wind resistance and noise.
Like the 320L model it opens from one side with a spring lid.
Capacity: 420 Litres.
Max Load: 50 kg
Excellent reviews. From 74 reviews it scores an average 4.5 out of 5.
Junior Car Roof Box (420 Litres)
Great value mid sized roof box that looks good and performs well.
Junior is a respected Italian brand.
Capacity: 420 Litres.
Max Load: 50 kg
Very good reviews. 69% of 43 reviewers give this 5 stars.
Buyers like that it's easy to assemble and well priced.
Today's Top Deals & Bestsellers
Roof Box Buyer's Guide – What To Consider Before Buying
Before buying a roof box you'll want to take lots of factors into consideration.
I've covered all the key ones below and how to weigh up.
Price / Budget
Roof boxes can be expensive, and they are on the whole certainly pricier than their soft counterparts, roof bags.
But if you're looking for a highly secure, totally weatherproof option, you can still pick very reasonably priced roof boxes. A good entry point will set you back around £175 and will be largely dependent on size. And there are lots of features and aerodynamic elements that will continue to add to the price.
You will also pay a premium for the top brands such as Thule roof boxes, but as with everything, you do mostly get what you pay for. Hopefully, this article will give you ideas on the best bang for your buck!
Capacity
What size you go for really depends on how many passengers you are packing for and your use case. If you're looking to have a bike on the roof rack then you'll be looking at narrower/half-width roof boxes which will decrease your potential capacity. You may then go for a longer, slender option to maximise the volume. The average specification for a half width roof box is around 220 litres.
A wider roof box on average will hold around 510 litres and will limit what else you can attach to the roof rack. Wide boxes are ideal for big families going away on holiday that want to take a lot of supplies on the road with them.
Short style roof boxes are good for smaller vehicles with a shorter roof. You need to ensure you box is sized correctly so it does not affect your line of sight or cause you to drive erratically.
If you still want to max out on your capacity with a shorter roof box they are then likely to be taller to compensate. Bear in mind this can also affect aerodynamics and negatively affect the gas mileage.
Long roof boxes are great for large capacities and are idea for taking things like fishing roads, skis and snowboards. The slender, long options are sleek and offer excellent aerodynamism.
Security
Roof boxes do vary somewhat in how well they ward off any unwelcome intruders. Make sure you go for a roof box that has well reviewed locking system.
The hard, solid exterior will protect any potential thieves from taking a knife to your box, something that is an advantage over the soft exterior of a roof bag.
Compatibility With Your Car
Click here to enter your car registration or the vehicle make and model to get one that will be a perfect fit:

How Well They Fit
The most common way for roof boxes secure to your car roof is through the roof rack.
Most car roof boxes are designed to fit most cars – the key factor is to ensure there is enough space on your car roof.
You want to avoid choosing a roof box that extends off the back of your car roof.
Width and Length
If you're looking to max out your capacity you'll need to make sure it fits your car, and that it's not big so it's slipping down the back or over the side of your vehicle.
What you go for may also depend on the specific items you'd like to travel with. If you're going fishing, unless you have telescopic rods, you may be looking for a longer roof box.
And in terms of width, you don't want anything too narrow that will mean you're having to squash bags, and potentially crushing any belongings.
Weight
Each roof box will have a specified weight limit. You'll want to ensure that this will be sufficient for your needs.
You should also check the weight limit of your roof so that the load of the roof box and the items inside do not exceed this!
How Often You Will Use
If you plan to travel a lot then I would recommend spending a bit more on your roof box. Not only will they tend to be more durable, they are also more likely to include features that may well be more useful i.e. one that you can load from both sides.
How They Open
Roof boxes tend to open on one side or both sides.
The latter can make life a lot easier because two of you can load/unload at the same.
Plus, you don't need to think about where you park in case you are up against a wall on one side.
There is also the direction in which they open – some open left, right or directions. Others are clamshell in nature and open upwards.
Impact On Gas Mileage
Some roof boxes can slow your car down by over 30% which can hit your wallet in fuel costs. This is due to the added weight and drag of the roof box.
How Aerodynamic
As well as looking more stylish and sleep, the more aerodynamic a roof box, there is a strong performance aspect.
Although the sleeker they are the more they cost you may well save money as the bulkier boxes will cause more drag and less bang for your petrol buck!
Style
This is a purely subjective one and for something that has all the features you want along with the right capacity you might not be bothered with the aesthetics.
The ones in fashion most tend to be the long, sleep boxes.
They are rounded at the front with tapering as you move to the back.
Another aspect is colour and whether prefer a glossy or matte look.
I hope this list of the best roof boxes was helpful.
If you think I left any out that should be included or have a suggestion for a future article, let me know in the comments below.
Dominic
Camping Buyer's Guides
Help ease your shopping with our in-depth buying guides for your next camping purchase.
Camping Furniture (Chairs, Tables, Sofas)
Sleeping (Camp Beds, Sleeping Bags)
Cooking / Kitchen
Tents
Roof Racks & Bags
More Camping Products / Guides
Your Camping Checklist
There's something you always forget when packing for a camping trip. Use our handy camping checklist to make sure you don't forget anything important.
Get more out of your next adventure in the great outdoors with these 24 brilliant camping hacks.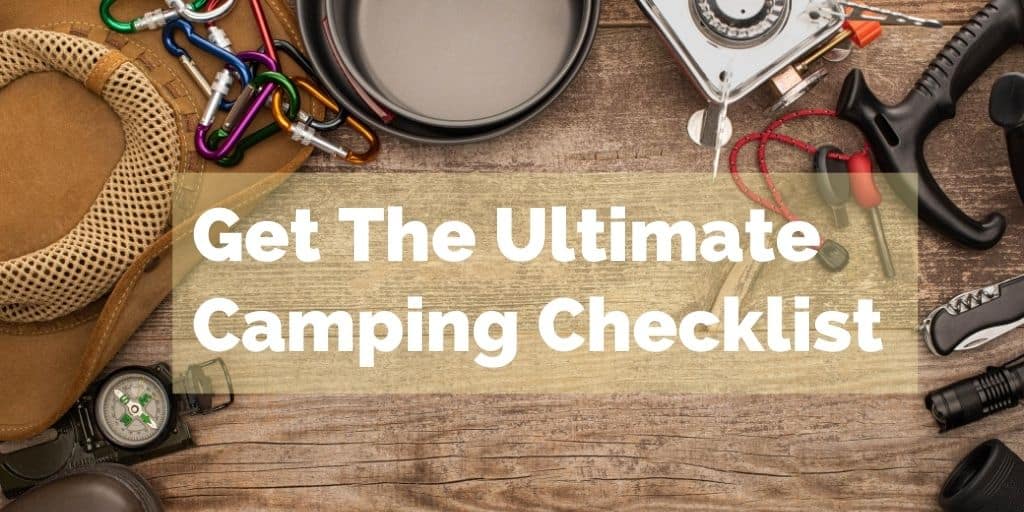 Get more out of your next adventure in the great outdoors with these 24 brilliant camping hacks.