For this post, I have put together a collection of the best camping kettles currently available. Don't forget anything! See my comprehensive checklist for camping essentials.
Our Top Picks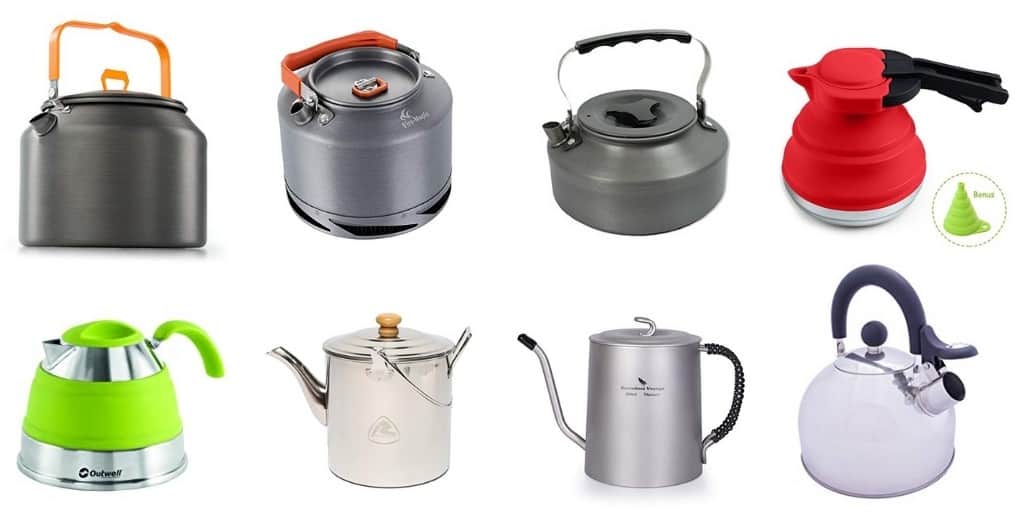 A kettle is an essential piece of equipment for any camper.
Hot water is important for making your morning brew, staying hydrated and sterilising items.
There are plenty of options out there and we have put together this handy guide to help you find the best camping kettle for you.
If you're looking for more camping kitchen best buys see my buying guides for camping fridges and camping stoves.
Lets get started!
Aluminium Camping Kettles
GSI Outdoors Halulite 1.8 qt. Tea Kettle Ultralight Aluminum with Superior Heating
Supremely lightweight, great heat conducting.
Anodised for strength.
1. 8 litre ultralight boiler in an easy-to-pour kettle, for boiling water or melting snow on solo adventures.
Convenient folding handle locks into place.
Overmont Ultralight Camping Kettle
Made of anodised aluminium so durable.
This stove camping kettle has an ergonomic handle wrapped up in insulated plastic to protects your hands from heat.
A continental spout allows for the steam to exist and avoid the risk of scald injury.
Fast heating within 3-5 minutes.
Portable and lightweight with carry bag.
Fire-Maple Camping Kettle
Strong kettle with foldable and heat resistant handle for even more comfort outdoors.
Lightweight aluminum and hard-anodised finish.
The boiler has a volume of 1.5L.
NGT Unisex's Lightweght Folding Handle Carp Coarse Fishing Aluminium Kettle
Lightweight 1.1L kettle with folding handle.
Constructed from anodised aluminium.
Durable and long lasting.
Retro look.
Mountain Warehouse Camping Kettle
Anodised aluminium makes kettle highly durable, lightweight and long lasting.
Capacity 0.8 litre, compact small design so easy to pack.
Silicone handles are safe and functional.
Stainless Steel Camping Kettles
GSI Outdoors Ketalist Kettle Set
This Stainless Steel Kettle Set comes with cup, covered bowl and fork.
Capacity: 1 litre.
Ideal for heating water.
It's compact, strong and easy to use.
Vango Stainless Steel Camping Kettle With Folding Handle
This stainless steel kettle has a folding heat resistant handle, whistles when the water is boiling and also has a removable lid.
There is a pull /push lever to open and close spout
Capacity 1.6L.
2.5L Stainless Steel Lightweight Whistling Kettle
Large 2.5 litre Stainless Steel kettle.
There is a whistle attached to the spout and it is finished with a cream body and black phenolic handle.
It is suitable for use with gas, electric and vitro induction and the the handle folds for easy storage and space saving.
Yellowstone Stainless Steel Whistling Kettle
Affordable retro looking stainless steel kettle with whistle.
2 litre with ergonomic handle for ease of use.
Titanium Camping Kettles
Boundless Voyage titanium kettle
Made of titanium so healthy, lightweight and eco-friendly.
Anti-scalding rope handle design to reduce the danger of scalding.
0.8 litre capacity.
Spout come with a cover for when not in use.
MSR kettle pot
Good for backpackers.
Strong titanium kettle pot with folding handles and tight fitting lid.
Holds just over 0.8l.
There's a two-litre version too.
Campfire Kettles
Donnagelia 1.2L Stainless Steel Teapot Coffee Pot Cooking Kettle with Lid and Foldable Handle
Portable kettle which allows you to enjoy tea/coffee anywhere.
It has a handle which can be used to hang it over a campfire.
High quality stainless steel and 1.2L capacity.
Robens White River Stainless Steel Kettle Silver
Stylish stainless steel kettle for campfire or open flame.
With hanging bracket for the tripod.
A second handle for safe pouring.
3 litre capacity and lid has wooden knob for easy removal.
Folding Camping Kettles
HULISEN Portable Silicone Collapsible Tea Kettle
Has a handle with built-in lock mechanism making heating safer and speeding up water heating.
Use it with electric stove or camping stove.
Convenient flat packed size for saving space in your luggage.
Outwell Collaps Kettle
Silicone and stainless steel.
Comes is different colours.
Collapsible so can pack in small space.
Can be placed on direct heat, BPA free and break resistant.
Important Camping Kettle Features to Consider
Choosing the right camping kettle can make your camping, fishing, hiking trip much easier. Not all camp kettles are built the same and they also come in various types of material from aluminium, stainless steel or titanium to campfire kettles or folding silicone ones.
Aluminium kettles are usually affordable, light to carry and anodised to make them more durable.
Stainless steel camping kettles are a bit heavier but still strong and also affordable.
Titanium camping kettles are super strong and lightweight but can be more expensive.
Campfire kettles have a handy handle which can be used to hang a kettle over a campfire or they can also be used on a camping stove.
Finally, folding kettles are made of silicone or a mix of silicone and aluminium and, as the name suggests, can be folded down small. Folding kettles may not be as efficient as other options, but great if you're limited for space.
Today's Top Deals & Bestsellers
Camping Buyer's Guides
Help ease your shopping with our in-depth buying guides for your next camping purchase.
Camping Furniture (Chairs, Tables, Sofas)
Sleeping (Camp Beds, Sleeping Bags)
Cooking / Kitchen
Tents
Roof Racks & Bags
More Camping Products / Guides
Your Camping Checklist
There's something you always forget when packing for a camping trip. Use our handy camping checklist to make sure you don't forget anything important.
Get more out of your next adventure in the great outdoors with these 24 brilliant camping hacks.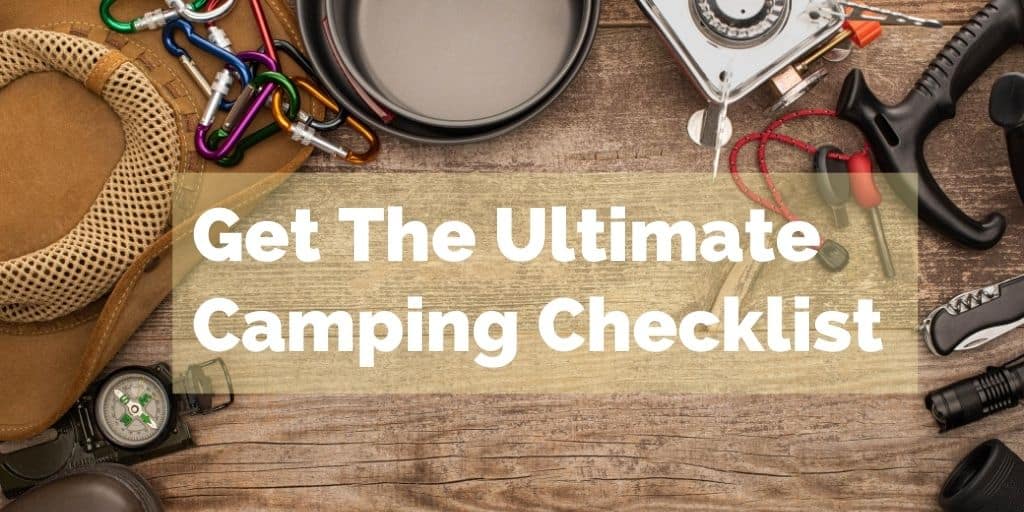 Get more out of your next adventure in the great outdoors with these 24 brilliant camping hacks.