For this post, I have put together a collection of the best camping trolleys currently available. For more top picks and buying guides, see my camping essentials list.
Our Top Picks
Another value pick is the Life Carver Camping Trolley because it is well priced, easy to use and fold up quickly and has a large capacity of 150kg. It's available in four colours and flexible for camping, beach or garden use. Buyers rate it highly with 79% giving it 5 stars.
There's a number of options that are similar in price, features and reliability to the Life Carver. If you're after something simpler and more portable then I highly recommend looking at the Vango Transit Trolley.
Show Today's Top Deals
These are today's top deals and bestsellers for camping trolleys.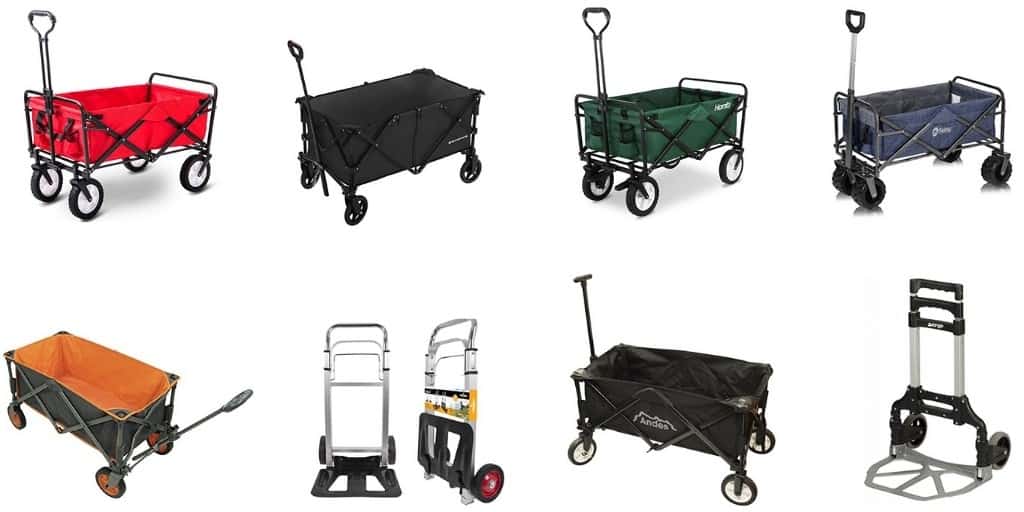 Lugging your gear around a campsite is a pain and time consuming.
One way to make your life easier and save time is to invest in a camping trolley. They're also a useful storage option.
Folding wagons are super versatile and also be used for beach, park and festival trips.
In this guide I'll share my top camping trolley buys.
Related: These carts are perfect for transporting large camping items – check out my top picks and buying guides for camping tables and camping chairs.
Let's get started!
Life Carver Foldable Camping Trolley
Excellent option available in numerous colours.
No assembly required and folds down to only 8″ thick.
Holds up to 150kg with durable Oxford cloth material.
As with many of these camping trolleys they can be used for all sorts of functions including outdoor sporting events, festivals, park trips and beach days.
---
Songmics Folding Wagon
Super easy to open up and fold back down.
Has a large capacity of up to 150kg.
Light, compact and well made.
Available in four colours.
Has powerful steel brakes so you can lock the trolley on any tricky terrain.
Packs away in a tidy holdall supplied.
---
Homfa Foldable Trolley
No products found.
80kg capacity.
Heavy duty but lightweight and folds down, saving space when not in use.
Good 360 degrees steering function means it's very easy to manoeuvre whatever the terrain.
Adjustable handle to stretch into whatever position is comfortable.
Available in two colours.
---
Portal Folding Trolley Wagon
On the higher end scale for camping trolleys this one is extremely strong, lightweight and although not hugely important, it does look really good too.
It folds up and out and back down again extremely easily.
Holds up to 100kg and available in three colours.
---
Andes Black Collapsible Camping Trolley
Excellent value option.
Only comes in black but that does mean it hides any dirt and stops it from looking worn out.
Dries very quickly.
Not the lightest weighing in at 13kg.
---
Milestone Lightweight Foldable Trolley
A great alternative to a full sized wagon.
This means it's more compact and with only two wheels can be easier to negotiate certain terrains.
Comes with strapping so you can pack a lot in and secure it down.
Another plus over the full sized carriers is the lack of fabric means it gets dirty less easily and is much easier to clean.
Holds up to 70kg.
---
Sekey Folding Trolley
High end camping trolley that offers lots of great features.
No setup involved like most of these carts, very easy to fold out and back again.
The Sekey is extremely robust, particularly the wheels.
They are made of solid rubber and can be rotated 360 degrees so it's easy to move around sand and grass.
Useful sprung, extendable pulling handle.
Inner and outer pockets are useful.
Available in six colours.
---
Vango Transit Trolley
Discount - Save £1.94
If you're after something a little simpler, and more portable, I recommend the Vango Transit Trolley.
It folds completely flat, weighs in at only 3kg and can take transport up to 70kg.
Excellent build and durable wheels.
Handy bungee cord to tie things down.
---
Azuma Folding Camping Trolley
Easy to use, basic trolley that will satisfy most needs.
It's a robust build so should cope with most terrains.
Supports up to 85kg and comes in a lightweight steel frame with durable Oxford fabric.
---
Beau Jardin Folding Camping Trolley
Discount - Save £29.00
Highly rated wagon that will hold up to 80kg.
Has a large capacity holding up to 116 litres.
Comes with heavy duty rubber wheels that move 360 degrees.
The back wheel has two supports enabling it to be free standing.
Front wheel has two brakes so you can secure the trolley on a slope.
Unlike many other trolleys it has an adjustable push handle.
Also comes with a comfortable pull handle.
---
Loadsurfer Camping Trolley
Good mid range option that has wide wheels that swivel 360 degrees.
Holds up to 70kg.
Thick polyester fabric that can be easily washed.
Weights approximately 12kg.
---
Top Tips & What To Consider When Buying a Camping Trolley
What are you using it for?
Which one you will go for will largely depend on how you'll be using it.
If you're a regular camper and lugging it across all sorts of terrain you'll want something with excellent wheels and as durable as possible.
Use the trolley for all sorts of situations
These trolleys are super functional and you can use in all sorts of scenarios.
You get what you pay for
There's a lot of moving parts with these camping trolleys. Throw in lots of weight and it puts a lot of pressure on the components.
Be aware that if you opt for a very cheap option some of the parts will wear out quite quickly.
Likewise if you're only using lightly once a year I wouldn't recommend getting a higher end model.
Off Road Capabilities and Wheels
Depending on the terrain you'll be using it on think carefully about the type of wheels you go for.
More durable and wider wheels will serve you better in the short and long run.
Capacity
Depending on what you'll be transporting will determine the best dimensions you require. Obviously the more you transport the greater volume would be preferable.
Maximum Load
The weight these camping trolleys can carry varies greatly. You may be better spending a little more than having to do many more trips with the trolley.
Weight & Portability
When the trolley is folded up, how much room does it take up?
If you have plenty of space in the car then this is less of an issue.
Camping Trolley Deals & Today's Bestsellers
Camping Buyer's Guides
Help ease your shopping with our in-depth buying guides for your next camping purchase.
Your Camping Checklist
There's something you always forget when packing for a camping trip. Use our handy camping checklist to make sure you don't forget anything important.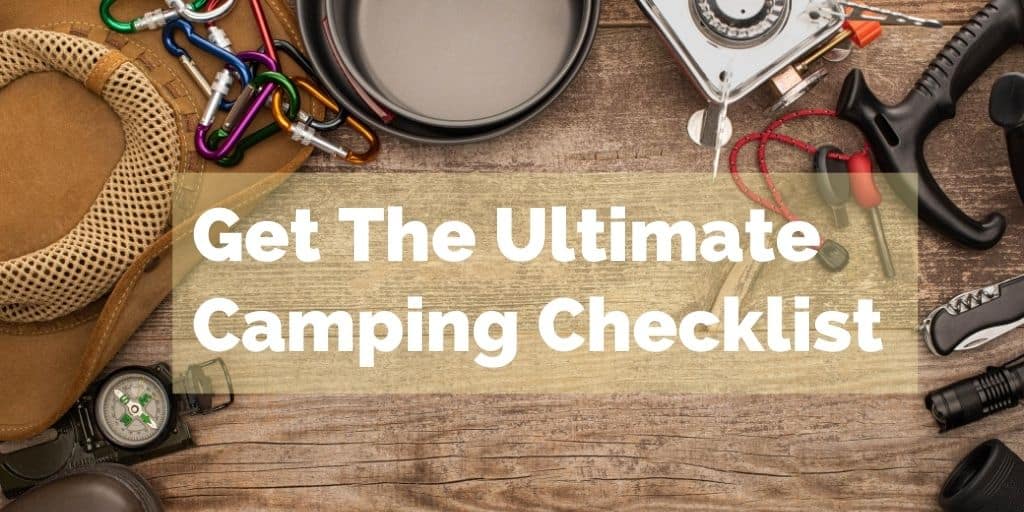 Get more out of your next adventure in the great outdoors with these 24 brilliant camping hacks.