For this post, I have put together a collection of the 10 best 6 man tents currently available. Browse my ultimate camping checklist and you won't forget anything!
Our Top Picks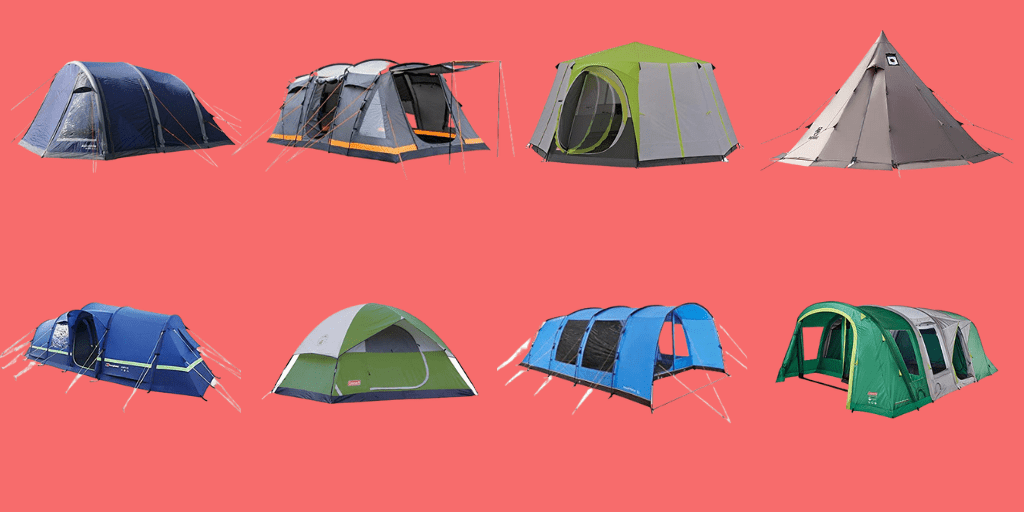 ---
Whether you're camping as a group, or as a family, a six-man tent offers spacious accommodation but with the right balance of size and portability.
There is a huge variety of 6 man tents available, from family tents with spacious living to basic one room tents that just sleep 6 people.. so how do you choose?
This guide will hopefully help your decision making a little easier and aid you in finding the ideal 6 man tent enabling you to have some memorable trips away.
A six-man tent can work well as a family tent but if you're looking for something a bit smaller, then see my 10 Best 4 Man Tents in 2022 and our picks for the 10 Best Family Tents In 2022
Related: Want to take the hassle out of putting up a tent? Check out the best inflatable tents or go glamping with one of these teepee tents.
How We Selected
I have carefully made my selection by searching the web for reviews on all 6 man tents to find you the best ones available.
My aim is to look at those that only get the best feedback, with at least 4 star reviews. I have researched various tents such as air and inflatable tents, pole tents and tents with different shape designs and weight.
I have kept everything in mind – from design to durability to space. I have also looked at 6 man tents for those on a budget to the more premium options.
So, go through my section of the best 6 man tents and take your time deciding which one you should buy.
My research is based on family and friends testing and my own personal experience of many years camping as a couple, in a group and now as a family of 4!
So here is my list of the 10 best 6 Man Tents.
Eurohike Air 600
Six man tent with a spacious interior.
Air tube frame- Inflates and deflates quickly
Bathtub style inner bedroom – can be removed for extra living space
Removable bedroom divider for extra privacy when camping in larger groups
Style: Tunnel
Item Dimensions: 465cm (L) x 385cm (W) x 210cm (H)
Weight: 18.7kg
Bedrooms: 2
Pros: This tent has lots of storage pockets, in the living areas and the bedrooms which is really useful. Comes with a fully sewn in ground sheet.
Cons: Nothing , it does the job!
Consumer Score: Incredible reviews. From 37 ratings 82% gave this 5 stars out of 5.
Alternative Retailers: Go Outdoors
---
Coleman Sundome 6
The Sundome 6 sleeps 6 happy campers.
Large windows and ground vent for enhanced airflow
Style: Dome
Item Dimensions: 10 x 10 ft / 6 ft head room in the centre
Weight: 8.17kg
Bedrooms: 1
Pros: Instructions sewn to carry bag so they are easy to find and hard to lose. Comes in 2 colours.
Cons: A cosy 6 person, not much room for storage. Concerns on the rainfly not covering all the mesh sides.
Consumer Score: Brilliant reviews. From 4,355 ratings 79% gave this 5 stars out of 5.
Alternative Retailers: Ebay
---
Coleman Octagon 8
Discount - Save £165.04
360 Degree view with six large windows
Comfortable for 6-8 persons.
Removable partition curtain to segregate the one room into two.
Style: Dome
Item Dimensions: 396cm (L) x 396cm (W) x 215cm (H)
Weight: 13.33 kg
Bedrooms: 1
Pros: Available in 3 colours. Colour-coded steel poles for easy set up. Tent pegs and sturdy wheeled carry bag come included.
Cons: Only one room, so no extra living space or porch.
Consumer Score: Super reviews. From 1,911 ratings 78% gave this 5 stars out of 5.
Alternative Retailers: Go Outdoors
---
Berghaus Air 6
Easily inflated beams with included pump.
Ventilated bedrooms ensure you stay cool.
Excellent head room in living area.
Style: tunnel
Item Dimensions: 730cm (L) x 250 (W) x 217 (H)
Weight: 26.5kg
Bedrooms: 2
Pros: Very easy and quick to pitch. Fully sewn-in ground sheet. Large organisers below windows and multiple pocket organisers in living area and all bedrooms.
Cons: An a amazing tent! Nothing to complain about!
Consumer Score: Excellent reviews. From 26 ratings 81% gave this 5 stars out of 5.
Alternative Retailers: Go Outdoors
---
OLPRO Orion 6
A 6 person tent. perfect for a growing family.
A roof sky light in the living area.
Style: rectangular
Item Dimensions: 550cm (L), 240cm (W), and 200cm (H)
Weight: 18kg
Bedrooms: 2
Pros: Both doors can be turned into a canopy, using the canopy poles provided. Fully sewn in groundsheet. Very roomy.
Cons: Concerns on the quality of the pegs included.
Consumer Score: Great reviews. From 12 ratings 67% gave this 5 stars out of 5.
---
Hi-Gear Hampton Nightfall
Fully waterproof sewn-in groundsheet with taped seams
Six large windows with roll-up curtains
Item Dimensions: 595cm (L) x 210cm (H) x 380 (W)
Weight: 25.6kg
Bedrooms: 2
Pros: Great strong tent that's easy to pitch. It comes with 2 x king poles to create a sheltered porch for side entrance.
Cons: Only comes in blue.
Consumer Score: Brilliant reviews. From 10 ratings 100% gave this 5 stars out of 5.
Alternative Retailers: Millets
---
COLEMAN Valdes Deluxe 6 XL Air
Inflatable poles with added pump for increased pitching speed
UV and SPF50 protection to protect you and your family from the sun's harmful ultraviolet rays
Style: tunnel
Item Dimensions: 665cm (L) x 450 (W) x 215 (H)
Weight: 38.4kg
Bedrooms: 3
Pros: Very large tent with alot of storage and living space. Seems to be excellent quality material. Handy porch area for cooking.
Cons: Packs down to be heavy and bulky. Very high price tag/Premium option.
Consumer Score:

No products found.

. From 2 ratings 100% gave this 5 stars out of 5.
Alternative Retailers: Millets, Go Outdoors
---
BuoQua Bell Tent
Perfectly sized to accommodate 5-8 people to sleep together
Solid steel centre pole and multiple galvanized steel poles
Style: Bell
Item Dimensions: 4m (L) x 4m (W) x 2.5m(H)
Weight: 28kg
Bedrooms: 1
Pros: Can be used in all 4 seasons, as it is designed for wood stove heating. Good quality material and sturdy zips.
Cons: 1 room tent, so living area and bedrooms are in the same space.
Consumer Score: Great reviews. From 23 ratings 64% gave this 5 stars out of 5.
---
OneTigris Rock Fortress Hot Tent
Discount - Save £52.00
Versatile Hot Tent equipped with stove jack for tent stove.
Roomy space to sleep 4-6 persons
Style: Hot tent/ Bell
Item Dimensions: 3.8m (L) x 3.8m (W) x 2.4m (H)
Weight: 4.2kg
Bedrooms: 1
Pros: Very light for a 6 man tent. Spacious and very well made. Easy to pitch.
Cons: No separate living area but other than that, a great bell tent.
Consumer Score: Superb reviews. From 21 ratings 77% gave this 4 stars and above.
---
AYAMAYA Pop-Up Tent
A simple pop up tent for 4-6 persons.
No complicated instructions.
Equipped with two windows on both sides.
Style: Tunnel/ Pop Up
Item Dimensions: 379.98 (H) x 259.99 (W) x 130 (H) cm
Weight: 7.5kg
Bedrooms: 1
Pros: The tent pitches in seconds, simply open the bag and let go, making the pitching process easy and enjoyable. Very lightweight.
Cons: Quite pricey for a light pop up tent. Some had difficulty in packing away. Not great in harsh weather.
Consumer Score: Excellent reviews. From 228 ratings 68% gave this 4 stars and above.
---
6 Man Tent Sale & Today's Bestsellers
The Most Important Features To Consider
There are some essential features to look for when buying a new tent.
Material:
Make sure the model you choose is completely waterproof and comes with a groundsheet on the floor. You really don't want to wake up in the middle of the night in a puddle.
Size:
First think about where your camping. Some camp sites have rules on tent dimensions and pitch sizes, so read up on the maximum tent dimensions you are allowed.
Secondly, how big is your car boot or trailer? Air tents generally come in very large storage bags, compared to a pole tent, so make sure you measure your boot space to make sure it will fit.
How heavy is the tent? Will it be suitable for the car or trailer? If you want to walk any distance with your tent, It's best to choose a lightweight model.
Bedrooms:
Think about who is going to sleeping in the tent. For example, If you have children, a tent with two bedrooms will ensure you all get a better night's sleep.
Some tents come with a blackout material divide to help separate the bedroom space which can be very useful.
Design:
Tents with more bedrooms and more tunnels are obviously going to be harder to pitch that a simpler design, so think about who will be pitching it.
Bell tents usually require at least 2 people to erect it.
If you don't want the extra work of pitching a pole tent, look for an air tent, these use inflatable poles and are lightweight and easy to erect with a pump.
Also, look out for little design features such as pockets, storage compartments and a porch, these are really useful for storing cooking equipment and muddy boots.
6 Man Tent FAQs
What are the best shaped tents to choose?
There is an incredible number of tent makes, models and designs on the market today.

Tunnels come in a huge variety of sizes and styles and are perhaps the most common form of family tents found on campsites today.

However, it all really depends on where you are camping and who is camping.

Dome tents are vertical so overall headroom is good. Ridge tents are stable and range from tiny one-person tents right up to large marquees.

Geodesic are the most stable type of tent for extreme weather conditions.
Inflatable tents are quick to pitch but this does make them heavier and more costly.

How big is a 6 man tent?
The size of a tent is generally described by the maximum number of people that can sleep inside.
But remember you'll probably need space in your tent for living, not just for sleeping.
Six man tents often work really well for groups and families.

Do I need a groundsheet for a 6 man tent?
A ground sheet under your tent isn't an absolute necessity but they are a great way of providing extra comfort, protection, and warmth from the elements while extending the life of your tent.
Whether it is built-in or separate, it will protect your tent from rocks, and bumpy ground.
Some tents already have a groundsheet sewn in, but if not many will come with a separate one when you purchase the tent.
If you think I left any out that should be included or have a suggestion for a future article, let me know in the comments below.
Jo
Camping Buyer's Guides
Help ease your shopping with our in-depth buying guides for your next camping purchase.
Camping Furniture (Chairs, Tables, Sofas)
Sleeping (Camp Beds, Sleeping Bags)
Cooking / Kitchen
Tents
Roof Racks & Bags
More Camping Products / Guides
Your Camping Checklist
There's something you always forget when packing for a camping trip. Use our handy camping checklist to make sure you don't forget anything important.
Get more out of your next adventure in the great outdoors with these 24 brilliant camping hacks.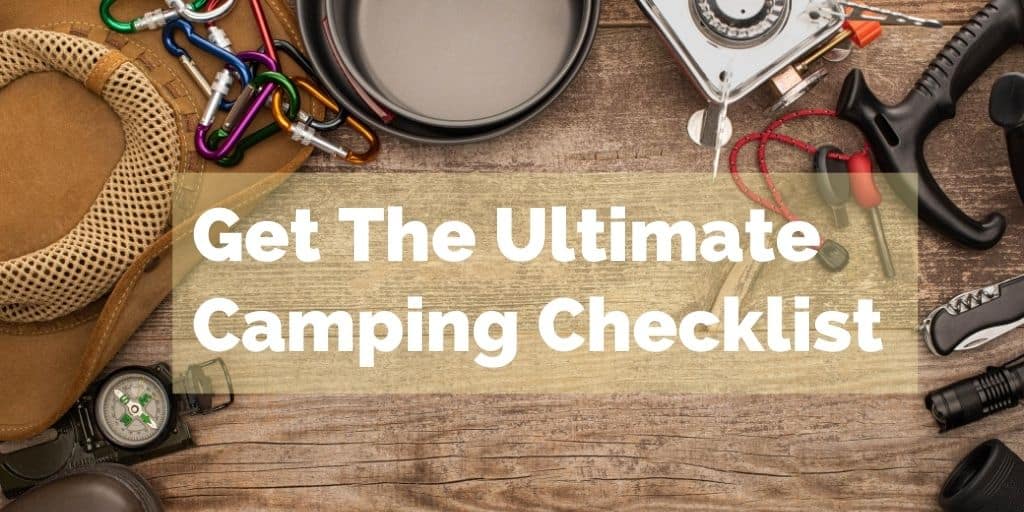 Get more out of your next adventure in the great outdoors with these 24 brilliant camping hacks.