For this post, I have put together a collection of the best portable fire pits currently available. Browse top picks on my camping checklist or browse the best bbqs.
Our Top Picks
Show Today's Top Deals
These are today's top deals and bestsellers for portable fire pits.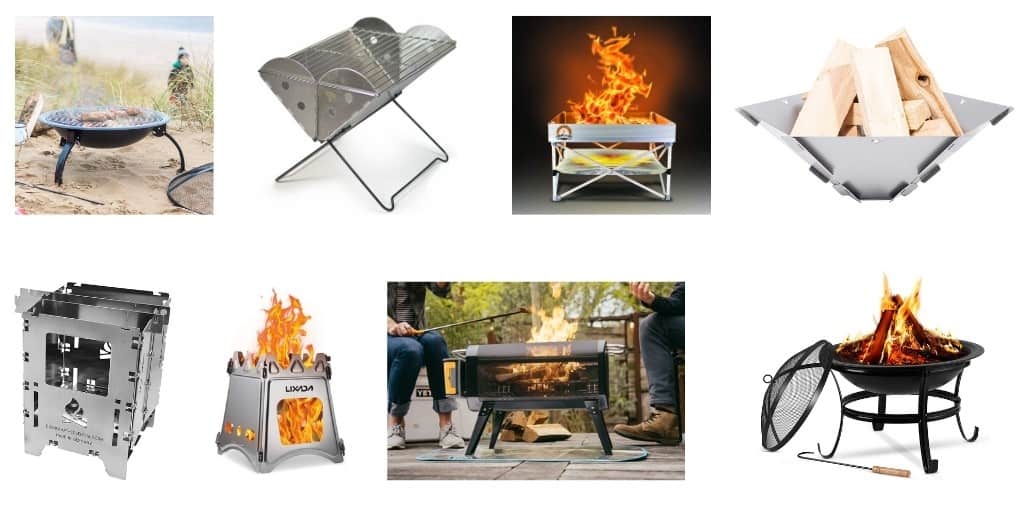 ---
Is there any better way to end a day at the beach than gathering around the warmth and glow of a camp fire? Even if you're if not camping many of these recommended fire pits are ideal for the beach, garden or picnic.
More camp cook top buys? See my picks for the best camping stove and portable bbq,
So here is my list of the the best fire pits for camping.
La Hacienda 58106 Camping Firebowl with Grill
Discount - Save £4.05
Excellent all rounder that looks great, and works well.
Lightweight but sturdy.
Made from steel and finished in a heat resistant black paint.
Perfect for use on beach, garden or camping.
BBQ grill included makes this a versatile option.
Useful and safe mesh lid and handy carrying bag.
Campers love this fire pit. No. 1 bestseller with 71% of buyers giving this 5 stars out of 5.
UCO Grilliput Flatpack Grill
I use this one on a regular basis when I go kayaking. It's super portable, great value and is perfect for safe grilling and fire pit use.
Weighs a tiny 1.8kg and folds down to less than 1.5″ thick to pack in backpack.
You can set this up in less than 30 seconds.
Handy canvas storage bag.
The side of the grill acts as a windbreak for protection from the elements whilst cooking.
Super reviews! From 1,513 a whopping 78% of buyers give this 5 out of 5 stars.
Campfire Defender Pop Up Portable Fire Pit
Super simple easy set up – takes less than 60 seconds.
Due to its aluminium construction it cools down very quickly – in around 90 seconds.
Folded down it's smaller than a camp chair and only weights 8lb.
When expanded it has an excellent sized cooking area – 24″ x 24″.
The raised design prevents ash falling through and damaging the ground.
Surprisingly strong – holding up to 125lbs of weight.
Exceptionally well reviewed fire pit. A massive 82% of 799 buyers gave this 5 stars out of 5. Lightweight, strong, portable are most common strengths mentioned.
Bushcraft Essentials Bushbox LF Set
Highly rated – LF stands for large and foldable.
Extremely portable, lightweight and highly efficient stove.
Designed for adventures where weight is a key factor – this one is 470g.
Top notch German construction made from high quality stainless steel.
Stove is usually uses with wood/twigs but you can embed a Trangia stove. Other sizes are available.
Fantastic reviews. 87% of buyers give this 5 stars out of 5 from 197 ratings.
Most comment feedback – very well made, easy/fast to deploy, packs flat/lightweight.
Lixada Camping Wood Stove
Lovely compact design but large enough to create a decent fire.
Extremely well made, easy to carry and cleans well are some of the most popular comments.
It's a unique design with cut-outs – this lets you slide in bits of wood and provides airflow to feed the fire.
Available in a range of sizes and materials (Stainless Steel or Titanium)
Great reviews. 78% of buyers give this 5 stars out of 5 from 1,392 ratings.
FENNEK Hexagon Fire Pit
Unique hexagonal design.
Made in Germany and offers excellent quality and design.
Contains of 6 side parts and 1 bottom part which makes putting it together simple and fast.
Fairly heavy at 8lbs so perhaps not best option if backpacking/lightweight camping.
Folds down to a small size with handy carry bag.
Amazing reviews. 89% of buyers give this 5 stars out of 5 from 198 ratings.
BioLite FirePit Outdoor Smokeless Fire Pit and Grill
If you like the latest in technology and lots of features this fire pit from BioLite is a great option.
As you can expect, it does not come cheap!
The 'x-ray' mesh outer body gives you a 360 degree view of the fire.
This mesh and the 51 air jets provide plenty of oxygen flow and a uniform temperature.
There's even an integrated 10,400 mAh powerpack that can power the jets for 24 hours.
You can even control the flames through your phone!
The adjustable fuel rack caters for both charcoal and firewood.
It is portable in that the legs fold but it's not light – weighing in at 9.1kg it's not one for lightweight camping.
Very good reviews. 83% of buyers give this 4 stars out of 5 or higher from 409 ratings.
Olsen & Smith Large Firepit
A lovely more traditional fire fire pit design.
Perfect for bigger camping groups as it's quite big compared to many of the others we have reviewed.
Size wise it's 55 x 55 x 51 cm and weighs 3.8kg.
Includes fire pit, mesh lid and poker.
Brilliant reviews. 100% of buyers give this fire pit 4 stars or above.
Most popular feedback include: easy to assemble, stable, good quality, decent size.
zhuolang Portable Fire Pit
Extremely simple design with a low cost.
Very quick and easy to set up – it's a stainless steel mesh, non-slip legs that attach to a frame.
Looks are deceiving – it actually holds up to 5kg of wood.
Minimalist design means it's a breeze to clean!
Includes carry bag.
Very positive reviews. 76% of 86 buyers give this 5 stars out of 5
Most common feedback includes: compact, easy to assemble, great warmth, low cost.
Today's Top Deals & Bestsellers
What To Consider When Buying A Camping Fire Pit
Before buying a fire pit it's essential you have a think over your needs and what features you require. These include the following:
Assembly
Depending on your needs how important is it that the fire pit is easy and / or quick to assemble.
Many don't wish, after a long day, to faff around for ages putting the pit together.
Portability
Are you going on a camping trip where you want to travel as light as possible?
Or perhaps you're looking for a fire pit that you will predominantly use in the garden with the odd camping trip (where you'll be taking the car). If it's the latter then buying something super light is not so important.
On the other hand you can pick from a vast number of ingenious fire pit designs that fold down to almost nothing in a matter of seconds.
Materials
Clearly you need something that will withstand extreme heat. Generally you can pick between iron and steep. The former is highly durable but is far heavier than steel, which is itself not as durable as iron.
There are also titanium options if you want the best of both worlds for weight and durability.
Benefits Of A Fire Pit Over Traditional Fire
A fire pit is certainly not an essential but they can really make a trip!
Using a fire pit avoids having to build a fire from scratch. You've got to consider all the safety aspects.
A fire pit and watching the flames is incredibly soothing. They are also a great cooking option – certainly use your gas stove but you cannot beat the flavour of food cooked over an open fire.
I hope this list of the best portable fire puts was helpful.
If you think I left any out that should be included or have a suggestion for a future article, let me know in the comments below.
Dominic
Camping Buyer's Guides
Help ease your shopping with our in-depth buying guides for your next camping purchase.
Camping Furniture (Chairs, Tables, Sofas)
Sleeping (Camp Beds, Sleeping Bags)
Cooking / Kitchen
Tents
Roof Racks & Bags
More Camping Products / Guides
Your Camping Checklist
There's something you always forget when packing for a camping trip. Use our handy camping checklist to make sure you don't forget anything important.
Get more out of your next adventure in the great outdoors with these 24 brilliant camping hacks.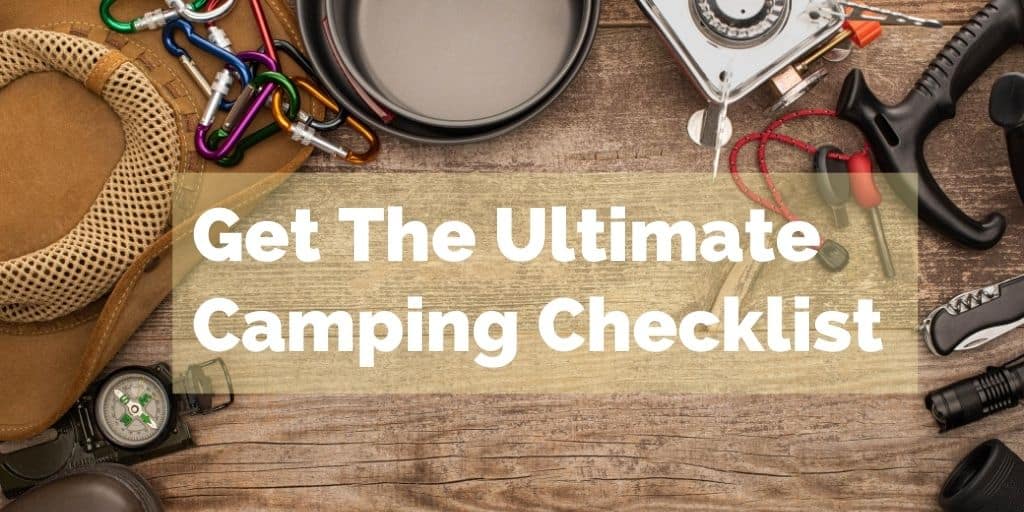 Get more out of your next adventure in the great outdoors with these 24 brilliant camping hacks.
Barbecue Buyer's Guides