For this post, I have put together a collection of the best camping kitchens and cupboards currently available. See my comprehensive checklist for camping essentials.
Our Top Picks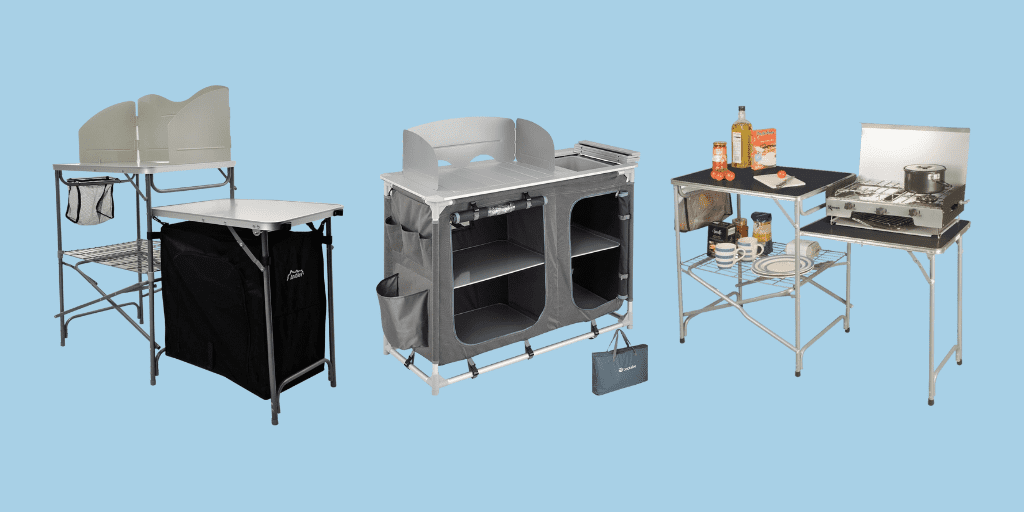 If you are a regular camper or want to enjoy the full camping experience, then investing in a camping kitchen will make storing and preparing food at the campsite much easier.
How We Selected
Here are our recommendations for the best tried and tested Camping Kitchens on the market, to suit every budget.
We searched the internet, to save you the time. We selected our top picks, all of which have excellent buyers reviews and 4-5/5 star ratings.
From basic to luxury camping kitchens, we've got it covered.
Note: Camping stoves, camping toasters or portable barbecues will need to be bought separately and remember to never cook inside your tent.
When you go camping it's important to choose the food you take carefully. See this article on Camping food safety at Gov.uk.
So next time you head off camping you can pack everything 'even' the kitchen sink!
Let's get started!
Budget Camping Kitchens
Andes Insulated Camping Kitchen Store Travel Cool Bag Picnic Cooler Box
This is a smaller storage option which can double up as a picnic hamper.
It has separate compartments and is easy to carry.
Pros: Affordable, easy to carry, good for storage.
Cons: Not a kitchen, more of a cool bag.
Consumer Score: Great reviews for this camping kitchen with 75% of buyers giving it 5 stars out of 5.
Best Value Camping Kitchens
TecTake 800585 – Camping Kitchen Aluminium
This pop-up kitchen has a worktop with windbreak and coverable sink.
There are two roomy storage compartments and the back features mesh details for good ventilation.
The robust aluminium frame and the height-adjustable feet guarantee stability.
Pros: Roomy storage compartments, windbreak and coverable sink.
Cons: A bit fiddly to disassemble and pack into carry bag.
Consumer Score: Good reviews for this camping kitchen with 69% of buyers giving it 5 stars out of 5.
Kampa Colonel Field Kitchen Camping Equipment
Affordable camping kitchen which is great for family camping with its extra large worktop making it easier to prepare meals whilst camping.
The extension table is suitable as a worktop or stove stand.
Quick and easy to set up and dismantle.
There are hooks for rubbish bin or baskets, hooks on extension table for utensils and windshield available as optional extra.
Comes complete with strong carry bag.
Pros: Affordable, large worktop, hooks, bin, shelves.
Cons: Some buyers mention it's a bit fiddly to set up.
Consumer Score: Very good reviews for this camping kitchen with 73% of buyers giving it 5 stars out of 5.
Andes Camping Field Kitchen Worktop Table Stand With Cupboard & Windshield
Table easily folds out to provide you with a large worktop surface.
Fold out cupboard is also included, which is a great place for storing food and kitchen items.
There are two shelves in the cupboard and another shelf under the table.
It has a strong and sturdy frame.
A mesh rubbish bag and carry bag are included and windshield option also available.
Pros: The separate cupboard space, shelves, bin, affordable.
Cons: A bit fiddly to pack away.
Consumer Score: Great reviews for this camping kitchen with 75% of buyers giving it 5 stars out of 5.
Tidyard Foldable Camping Unit Outdoor Kitchen Stand
A foldable camping cupboard which features a wide work surface and 2 storage compartments.
A zippered door on the cupboard can be rolled up and down easily, which protects your food or pots and pans from dirt.
The camping cupboard is lightweight and its folding design and carry handle makes it easy to transport.
Pros: Large worktop, zippered door on cupboard.
Cons: Slightly more expensive.
Consumer Score: Fab reviews for this camping kitchen with 100% of buyers giving it 4-5 stars out of 5.
Outwell Richmond Kitchen Table
A smart kitchen table with a sturdy aluminium frame and black embossed fabric.
The table top is also aluminium.
It includes a collapsible water basin for washing up that is easily accessible through the table top.
Pros: The collapsible water basin, cupboard covers.
Cons: Quite expensive.
Luxury Camping Kitchens
Kampa Chieftain Portable Camping Kitchen
The ultimate camping kitchen which includes a collapsible built-in sink.
It hash a folding top which transforms into a splash back with handy shelves for jars, condiments or spices.
A rubbish bin has been fitted to the side, to help keep the work surface clean and tidy.
Kitchen folds flat when not in use so easy for storage and transportation.
Pros: Built-in sink, shelves, bin, splash back, foldable.
Cons: Pricey.
Consumer Score: Excellent reviews for this camping kitchen with 87% of buyers giving it 5 stars out of 5.
What To Consider When Buying A Camping Kitchen
Portability
You will want something which is foldable and easy to carry from car to tent. Look for carry handles, carry bags and separate compartments which are easy to transport.
Weight
If you're camping the last thing you want is loads of heavy equipment. A camping kitchen doesn't have to be heavy, there are plenty of lightweight options available.
Stability
Look for camping kitchens with legs which can be altered so that even on uneven terrain you still have a good stable base for your kitchen.
Size
If you are packing a camping kitchen in a car boot, you won't want it to take up too much room so the more compact the better.
Extra Features
Look for added features such as shelves, hooks, cupboards or closed storage sections, built-in sink, built in bin or any other things which will add to your home-from-home camping experience.
FAQ's Camping Kitchens
Cheap Camping Kitchens & Today's Bestsellers
Final Thoughts
My top pick is the Kampa Colonel Field Kitchen as it is reasonably priced, has an extra large worktop and is quick and easy to set up.
The added features such as the rubbish bin/basket, hanging hooks and lower shelf add to its appeal.
I hope this guide on camping kitchens was helpful.
If you think I left any out that should be included or have a suggestion for a future article, let me know in the comments below.
Nicola
Last Updated: February 2022
Added 'How We Selected.'
Added Image.
Added link to Gov.uk website.
Added internal links.
Added Pros/Cons on all products.
Added Consumer Scores.
Added 'Things To Consider'.
Added FAQ's.
Added Alternative Retailers.
Added Final Thought.
Moved OOS to bottom of article.
Camping Buyer's Guides
Help ease your shopping with our in-depth buying guides for your next camping purchase.
Camping Furniture (Chairs, Tables, Sofas)
Sleeping (Camp Beds, Sleeping Bags)
Cooking / Kitchen
Tents
Roof Racks & Bags
More Camping Products / Guides
Your Camping Checklist
There's something you always forget when packing for a camping trip. Use our handy camping checklist to make sure you don't forget anything important.
Get more out of your next adventure in the great outdoors with these 24 brilliant camping hacks.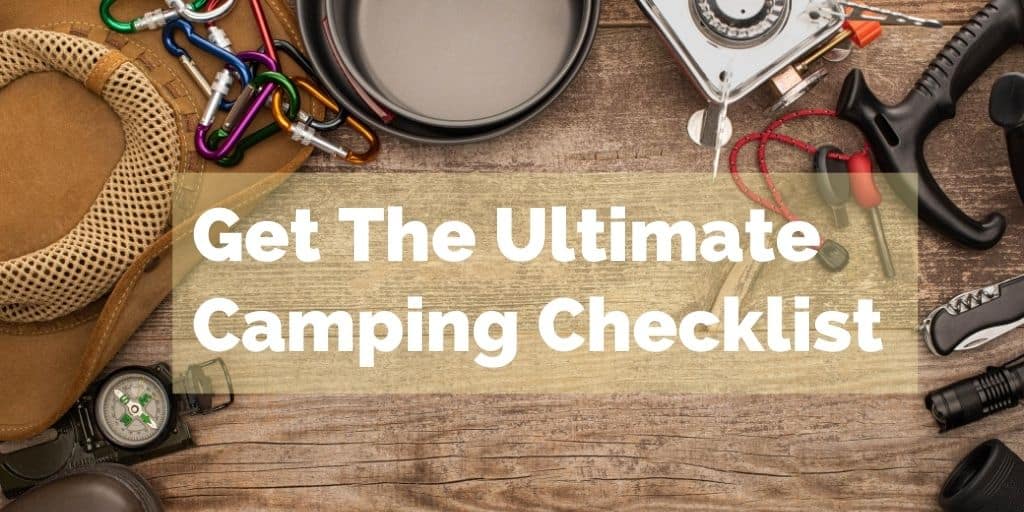 Get more out of your next adventure in the great outdoors with these 24 brilliant camping hacks.
Vango Gastro Kitchen (currently unavailable)
This kitchen features a large table top for preparing meals and a basin for washing up.
Simple to put up and pack away, with excellent storage space and built-in shelves.
If you are using a stove on it, there is a handy windshield to protect your cooking from the elements.
Campart Travel KI-0758 Camping Kitchen Toledo (currently unavailable)
Easy to assemble.
There are six large storage compartments in which to store your food and cooking equipment.
The large worktop is finished with a luxurious aluminium edge, and provides a good space for food preparation.
10T Outdoor Equipment Unisex – Adult Camping Kitchen Camp Cook Foldable Cabinet (currently unavailable)
Mobile kitchen with robust cover.
Cabinet has a heat-resistant aluminium work surface and wind protection with gas hose opening, 2 shelves and a large roll-up front door.
Compact and lightweight, with large bag for easy packing.
Yellowstone Kitchen Stand with Wind Shield (currently unavailable)
A simple kitchen stand with windshield and shelf.
It is easy to assemble and take down and it comes with a durable carry bag for storage.
CampFeuer Camping Cabinet Camping Kitchen with Aluminium Frame (currently unavailable)
This aluminium framed kitchen has a sturdy base, cupboard with shelves and rear mesh cover for ventilation.
Kitchen has a splash guard, side shelf and basin for washing up.
Carry bag included.
Campart Travel KI-0732 Camping Kitchen Malaga (currently unavailable)
A well designed camping kitchen with aluminium frame and aluminium top plate.
Includes four large storage compartments and a windshield, all four legs of the kitchen are height adjustable.
Easy to assemble.
There are three large top plates which provide adequate space for food preparation and plenty of shelves for storage.
The main top plate includes a windshield, where you can place your stove.
The back of the kitchen is mesh and it folds easily into included carry bag.
Outwell Padres X-Large Kitchen Table (currently unavailable)
This camp kitchen combines stylish fabric with a beautiful, solid bamboo table top to create a sleek unit that can be used to store, prepare and cook food.
The folding table opens in seconds, features multiple pockets for storage and comes with a windshield that clicks into the top to protect your stoves from the wind.
Includes three hooks, mesh ventilation for air circulation and a pull-out holder for washing bowl or rubbish bag.
Includes carry bag.