Our Top Picks
For this post, I have put together a collection of the best self inflating mattresses for camping currently available. For more top picks, see my camping packing list.
Show Today's Top Deals
These are today's top deals and bestsellers for camping mattresses.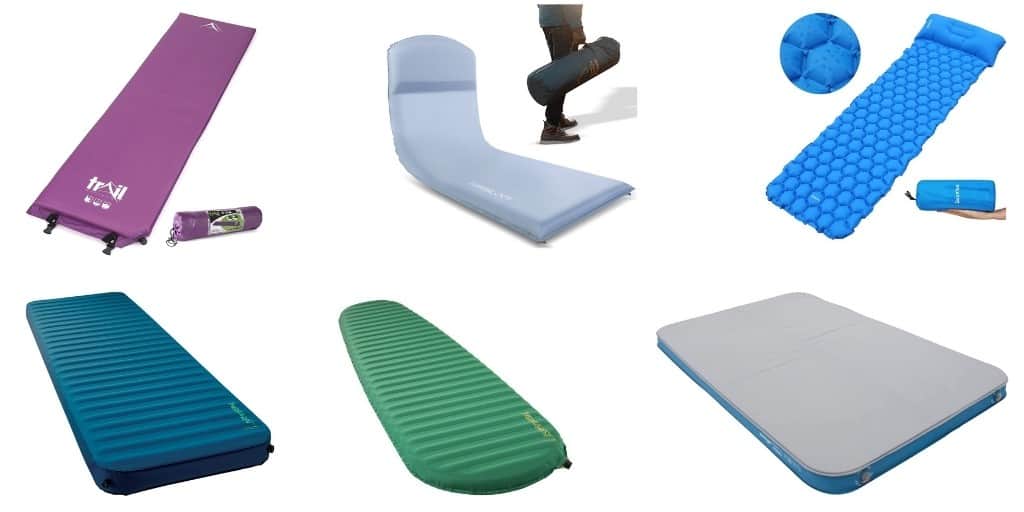 Self-inflating mattresses for camping are the perfect blend between older school foam roll mats and traditional air beds.
Get a good night's sleep with more camp bed guides: See my guide to the best double airbed or king size air bed. Or how about a camping bunk bed for the kids or try a camping hammock for sleeping and relaxing. Or see my overall guide on how to pick the right camp bed for camping.
I've scoured the web to bring you this large range of curated self-inflating mats that suit different needs, from low-cost basic mats to super lightweight ones – perfect for those on backpacking trips where weight is key.
So here is my list of the the best self inflating camping mats.
Trail Outdoor 5cm Single Self Inflating Mat
Basic but very low priced self inflating mat options from Trail Outdoor.
Range of thicknesses from 2.5cm to 10 cm – the one featured is 5cm inflates fast and is comfortable.
Colours available: Black, Blue & Purple.
Really good reviews. From 478 ratings, 86% give it 4 or 5 stars out of 5.
Deeplee Lightweight Camping Mat
Not from one of the well known camping mat brands but this one combines lightweight, low price and excellent feedback from campers.
Honeycomb design with inbuilt pillow.
Only weighs 545g.
Colours available: Green, blue, or blue with pump.
Number one bestselling mat with over 2,319 ratings.
79% of campers give this 4 or 5 stars out of 5.
Trekology Self Inflating Mats
Trekology 7.5 cm Self Inflating Mat
Excellent value with good thickness (7.5cm).
R-Value of 9.8 provides extremely good insulation.
Extra thickness in the head and neck region acts like an integrated pillow.
Amazing reviews! From 106 ratings, 71% gave this 5 stars.
---
Vango Self Inflating Mats
Vango have a huge range of self inflating mats, we've reviewed the Comfort, Odyssey and Shangri La ranges. You can then choose your size (single, double and grande) and then thickness (7.5 cm through to 15cm).
Most will find the thicker ones more comfortable but they tend to weight and cost more.
Vango Adventure Self-Inflating Camping Mat
5cm think entry model from the Vango camping mat range.
Brilliant reviews, 80% getting 4 or 5 stars out of 5.
Vango 10cm Comfort Single Self Inflating Mat
As the word implies the 'Comfort' range are lovely to sleep in.
Bit weighty but fine if you're not backpacking!
The Comfort range is available in 7.5cm and 10cm thickness.
Available sizes: Single (featured), double and grande.
Outstanding reviews from campers. 76% give this mat 5 stars.
---
Vango 10cm Odyssey Grande Self Inflating Mat
Discount - Save £16.59
Another comfortable range from Vango this is for the luxurious camper.
The Odyssey range is available in 7.5 cm and 10 cm.
Available sizes: Single, double and grande (featured).
Fab reviewss. From 78 ratings, 74% give this mat 5 stars.
---
Vango 10cm Shangri-La Single Self Inflating Mat
Most luxurious mat range from Vango.
Shangri-La range is available in 10cm and 15cm thickness.
Available sizes: double (featured) and grande.
Not a huge amount of reviews but 100% 5 stars.
---
Thermarest Camping Mats
Thermarest were the early pioneers of self inflating camping mats.
Their valves are particularly good for speed of inflating and deflating.
Therm-a-Rest Trail Pro Self Inflating Foam Mattress
Discount - Save £10.70
One of the thickest self inflating camping mats on the market.
Combines thickness and comfort with lightweight camping weighing 820 grams.
Thermarest's WingLock valve is extremely quick to inflate and deflate compared to many other brands.
Sizes available: Regular 20 x 72 inches (featured) and Large 25 x 77 inches.
Outstanding reviews – from 114 ratings 82% give this 5 out of 5 stars.
Therm-a-Rest MondoKing 3D Self-Inflating Camping Mattress
This camping mattress is the absolute pinnacle when it comes to comfort levels – the closest you'll get to your bed at home with a SIM.
R-Value of 8 provides fantastic insulation.
Thermarest's trademark WingLock valve provides lightning fast inflation and deflation.
It is expensive but you get extreme comfort and insulation – also check out the high end ones from Sea to Summit, Roben and Exped.
The reviews are extremely positive – from 95 ratings 87% of buyers give it 5 stars.
Therm-a-Rest LuxuryMap Self Inflating Sleeping Mat
Another excellent mat from Thermarest this one is a balance between luxury comfort and weight/portability.
R-Value of 6 provides fantastic insulation.
You may see the many round bumps on the mat – these provide pressure mapping so you get comfort across your body.
Very good reviews. Receives an average score of 4.5 out of 5 from campers.
Considerations When Buying A Self Inflating Camping Mattress
Let's look at key considerations before buying your next camping mattress.
Insulation (R-Value)
The R-Value is a measure of how much resistance to heat transfer your mattress has.
A higher R-Value means the heat that your body generates and transfers to the side of the mat will be limited. So the higher the number warmer you'll be.
For three season use (i.e. all year bar winter) we'd recommend an R-Value of 3 or higher.
For winter time you should be looking at an R-Value of 5 or above.
In comparison the traditional blow up inflatable beds have extremely low R-values with your body heat not being well retained in the bed, so you'll get chilly quickly!
Size
There is quite a bit of variation in sizes even between single mats.
So if you're over 6ft do check the length of them. And if you like to spread out do check the width.
If you're camping with your partner, do you go for a double self inflating camping mat or two singles?
It depends.
Overall I think two is better than one because of the flexibility if you ever find yourself camping on your own, or with the kids.
Weight
Weight only really becomes an issue if you are hiking and carrying your sleeping mat in a backpack. We have included ones on this curated list that weigh less than 500 grams.
Deflated Size
Depending on how portable you need it to be do check the deflated size of your camping mat.
Most do come with a handy carry case for transportation.
Brand
We've featured a number of the most well known camping mat brands in this review.
These include self inflating mat pioneers Thermarest and Vango. Whilst these are excellent brands we've also included some lesser known ones such as Trail Outdoor. Unless you're looking for the best in class (say the lightest or the thickest) you may well be able to opt for a less well known brand and save money.
Price
As with most camping gear there is a huge variation in price and this is the same for camping mats.
Depending on the size, weight, thickness, brand and other factors you can pick up very good single self inflating mats from £20 through to £200 for large, super thick and very luxurious SIMs.
Self Inflating Mattress Deals & Today's Bestsellers
I hope this list of the best camping mattresses was helpful.
If you think I left any out that should be included or have a suggestion for a future article, let me know in the comments below.
Dominic
Camping Buyer's Guides
Help ease your shopping with our in-depth buying guides for your next camping purchase.
Camping Furniture (Chairs, Tables, Sofas)
Sleeping (Camp Beds, Sleeping Bags)
Cooking / Kitchen
Tents
Roof Racks & Bags
More Camping Products / Guides
Your Camping Checklist
There's something you always forget when packing for a camping trip. Use our handy camping checklist to make sure you don't forget anything important.
Get more out of your next adventure in the great outdoors with these 24 brilliant camping hacks.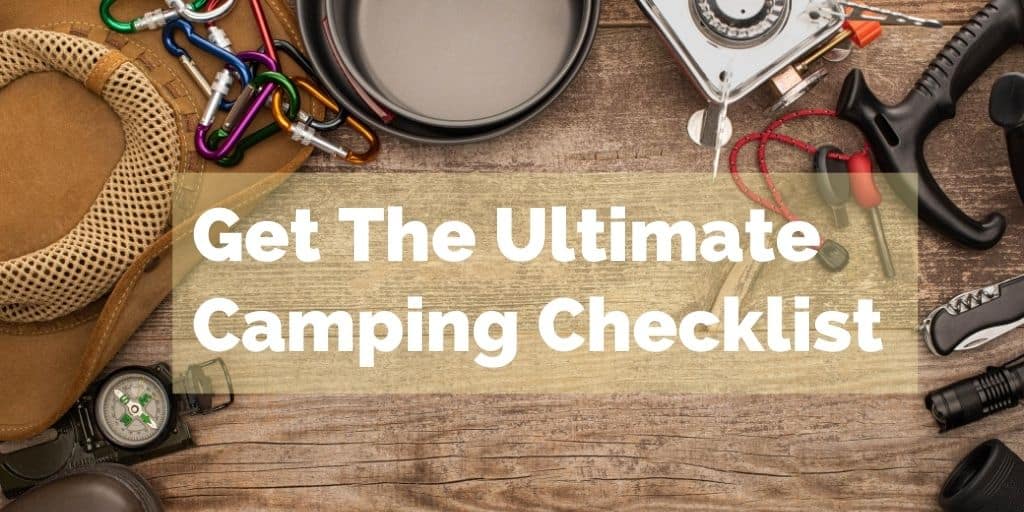 Get more out of your next adventure in the great outdoors with these 24 brilliant camping hacks.