For this post, I have put together a collection of the best camping bunk beds currently available. Browse my ultimate camping checklist and you won't forget anything!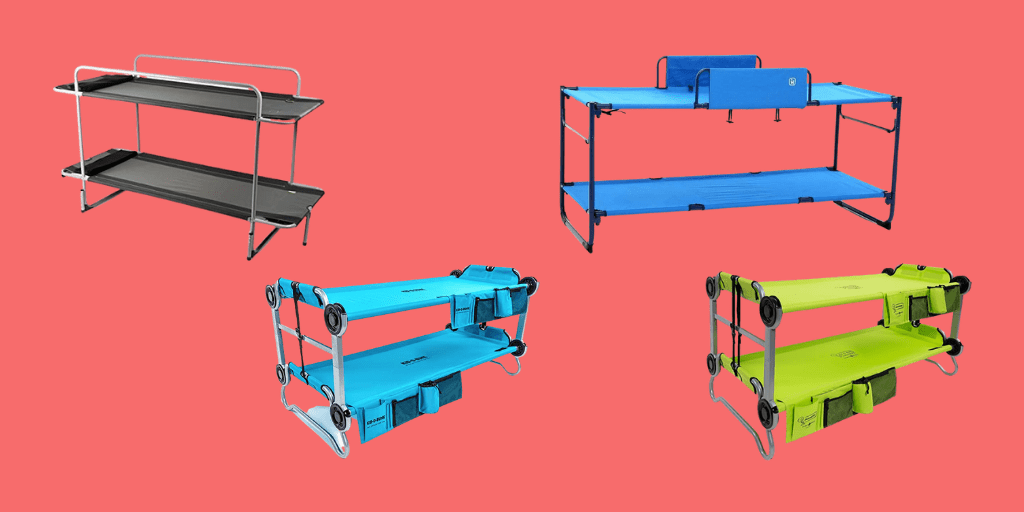 Camping bunk beds are perfect if you're looking to save space, both in the tent and car.
Kids also love them and will take turns each night who gets to sleep in the top bunk!
They can also be super handy at home – if you don't have a whole lot of extra space for sleepovers.
How We Selected
We've chosen bunk bed which have good reviews and lots of positive feedback.
If you're looking for more traditional set ups, see my guide to the best camp bed. Have you ever tried a camping hammock? They are perfect for relaxing during the day or sleeping in.
For more comfortable nights in the great outdoors, see my top picks for kids sleeping bags and camping pillows.
So here is my list of the the best bunk beds for camping.
Kid-O-Bunk Children's Bunk Bed
So simple to assemble – no tools required and is quick!
Versatile in that it can be used as two single cots or even a bench (perfect for gathering around a campfire)
Very solidly made and robust.
Many parents get these for sleepovers as well as camping.
Pros: Well designed, robust, great idea, easy to assemble, space saving.
Cons: Pricey and be prepared for the children to have a heated discussion who goes on top!
Consumers Score: Campers seriously love these bunk beds! 85% of buyers gave them a perfect 5 stars.
Also available in blue.
Hi Gear Duo Camping Bunk Bed
Solid, steel frame which is dead simple to put together.
Handy pockets on the side.
Pros: Canvas camp beds are comfy and these are no exception. The kids will sleep very well in these.
Cons: Some buyers mention they are quite hard to lay on.
Consumer Score: Great reviews 5/5 star reviews.
Watch the video below to find out more about the assembly process for Disc-O-beds.
Kampa Camping Bunk Bed
Extremely strong and stable construction thanks to the thick steel tubing.
Pros: Durable, stable.
Cons: They are heavy – weighing 17 kilograms.
Consumer Score: Solid reviews. 68% gave them 5 stars and 22% 4 stars.
Secure Fix Direct – Outdoor Camping Bunk Bed
Extra wide sleeping space when compared to other camp beds.
Pros: Easy to assemble, does require a tool, which is supplied. One of the cheaper options on here.
Cons: Fairly heavy – 16.5kg.
Consumer Score: Good reviews – averaging 4.3 out of 5.
Camping Bunk Bed Sale & Today's Bestsellers
What To Consider When Buying a Camp Bunk Bed
Weight Capacity
Due to their heavy-duty steel construction most camping bunk beds are extremely strong.
Carrying Weight
There's huge variation in how much these weigh – really important if you've got some distance to cover between your vehicle and camp site.
Tent Type
Do check the dimensions of your tent to make sure it will accommodate your camping bunk bed.
Size
Most camping bunk beds will be wide enough for adults – it's usually the height that will be difficult.
FAQ's Camping Bunk Beds
Do you need a mattress with a camp bed?
You don't necessarily need a mattress but it is worth adding some padding for more comfort when you sleep.
Is a camping bunk bed worth it?
Some people may say they are a waste of space and effort, but a camping bunk bed will add that home-from-home comfort and more floor area. Plus the kids will love them!
What else can I use a camp bunk bed for?
You will allow yourself more storage space, plus you can use your bunk beds for other purposes such as single benches or single beds.

You can also use them for at home if your kids have a sleepover or you want some portable storage space.
Final Thoughts
My overall top pick is the Kid-O-Bunk Children's Portable Mobile Camping Bed as it versatile, well-reviewed and looks the best overall too.
I hope this list of the best camping bunk beds was helpful.
If you think I left any out that should be included or have a suggestion for a future article, let me know in the comments below.
Dominic
Last Updated: March 2022
Added 'How We Selected.'
Added image.
Added links.
Added Pros/Cons on all products.
Added Alternative Retailer.
Added Final Thought.
Moved OOS.
Camping Buyer's Guides
Help ease your shopping with our in-depth buying guides for your next camping purchase.
Camping Furniture (Chairs, Tables, Sofas)
Sleeping (Camp Beds, Sleeping Bags)
Cooking / Kitchen
Tents
Roof Racks & Bags
More Camping Products / Guides
Your Camping Checklist
There's something you always forget when packing for a camping trip. Use our handy camping checklist to make sure you don't forget anything important.
Get more out of your next adventure in the great outdoors with these 24 brilliant camping hacks.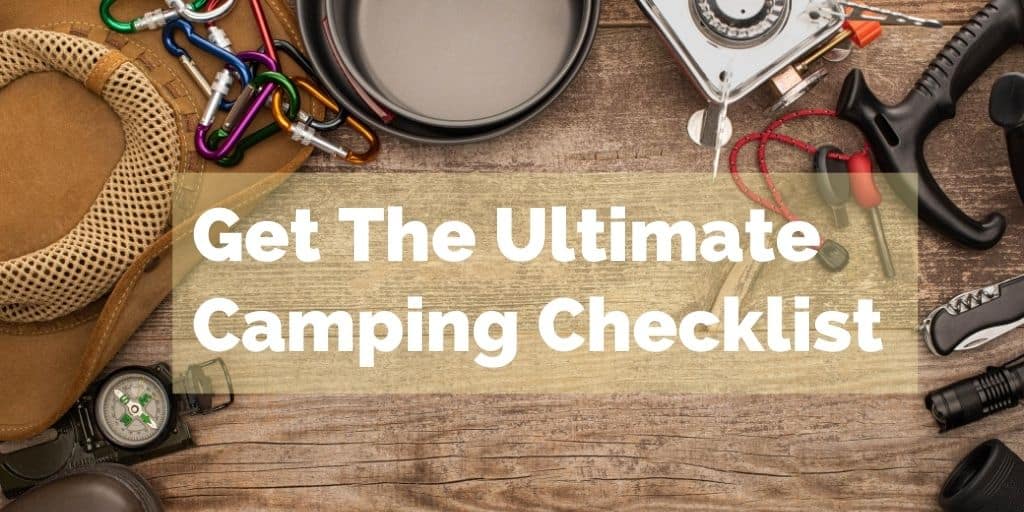 Get more out of your next adventure in the great outdoors with these 24 brilliant camping hacks.
Disc-O-Bed Camping Bunk Bed (currently unavailable)
Modular disc system for tool-free assembly – very easy.
Equipped with useful side pockets.
Super heavy! This makes it very stable but you don't want to be carrying it far. 28kg. You can always look at a camping trolley to help.
Many children use these for sleepovers as they're solid, comfortable and versatile.
Converts easily into bench or two single cots
Fab reviews! 80% of 195 campers gave this the maximum 5 stars.