For this post, I have put together a collection of the 10 best camping stools currently available. Browse my ultimate camping checklist and you won't forget anything!
Our Top Picks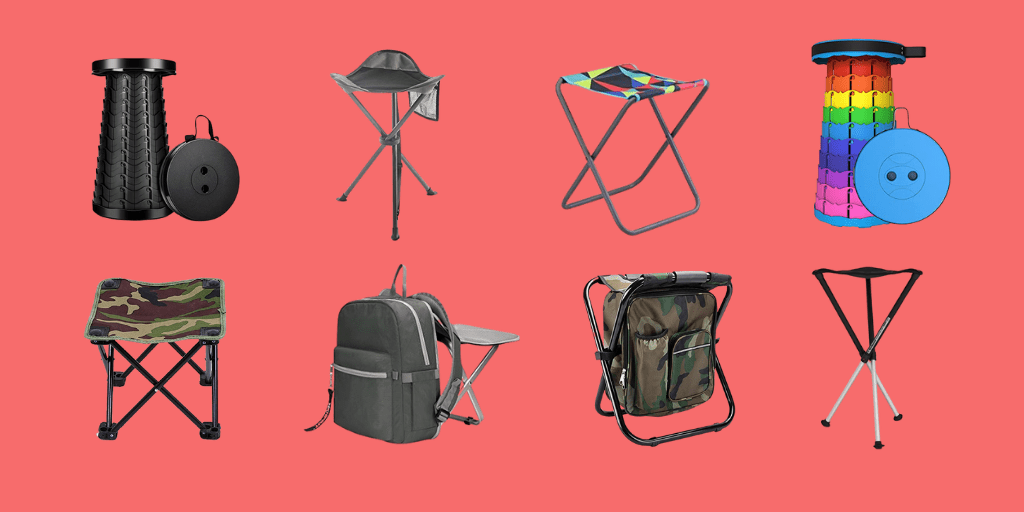 ---
Choosing the right camping stool for your trip away can be a total game-changer, especially if you spend a lot of time in the great outdoors. A camping stool is designed to distribute weight evenly and stay comfortably on any surface.
With our pick of the best camping stools, you will find comfort sitting down for dinner, enjoying a much needed rest after a long day or for adventurous hiking trips and backpacking adventures.
What's more, these stools are all foldable, portable and easily stored away.
There are all kinds of designs on the market aimed at different users so this guide will help you choose the right one for your needs!
More camping top buys? See my picks for the best camping chairs and best camping hammocks.
How We Selected
I have searching the web and read many reviews to bring you my selection of camping stools to help you find the best ones available.
My aim is to look at those that only get the best feedback, Ideally with at least 4 star reviews. I have researched the ones with the best design features, traditional fold up ones and new modern telescopic ones.
I have researched stools in various price ranges, for those on a budget to the more premium options.
I have also based my research on family and friends testing and my own personal experience of many years camping!
So here is my list of the 10 best camping stools.
Luxjet Telescopic Stool
Discount - Save £10.90
A retractable stool that is lightweight, small, and convenient to place into luggage or storage.
Provides safe, stable and comfortable seating.
Brand: Luxjet
Item weight: 1KG/2.2IB
Dimensions: 40D x 40W x 40H cm
Holding Weight: 180kg/396lbs
Pros: The stool comes with an adjustable strap, so is easy to carry in your hand or hang on your shoulder. Ideal portable gear. Locks into place so won't collapse.
Cons: Couldn't fault it.
Consumer Score: Excellent reviews From 20 ratings 86% gave this 5 stars out of 5.
---
Regatta Marcos Camping Stool
Discount - Save £5.00
Lightweight folding stool
Polyester fabric and steel frame
Brand: Regatta
Item weight: 1.2kg
Dimensions: 37D x 37W x 44Hcm
Holding Weight: 90kg
Pros: Very versatile, suitable for all types of trips and activities. Good value for money. Sturdy and comfortable.
Cons: A few reports of the rubber feet falling off.
Consumer Score: Brilliant reviews From 419 ratings 73% gave this 5 stars out of 5.
Other Retailers: Regatta
---
EVER ADVANCED Tripod Camping Stool
Folds to the size of a rolled-up newspaper
Great for a quick rest after a long hike.
Brand: Ever Advanced
Item weight: 0.95kg
Dimensions: 38.9D x 38.9W x 53.3H cm
Holding Weight: 102kg
Pros: Lightweight, but seems very strong and robust. Very quick to fold and unfold. Has storage pockets
Cons: Can be wobbly on uneven ground. No storage bag, just a carry strap.
Consumer Score: Fab reviews From 166 ratings 70% gave this 5 stars out of 5.
---
Unisex Foldable Camping Stool
This handy stool opens in seconds to provide a comfortable stool or footrest
Made from super-light, yet strong aluminium tubing
Brand: Portal Outdoor
Item weight: 2kg
Dimensions: 34D x 31W x 34Hcm
Holding Weight: 100kg
Pros: Comes in a choice of 3 patterns and colours. Seems very sturdy.
Cons: Higher price tag for a foldable stool. Is heavier than some other similar stools. Quite low.
Consumer Score: Amazing reviews From 154 ratings 87% gave this 5 stars out of 5.
---
Retractable Portable Camping Stool
Adjustable height stool.
Portable and telescopic
Brand: Fuguzhu
Item weight: 880g
Dimensions: 25D x 25W x 45Hcm
Holding Weight: 150kg
Pros: Can be adjusted from 7.5 cm to 45 cm. Holds a good weight. Fun bright colours. Carry shoulder strap.
Cons: Hard seat so after long periods can be uncomfortable, so may need a cushion.
Consumer Score: Super reviews From 8 ratings 83% gave this 5 stars out of 5.
---
ANKINGART Camping Stool
Sturdy 4 legged camping stool
Includes a carry bag, closure strap, buckle and carabiner .
Brand: ANKINGART
Item weight: 630g
Dimensions: 27.9D x 25.4W x 25.4H
Holding Weight: 280lbs
Pros: Available in a two sizes. Very sturdy but lightweight.
Cons: The smaller size is very low. Only comes in camo pattern.
Consumer Score: Fantastic reviews From 15 ratings 73% gave this 5 stars out of 5.
---
BigTron Backpack Stool
2-in-1 design converts from a light weight backpack to a built-in stool
Waterproof
Brand: BigTron
Item weight: 1.98 pounds
Dimensions: Backpack 40D x 32W x 12H cm/ Stool 28cm x 26cm x 21cm
Holding Weight: 120kg
Pros: Lightweight and easy to carry, added bonus of having a backpack and stool in 1. Practical.
Cons: Very low seat.
Consumer Score: Superb reviews From 110 ratings 71% gave this 5 stars out of 5.
---
Walkstool Comfort
A finely made stool for every situation.
Comes with a practical bag to carry over your shoulder.
Very light and easy to transport with aluminium telescopic legs.
Brand: Walkstool
Item weight: 725g
Dimensions: 45D x 35W x 45H cm
Holding Weight: 250kg
Pros: Comes as four different models with sitting heights 45, 55, 65 and 75 cm.
Cons: Premium option with high price tag. Not the most comfortable stool for larger builds.
Consumer Score: Brilliant reviews From 1,500 ratings 73% gave this 5 stars out of 5.
Other Retailers: Ebay
---
Camouflage Backpack Stool
3-in-1: Backpack, insulated cooler bag and stool.
Portable design, it can be folded completely when not in use.
Oxford cloth, water resistant and breathable
Brand: Caier
Item weight: 3lbs
Dimensions: Chair size: 16.77″ x 13.85″s x 10.53″
Holding Weight: 150kg
Pros: Easy and comfortable to carry. Practical with added cooler bag.
Cons: Only one colour/pattern available
Consumer Score: Amazing reviews From 54 ratings 76% gave this 5 stars out of 5.
---
Regatta Ternio Tripod
Lightweight folding stool
Polyester fabric and steel frame
Brand: Regatta
Item weight: 646g
Dimensions: 32 x 32 x 40cm
Holding Weight: 90kg
Pros: Carry strap attached to the stool. Packs down really small
Cons: Low maximum holding weight.
Consumer Score: Great reviews From 3,529 ratings 79% gave this 5 stars out of 5.
Other Retailers: Regatta
Camping Stools Sale & Today's Bestsellers
The Most Important Features To Consider
Camping stools are designed with different styles, materials, prices, and sizes.
Some come with carrying bags or attached straps that make carrying simple. So here are somethings to think about before you invest.
Purpose
Think about where you plan to use your stool, and what it will be used for. If you're going for week-long camping trip with a car, then a lightweight camping chair may be your best option for comfort.
However, If you're heading on a hiking adventure or moving camp a lot, a portable, lightweight stool is ideal.
Comfort and Design
It's a good idea to try out a camping stool in person before you buy. Trying out different models and exploring how they fold and unfold will give you a better idea if it's suitable.
And of course, sit in it and check it feels comfortable for your needs, and if it takes your weight.
Portability
I recommend picking stools with their own carry bags or straps, as these are useful if you're having to carry in and out of campsites or on trips out.
Storage bags are also a great idea for when you're popping the stool away in the shed or garage when not in use.
Size
Consider where you're going to be storing your stool on your trip, and when not in use. Also think about packing space and if you need to carry the stool for long periods of time on trips out. You don't want a heavy bulky stool if you're out hiking for the day.
If you plan to use your stool to eat around a camping table make sure it sits at the right height for your chosen table.
Material
A good camping stool is lightweight but sturdy, easy to fold down, small enough to stow away and made with tough, rugged and water-resistant materials.
Some camping stools use polyester materials but it's also worth considering ones made of water-resistant material. It may not be as soft but it'll withstand a downpour and be more durable in all weathers.
If you only camp occasionally you could get away with a cheap and cheerful foldable stool but, if you camp regularly, we'd recommend spending as much as you can afford to get better quality and comfort.
Camping Stool FAQs
What is the difference between a camping stool and a chair?
A camping stool usually does not have a back or an armrest. They are lower in height than a traditional chair and fold up smaller and more compact than a chair.
What is the best frame material for camping stools?
The most common material for the frames are steel or powder coated aluminium to give the most sturdy, robust and maximum lifespan possible.
Do I need to take a stool when camping?
Having a quick foldable stool can make camping life more comfortable, but if you have limited space or want to travel as light as possible then there other options available for seating.

Most campgrounds or backpacking sites have some kind of seating, maybe around a fire pit and, in reality, that's probably the main place you'll be sitting anyway.

Homemade seating can be achieved using logs, rocks or cushions or alternatively, if you have one, use your hammock!

If you think I left any out that should be included or have a suggestion for a future article, let me know in the comments below.
Jo
Camping Buyer's Guides
Help ease your shopping with our in-depth buying guides for your next camping purchase.
Camping Furniture (Chairs, Tables, Sofas)
Sleeping (Camp Beds, Sleeping Bags)
Cooking / Kitchen
Tents
Roof Racks & Bags
More Camping Products / Guides
Your Camping Checklist
There's something you always forget when packing for a camping trip. Use our handy camping checklist to make sure you don't forget anything important.
Get more out of your next adventure in the great outdoors with these 24 brilliant camping hacks.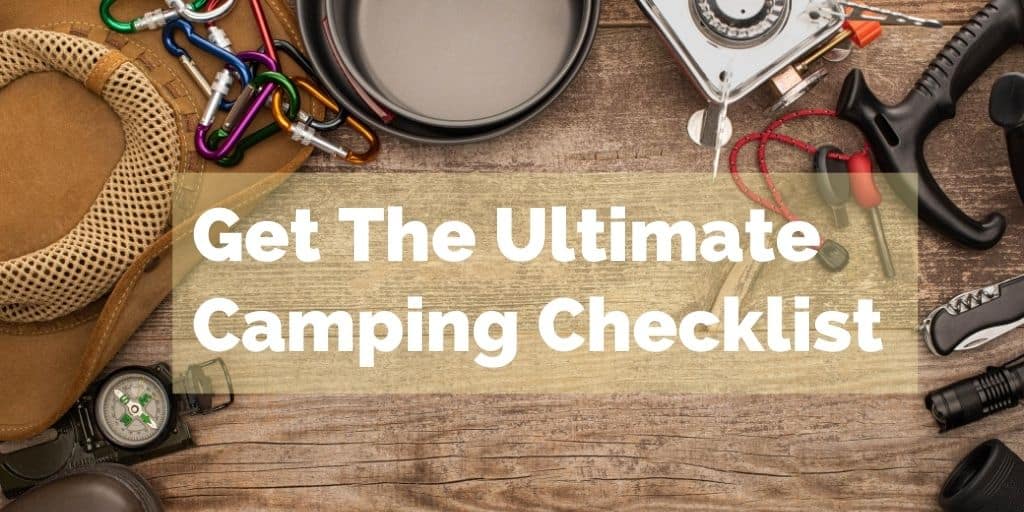 Get more out of your next adventure in the great outdoors with these 24 brilliant camping hacks.