For this post, I have put together a collection of the best melamine sets currently available. For more buyer guides and top picks, see my camping kit list.
Our Top Picks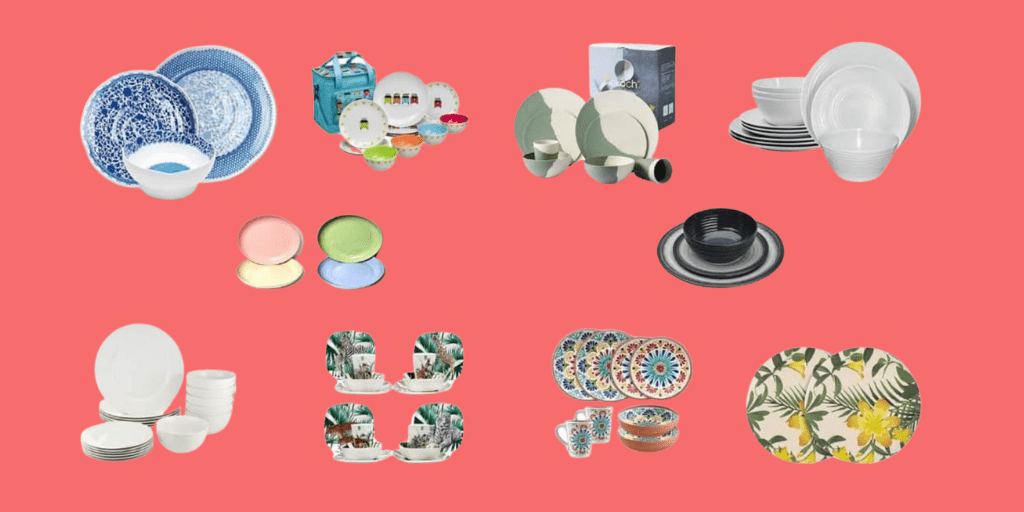 Melamine plates are the most practical option for eating outdoors.
This type of tableware is ideal for picnics, evening entertaining in the garden or camping.
How We Selected
There are so many melamine sets available, but we wanted to find the ones which not only look lovely, but are durable, long-lasting and have positive feedback from buyers.
We've saved you the time in researching and have recommended the best melamine sets to suit all occasions and budgets.
To cook up a delicious meal for your new melamine set check out my best buys for a camping stove and portable bbq.
To keep everything organised see my buyer's guide for the best camping kitchen.
What is melamine and is it safe to use in food serving sets? Find out more at Healthline.
Let's get started!
Here are our top picks of outdoor tableware sets.
The Best For Entertaining
Auntie Morags Epicurean Rio Medallion Melamine Dinnerware
Both durable and lightweight this Rio, Moroccan ceramic style melamine set is ideal for outdoor entertaining.
Dishwasher safe.
Terracotta print with multi colours.
Available in sets for 2, 4, 5, 6 and 8 people.
Pros: Beautiful designs, cups, bowls and plates included in set.
Cons: Not suitable for microwave.
Consumer Score: Popular set with 65% of buyers giving it 5 stars out of 5.
Flamefield Granite 12 Piece Melamine Dining Set – Grey
Contemporary granite effect dual colour melamine set.
Ideal for elegant dining and 100% melamine.
Break resistant and dishwasher safe.
Pros: Elegant granite effect look, set includes plates and bowls.
Cons: Not to be used in microwaves.
Consumer Score: Buyers like this set with 62% of buyers giving it 5 stars out of 5.
The Best For Everyday Use
Parhoma White Melamine Home Dinnerware Set, 12-Piece Service for 4
This 12-piece melamine set is ideal for people who prefer the convenience and ease of chip-resistant and stain-proof dinnerware indoors.
Perfect for families with kids.
Pros: Strong and durable set, bowls and large and small plates.
Cons: Not suitable for microwave.
Consumer Score: Excellent feedback on this set with 83% of buyers giving it 5 stars out of 5.
The Best For Camping And Picnics
Flamefield Camper Smiles 12 Piece Melamine Dining Set with Cooler Bag
Discount - Save £0.99
Campervan fans will love this set which includes 12 pieces melamine dinner set with matching 16 litre cooler bag.
Cooler bag keeps contents cool and fresh for up to 4 hours.
The perfect plates for picnics.
Pros: Cool campervan design, cooler bag included, bowls and plates.
Cons: Not to be used in a microwave.
Consumer Score: Great feedback on this set with 84% of buyers giving it 5 stars out of 5.
The Best For Value
AmazonBasics 18-Piece Dinnerware Set, Service for 6
Elegant white finish affordable basic melamine set.
Safe in your microwave, oven, and freezer as well as dishwasher-safe.
Pros: Affordable, simple set with 18 pieces including plates and bowls.
Cons: Can't be microwaved, no design.
Consumer Score: Really popular set with 75% of buyers giving it 5 stars out of 5.
The Benefits Of Melamine
Melamine is shatterproof unlike traditional tableware. It's also much lighter which makes transporting it easier.
Melamine dinnerware sets come in all styles from basic to beautifully patterned designs. It's an eco-friendly option as it is durable and lasts for ages.
It can be washed and reused again and again, unlike disposable plastic or paper plates.
Whether you're looking for designer outdoor tableware for garden dinner parties or practical caravan crockery, there are so many melamine options out there.
What To Consider When Choosing The Best Melamine Plates
Quality
Check the construction of the plates. Make sure you choose ones that are made of melamine and are durable so will stand the test of time.
Space Saving
Choose sets which are easily stackable and pack away nicely when not in use.
Range
Choose plates which come in a dinnerware set with bowls, saucers or any other utensils. They will be much more versatile and you can then cater for different occasions.
Care
Choose sets which can be put in the dishwasher or can be washed easily. This will save time and effort.
Design
What will you mainly be using your melamine plates for? If its for garden dining and entertaining, you may want to think about the style and pattern on the plates.
If you want them for camping or picnics a more basic and simple design may work for you.
Budget
There are plenty of great deals on melamine plates of high quality, which won't break the bank.
Make the most of your budget and choose a set that's right for you.
FAQ's Melamine Plates
Can melamine be microwaved?
No you can't heat food on melamine plates in the microwave. Heat on microwave- safe plate and transfer to melamine to serve.
Can melamine go in the dishwasher?
Melamine is dishwasher safe so you can clean your melamine sets in the dishwasher, no problem.
Is melamine unbreakable?
It is a very durable, hardwearing material and very hard to break even if dropped, so ideal for outdoor use.
Melamine Plates Sale & Today's Bestsellers
Final Thoughts
My overall top pick is Auntie Morags Epicurean Rio Medallion set as the Moroccan ceramic style looks really authentic.
I hope this guide on melamine sets was helpful.
If you think I left any out that should be included or have a suggestion for a future article, let me know in the comments below.
Nicola
Last Updated: February 2022
Added 'How We Selected.'
Updated Image.
Updated Top Picks.
Added link to Healthline website.
Added Pros/Cons on all products.
Added Consumer Scores.
Added FAQ's.
Added Alternative Retailer.
Added Final Thoughts.
Moved OOS to bottom of page.
Camping Buyer's Guides
Help ease your shopping with our in-depth buying guides for your next camping purchase.
Your Camping Checklist
There's something you always forget when packing for a camping trip. Use our handy camping checklist to make sure you don't forget anything important.
Get more out of your next adventure in the great outdoors with these 24 brilliant camping hacks.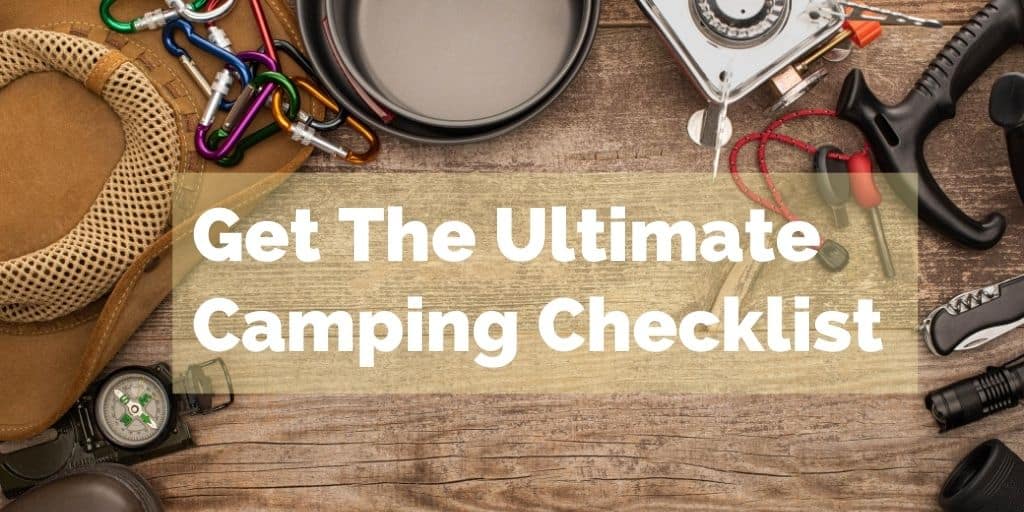 Get more out of your next adventure in the great outdoors with these 24 brilliant camping hacks.
EDGO 16 Piece Melamine Dinner Set (Safari) (currently unavailable)
Contemporary safari theme designs which will bring sass to your picnics or camping trips.
EDGO Melamine Set offers a conveniently stackable design for compact storage in kitchen cupboards.
Q Squared Heritage 12-Piece Professional Grade, BPA-Free, Shatterproof, Melamine Dinnerware Set (currently unavailable)
Stylish and highest-quality melamine for your outdoor entertaining.
The Q Squared Heritage collection is the best option for unbreakable dinnerware.
Nicola Spring 6 Piece Eco-Friendly Bamboo Dinner Plates Set (currently unavailable)
No products found.
Crafted from natural bamboo fibre, which is an environmentally-conscious, renewable alternative to plastic and paper.
Tropical leaf design to transform your table into an exotic paradise.
LEKOCH 8 Pieces Ink Painting Serie Bio Bamboo Dinnerware Set for 2 (Green & White) (currently unavailable)
No products found.
Stylish set made of renewable resources such as organic bamboo fibers, corn starch, wood fibers, with food-grade resin, food safe approved by LFGB, BPA free.
This bamboo tableware set is including dinner plate, salad plate, soup bowl and cup, which are great for both indoor and outdoor use.
Dishwasher safe.
Wheat Straw Plate 4 Pack (currently unavailable)
No products found.
You don't need to worry about dropping these plates.
These eco-friendly plates are made from natural wheat straw fibre with food grade PP; and free from BPA and other harmful chemical materials.
Light weight and durable they're perfect for picnics, camping, caravans, garden dining and also an eco-friendly version of children's party plates.