For this post, I have put together a collection of the best charcoal briquettes currently available. Also see my guide to the best BBQS and BBQ tools.
Our Top Picks
Best Long Lasting Charcoal Briquette:

No products found.

– Most highly rated mainstream option from barbecue enthusiasts. Very little smoke and holds temperature for a very long time.
Best All Round Charcoal Briquette: Weber Briquettes 8 kg – 100% natural and bbq lovers rate these – 81% gave them 5 stars!
Show Today's Top Deals
These are today's top deals and bestsellers for charcoal briquettes.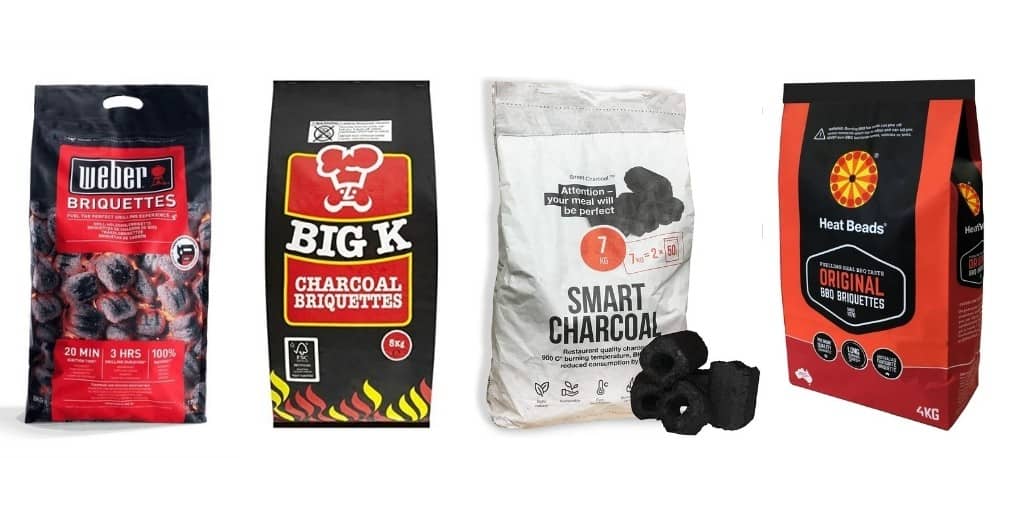 ---
The weather is warming up and barbecue season is fast approaching.
If you're a charcoal BBQ or outdoor pizza oven owner, you're going to need fuel to get going.
When it comes to charcoal you have two main choices – briquette charcoal or lumpwood charcoal.
You'll find briquettes more commonly sold in shops like supermarkets and petrol stations. Lumpwood, often preferred by the purists for its taste, it made from burning wood, usually in a brick oven, with restricted oxygen to remove all the impurities, sap and any moisture.
In this article I look at the best brands and buys specifically for charcoal briquettes. See my separate guide to my top picks for the best lumpwoord charcoal.
Further down the article, I explain the main differences between briquette charcoal or lumpwood charcoal. – ultimately what best to choose is down to a personal preference and what you plan to cook.
Related: More camp cook top buys? See my picks for the best camping stove and portable bbq,
Looking to upgrade your BBQ? See my top picks for a charcoal BBQ, portable BBQ or Camping Fire Pit.
Or if you're looking for the perfect shelter to cook no matter the weather, see my guide to the best BBQ shelter.
So here is my list of the the best charcoal briquettes.
The prices can vary greatly on these so you may need to shop around!
Weber Charcoal Briquettes
Weber Briquettes 8 kg
Bestselling charcoal briquettes & 100% natural with no added chemicals
Barbecuers love these briquettes from Weber!
From 2,447 ratings, 81% gave them 5 stars.
Ready to us in 20 minutes with 3 hours burning time.
Packaged in a recycled, waterproof bag with convenient zip-lock closure and handy carrier grip. Keeps them safe and dry!
Also available in 4 kg bags.
Weber Briquettes 4 kg
Big K Charcoal
Big K Charcoal Briquettes 5kg
Good alternative to the Weber for a well respected charcoal briquette.
Excellent reviews. From 30 ratings 92% give these at least 4 stars out of 5.
Do take longer to get going than Weber and some other brands – around 30-40 minutes.
Last for a long time and maintain a sold grilling temperature.
Also available in 10kg bags and 4 x 5kg.
Big K Charcoal Briquettes – 10kg
Big K Charcoal Briquettes – 20kg
Aussie Heat Beads
No products found.
Many barbecue experts rate this as the top choice amongst mainstream brands.
Don't be put off by lack of smoke – this is good!
No unpleasant smells come from these like many sub standard supermarket brands.
Holds the temperature for a long time and up to 92C for 3 hours.
Perfect if you would like to do some grilling – you can then roast a chicken afterwards.
Rave reviews. From 79 ratings, a huge 78% gave these 5 stars out of 5.
Smart Charcoal Briquettes
Key selling point is the length of cook time on these.
Available in 1, 2, 3 or 4 bags.
Ready to cook in 15 min and burns for 5+ hours
Well reviewed. From 31 ratings, these score an average of 4.1 out of 5.
Today's Top Deals & Bestsellers
I hope this list of the best charcoal briquettes was helpful.
If you think I left any out that should be included or have a suggestion for a future article, let me know in the comments below.
Dominic