For this post, I have put together a collection of the best camping stoves currently available. Browse my ultimate camping checklist and you won't forget anything!
Our Top Picks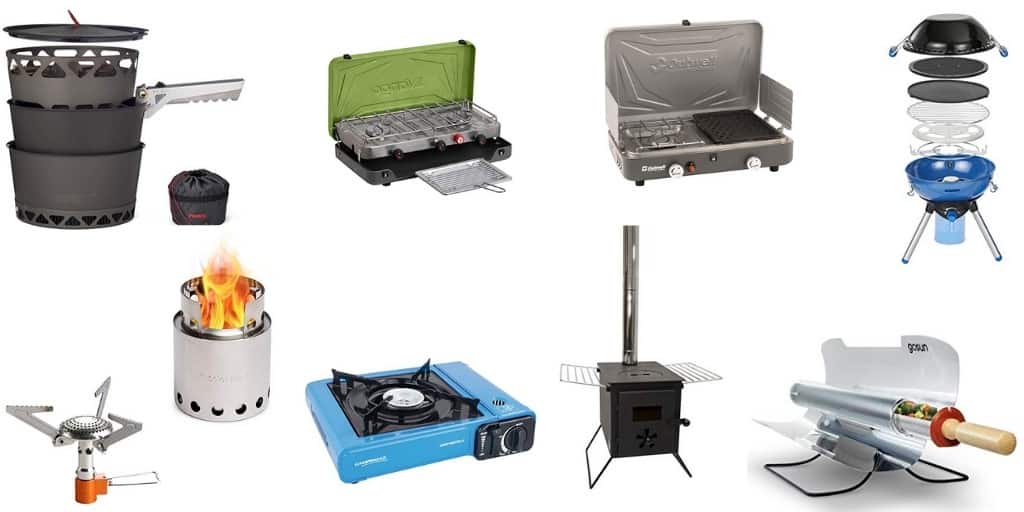 Choosing the best camping stove is overwhelming with so many different types and options on the market.
I have written this review to make picking your camping stove an easy task and to ensure you pick the right one for you, whether you are planning a family camping break or heading off on a solo hiking trip.
If you're looking for something lighter see my guide to the best portable barbecues.
Let's get started!
What to consider in a camping stove?
Planning on some al fresco cooking for the family on your next camping trip or will you be braving the elements but wanting to know you'll still be able to boil up a cup of hot tea, there is literally a camp stove for all occasions.
The main considerations when buying a camping stove are size, weight and fuel type.
Size
The smallest camp stoves are, lightweight, easy to carry and portable, whilst the largest camping cookers can be multi-purpose and cook for groups of people. It all depends on what you will mainly be using your stove for.
Weight
If you're moving around on foot then you will need something light which will fit in your backpack. If you are going on a family camping trip in your car or camper van, you can get away with something less portable but still easy to transpot.
Fuel Type
Camping stoves come in a variety of fuel types including gas, liquid or solids.
Gas canister camp stoves are by far the most popular option as they are easy to ignite and you can control the flame size. They come in all shapes and sizes too, so you can literally use them in most situations.
Solid fuel stoves which use wood or twigs are suitable for easy things like boiling water but aren't as great when facing the elements.
Stoves which use liquids like paraffin or petrol are suitable for higher altitudes as the lower air pressure doesn't affect them.
Nowadays, you can even take an alternative, like an electric stove on a camping trip, where there are electricity hook ups or if you are travelling in a camper van.
If you would prefer to be completely sustainable, then a solar powered camping stove could be an option for you. They can only cook a small amount of food at a time but they only harness the power of the sun.
Cost
There are camping stoves out there to suit every budget. If you are a regular camper you may want to invest a bit more money and get a stove which makes your trips easier and more enjoyable.
If you just want a stove to boil a kettle you can get something simple which really won't cost much at all.
Related: If you're camping for a while and want to make cooking easier then see my guide to the 15 of the best camping kitchens.
Let's run through our favourite options!
Best Camping Stoves For Family Trips
Primus PrimeTech Stove Set
Best For: All round use Fuel: Gas
A gas stove with low fuel consumption but gives full performance.
A compact stove with integrated burner that makes it very easy to use and transport.
Primus Onja Single Fuel Stove
Best For: Style Fuel: Gas
Slick design with black canvas sides, high-quality white steel surround and stylish oak lid that doubles up as a chopping board.
Easily portable as it has a shoulder strap so you could even take it to the beach.
Good burners for fast boiling or you can adjust for gentle simmering or frying.
Campingaz Party Grill 400 CV
Best For: Versatility Fuel: Gas
Multifunctional compact camping grill offers with pan support, grilling grid, reversible plancha/griddle with non-stick coating and a large lid which doubles as a wok.
Blacks vango combi IR grill
Best For: Cooking multiple foods Fuel: Gas
A 2-burner cooker featuring an infra-red grill for high heat output while being low on fuel consumption.
The two burners allow you to cook multiple foods at once and are easy to clean.
Ideal for camping.
Cadac Safari Chef 2
Best For: Versatility Fuel: Gas
Portable and versatile gas BBQ, with interchangeable cooking surfaces: Pot stand, BBQ top, flat griddle and pot.
All packs into a convenient carry bag.
Ideal for camping, hiking, fishing, caravanning and sports events.
Best Wind Blocking Camping Stoves
Outwell Jimbu Camping Stove
Best For: Wind protection Fuel: Gas
With integrated windshield and robust lid and frame, stormy days are no problem for this powerful, portable cooker and grill.
With the adjustable flame you can bring water to boil in no time and prepare your food as you like.
Outwell Olida Burner
Best For: Portability and wind protection Fuel: Gas
Versatile model with steel braided hoses and auto shut off.
The stove features individually controlled burners, plastic feet for stability, auto piezo ignition and windshield protection.
Best Camping Stoves For Hiking
Solo Stove Lite
Best For: Ultra efficiency Fuel: Twigs
Unique wood burning stove that incorporates a secondary combustion for a more efficient and cleaner burn.
Cooks the smoke out of the wood and then burns the smoke not once, but twice!
Travel Lighter and reducing your carbon footprint with this great invention.
Vango Atom Stove
Best For: Size Fuel: Gas
Compact, extremely lightweight and user-friendly.
Ideal for trekking adventures where lightweight is a priority and you need to prepare meals fast.
Storage bag included for safe and easy transportation.
MSR Winderburner
Best For: On-the-go Fuel: Gas
This stove uses award-winning Reactor® technology and is ideal for wild camping adventures and weekend camping alike.
Its burner is enclosed and its windproof design makes it boil water fast and able to operate in all weather types.
Coleman Unisex Firestorm PCS Backpacking Stove, Red
Best For: Wild camping Fuel: Gas
High-performance, personal cooking stove that benefits from an advanced HyperFlame® burner design.
Ideal for backpacking or wild camping.
Can boil water fast.
The stove offers 360o wind protection.
Best Tent Stoves
Outbacker 'Firebox' Portable Wood Burning Stove
Best For: Fire retardant tents Fuel: Wood
As well as looking great in your tent or shelter this stove has been created to be a light weight and compact.
The flue section comes with a built in spark arrestor to stop stray sparks landing on your canvas.
The long stainless steel flue helps carry the smoke away so you won't breath it in.
Only install in fire retardant shelters such as Tipis, Bell Tents, Yurts and even sheds!
Stove can also be utilised for heating as well as cooking.
Frontier Stove
Best For: Fire retardant tents Fuel: Wood
Wood burning stove designed for heating and cooking in canvas fire retardant tents, tipis or outdoors.
Easy to carry and quick to set up, the Frontier has lots of room on top for cooking: you can easily fit 2-3 pans on its large cooking area.
Best Solar Camping Stoves
TOPQSC Solar Grill Solar Cooker
Best For: Environment Fuel: Solar
No products found.
This solar stove cooks a meal in as little as 15 minutes, utilising the sunshine.
Even in winter you can cook a meal with the solar oven.
It keeps meats moist and retains your food's flavour and nutrition.
GoSun Barbecue
Best For: Environment Fuel: Solar
Simple to use, cool to touch and large enough to feed eight, this solar stove was designed with family in mind.
Steam, bake and roast.
Best Electric Camping Stoves
VonShef Induction Hob
Best For: Safety (if electricity available) Fuel: Electric
Portable and powerful induction hob which is ideal for small spaces such as caravans, camper vans and camping with electric hook ups.
Safer, faster and more energy-efficient compared to traditional electric hobs.
With toughened black glass top and scratch proof ceramic plate.
Cusimax
Best For: Safety (if electricity available) Fuel: Electric
Variable heating settings provide prefect temperature for your cooking from boil to simmer as well as can be used as food warmer or slow cooker.
Single burner works with all types of cookware.
Easily portable.
Best Budget Camping Stove
Campingaz bistro 2 stove
Best For: Budget Fuel: Gas
Affordable and practical small stove with sturdy plastic carry case.
This stove can be easily and safely transported and stored, while its integrated piezo ignition system is simple to use and highly reliable.
Today's Top Deals & Bestsellers
I hope this list of the best camping stoves was helpful.
If you think I left any out that should be included or have a suggestion for a future article, let me know in the comments below.
Nicola
Camping Buyer's Guides
Help ease your shopping with our in-depth buying guides for your next camping purchase.
Camping Furniture (Chairs, Tables, Sofas)
Sleeping (Camp Beds, Sleeping Bags)
Cooking / Kitchen
Tents
Roof Racks & Bags
More Camping Products / Guides
Your Camping Checklist
There's something you always forget when packing for a camping trip. Use our handy camping checklist to make sure you don't forget anything important.
Get more out of your next adventure in the great outdoors with these 24 brilliant camping hacks.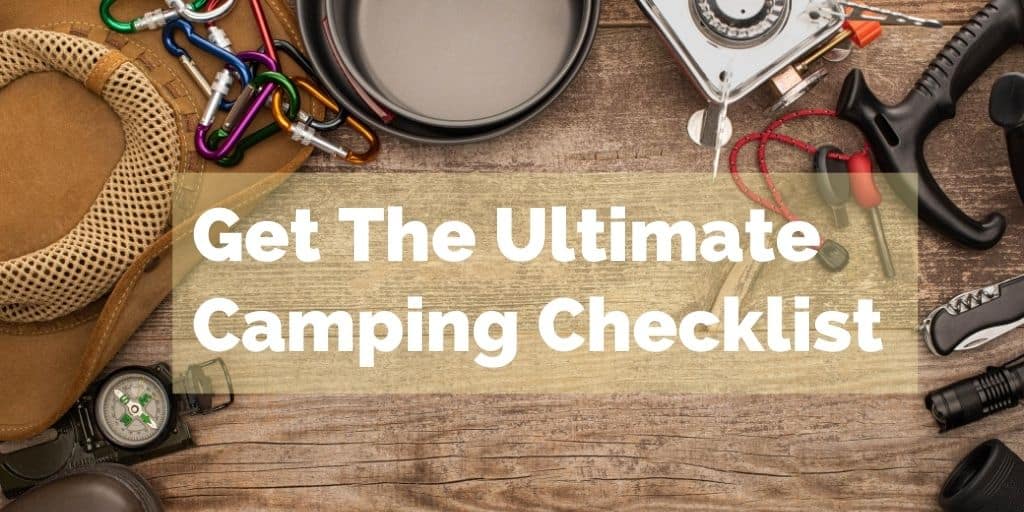 Get more out of your next adventure in the great outdoors with these 24 brilliant camping hacks.