For this post, I have put together a collection of the 10 best camping washing lines currently available. Browse my ultimate camping checklist and you won't forget anything!
Our Top Picks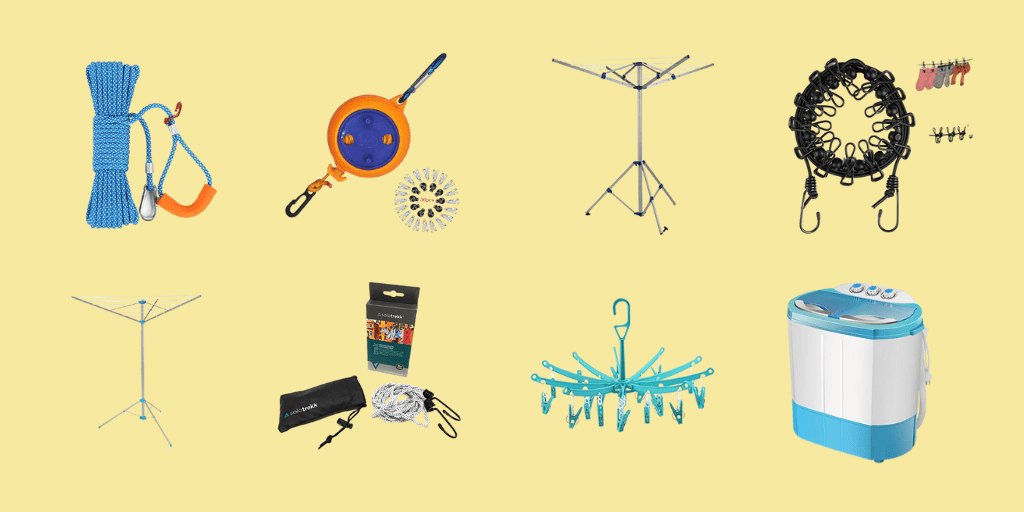 ---
When camping, having to get the washing dry is a regular task that needs to be accomplished. Quite often big campsites will have washing facilities. However, not all sites have a laundrette or you may simply be backpacking!
It may be the swim wear, beach towels or heavier items such as sleeping bags and blankets but whatever your needing the washing line for finding the best clothesline for your set-up is essential for getting a good routine into action so that you can spend more time enjoying your trip away.
Finding the perfect washing line for your camping needs and budget can be time consuming and overwhelming, so I have compiled a list to help narrow down your search.
From rope lines, to freestanding and electric dryers there are many options available to you whether you are looking for a cheap quick solution or a luxury dryer at a reasonable cost.
Looking for more ideas to make camping easier? Check out my 24 brilliant camping tips.
Not sure where you want to go for your holidays? Check out our 100 best glamping experiences.
How We Selected
I have carefully made my selection by scouring the web for reviews on all camping washing lines to find you the best ones available.
My aim for this post is to find washing lines suitable for camping, that only get the best feedback, with at least 4 star reviews.
I have researched the ones with the best design features that are lightweight and compact as well as ones offering good line length. Also taking into account free standing lines and attachable lines.
I have compared washing lines for those on a budget to the more premium options and based my research on family and friends testing and my own personal experience of many years camping and washing!
So here is my list of the best Washing lines for camping.
ZAselect Washing Line Rope
High-quality polyester braided washing line.
Suitable for attaching to trees, tents or fence posts.
Weight Capacity: 200kg
Line Length: Available in 5m, 10m and 15m
Pros: Comes in various colours and sizes. Has an adjustable buckle making it easy to tighten to the chosen length. Made from non slip rope.
Cons: Quite expensive for a rope line. Doesn't include pegs.
Consumer Score: Outstanding reviews From 57 ratings 76% gave this 5 stars out of 5.
---
Kuou Portable Clothesline
Discount - Save £0.76
Elastic line with PVC Rubber coated clips and metal wire hooks
2 end hooks suitable for attaching to trees. fencing and tents.
Weight Capacity: not specified
Line Length: 180cm(5.9ft) stretching to 360cm(11.8ft)
Pros: lightweight and portable with inbuilt clips, so no need for extra pegs.
Cons: Elastic can be stretchy with wet washing, so needs to be attached to something very sturdy. Only suitable for light laundry.
Consumer Score: Great reviews From 277 ratings 65% gave this 5 stars out of 5.
---
DRYZEM Washing Line Rope
A super strong steel core washing line and two tensioners.
Weight Capacity: 100kg
Line Length: 30M (98 FT)
Pros: Very heavy duty, would suit large loads or heavy washing. Has a life-time money back guarantee to all customers. Extra long length but compact. Can be attached to most objects.
Cons: Once unravelled, It is time consuming to wind it back up after use.
Consumer Score: Superb reviews From 2 ,426 ratings 76% gave this 5 stars out of 5.
---
Toctax Retractable Laundry Rope
Has a rotating disk, which can be withdrawn into the box after use making it convenient to use and saves space.
Weight Capacity: 20kg
Line Length: Adjustable up to 8 meters
Pros: Light and compact, small enough to fit inside your hand. Comes with a hook to attach to many things. Can be used indoors or outside. Comes with pegs.
Cons: Doesn't hold much weight, suitable for light washing rathe than heavy bulky items.
Consumer Score: Excellent reviews From 139 ratings 66% gave this 5 stars out of 5.
---
Minky Freestanding Airer
Discount - Save £8.00
Free standing- folds up and clicks into position for storage.
Weight Capacity: Not specified, (states one whole load)
Line Length: 15 metres of drying space
Pros: Easy to assemble and to pack away. Holds a good amount of items. Doesn't need to be attached to anything.
Cons: Higher price tag. Tendency to fall over if weight isn't evenly distributed. Takes up space when packing.
Consumer Score: Amazing reviews From 3,195 ratings 77% gave this 5 stars out of 5.
---
Solotrekk Deluxe Travel Clothes Washing Line
Durable travel clothes line with metal hook ends.
Simply tuck clothes in between 2 strands of elastic when line is under tension
Weight Capacity: Not specified
Line Length: 3 meters
Pros: Very versatile, can loop and tie around anything. No pegs required. Takes up very little space when packing. Ideal for backpacking.
Cons: Short line length and only suitable for light washing.
Consumer Score: Super reviews From 355 ratings 73% gave this 5 stars out of 5.
---
Hangerworld Hanging Portable Airer
Folding dryer. Ideal for drying socks, underwear baby clothes and other small items.
Weight Capacity: Limited to small laundry items
Line Length: 20 pegs (Measures 45cm x 29cm when open)
Pros: Folds away small. Available in 3 colours. Simple and quick to use.
Cons: Can only be used when hung up. No good for heavy or large items.
Consumer Score: Fab reviews From 2,797 ratings 70% gave this 5 stars out of 5.
---
Portable Twin Tub Washer Dryer
Discount - Save £20.00
Electric washer dryer suitable for camping and caravanning.
Compact and lightweight design
Easy to use time control design with 2 timers.
Weight Capacity: 2.5kg
Line Length: N/ A (Overall Dimensions:: 55.5CM x 37.5 CM x 59 CM)
Pros: Gets clothes dry in under 5 minutes, Washed and dried in under 15minutes.
Cons: Expensive price tag. Takes up more space than a line. Needs electric.
Consumer Score: Brilliant reviews From 257 ratings 72% gave this 5 stars out of 5.
---
Royal 4 Arm Washing Line
Floor mounted rotary washing line.
Portable and foldable-Ideal for camping and caravanning.
Weight Capacity: 25kg
Line Length: 16m
Pros: Comes with 3 ground securing pegs for stability. Comes with carrier bag for ease of use and storage which doubles as outdoor cover when folded down. 4 arms so good drying space.
Cons: Base has a tendency to come apart from the pole at times.
Consumer Score: Fantastic reviews From 438 ratings 60% gave this 5 stars out of 5.
---
JVL Utility Washing Airer
Ideal for use in caravans and some types of camping.
Folds away after use for easy storage
Weight Capacity: Not specified
Line Length: 7m drying space
Pros: Can be hung on anything that has a slight lip, fences, chairs or car doors. Strong and durable.
Cons: Needs to be hung, not tied or free standing. Not suitable for all types of camping such as backpacking etc.
Consumer Score: Good reviews From 2,381 ratings 65% gave this 5 stars out of 5.
Camping Washing Line Sale & Today's Bestsellers
The Most Important Features To Consider
There are so many different types of travel washing lines, suitable for camping, the choice can be overwhelming. Before buying one it's essential you have a think over your camping set up and your needs.
Size
Some travel camping washing lines such as the rotary lines need space. So you must consider how much space is available in your camp or tent but also in your luggage or car.
If your planning on travelling light then maybe think about the compact light wire lines. If you have a large car or trailer then the premium electric dryer may be just fine!
Line Length
Have a think about how much washing you think your going to be doing on your trip?
Are you looking for a quick set up to hang the tea towels and dishcloths- therefore a short mini peg line is suitable, or are you staying for a longer stay and need a line for frequent bulky washes with lots of drying space?
If you're looking for an all rounder, then consider a line with an adjustable length so it is suitable for whatever size load you are washing.
Style and Design
Consider how you plan on storing your washing line.
Can it be left up for the entire duration of your trip, i.e. a wire line between the trees behind your tent, or do you need one that needs to be folded away after use?
If you're backpacking, a line that can be attached to various objects would be most suited however, a 2 week camping trip on a holiday park may require a more sturdy freestanding rotary line.
It's important to check the campsites rules if your staying on a holiday park, some can be strict in regards to washing lines across trees and fences.
Camping Washing Line FAQs
What can I hang on my travel rotary clothesline?
You can hang light bedding, small towels, or any other kind of clothing on this type of clothesline.
Just check the manufactures weight capacity and ensure that your laundry needs do not outweigh this limit.

Do travel washing lines come with pegs?
Some brands of wire washing lines have inbuilt clips or pegs that can move about across the line or be adjusted for your needs.

Other washing lines such as rotary lines will normally need pegs to be purchased alongside them.
Am I allowed a washing line on a campsite?
There's going to be a point when you need to wash clothes when camping and not all sites have a laundrette.
Most camping etiquette and campsite rules are just common sense, but it's a good idea to check first.
For example there may be designated areas for washing dishes, doing laundry, and so on.
Usually they just state that laundry areas for clothing need to be kept clean and tidy and not in anyone else's way.
If you think I left any out that should be included or have a suggestion for a future article, let me know in the comments below.
Jo