For this post, I have put together a collection of the best double airbeds currently available. Browse my ultimate camping checklist.
Our Top Picks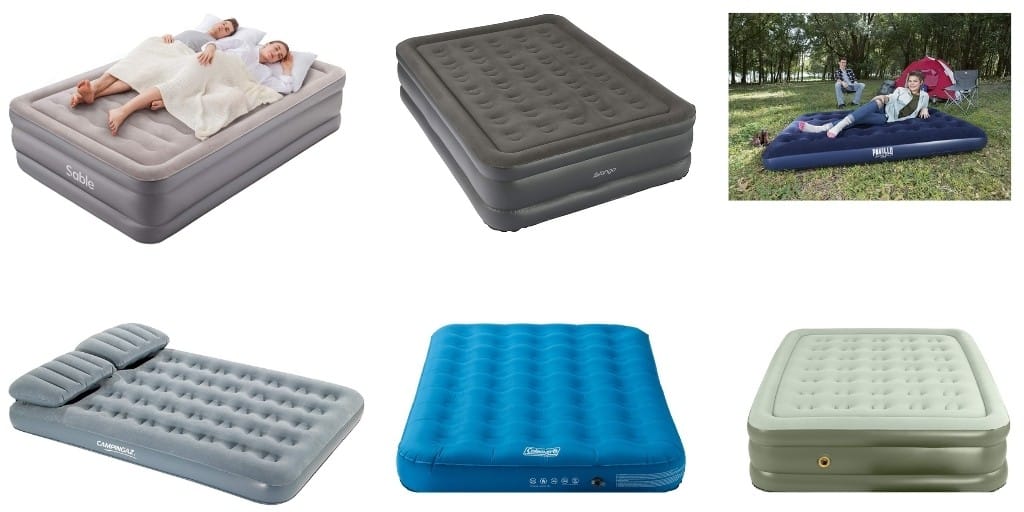 ---
Going camping with a loved one should be a romantic experience.
But this can go all wrong if you don't invest in a quality double airbed which is the right size, quality and firmness. Bonus points for any additional handy features, including double air beds with built in pump!
Need more room? See my buyer's guide to the best king size air bed.
Also see my top picks for the best camping beds and camping pillows.
Or how about a camping bunk bed?
So here is my list of the the best double air beds.
Yawn Double Air Bed (Self Inflating Air Bed)
Stand out feature it inflates (and deflates) automatically (see video below).
Comes with a carry bag.
18″ high so it's comparable to a normal bed height.
Pros: Pumps up quickly (time to brush your teeth), headboard keeps the pillows in place and can be used as back support with pillows.
Cons: Although 74% of buyers give this 4-5 stars, some buyers found it deflates too fast, whilst others found it fine. Noisy as it pumps. Sheets can be tricky to fit with headboard.
Consumer Score: Good ratings, from 966 it scores 4.0 out of 5.
Suggested Retailers:
Vango Blissful Double Airbed
Discount - Save £46.01
Tired of beds that deflate in the night? You'll sleep soundly with this one as it has an inbuilt pump that will monitor air pressure and top it up.
You even set your preferred level of firmness!
At the pricier end but not bad value compared to some luxury double air beds without this feature. And can't put a price on a great night's sleep!
Cons: Some buyers say the silent air top up isn't actually silent. If you're a light sleeper something to consider! Others found it perfectly fine and did not disturb them.
Pros: Majority of buyers love the automatic topping up of air. Most love the comfort of this bed – which you would hope at the luxury end of the scale.
Consumer Score: Fab feedback. 83% of buyers give this 5 stars out of 5.
Suggested Retailers:
Pavillo Double Airbed
Number one bestselling budget bed is very good value with excellent buyer feedback.
Double is described as 137cm wide, which it is, when flat. Inflated it is closer to 125cm.
Also available in single, queen and king sizes.
Pros: Cheap and cheerful, relatively comfy for the price.
Cons: Will need to be reinflated regularly.
Consumer Score: Very good reviews overall. From 4,453 ratings, 82% gave them 4-5 stars.
Suggested Retailers:
Coleman Extra Durable Double Airbed
Discount - Save £7.49
If you're looking for a tough, durable option this a good choice.
Coleman have driven over these demo models with a small quad bike so you know it's puncture proof!
Still feels light given its durability.
Hand carry bag.
Inflated dimensions: 198 x 137 x 22 cm
Sizes available also include raised single and also a raised double.
Pros: Most find this bed very comfortable for the price.
Cons: Some buyers find it deflates quickly, others say it only needed topped up once over a week.
Consumer Score: Very positive reviews. From 253 ratings 79% gave this Coleman 4 stars or above.
Coleman Green Double Air Bed
Discount - Save £2.35
Top selling air bed with soft top and 27 comfort coils for extra support.
Easy-to-use double lock valve that also helps inflate and deflate the bed quickly.
Pros: Vast majority of buyers found this a comfy bed. The high position will make it easier to get in and out of.
Cons: Make sure you have an electric, unless you want a good workout!
Consumer Score: Excellent reviews. From 3,323 purchases, 75% give it 5 stars.
Campingaz Smart Double Airbed
A luxury option with inbuilt pillows and super handy storage compartments underneath.
Inflated dimensions: 188 x 137 x 19 cm
Pros: Non slip pillows, valves in easy to reach places and don't dig into you when lying down. Little cubby area is really useful. Packs down small. Customers found it kept its firmness.
Cons: Not auto seal so you need to be quick when putting the stopper back in! Most find it stays inflated but like many airbeds some buyers don't.
Consumer Score: Good reviews. From 636 buys, 77% of reviewers gave this 4 stars or more.
Suggested Retailers:
Tesco Double Airbed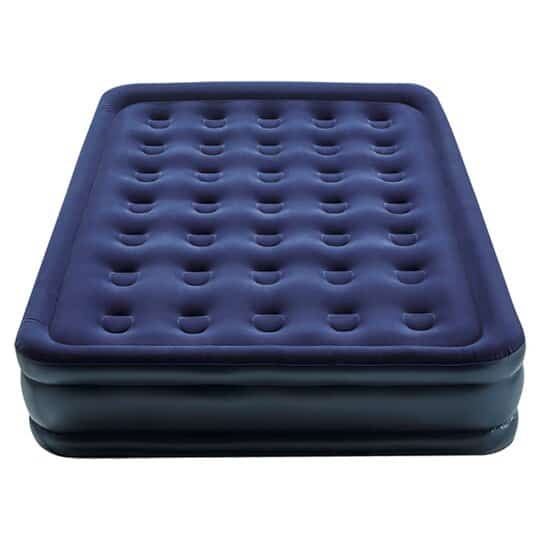 On the budget end of the double air beds this sits somewhere below the Coleman options here in terms of quality and comfort.
Pros: Lightweight and compact.
Cons: No storage bag and won't fit back in the box (I'm sure you know this feeling too well!) On the lumpy side of things.
Consumer Reviews: From 20 reviews it scores 4.2 out of 5. Strong disparity in reviews – some find it the best air bed they've ever had – others hate it!
Retailer: Tesco
Today's Top Deals & Bestsellers
I hope this list of the best double air beds was helpful.
If you think I left any out that should be included or have a suggestion for a future article, let me know in the comments below.
Dominic
Last Updated: January 2022
Added Pros and Cons for all products.
Updated rating scores.
Added alternative buying options at eBay where relevant.
Added Tesco Double Airbed & Yawn Airbed.
Marked Sable Luxury Double Airbed (Out Of Stock).
Sable Luxury Double Airbed (Out Of Stock)
No products found.
Luxury double airbed for camping or perfect for guest indoors.
Inflated dimensions: 203 x 152 x 48 cm

No products found.

. From 2,155 ratings 77% give it 5 stars out of 5.
Camping Buyer's Guides
Help ease your shopping with our in-depth buying guides for your next camping purchase.
Camping Furniture (Chairs, Tables, Sofas)
Sleeping (Camp Beds, Sleeping Bags)
Cooking / Kitchen
Tents
Roof Racks & Bags
More Camping Products / Guides
Your Camping Checklist
There's something you always forget when packing for a camping trip. Use our handy camping checklist to make sure you don't forget anything important.
Get more out of your next adventure in the great outdoors with these 24 brilliant camping hacks.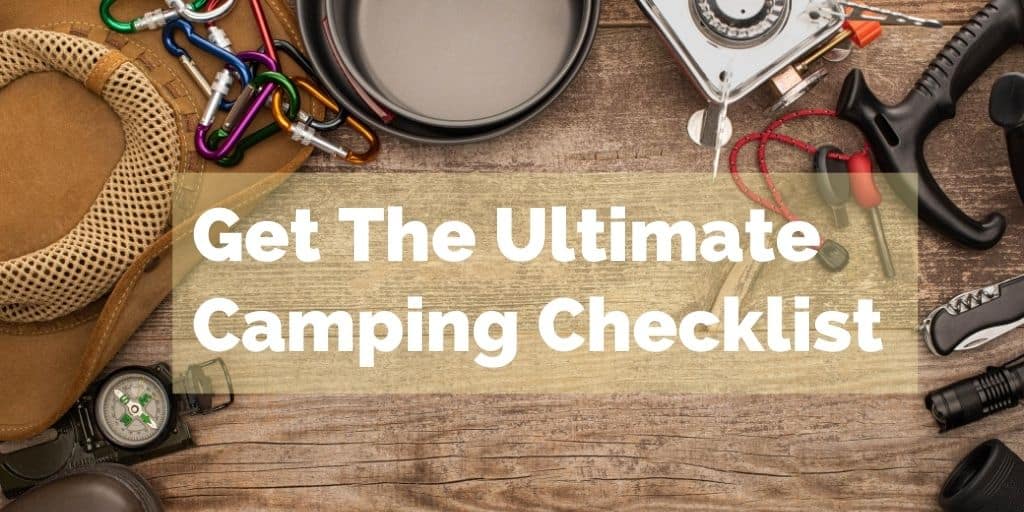 Get more out of your next adventure in the great outdoors with these 24 brilliant camping hacks.