For this post, I have put together a collection of the best double camping chairs currently available. Browse my camping packing list and top picks.
Our Top Picks
Show Today's Top Deals
These are today's top deals and bestsellers for double camping chairs.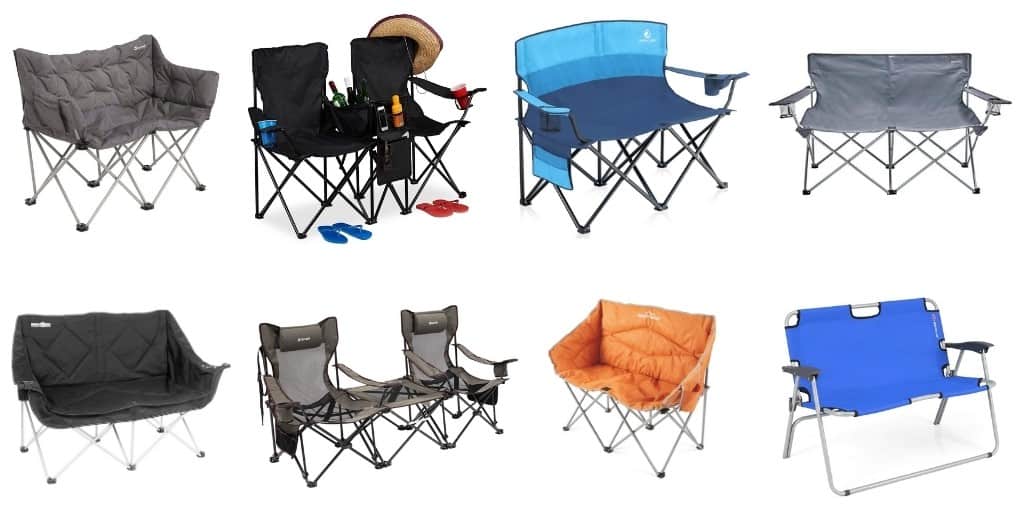 A double seater camping chair has two benefits – it saves taking two separate / single camping chairs and also provides a more intimate seating up with a loved one – what camping is all about!
There's no shortage of choice out there but we've done the hard yards – finding a selection of the best reviewed double camping chair options out there for all budgets and from anything to the most basic, lightweight options to pricier, super padded luxury seating set ups.
Also see my guide to the best camping chairs and camping tables.
How about a chair to keep you warm? Check out this toasty heated folding chair.
So here is my list of the the best double camping chairs.
Outwell Sardis Lake Camping Sofa
Our top pick for luxury.
Makes for an extremely comfortable camping chair with the extensive padding.
Solid and robust frame.
No cup holders but does does have a document sleeve on one side. 
Max weight recommendation: 120kg
Item weight: 8.1kg
Campers love this luxurious double camping chair come sofa. 90% of reviewers give it 5 stars out of 5 from 107 ratings.
Brunner Double Foldable Camping Chair
Another great choice if you're looking for a very padded option.
Extremely well made, sturdy and comfortable.
Vertical frontal support strut which will prevent any sagging – many double chairs do not have this.
Item weight: 5.3kg
Very well reviewed foldable chair. From 133 ratings this scores an average 4.7 out of 5.
Argos Double Folding Camping Chair – Trespass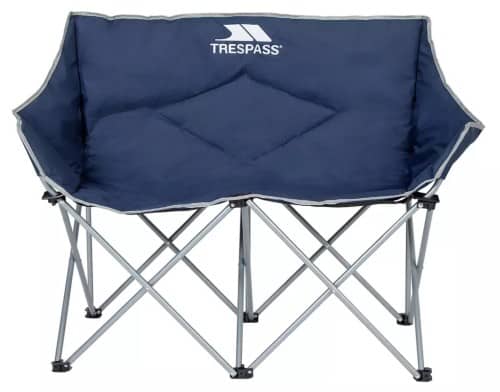 Solid budget option – lightweight and comfortable.
Supplied with carry bag.
Very highly rated double seat folding chair. From 90 ratings this scored an average of 4.5 and 91% of buyers recommend this chair.
Kelty Love Seat Double Camping Chair
Max weight recommendation: 226kg.
Item weight: 6.93kg
2 insulated & adjustable beverage holders.
Pockets on either side with multiple compartments.
It's lower than some of the others so it's good for toddlers can easily climb in and out of it.
Padded roll-tote storage bag
Excellent reviews on this camping chair. From 41 reviews it scores an average of 4.9 out of 5! 95% of buyers gave this the maximum 5 stars out of 5.
Costway Double Folding Camping Chair
Available in blue and red.
Max weight recommendation: 180kg.
Item weight: 5 kg
One of the lighter ones available so it's also good for fishing, picnics and festivals where you may not want to carry anything too heavy.
Really good reviews. From 19 ratings it scores an average of 4.7 out of 5 and 81% give this maximum score.
Go OutDoors Double Camping Chair – Hi-Gear Vegas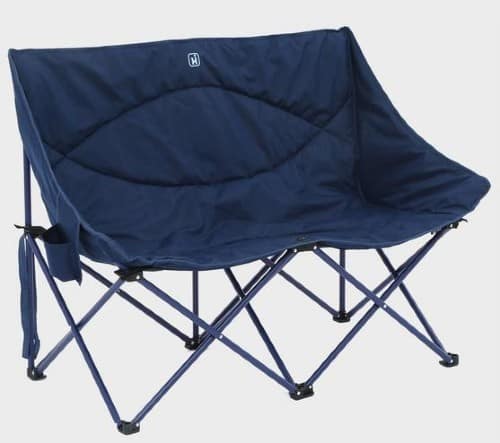 Go OutDoors bestselling double camping chair.
Folds down to a compact size.
From 35 ratings it scores very well on customer feedback. Buyers found it comfortable, strong and portable.
Camping World Double Seater Camping Chair
No products found.
Heavy Duty Camping Chair holding up to 204kg.
Item weight: 7.1 kg
Practical Storage Space with 2 cup holders and a mobile phone holder.
Mid range price with a balance between affordability and comfort. Very sturdy.
Only one review so far (

No products found.

) but is from a very known brand.
XGEAR Double Folding Camping Chair With Table
Unique design which includes 2 foldable chairs and a detachable side table.
The chairs can adjust the height of back to meet different heights.
Adjustable to Sit Upright or Lie Right Back
Armrests with Cup Holders.
The table can also be used as a stool.
Max weight recommendation: 135kg each.
Item weight: 10.5 kg
Fantastic feedback on this double camping chair from XGEAR.From 17 reviews 69% gave it 5 stars and 22% 4 stars out of 5.
ALDI Twin Camping Chair – Adventuridge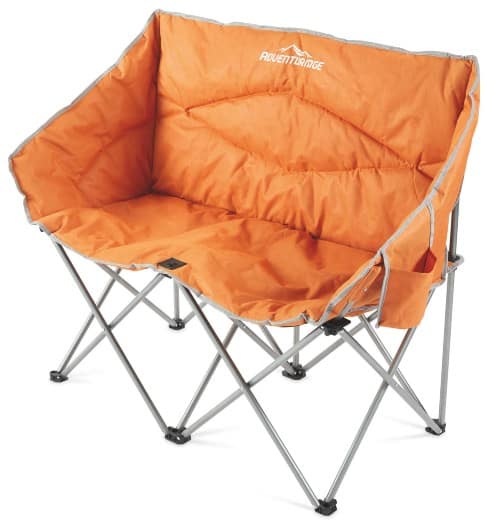 Padded seats provide extra comfort while the cup holders and side arms.
Max weight recommendation: 200kg.
Item weight: 4.2 kg
Only two reviews on the site but 5 stars out of 5.
Supplied with durable carry bag
Eurohike Peak Double Camping Chair
Basic but solid option – not got padding but it's super light and portable.
Max weight recommendation: 90kg on each
Item weight: 2.2 kg
Drinks holder in arm rest
Sturdy and comfortable char that folds up to a small size.
Really good reviews. From 18 ratings this scores an average 4.4 out of 5.
Relaxdays Double Camping Chair With Cooler Pouches
Feature packed double camping chair with with 2 drink holders, cooler and 2 storage compartments.
Max weight recommendation: 100kg
Item weight: 5.3 kg
Respectable reviews scoring an average of 3.8 out of 5 from 19 ratings.
Today's Top Deals & Bestsellers
What To Consider When Buying A Double Camping Chair
Weight recommendation
Who will be using the chair? Check the weight capacity of the two chairs together and make sure you choose something suitable.
Item weight
Are you going to be carrying the chair far? Many double camping chairs are lightweight but you may need to up the budget and sacrifice some features and / or padding.
Portability
Most double camping chairs will fold down – depending on how important the folded down design is to you, please check the dimensions.
Features
Other features include cup holders, reclining function, detachable tables (that can act as stools), carry bags, extent of padding, front support and more. Have a think about what ones are important to you.
Triple Camping Chairs & Greater!
If two is not enough there are lots of triple camping chairs you can get.
I hope this list of the best double camping chairs was helpful.
If you think I left any out that should be included or have a suggestion for a future article, let me know in the comments below.
Dominic
Camping Buyer's Guides
Help ease your shopping with our in-depth buying guides for your next camping purchase.
Camping Furniture (Chairs, Tables, Sofas)
Sleeping (Camp Beds, Sleeping Bags)
Cooking / Kitchen
Tents
Roof Racks & Bags
More Camping Products / Guides
Your Camping Checklist
There's something you always forget when packing for a camping trip. Use our handy camping checklist to make sure you don't forget anything important.
Get more out of your next adventure in the great outdoors with these 24 brilliant camping hacks.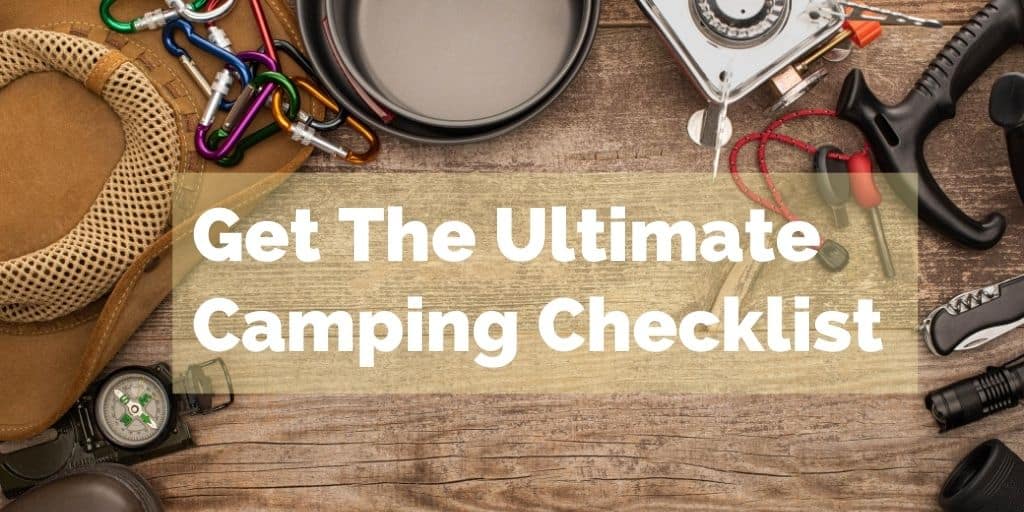 Get more out of your next adventure in the great outdoors with these 24 brilliant camping hacks.