For this post, I have put together a collection of the best inflatable loungers currently available. Get all my top picks for garden furniture, beach accessories or camping essentials.
Our Top Picks
Show Today's Top Deals
These are today's top deals and bestsellers for inflatable loungers.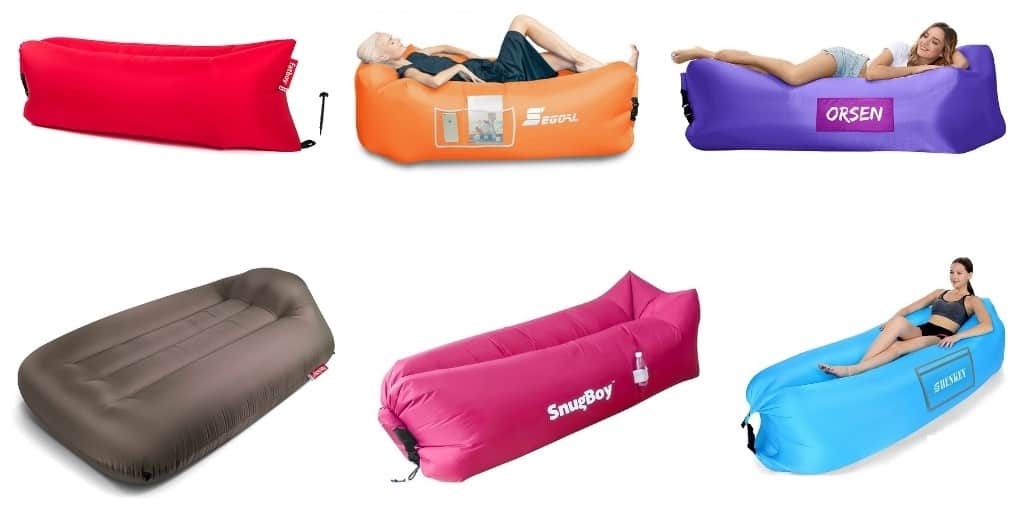 Need something a bit bigger? Get my top picks for the best inflatable sofa – handy for camping or guests visiting at home.
Or see my buying guide to these awesome camping hammocks or hammock stands, ideal for the garden.
Inflatable air loungers are super handy for camping, beach days, picnics in the park or just in the back garden.
There's no need for a pump, you sweep the bag to fill it with air in a few seconds and quickly seal it.
Voila! You have an instant comfy lounger. Because the fold down super small, they are perfect for taking on trips to the beach, campsite or festival.
Over the last few years, there's been a huge number to choose from, starting with the Fatboy Lamzac. We've scoured the web to bring you this curated list of those inflatable loungers that only receive the most positive and enthusiastic reviews.
So here is my list of the the best inflatable air loungers.
Fatboy USA Lamzac The Original Inflatable Air Lounger
Fatboy produced the original inflatable lounger – it's one of the priciest but the best made.
There are cheaper alternatives that do run it close though.
Lamzac is made from a durable, high quality rip stop nylon.
Easy to wipe clean as material is dirt and moisture repellant.
Dimensions: 200 x 90 x 50 centimetres
Weight Capacity: 440 pounds.
Weight: 1kg
Colours available: Aqua Blue (pictured), Taupe, Grass Green, Lime Green & Red. Also Fatboy Hawaii Brown.
Very good reviews. From 11 ratings this scores 4.6 out of 5.
How Do You Inflate A Fatboy Lounger?
Inflating a Fatboy doesn't need to be complicated but a good technique makes all the difference. See this video for a great (and easy) way to do it!
---
Fatboy Lamzac L – Inflatable Sofa Bed
Fatboy also do a variation on their main lounger which is more a large sofa bed.
It's very similar in other regards in terms of how you blow it up, what it's made from and it folds down to a tiny size in a handy carry bag.
Dimensions: 195.1 x 111.8 x 55.1 centimetres
Weight Capacity: 441 pounds.
Weight: 1.32 kg
Colours available: Taupe, Olive Green, Petrol, Black, Tulip Orange, Sky Blue & Jungle Green.
---
Orsen Inflatable Air Lounger
Fantastic, cheaper option to the Fatboy Lamzac with excellent buyer feedback.
Comes with a quality storage bag.
Colours available: Purple & Orange.
Weight: 1.31 kg
Dimensions: 215.9 x 60.96 x 91.44 cm
Weight Capacity: 440 pounds.
Bestselling inflatable lounger gets brilliant reviews.
From 1,016 ratings it scores an average 4.2 out of 5.
The Orsen and most other inflatable loungers can be stay inflated for 6-8 hours.
---
Shenkey Inflatable Lounger
Low cost bestselling option with a mesh bottom making it cooler to lie on.
Colours available: Blue.
Weight: 1.28 kg
Dimensions: 76.77 inches x 20.9 inches
Weight Capacity: 450 pounds.
Includes side pocket.
Comes with carrying bag and peg to secure it in place.
Bestselling lounger with good reviews. Scores 4.1 out of 5 from 494 ratings.
---
Segoal Inflatable Air Lounger
Well reviewed mid price option with integrated pillow and large weight capacity.
Colours available: Blue and orange.
Weight: 1.31 kg
Dimensions: 78 "x 35″ x 23"
Weight Capacity: 600 pounds. The largest we have come across.
Excellent reviews. Many of the inflatable loungers have many mixed reviews – for a variety of reasons, some justified, some less so. But this one stands out for mainly positive feedback.
From 338 ratings, 65% give it 5 stars.
---
SnugBoy Inflatable Air Bed Lounger
No products found.
Another popular brand and the loungers are available in a number of bright colours.
Colours available: Black, blue, green, orange, purple, red, rose red, sky blue and yellow.
Weight: 1.6 kg
Dimensions: 250 x 90cm
Weight Capacity: 250 kg.
Integrated headrest and carry bag.

No products found.

on Amazon but many of these seem linked to not being able to inflate, you need the right technique. See the video on this page to help!
---
Inflatable Lounger Deals & Today's Bestsellers
I hope this list of the best inflatable loungers was helpful.
If you think I left any out that should be included or have a suggestion for a future article, let me know in the comments below.
Dominic
Garden Furniture Guides
Browse our top picks and in-depth buying guides for your next garden furniture piece.