For this post, I have put together a collection of the best door canopies currently available. See all my top picks for the best garden furniture.
Our Top Picks
Show Today's Top Deals
These are today's top deals and bestsellers for door canopies.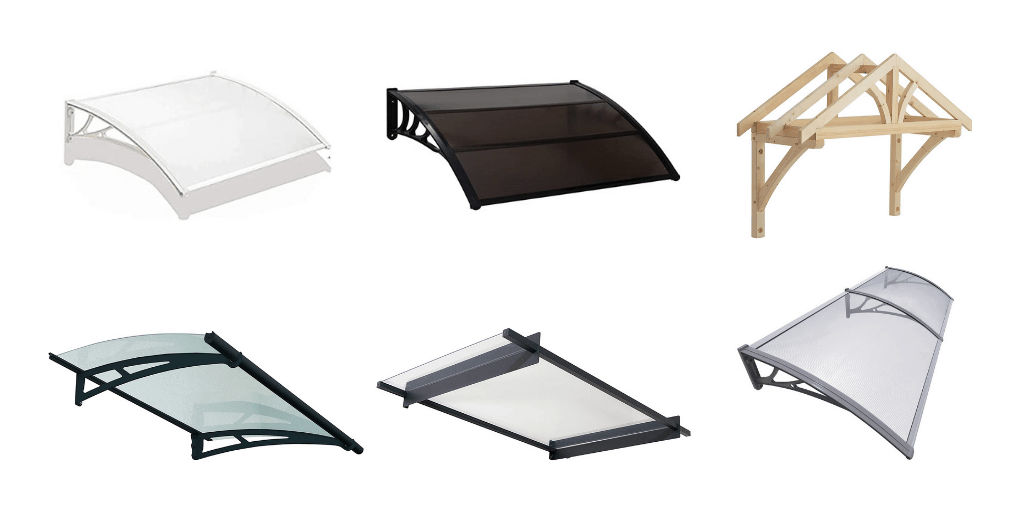 A door canopy will provide shelter from wet weather and UV rays and provide a roof for your front or back door.
From wooden to glass and wrought iron to contemporary, we've selected our favourite door canopies, all of which have excellent customer feedback and 4-5/5 star ratings.
Or take a look at the best pergola kits and hot tub gazebos.
So here is my list of the the best door canopies.
Greenhurst Black Tinted Door Canopy
Discount - Save £16.48
A tinted, heat-reflecting canopy, which provides excellent protection from the sun and rain.
Lightweight and weather resistant it's supplied with wall fixings and easy to install.
1 x Polycarbonate Sheet, 2 x Brackets, 2 x Fixings bars and Rubbers; 1 x Set of Fixings; 1 x Instructions.
Dimensions: 100 x 60 x 23 centimetres
Side brackets are made of plastic, so not as durable as some of our other recommendations.
Greenhurst Black Easy Fit 1m Tinted Door Canopy, 100x60x23 cm. From 217 ratings 85% of buyers gave this 4-5 stars.
---
Palram Aquila Door Canopy
This stylish door canopy blocks 100% of harmful UV rays.
The front anodized gutter and back hidden gasket directs rainwater sideways so theres no dripping on visitors.
Available in 3 sizes.
Made of polycarbonate, galvanized steel and anodized aluminium.
Very good reviews. From 117 ratings 76% of buyers gave this 5/5 stars.
---
Richard Burbidge Apex Porch Canopy
A timber door canopy which has been pre-drilled for easy installation.
Each kit has been fully tested and comes with step-by-step fitting instructions.
Can be stained or painted and tiled to how you like.
1200mm.
Excellent reviews. From 31 ratings 85% of buyers gave this 5/5 stars.
---
Vounot Rain Shelter for Back Door
This door canopy is weatherproof, rain, snow and UV resistant.
Made of polycarbonate so it's light and stable and doesn't make too much noise when there's rain or hail.
Easy to install.
Dimensions: 200 x 80 x 23 centimetres
Fabulous reviews. From 438 ratings 90% of buyers gave this 4-5 stars.
---
Dio-Met Stainless Steel + Real Glass Canopy Porch
A modern glass canopy with polished edges for a contemporary look.
Made of toughened safety glass with steel fixtures.
1440mm Wide
Good reviews so far. From 4 ratings 100% of buyers gave this 5/5 stars.
---
Palram Nancy Door Canopy
For a contemporary look this anti-rust aluminium door canopy is made to withstand harsh weather conditions.
With laser-cut, powder-coated and galvanized steel support arms.
Protect from the elements.
Available in 2 sizes – 1500 and 2050mm.
Good reviews. From 30 ratings 74% of buyers gave this 4-5 stars.
---
Black Country Metal Works Honeysuckle Cottage Over Door Canopy
A traditional door canopy, handmade in iron and finished in satin black.
The canopy is recessed so that it can be glazed and sealed.
There are no clips to hold the glass in place with this canopy so you would have to purchase separately.
Height: 1150mm (45.25″), Width: 1470mm (57.875″), Projection: 760mm (30″).
---
VidaXL Black Door Canopy
Discount - Save £5.00
This black canopy protects from rain without blocking the light.
Although it's made with polycarbonate sheets and plastic brackets it is stable but could not withstand heavy snowfall.
Dimensions: 120 x 100 cm (L x W).
Good reviews. From 10 ratings 75% of buyers gave this 4-5 stars.
---
Yaheetech White Door Canopy
White door canopy which is easy to install.
Will keep the rain, snow and hail off your doorstep.
PVC, plastic and aluminum this door canopy is sturdy and durable.
Dimensions: 120 x 76 x 23 centimetres.
Excellent reviews. From 656 ratings 72% of buyers gave this 5/5 stars.
---
Bigzzia Door Canopy
This polycarbonate panel with curved bracket and aluminium bar makes a stable, corrosion resistant door canopy.
Will protect from snow and hail and the anti-UV panel will protect against harmful UV rays.
Great value for money.
Dimensions: 120 x 80 x 23cm
Great reviews. From 38 ratings 83% of buyers gave this 4-5 stars.
---
FAQ's Door Canopies
What is the purpose of a front door canopy?
A front or back door canopy will provide shelter and protection from the rain and sun. It is usually fitted directly above your front door to give some protection from the elements and also to add kerb appeal.
Why get a door canopy?
A door canopy is a great alternative to a porch and is much more cost effective. It will add a finishing touch to the front or back of your home and also provide adequate shelter to anyone standing at your front door.
Do you need planning permission for a door canopy?
No, you won't need permission to add a door canopy above your door.
How do you fit a door canopy?
Be sure to follow the manufacturer's instructions and ask someone else to help.

You will need a drill, spanner and hammer and will probably need to assemble the door canopy before you fix it to the wall.

You will need to drill holes into your wall in the correct place you want your canopy to go.

Whilst someone is holding the canopy in place you can push the bolts into the wall and secure.

Once you have installed the door canopy check that it fits flush against the wall and then add seal or sealant to prevent any leaks when it rains.
Today's Top Deals & Bestsellers
I hope this list of the best door canopies was helpful.
If you think I left any out that should be included or have a suggestion for a future article, let me know in the comments below.
Nicola
Garden Furniture Guides
Browse our top picks and in-depth buying guides for your next garden furniture piece.