For this post, I have put together a collection of the best bistro sets currently available. See all my top picks for the best garden furniture.
Our Top Pick
My personal favourite is the Greenhurst Wooden Raffles Bistro Set as it's made from solid Acacia Wood, is foldable so can be stored away easily and has comfortable cushions and backrests, for relaxed alfresco dining.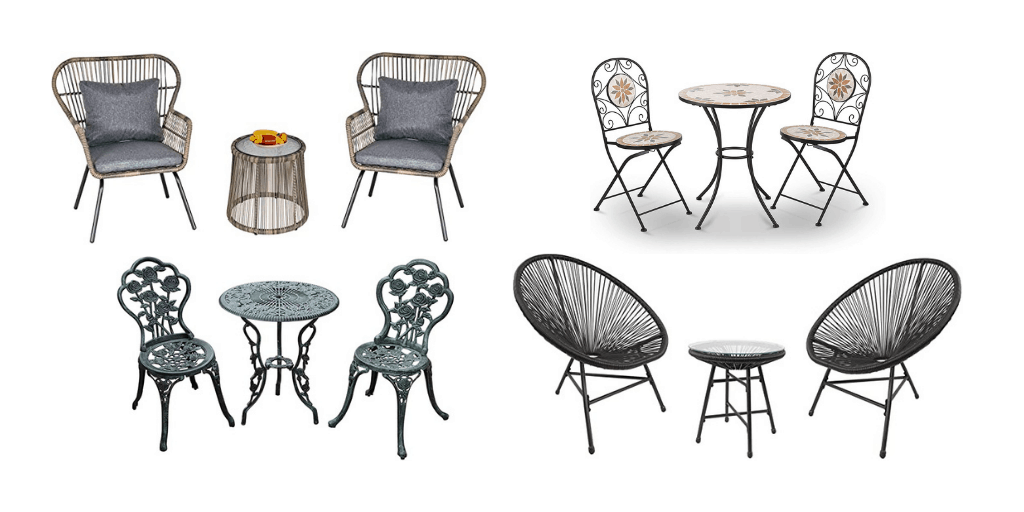 ---
A Bistro Set is an excellent option for creating a small dining space in the garden or on a balcony. They can also be used in conservatories or summer houses and their size means that they won't take up too much space.
A bistro set usually comprises of a small dining or coffee table and two chairs.
From metal to rattan or wood to mosaic, there are plenty of great options for bistro dining.
You may also be interested to see my top recommendations for rattan bistro sets or rattan dining sets.

So here's my pick of the 7 best bistro sets. Enjoy!
Alpine Mosaic Bistro Set
Keep it simple and timeless with this Spanish-style bistro set.
Includes round table and 2 matching chairs, perfect for your patio.
Tan mosaic design with a floral pattern.
Made of durable, weather-resistant steel and ceramic tiles so it will last for years.
Table measures 24″L x 24″W x 28″H and chairs 15″L x 19″W x 35″H.
Excellent customer feedback – 89% of 156 buyers gave it 4/5 stars or more..
Outsunny Cast Aluminium Outdoor Bistro Set
Discount - Save £20.00
Strong cast aluminium bistro set in an elegantly antique design.
Made from sturdy rust free cast aluminium for great stability.
Beautiful design in attractive antique green finish.
Includes 4.6cm umbrella hole.
Verdigris finish creates an antique look.
Table dimension: 60L × 60W x 60H (cm)/ Chair dimension: 37.8L × 37.8W × 84H (cm).
Great customer feedback – 82% of 476 buyers gave it 4/5 stars or more..
Greenhurst Wooden Raffles Foldable Bistro Set
If you like a more rustic look, opt for this foldable wooden garden set.
Great for space saving as can be folded away when not in use.
With comfortable cushions and backrests.
Furniture is made from solid Acacia wood.
Table Size: H72 x 60cm/ Chair Size: H78 x W38 x D34cm.
Hand oiled in a choice of finishes.
Cosco Outdoor Metal Bistro Set
The simple, slimline design will allow you to add seating to even the smallest of patios or balconies.
An all steel, powder coated bistro set that is durable and weather resistant.
Foldable design so ideal for small spaces.
Dimensions: bistro chairs (W) 40.64 x (D) 12.70 x (H) 92.71 cm, bistro table to (W) 59.69 x (D) 3.81 x (H) 93.98 cm.
Available in a bright and zesty lime green.
Great customer feedback – 81% of 26 buyers gave it 5 stars..
Alfresco Living Jakarta Wooden Bistro Set
If you are a lover of wooden outdoor furniture then this bistro set is perfect for you.
The table has a hole for umbrella and an underneath shelf for books or accessories.
The armchairs have comfortable armrests and you could always add your own cushions to add to the comfort.
This three piece set, including two chairs and table.
Table: H58 x W145 x D53cm/ Chair: H88.5 x W60 x D63cm.
Great customer feedback – 71% of 45 buyers gave it 5 stars..
---
RayGar String Bistro Set
This stylish retro style bistro garden set comprising of 2 chairs and a table with glass top is perfect for both indoor and outdoor use.
The egg shaped seats not only look great but feature a rattan string weave on a robust frame to provide excellent support and comfort.
The tempered glass table top is secured with suction cups, ideal for resting your drinks and nibbles on.
This set will brighten up your space and add an eye-catching accent to your home or garden.
Chair Dimensions: 68 x 68 x 79 cm /Table Dimensions: 45 x 45 x 49 cm.
Available to buy in Black or Blue.
Great customer feedback – 71% of 45 buyers gave it 5 stars..
---
Outsunny PE Rattan Bistro Set
Cool bistro set with chairs formed into a wing shape, where steel forms the frame and is wrapped in PE wicker in a webbed design.
Each chair comes with a back and seat cushion for comfort.
The round table, in the same design, is fitted with a glass top for long-term use.
Perfect for small balconies, gardens and other outdoor spaces.
Chair: 95.5H x 76.5W x 81.5Dcm. Table: 47H x 49cm.
If you love rattan, check out our buyer's guide to rattan bistro sets.
---
I hope this list of the best bistro sets was helpful.
If you think I left out one that is important or have a suggestion for a future article, let me know in the comments below.
Nicola
Garden Furniture Guides
Browse our top picks and in-depth buying guides for your next garden furniture piece.