For this post, I have put together a collection of the best cantilever parasols currently available. See all my top picks for the best garden furniture.
Top Picks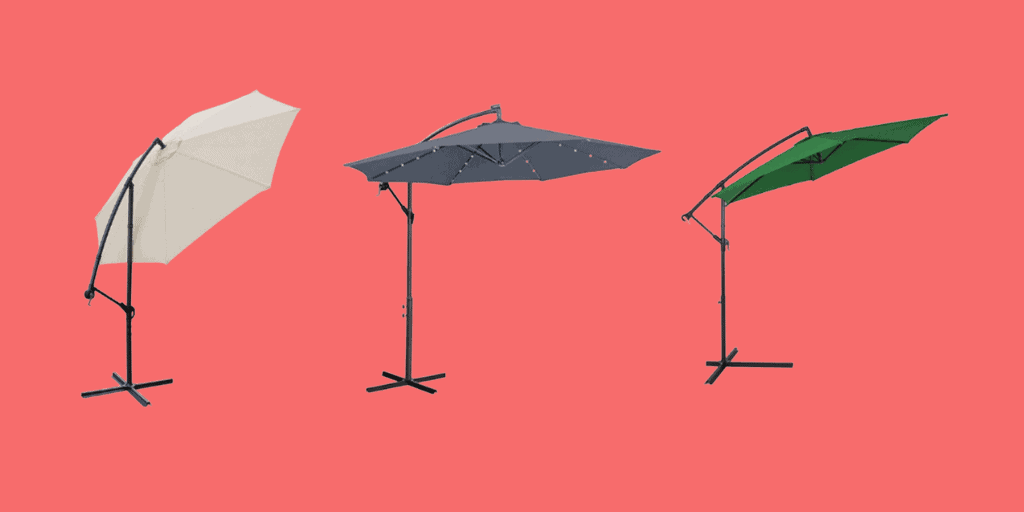 Cantilever parasols are the ideal solution for providing shade from the sun or cover from a rain shower when you're sitting in the garden.
A cantilever parasol is like having a giant parasol or umbrella, which can be positioned over garden furniture.
The good thing about cantilever parasols rather than your more traditional garden umbrella is that they are freestanding, so they won't block your view across a table.
How We Selected
We've handpicked some of the best cantilever parasols available.
We've looked at dozens of reviews to bring you a list of our favourite options.
All of our recommendations have good feedback from buyers are 4-5/5 star ratings.
Keep shaded with our guides to the best pergola kits, door canopies and hot tub gazebos.
Let's get started!
Grand Patio Cantilever Umbrella with Base
A stylish round deluxe offset cantilever market umbrella.
Rust-resistant powder-coated aluminium pole and 8 heavy duty ribs provide strong grip and prevent chipping, peeling and corrosion.
It offers 99% UV protection.
Fabric is durable, water-repellent and fade-resistant and carries a 3-year guarantee.
Pros: UV protection, sturdy, crank and tilt mechanism for ease of use, air vent so air flows.
Cons: Expensive.
Consumer Score: A popular cantilever parasol with 74% of buyers giving it 5 stars out of 5.
SORARA ROMA Cantilever Parasol
Large square shaped cantilever umbrella with crank mechanism so it's easy to fold and unfold.
The parasol is vastly weatherproof, with its powder coated pole and quality canvas it is very well protected against the elements.
Factor 50+ protection.
Pros: Some UV protection, weatherproof, square sun shade for a different look.
Cons: Very expensive.
Consumer Score: Buyers love this cantilever parasol with 86% of buyers giving it 5 stars out of 5.
Festnight Wall-Mounted Parasol
An elegant wall-mounted parasol which is ideal to shade and protect you from the sun's harmful UV rays.
It's ideal for patios which are next to the house.
The design of this parasol allows you to tilt the parasol to block the sun as it sets.
Pros: Wall mounted so ideal for patios next to house, crank mechanism for easy use.
Cons: Only suitable if being used next to house. Can't move to different part of garden.
Consumer Score: A popular cantilever parasol with 81% of buyers giving it 4-5 stars out of 5.
Greenbay 3m Banana Parasol
Stylish banana hanging parasol with a crank winding mechanism to open and close your parasol conveniently.
With strong solid metal pole with 8 natural finish frame ribs to bear weights.
The inclination angle of the umbrella is adjustable with the crank winding mechanism.
Pros: Available in various colours, crank winding mechanism for ease of use, affordable.
Cons: You need to add your own weights to base.
Consumer Score: Buyers like this cantilever parasol with 83% of buyers giving it 4-5 stars out of 5.
TFACR Tilting Cantilever Hanging Sun Umbrella
Strong parasol with thickened steel tube, high temperature baking paint, corrosion-resistant thickened PU coated umbrella surface, rain and sun protection.
Exquisite wave design, easy to open and close.
Pros: Durable, coated to protect against light rain and sun.
Cons: Only available in green.
Wall Mounted Telescopic Cantilever Parasol with LED option
Folding and telescopic parasol which is ideal for mounting on a wall over a patio or decking area.
Waterproof polyester with protective layer.
Will not fade easily. Can opt for one with LED lights which come as 15 strips.
The unique design of this parasol allows you to tilt the parasol to stop the sun as it gets lower.
Pros: Wall mounted so ideal for patios next to house, crank mechanism for easy use, can order with LED lights.
Cons: Expensive.
Why Buy a Cantilever Parasol?
A cantilever parasol is a great option to consider over a traditional garden umbrella as you can use it to create shade anywhere you want in your garden, rather than just over a garden table.
A stylish parasol can help to add a touch of class to a garden and will be a feature rather than a distraction.
A cantilever parasol is usually quite large so it will help to stop you getting sunburnt and will also help to keep you and your drinks cool in hot weather. It will also stop you from getting wet in a surprise downpour.
How To Clean Your Cantilever Parasol
You can either start by brushing off any loose dirt or leaves, and then hose it down with cold water.
With a sponge or soft bristled brush, give it a good scrub with warm water and some washing up liquid.
Leave it to soak in for a few mins, then rinse thoroughly with cold water.
For stubborn stains use a mixture of white vinegar, baking soda, lemon juice and salt.
These ingredients will sterilise and deodorise the parasol.
Make sure you rinse off with plenty of warm water.
Also think about investing in a parasol cover to keep it in the best possible condition throughout the winter.
FAQ's Cantilever Parasols
Should cantilever parasols sway in the wind?
Yes, they will move in the wind, but should be durable enough to stay standing if weighted correctly.
Do you need a special base for a cantilever parasol?
You need to make sure the cantilever parasol is weighted to counterbalance the canopy while open. Smaller parasols should be fine with a 50kg base and larger ones will require up to 70kg to keep them secure.
How good are cantilever parasols?
They are a good option as you can move the parasol away from its stand and place it in the area you want shade allowing more space underneath it.
Cantilever Parasol Sale & Today's Bestsellers
Final Thoughts
My top pick is the Grand Patio Cantilever Umbrella with Base as it looks super strong and sturdy, has excellent 5/5 star customer feedback and is available in two sizes.
I hope this list of the best cantilever parasols was helpful.
If you think I left any out that should be included or have a suggestion for a future article, let me know in the comments below.
Nicola
Last Updated: February 2022
Added Top Picks.
Added 'How We Selected.'
Updated image.
Added Pros/Cons on all products.
Added consumer scores where relevant.
Added FAQ's.
Added Final Thought.
Moved unavailable products to bottom of article.
Garden Furniture Guides
Browse our top picks and in-depth buying guides for your next garden furniture piece.
Argos Home Light up LED Overhanging Parasol – Black (currently unavailable)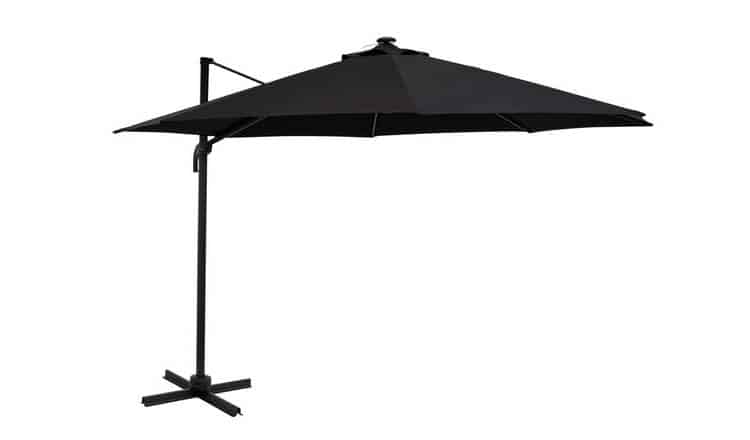 This cantilever LED outdoor parasol will add some ambient lighting at night and some sun shade in the day.
With its solar-powered LED lights and simple switch, you can carry on entertaining into the night.
Ideal for cosy outdoor gatherings.
Norfolk Leisure 2.6m Square Deluxe Cantilever Parasol & 80kg Parasol Base & Cover (currently unavailable)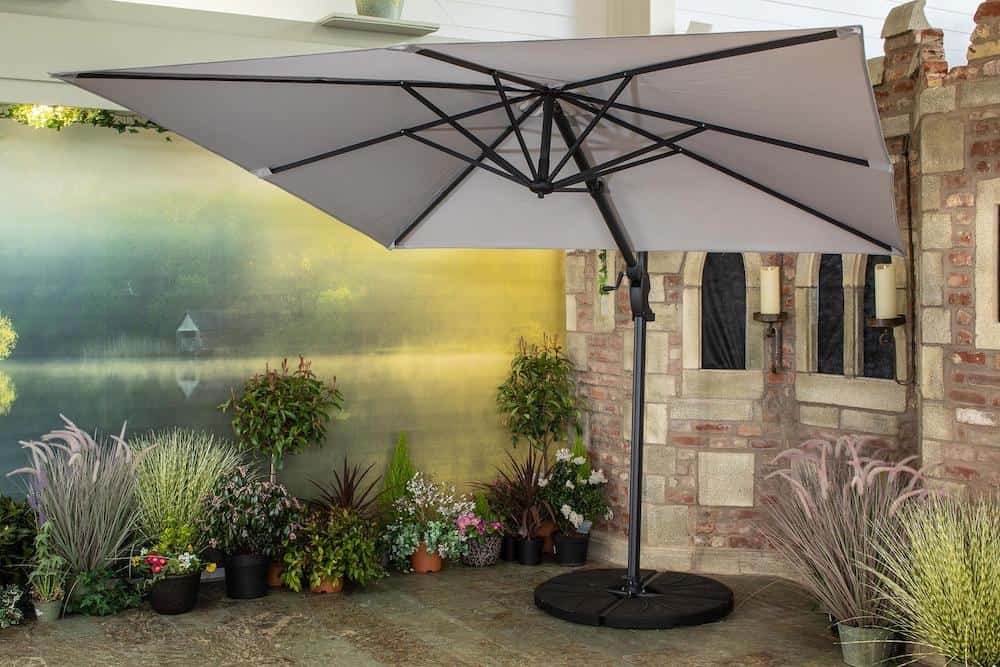 This 2.6m square deluxe cantilever parasol is ideal for smaller patios & will suit modern dining sets.
It has a sturdy aluminium frame with cross base which is powder coated with an anthracite finish and comes with a high quality 220gsm polyester canopy in a choice of Taupe or Mouse Grey with a top air vent.
The parasol is strong and durable with an easy opening action using the crank handle so that there is full 360 degree rotation with a tilt front to back.
Novonova Cantilever Garden Parasol with LED Lights (currently unavailable)
UV50 + cantilever parasol provides excellent sun protection.
The tilting parasol can adjust to suit your needs and it can also rotate 360 ​​degrees so you can keep shaded all day long.
With LED lights which can be used in the evening for ambient garden lighting.
Deuba Garden Sun Parasol (currently unavailable)
The covering of this parasol is water-repellent and provides UV protection 40+.
Easily position and tilt the parasol as you like.
So you're always well protected from the sun.
Crank mechanism ensures an easy opening and adjusting.
This aluminium sun parasol comes with a hook and loop retaining strap so you can tie up the parasol compactly.