For this post, I have put together a collection of the best garden swing seats currently available. See all my top picks for the best garden furniture.
Our Top Picks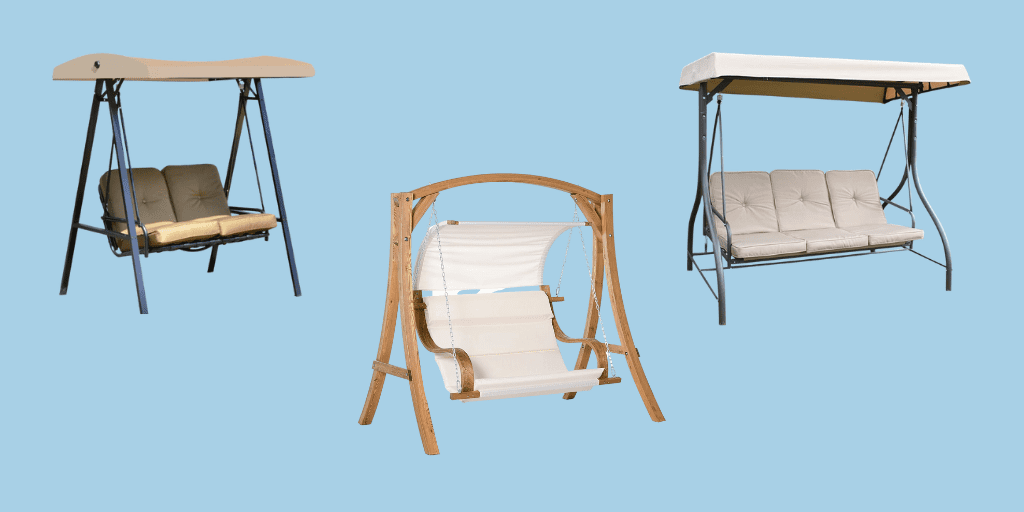 A garden swing seat makes a perfect addition to any garden! It's the ideal place to sit back, swing gently and relax in the sunshine.
How We Selected
We've scoured the internet to find the best garden swing seats available.
We've selected our favourites, all of which have excellent customer feedback and 4-5/5 star ratings.
From wooden to metal and affordable to luxury, there are styles to suit all tastes and budgets.
Also take a look at the best hammock stands, hot tub gazebos and cantilever parasols.
See the NHS website for advice and information on sun safety.
So here is my list of the the best garden swing seats.
Bargainsgalore 3 Seater Garden Swing Chair
Seats three people on thick padded cushions, made from a combination of waterproof polyester, Oxford cloth and cotton.
The swinging mechanism is made of high-quality steel pipe, and the adjustable canopy allows you to control how much sun or shade you're exposed to.
Overall dimensions: L 175cm x W 110cm x H 155cm Seat dimensions: L 132cm x W 50cm x H 50cm Get a three-seater garden swing chair.
Available in Grey/ Black.
Pros: Great value for money. This garden swing seat is ideal if you don't want to invest in an expensive one.
Cons: Quite small for a three seater.
Consumer Score: 83% of buyers give it 4-5 stars.
Outsunny 3 Seater Wooden Swing Chair
Swing seat made from solid larch wood, which is solid and tough.
With 'A' shaped ends for balance at all times.
The painted surface helps protect the wood.
The seat, which comfortably holds two people, comes with a small canopy to shield you from the sun.
Maximum load 200kg, assembly required.
Overall dimensions: 192H x 190L x 130Wcm. Canopy: 120L x 115Wcm. Seat: 110W x 60Dcm.
Pros: Curved two-person seat and armrests allow you to sit comfortably, stylish.
Cons: Need two people to assemble as heavy.
Consumer Score: 79% of buyers give it 4-5 stars.
Garden Market Place 3 Seater Swing Seat
A heavy duty steel framed swing seat and bed with textaline seat and shower proof luxury cushions.
Easily seats 3 people.
Supplied flat packed but can be assembled in 30 minutes by 2 people and tools are supplied.
Matching beige / brown coloured frame and thick cushion, textaline seat base and polyester canopy.
Overall dimensions 192cms wide, 120cms deep and 171cms tall. Seat is 150cms wide, 52cms deep and 54cms tall.
Pros: Comfortable, durable, easy to assemble.
Cons: Some buyers mention the cushions slip when you sit on them.
Consumer Score: 81% of buyers give it 4-5 stars.
Outsunny Garden 2 Seater Metal Swing Chair
An elegant metal swing chair with floral heart scrolling on the back, in an antique bronze coloured finish.
Two seater chair.
Solid steel frame is tough and durable, with a powder coating for protection outdoors and extra strength.
Slatted seat prevents water building up and allows air to circulate.
Slightly curved seat, high back and armrests for comfort.
'A' shaped frame promotes even balance and stability, with four hanging chains connecting to the bench for safety.
Maximum load 220kg, assembly required.
Pros: Elegant and stylish, tough and durable.
Cons: A little uncomfortable after a while.
Consumer Score: 100% of buyers give it 4-5 stars.
Josephine 3 Seater Swing Seat with Stand (Wayfair)
A dual-use swing chair which can also convert into a double hammock.
Constructed from strong and durable powder-coated steel, the heavy-duty swing chair can seat at least 3 adults.
The large size gazebo has a water-resistant 2-tier canopy top.
The removable zippered mesh curtains can give protection from the elements and privacy.
It comes with two 6cm-thick cushions, two soft pillows and two neck rolls for a luxurious feel.
Pros: Doubles up as a hammock, gazebo for weather protection.
Cons: Quite large so not suitable for all gardens, pricey.
Consumer Score: With average 4.4/5 star ratings.
Available to buy from Wayfair.
Take a look at the best Hot Tub Gazebos.
Akins 2 Seater Swing Seat with Stand (Wayfair)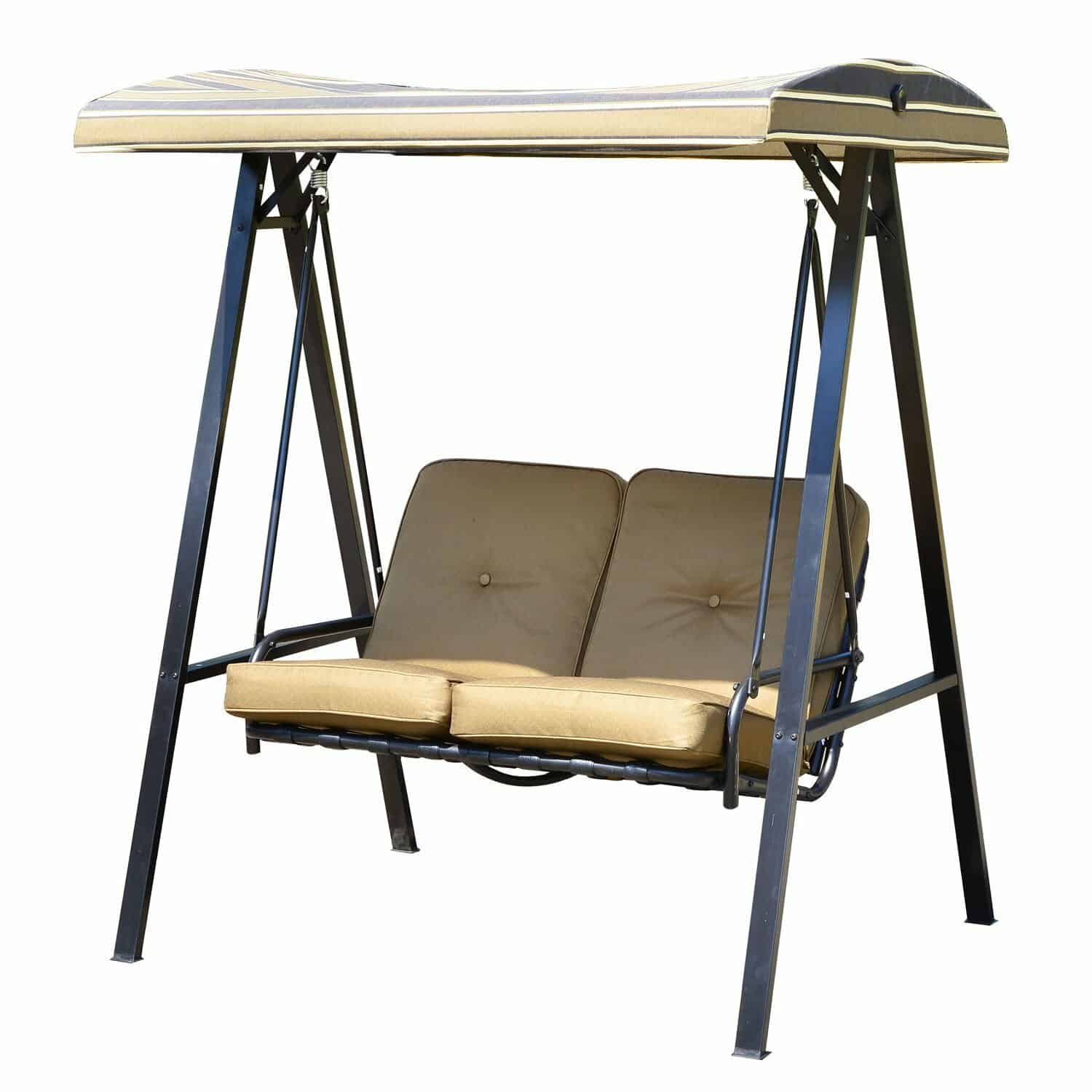 Small two seater swing chair.
Metal frame for durability.
There is a canopy for shade and padded cushions for comfort.
Overall dimensions; 174cm H x 138cm W x 106cm D.
Pros: Strong, canopy for shade.
Cons: Small.
Consumer Score: With average 4.7/5 star ratings.
Available to buy from Wayfair.
Things To Consider When Buying A Garden Swing Seat
Size
Think about how much space you have in your garden and what size the chair is that you are buying. Will it fit into the space nicely without taking up too much room?
Portability
Will you be using the swing seat all year round or will you want to store it away in the winter months? Some swing seats are easier to be taken apart and stored away, whereas others are really permanent fixtures once in your garden.
Style
There are lots of options when it comes to style, from wooden to metal and cushions to canopies. It comes down to personal taste but if you are investing in a swing seat for the garden, it's worth getting one which you love the look of.
Surface
Are you planning on putting your swing seat on the lawn or patio? Think about the surface and make sure you find somewhere which is even ground and which will support your chair.
FAQ's Garden Swing Seats
Is a metal or wooden swing seat better?
Both can be strong and fare well in bad weather, so it comes down to personal taste. Wooden frames will probably require treating yearly with a sealant to keep it in good condition.
What is the weight limit for a garden swing seat?
Always check manufacturer guidelines before you buy as each swing seat will have a different weight capacity.
What extra features can you get with a swing seat?
Things like comfortable arm rests, headrests, cushions and drinks holders can make your swing seat experience all the more appealing.
Cheap Garden Swing Seats & Today's Bestsellers
Final Thoughts
My overall top pick is the Outsunny Wooden Porch Swing Chair, a curved two-person swing seat, which looks super stylish and has a solid wood frame so it's durable and perfect for patios and gardens.
I hope this list of the best garden swing seats was helpful.
If you think I left any out that should be included or have a suggestion for a future article, let me know in the comments below.
Nicola
Last Updated: March 2022
Added 'How We Selected.'
Added link to NHS website.
Added Pros/Cons on all products.
Added 'Things To Consider'.
Added FAQ's.
Added Final Thought.
Moved OOS.
Garden Furniture Guides
Browse our top picks and in-depth buying guides for your next garden furniture piece.
Outsunny 3 Seater Wooden Garden Swing Seat (currently unavailable)
This simple and elegant swing chair is made from high quality Russian larch wood and galvanized steel chains.
The sturdy construction and easy installation makes it a winner.
The wooden canopy will protect you from the sun.
3 seater garden swing chair will will never date.
Approx overall size: (L) 200 X (W) 125 x (H) 185cm/ Bench size about: (L) 147 x (W) 55 x (H) 56cm/ Canopy size About: (L) 210 x (W) 120cm
85% of buyers give it 4-5 stars from 23 ratings.
Ciuitixi Outdoor 2 Seater Kids Swing Seat (currently unavailable)
No products found.
This swing seat is a perfect mini version for children to enjoy themselves and relax in the garden or on the patio.
With a heavy-duty steel frame, it is very sturdy and robust.
Additionally, a sunshade canopy is also included to protect your little ones from direct sunlight.