For this post, I have put together a collection of the best outdoor bean bags. Get my top picks on garden furniture.
See my guide to the bean bag for kids and giant bean bags.
Our Top Picks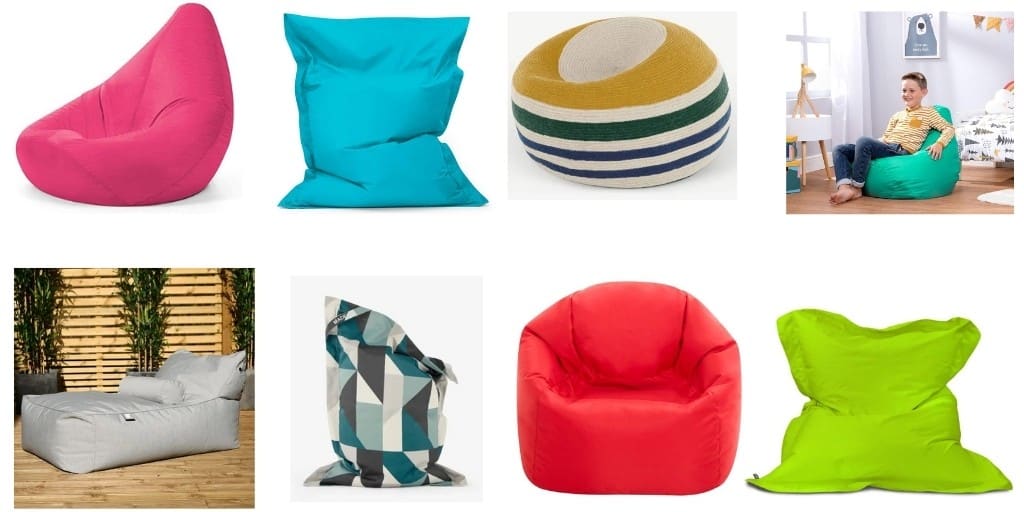 ---
Create your relaxing garden retreat with one of these stylish outdoor bean bags.
How We Selected
I've scoured the web looking at dozens of outdoor bean bags to save you hours of research.
There is a huge selection of garden bags and I've selected a range including ones suitable for children (think bright colours or for gaming, easy to clean), ones for indoors as well as outdoors.
I've also included high end luxury bags along with a range of sizes!
We've picked ones that look great and receive the most enthusiastic reviews including giant ones and those that the kids will also love!
I've only picked ones with a minimum of 4 stars.
So here is my list of the the best garden and outdoor bean bags.
Layla Outdoor Cocoon Bean Bag
Stylish, multi-striped braided weave garden bag that also works very well indoors.
Pros: Customers love the colours, style and firmness.
Cons: Double check your sizing, some buyers found it bigger than they expected.
Consumer Score: Good reviews. From 7 reviews it scores 3.9 out of 5.
---
Bean Bag Bazaar Giant Outdoor Bean Bag Chair
This rectangular bean bag measures 180cm x 140cm and is available in 14 different colours.
Extra large size.
Designed for both outdoor and indoor use.
Made with 100% waterproof fabric.
Comes in 2 bags bean.
Bestselling bean bag receives outstanding feedback.
Pros: Relatively lightweight design for its size (4.4kg) so can be easily moved around, Huge range of colours means you can get something to go with your room design.
Cons: Be sure to find somewhere to put it when not in use, as it's super big! Some would like it to be filled with more beans!
Consumer Score: From 1,635 ratings it receives an average customer score of 4.6 out of 5 with 80% of buyers giving it 5/5.
Retailers:
---
Extreme Lounging Pastel B Bed Outdoor Bean Bag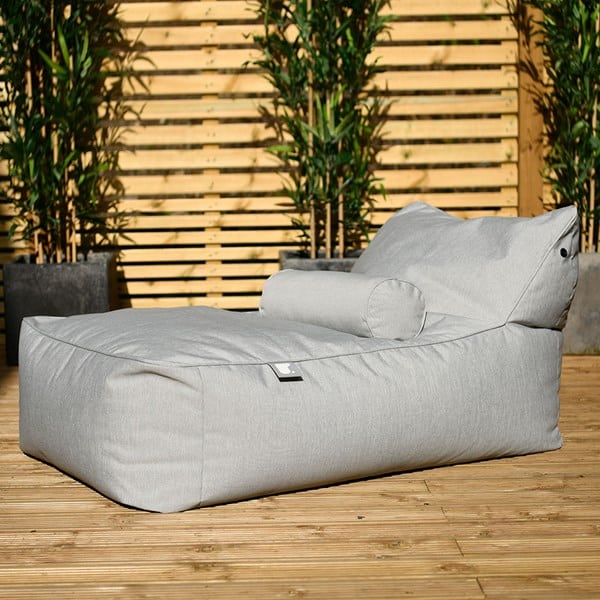 Stylish, luxurious indoor and outdoor bean bag bad.
Made from a weatherproof and UV resistant cover.
Filled with specially designed polybeads that move and mould to your shape.
Colours available: Pastel Blue, Pastel Green and Pastel Orange.
Pros: High quality and comfortable.
Cons: Expensive.
Consumer Score: Four reviews give this 5 stars out of 5.
---
High Back Recliner Chair Bean Bag (Bean Bag Bazaar)
This high back reclining bean bag chair is for both indoor and outdoor use.
Good for a range of activities including gaming, movie watching, reading or simply lying about.
Pros: Bright colours are perfect for pleased children.
Cons: Some buyers complain about it needing more beans but many say you simply need to take time to shape it.
Colours: Available in a range of colours: aqua blue, black, blue, grey, lime green, orange, pink, purple, red and Chartreuse Green.
Consumer Score: Buyers rate this bean bag chair highly giving it 4.5 out of 5 citing its cosyness and comfort.
Retailers:
---
Piggy Bean Bag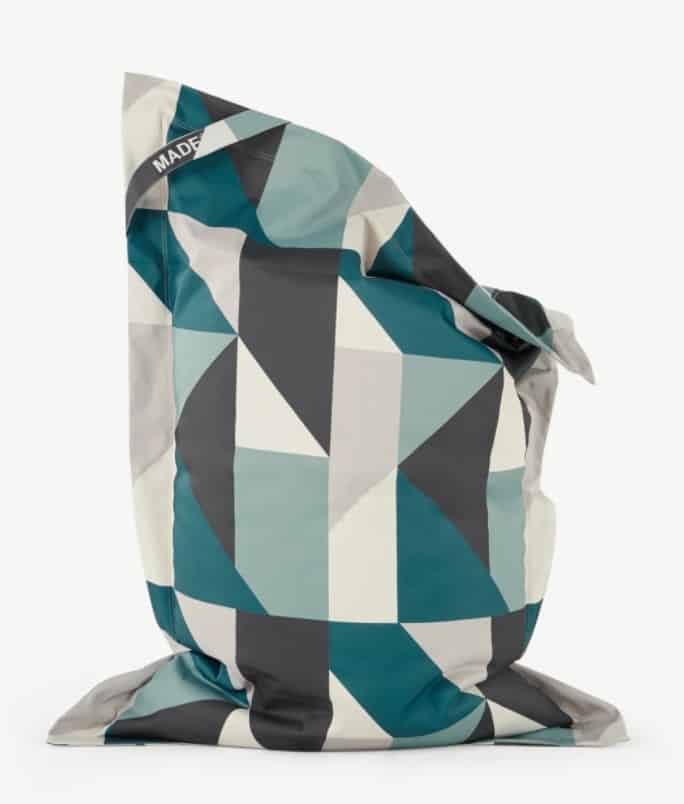 Beautiful teal multi print made from polystyrene beads.
Pros: Buyers find this super comfy, perfect for movie nights, tough and durable, dogs and kids love it!
Cons: Quite pricey but buyers say worth it.
Colours: Grey, orange, teal multi print, yellow and teal weave.
Consumer Score: Fantastic reviews. From 57 reviews this scores an average 4.7 out of 5.
---
Junior Bean Bag (Junior Squarbie)
Multi use bean bag that is designed for indoor and outdoor use.
Feature two safety-locking zips.
Fabric is strong, durable, water resistant, UV resistant, wipe clean & machine washable.
Pros: Easily cleaned with a wipe, vivid colours, can be shaped into a range of different positions.
Cons: Not many! Double check size as some say looks bigger than it is.
Colours: Available in a huge range of colours: Black, red, orange, lime green, purple, royal blue, turquoise, grey, navy and and cerise pink.
Consumer Score: Buyers love this bean bag, 81% of 179 reviewers gave it 4* or higher.
Retailers:
---
Double Beanbag – Soft Grey
Super comfy sofa inspired bean bag in a soft grey.
Double stitched for durability.
Fade-resistant in direct sunlight.
Cover fabric is both breathable and splash proof
Pros: Looks absolutely beautiful.
Cons: The price.
Consumer Score: No ratings yet.
---
Hi-Rest Chair Bean Bag (Bean Bag Bazaar)
Provides cushioned comfort for children, with a raised back for support and a spacious seat for youngsters to sink into.
Designed using wipe-clean, water-resistant fabric.
For use indoors and outdoors.
Pros: Super lightweight and portable.
Cons: Make sure you measure up and get the right size.
Sizes: Available in medium, large and toddler sizes.
Colours: Available in child friendly bright colours: Blue, Pink, Red, orange, lime green, navy blue, purple, grey, aqua blue, ochre yellow and rose dust pink.
Consumer Score: Well reviewed bean bag for kids with 82% of parents giving this 4* or better.
---
Gaming Chair Bean Bag (Bean Bag Bazaar)
Discount - Save £2.46
Some reviews talk about factory small but many parents advise to leave outside for 2-3 days and it's gone.
Colours: Loads of kid friendly colours.
Dimensions  69cm x 59cm
Pros: Not just for gaming – can be used for reading, lazing about or outside. Available to order in 2 packs = savings. Made in water resistant fabric that's easy to wipe clean.
Cons: Some complain about being underfilled but if right size for child it's fine.
Consumer Score: Bestselling gaming chair bean bag with over 1,402 reviews with 86% 4 stars or above.
Retailers:
---
Outdoor Bean Bag Sale & Today's Bestsellers
What To Consider When Buying An Outdoor Bean Bag
Before adding to basket have a run through the following to make sure you get the right one for you!
Durability of Material
Your outdoor bean bag should be UV resistant as it's going to be hit by a lot of rays (well, depending how British the weather is!)
Although we recommend keeping it in garden storage or inside check your outdoor bean bag can simply be wiped down with a damp cloth.
Choice of colour
You may tone things down indoors but why not add a big bold splash of colour in the garden?
Many of our recommendations above are available in all sorts of neon and citrus like colours.
And if it's for the kids they'll surely love something bright and fun!
Filling Material
The most common filling is some kind of poly bead filling.
These do compress over time and get smaller so do be aware you may well need to occasionally refill these.
Functionality
Depending what size you go (also check our guide to giant bean bags) they can get very heavy so you may wish to go for something with handles so you can cart it about a little more easily.
I hope this list of the best outdoor bean bags was helpful.
If you think I left any out that should be included or have a suggestion for a future article, let me know in the comments below.
Dominic
Last Updated: January 2022
Added Pros and Cons for all products.
Updated review scores.
Updated How We selected.
Added alternative buying options at eBay where relevant.
Garden Furniture Guides
Browse our top picks and in-depth buying guides for your next garden furniture piece.