For this post, I have put together a collection of the best bean bags for kids currently available. See my guide to the latest kids bedroom furniture.
More beanbags? See my guide to the best giant bean bags and garden bean bags.
Our Top Picks
My personal favourite are the stylish, sack shaped bean bags from Great Little Trading Co. because there's plenty of lovely designs to choose from, their triangular layout is ideal for cosying up in the corner with a good book. It's 100% cotton so super soft and washing machine friendly.
For great value I love the designs from HBean Lazy – you can choose from unicorn, dinosaur or pirate and many more.
I've searched 100s of sites to bring you the best products for your children's room – these include a buying guide for the best kids desk, kids sofas, toy storage and many more.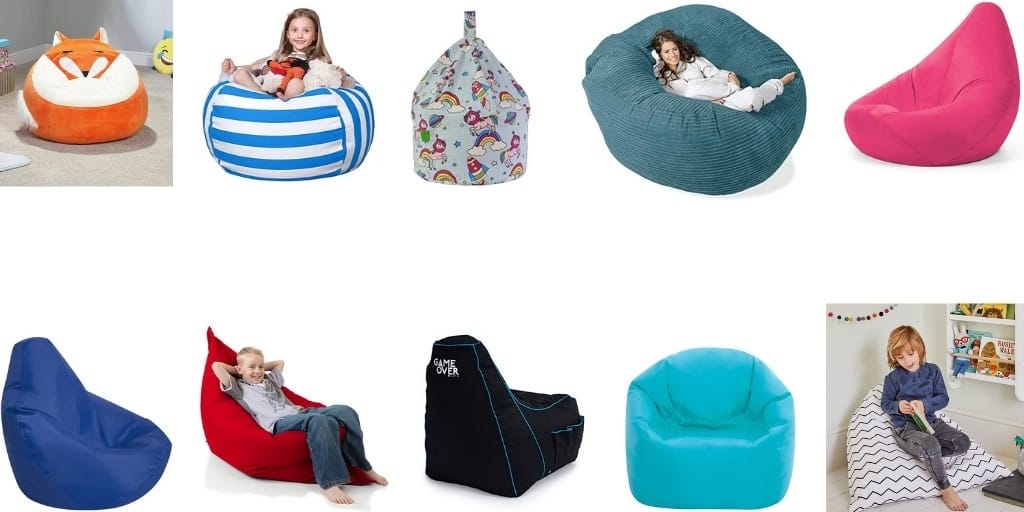 So here is my list of the the best bean bags for kids. Enjoy!
Washable Bean Bag, Zigzag (Great Little Trading Co.)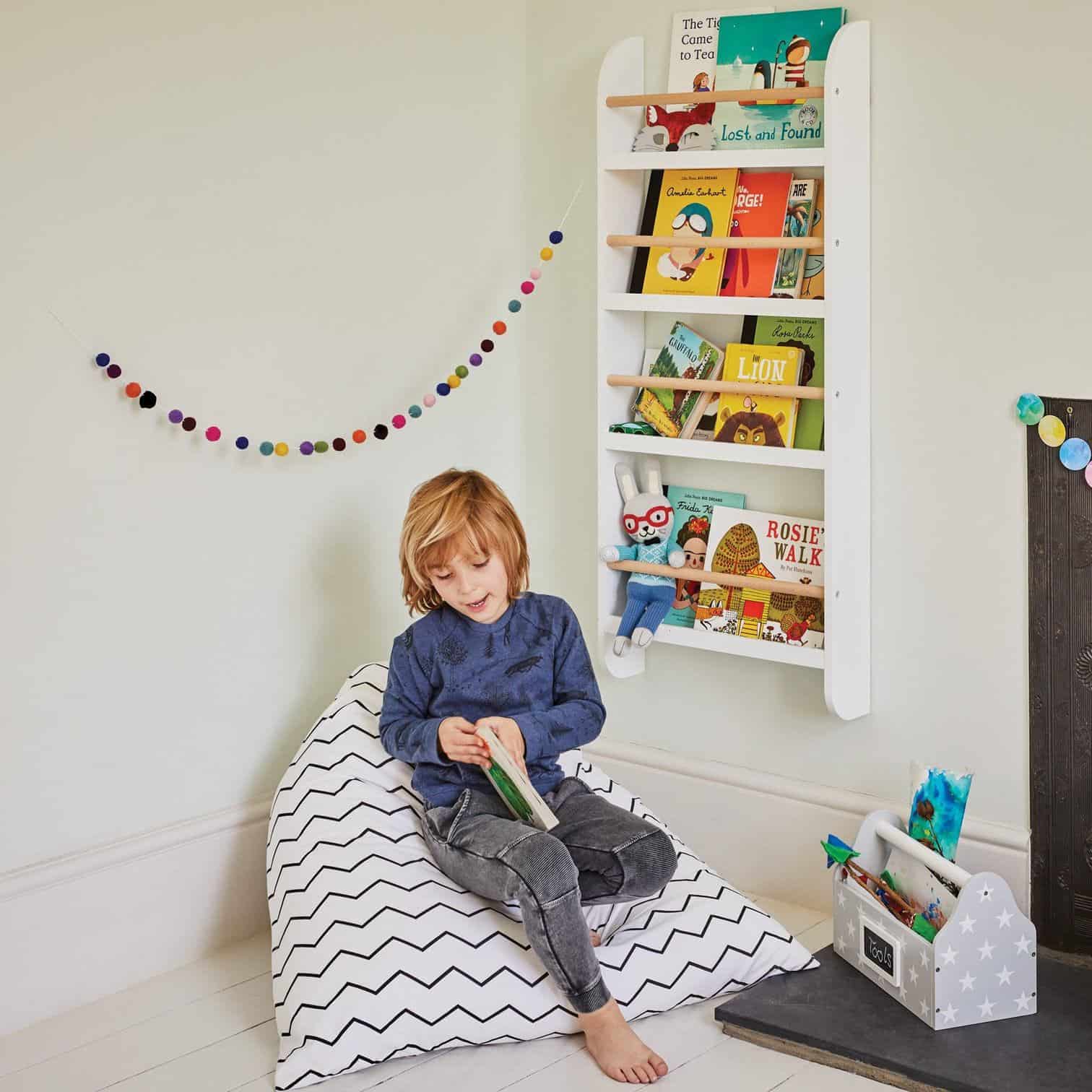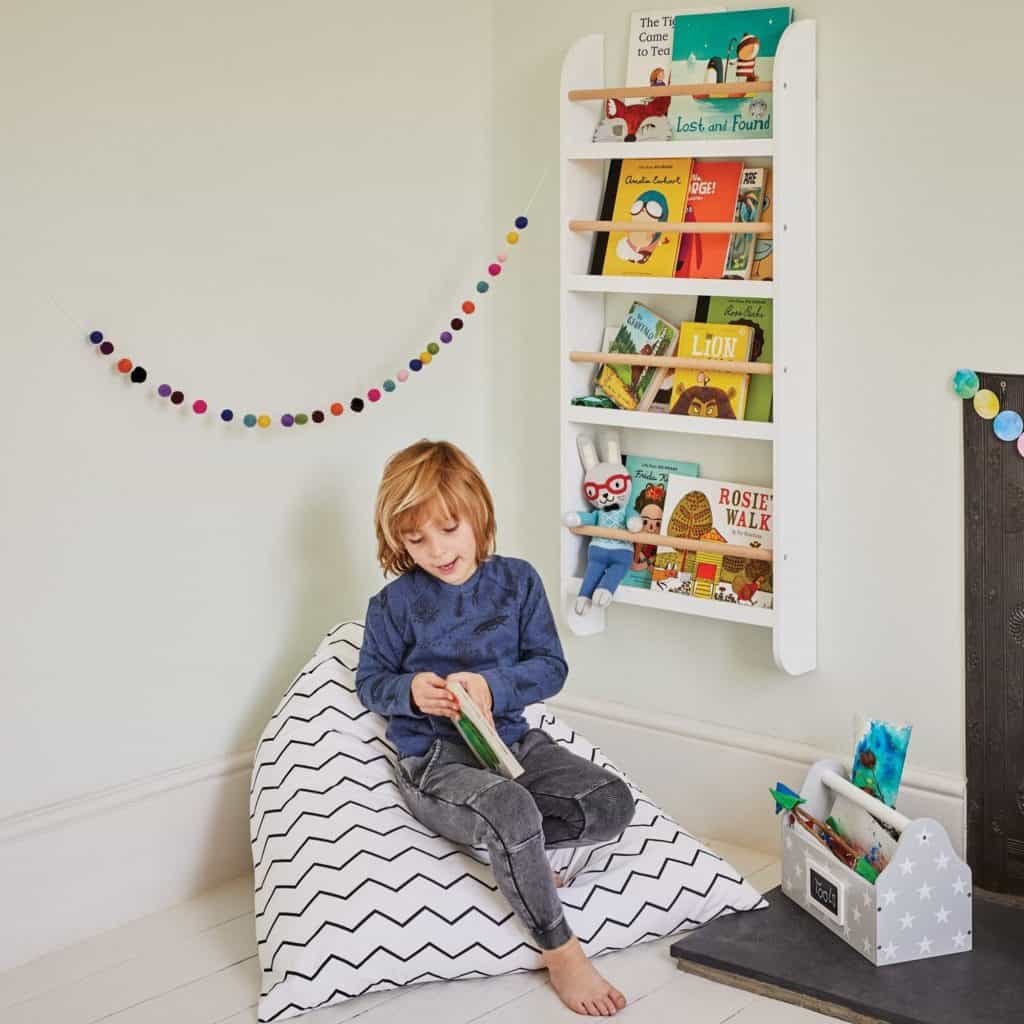 Simple but stylish zigzag design on this sack shaped beanbag from child specialists, GLTC
The triangular design means the bag fits nicely in the corner for the perfect reading spot.
The cover is 100% cotton and be thrown in the wash.
This bean bag is also available in Navy Stardust, Grey Stardust and more.
Argos Home Fox Bean Bag Chair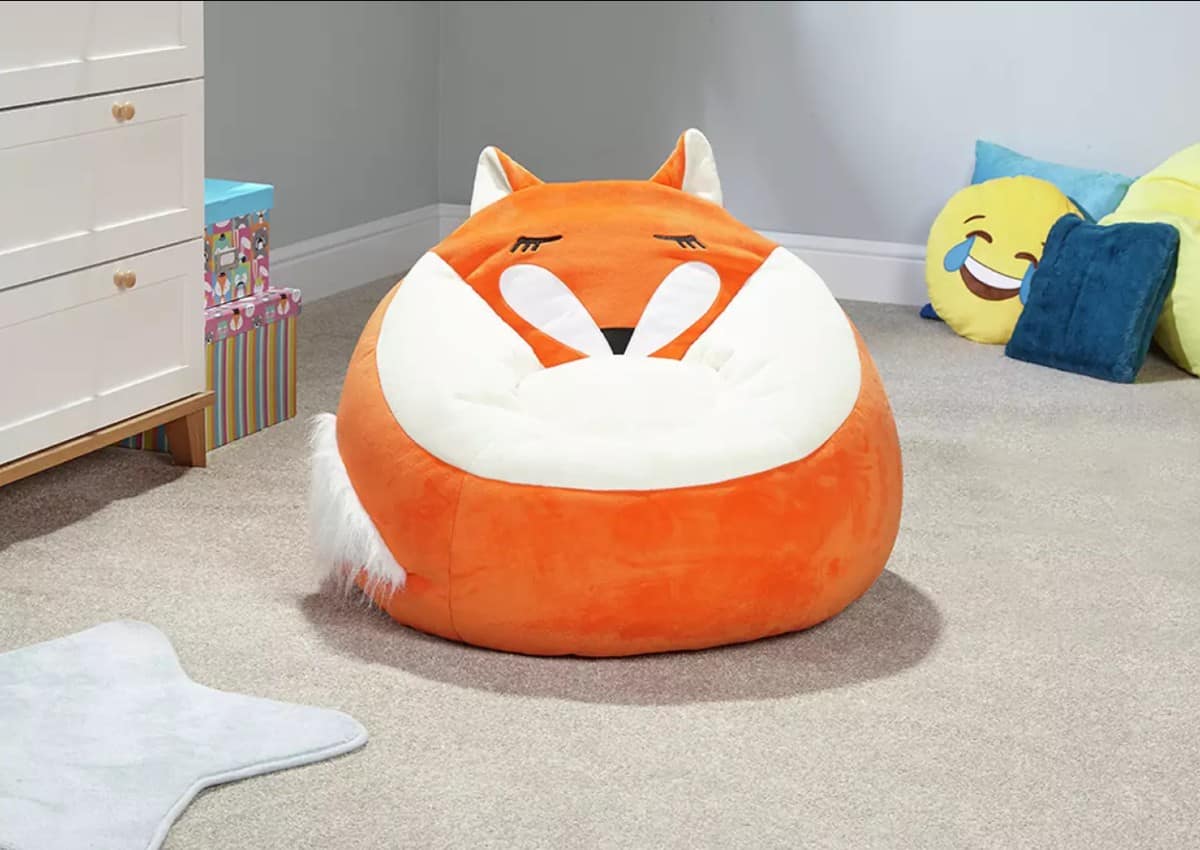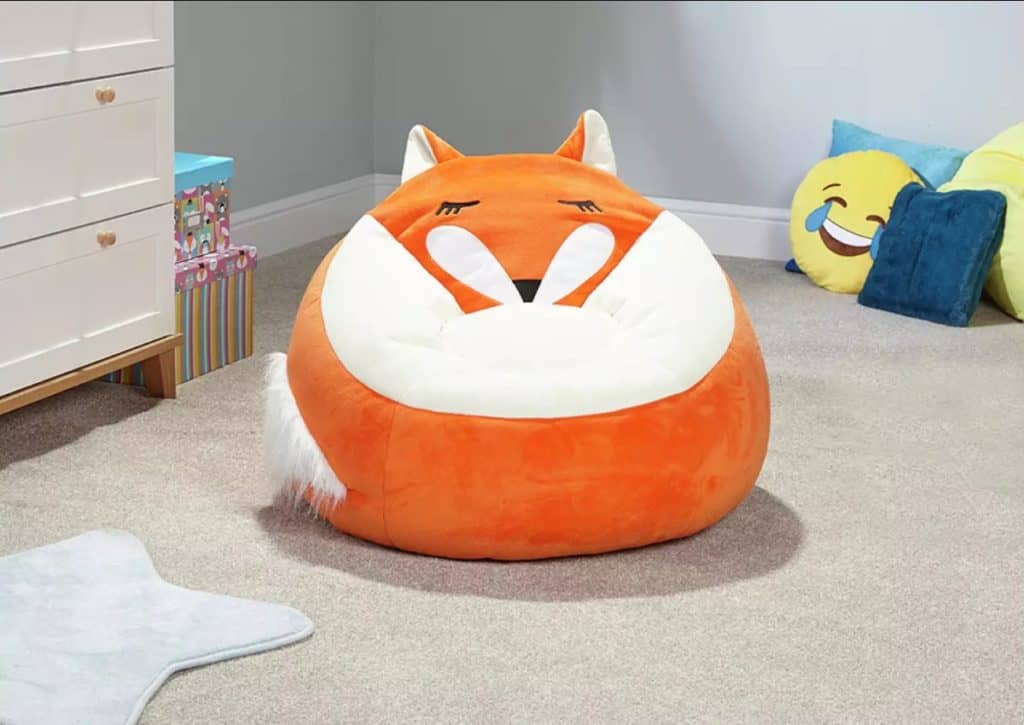 This Fox bean bag from Argos will be sure to fire their imagination and encourage reading time.
Perfect for children aged 1 and over.
Cute ears and tail and soft touch fabric all over.
70 cm wide so it's good for kids as they get older.
Parents love this beanbag getting 5 stars out 5 and 100% buyers recommending it.
Wipes clean with a simple baby wipe.
Wekapo Stuffed Animal Bean Bag Chair For Kids
This Wekapo bean bag is a huge bestseller favourite with with 86% of parents giving this 5 stars from 3,084 reviews.
Perfect house for any stuffed animals – keeps their room tidy!
It's BIG! Holds the equivalent of 7 pillows or 2 x 100L beans.
Made from a premium cotton canvas.
Parents absolutely love this with many saying it's the best invention ever! Anything that keeps the place tidy and the children love equals product winner.
Due to it's size do check you have enough soft toys, or spare pillows to pad it out.
Loads of designs to choose from including heart, blue, green, pink, purple, large star and small star.
High Back Recliner Chair Bean Bag (Bean Bag Bazaar)
This high back reclining bean bag chair is for both indoor and outdoor use.
Available in a range of colours: aqua blue, black, blue, grey, lime green, orange, pink, purple, red and Chartreuse Green.
Good for a range of activities including gaming, movie watching, reading or simply lying about.
Buyers rate this bean bag chair highly giving it 4.1 out of 5 citing its cosyness and comfort.
Bright colours are perfect for pleased children.
Cotton Space Unicorn Pastel Rainbow Bean Bag (Bean Lazy)
Extremely well reviewed bean bag with 83% of parents giving this 5 out of 5.
Parents love the material, size and the child friendly designs.
Features a zip that has a tie on it so can't be opened accidentally.
Also available in Dinosaur and Pirate designs.
Gaming Bean Bag Chair (Game Over)
Excellent value bean bag chair for the gamer child in your family.
Available in 9 different colour designs.
Features side pockets for controllers and snacks, and a headset holder strap.
Well reviewed bean bag with 81% of 287 reviews giving this chair 5 stars out of 5.
Firm enough to give support whilst soft enough to be reshaped if needed.
Big enough for adults or for your child to grow into.
Giant Bean Bag Sofa (Lounge Pug)
Huge bean option designed for two adults. Children will love the size! 150cm diameter.
Some buyers use it as an alternative to a sofa.
The material is tough and splash resistant.
You need to fill it yourself so be prepared for things to be a little messy at the beginning.
Cord material available in two colours – Aegean Blue or Mink.
Features child safety zips.
2 year quality guarantee.
Junior Bean Bag (Junior Squarbie)
Multi use bean bag that is designed for indoor and outdoor use.
Available in a huge range of colours: Black, red, orange, lime green, purple, royal blue, turquoise, grey, navy and and cerise pink.
Can be shaped into a range of different positions.
Feature two safety-locking zips.
Fabric is strong, durable, water resistant, UV resistant, wipe clean & machine washable.
Buyers love this bean bag, 93% of 104 reviewers gave it 4* or higher.
Hi-Rest Chair Bean Bag (Bean Bag Bazaar)
Well reviewed bean bag for kids with 87% of parents giving this 4* or better.
Provides cushioned comfort for children, with a raised back for support and a spacious seat for youngsters to sink into.
Designed using wipe-clean, water-resistant fabric.
Super lightweight and portable.
For use indoors and outdoors.
Available in child friendly bright colours: Blue, Pink, Red, orange, lime green, navy blue, purple, grey, aqua blue, ochre yellow and rose dust pink.
Gaming Chair Bean Bag (Bean Bag Bazaar)
Discount - Save £2.46
Bestselling gaming chair bean bag with over 1,195 reviews with 86% 4 stars or above.
Some reviews talk about factory small but many parents advise to leave outside for 2-3 days and it's gone.
Available to order in 1 or 2 packs.
Loads of kid friendly colours.
Made in water resistant fabric that's easy to wipe clean.
Dimensions 69cm x 59cm
Not just for gaming – can be used for reading, lazing about or outside.
I hope this list of the best bean bags for kids was helpful.
If you think I left out one that is important or have a suggestion for a future article, let me know in the comments below.
Dominic
Kids Beds Guides
---
Children's Bedroom Furniture