For this post, I have put together a collection of the finest Princess beds currently available. See our collection of the best toddler and children beds currently available.
Our Top Picks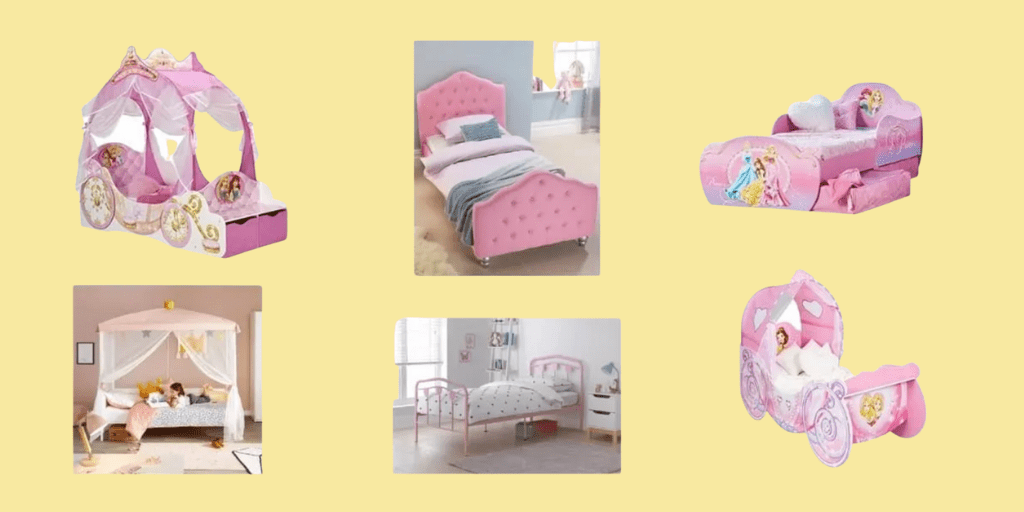 If you'd like your daughter to feel like a princess take a look at this fantastic collection of fairy tale beds.
How We Selected
There is a huge selection and I've picked a diverse range from carriage beds, canopy ones, loft beds with slides or simpler metal framed ones that can be customised.
All of my recommendations have excellent buyers reviews and 4-5/5 star ratings.
See my guides to the best toddler beds or if you're looking for themed beds see my best buys for car beds and bus beds.
So here's my list of the best princess beds available.
Disney Princess Carriage Kids Toddler Bed (HelloHome)
Discount - Save £13.01
One for the truly princess obsessed
Suitable for 18 months to 5 years and transition from cot to bed.
Pros: Buyers like the value for money, ease of assembly, build quality and sturdiness.
Cons: Will only last for the toddler years.
Consumer Score: Excellent reviews with 74% of buyers giving it 5 stars out of 5.
Disney 452DNY Princess Carriage Kids Toddler Bed (HelloHome)
Discount - Save £30.00
From the same brand, HelloHome this princess carriage comes with lights.
Fits standard cot mattress 140 x 70 cm
Pros: Features protective sides with character footboard and headboard.
Cons: Canopy is a bit flimsy.
Consumer Score: Great reviews with 74% of buyers giving it 5 stars out of 5.
Disney Princess Convertible Toddler Bed with Drawers (HelloHome)
Well reviewed by parents with 85% of buyers giving it 4 out of 5 stars or above.
Easy to assemble.
Sturdy and of decent quality given the reasonable price tag.
Pros: Features 2 x underbed storage drawers for storing clothes and toys.
Cons: Tricky to assemble.
Solid and strong MDF construction.
Two models available – Disney Princess (This one) and also Ariel.
Your little princess will love the characters featured: Cinderella, Bel, Rapunzel, Ariel, and Sleeping Beauty.
Consumer Score: Great reviews with 67% of buyers giving it 5 stars out of 5.
Home Hearts Single Metal Bed Frame – Pink (Argos)
Cute kid's bed frame with pink, heart shaped design.
Made from metal with a pink painted finish.
Pros: Easy to assemble and strong and sturdy.
Also available as four poster option.
Cons: More basic design than many of the others but can be customised easily with fairy lights.
Consumer Score: 96% of buyers recommend this bed, with average 4.7/5 star ratings.
Moro Cabin Bed Midsleeper with Slide & Fairies Package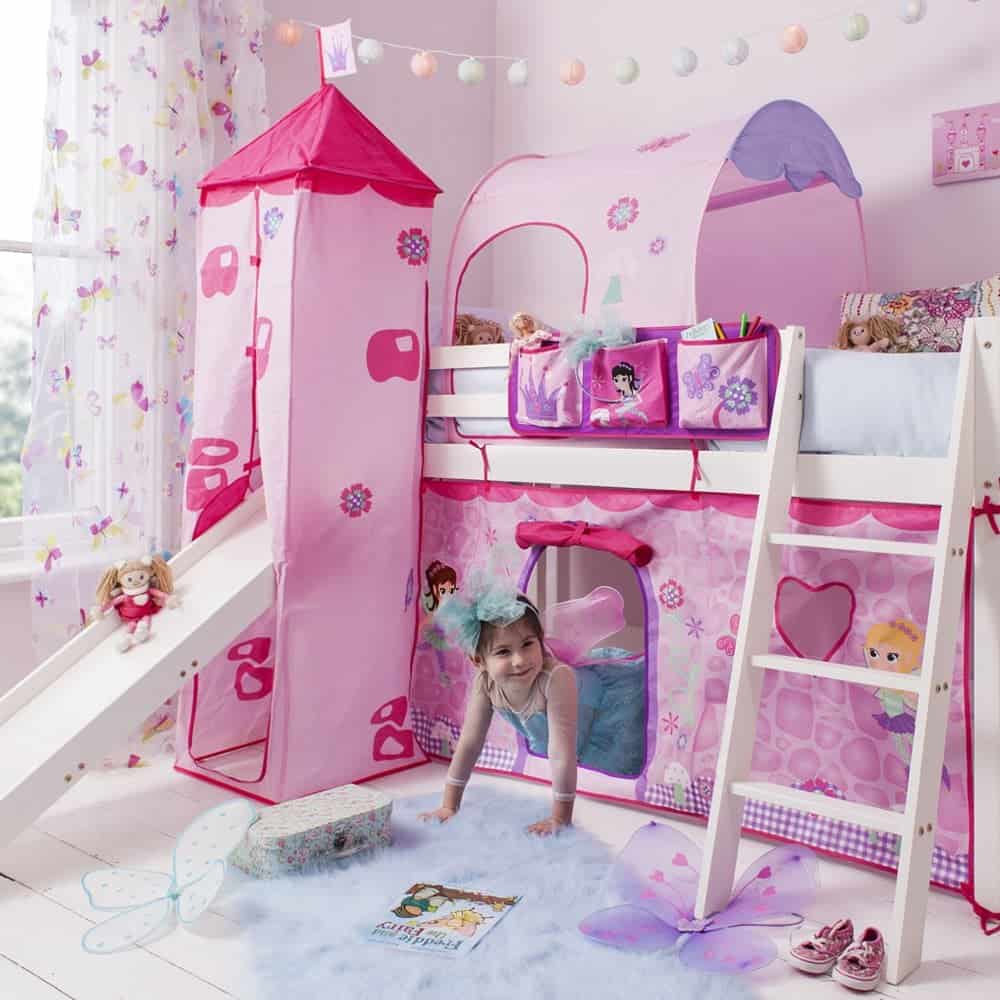 Noa and Nani have an excellent selection of Cabin beds and this model, the Moro Cabin bed with fairly style is one of their bestsellers.
Made from solid pine wood
Parents love the price, sturdiness and simplicity to assemble.
You can choose the finish to be classic white or silk grey.
The ladder is at a good angle and can also be positioned left or right.
The bright pink fairy den is sure to ignite your little one's imagination.
Pros: The bottom area can be used as a play den or as a good sized storage area.
Cons: Slightly tricky to assemble.
Consumer Score: A great 4.63/5 stars average in reviews.
This bed is also available without the slide.
Want to see more kids beds with slides.
Lifetime Princess Four Poster Bed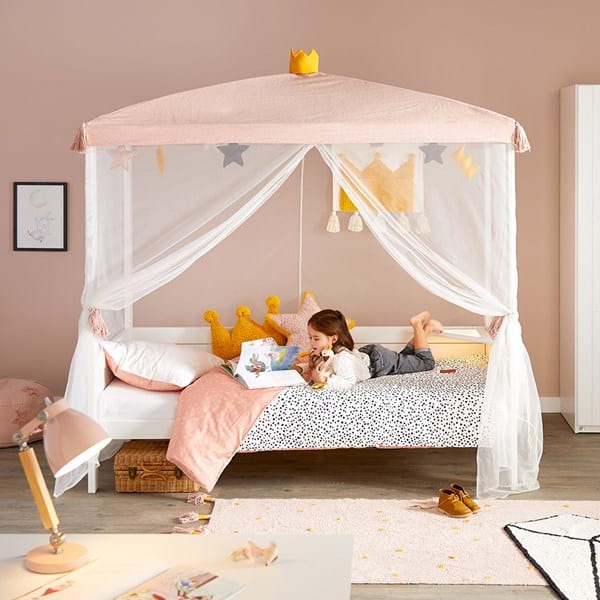 Stunning four poster bed from the the Lifetime range.
Handmade in Denmark and made from solid pine.
Pastel pink canopy with a beautiful crown on top.
Floor length canopy creates a lovely haven for your little one.
Two colours available: Whitewash or white.
Pros: You have the option to add personalised name plates.
Cons: Pricey.
Consumer Score: Excellent 4.7/5 star ratings.
Final Thoughts
A personal choice, my best overall is the Moro Cabin from Noa and Nani. They make excellent quality furniture for children, with lots to fire the imagination including a princess/fairy den and optional slide. It's easy to assemble and is reasonably priced given the high quality.
I hope this list of the best princess beds was helpful.
If you think I left out a good one or have a suggestion for a future article, let me know in the comments below.
Nicola
Last Updated: May 2022
Added 'How We Selected.'
Added Pros/Cons on all products.
Added 'Things To Consider'.
Added FAQ's.
Added Final Thought.
Moved OOS.
Kids Beds Guides
---
Millie Diamante Single Bed (currently unavailable)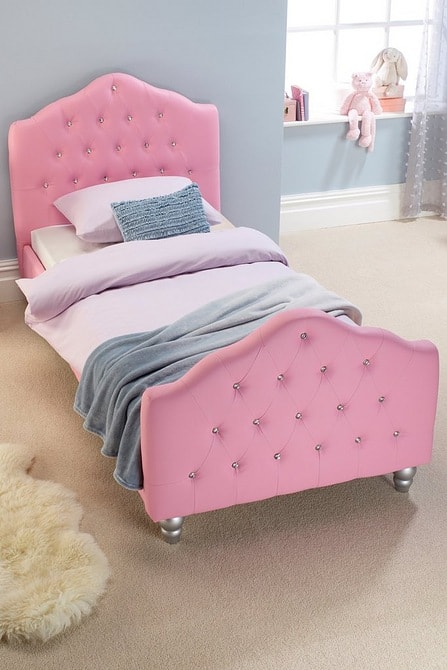 Features crystals on the headboard and footboard.
Parents love the quality and comfort of this bed and that it's simple to put together.
It's finished in a faux leather material.
Highly rated from buyers with a score of 4.4 out of 5.
Available in pink or white colours.
Kenwith Bunk Bed with Drawer (currently unavailable)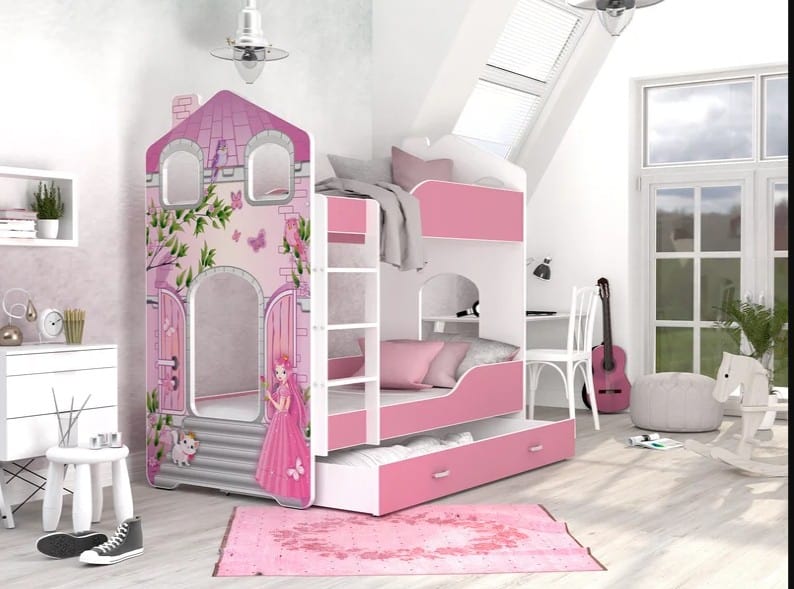 Perfect if you have two little princesses or for guests/sleepovers.
Side panels feature lovely colour Princess themed illustrations.
Made from high-quality furniture board.
The wood is then treated with non toxic varnish to prevent the colours from fading.
The ladder and safety rails can be attached to either end of the bed depending on how the room is setup.
Wide and deep drawers at the base offers up plenty of storage space.
Royal Toddler Bed (currently unavailable)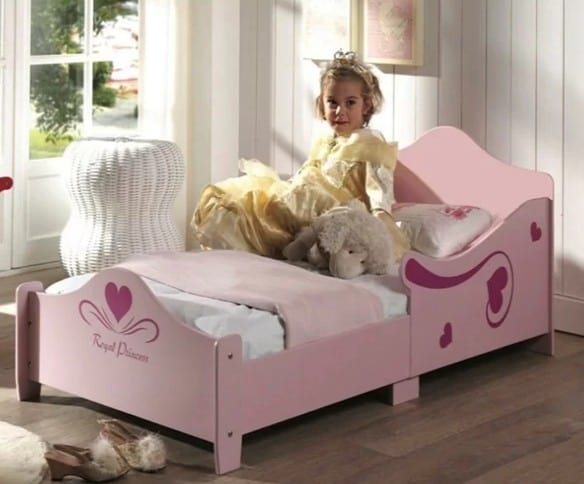 Good size for toddlers this Princess designed bed is low to the floor and features protective and sturdy side guards.
Includes heart shaped designs.
Strongly made from manufactured wood.
Princess Carriage Bed (Majestic Furnishings) (currently unavailable)
Beautiful princess carriage in pretty pastel pink and lilac.
Two large windows on either side of the carriage.
Large golden crown on top.
Features four wheels with love hearts.
Will hold a 3ft mattress.