For this post, I have put together a collection of the best double bunk beds currently available. Browse all my guides on children beds.
Our Top Picks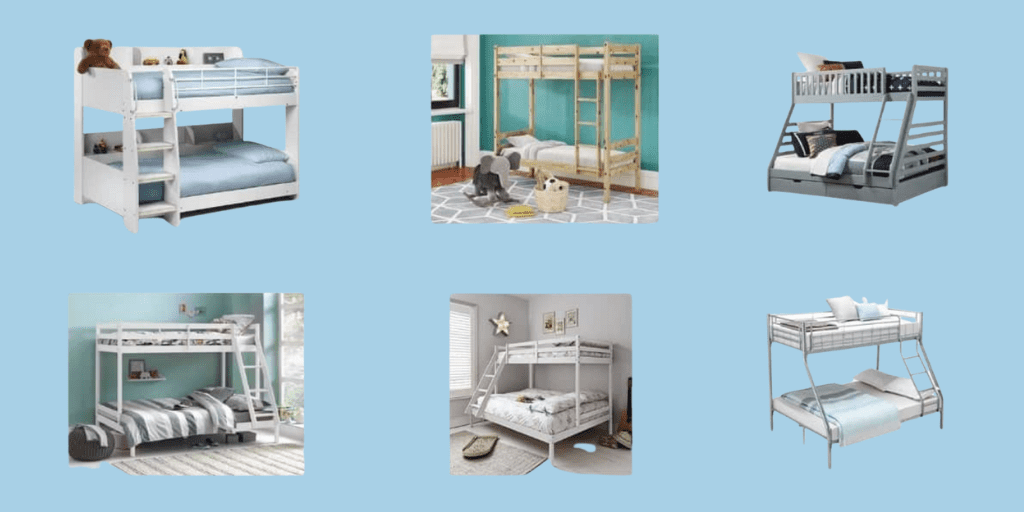 Double Bunk Beds are an excellent option for children who have lots of sleepovers or for two siblings.
This type of bunk bed features a twin or double bed at the bottom with a single bed at the top. They are also commonly referred to as triple bunk beds.
The bigger lower bunk allows plenty of space for an older child and usually has plenty of under bed storage. The top bunk can either then be used for a younger child or for a friend sleeping over.
How We Selected
We've searched the internet, looking for the best double bunk beds, to save you the time and effort. All of our recommendations have excellent buyers feedback and 4-5/5 star ratings.
You may also want to see my top recommendations on the best mattress for kids.
Also see the best Triple Bunk Beds and High Sleeper Beds.

So here's my pick of the best double bunk beds. Enjoy!
Ikea Svärta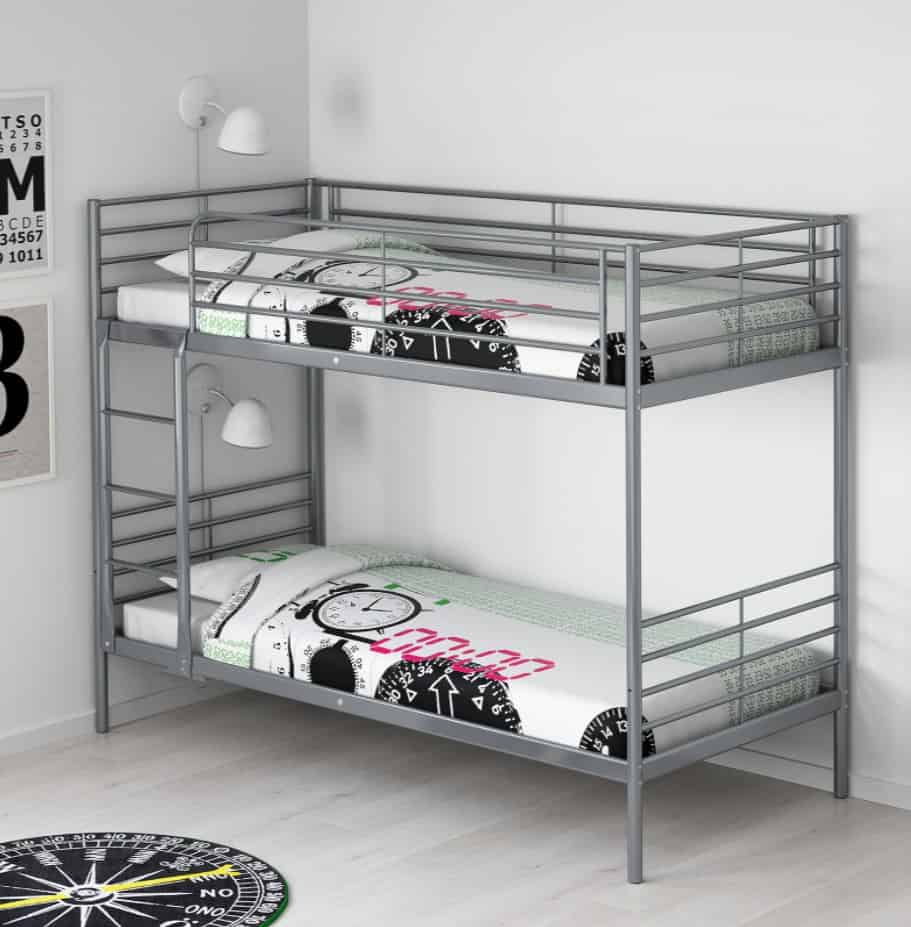 Svärta is a good compact double bunk bed from IKEA.
Modern, minimal look.
Ideal option for smaller rooms.
Pros: Ladder can be attached to the left or right of the bed, features high safety guard rails at the top.
Cons: Some buyers report the beds can be a little noisy when moving around.
Consumer Score: Well reviewed by parents scoring 4 out of 5.
Versatile options in that you can replace the bottom bunk with a desk at a later stage.
Happy Beds Atlantis White Bunk Bed
Available in grey, pine or white.
Very well reviewed with 84% of parents scoring this 4 stars or above.
High quality bed and very sturdy.
Made from pine wood and is straightforward to assemble.
Pros: Can be split into two 3FT single beds.
Cons: Fiddly to assemble.
Consumer Score: Good reviews with 62% of buyers giving it 5 stars out of 5.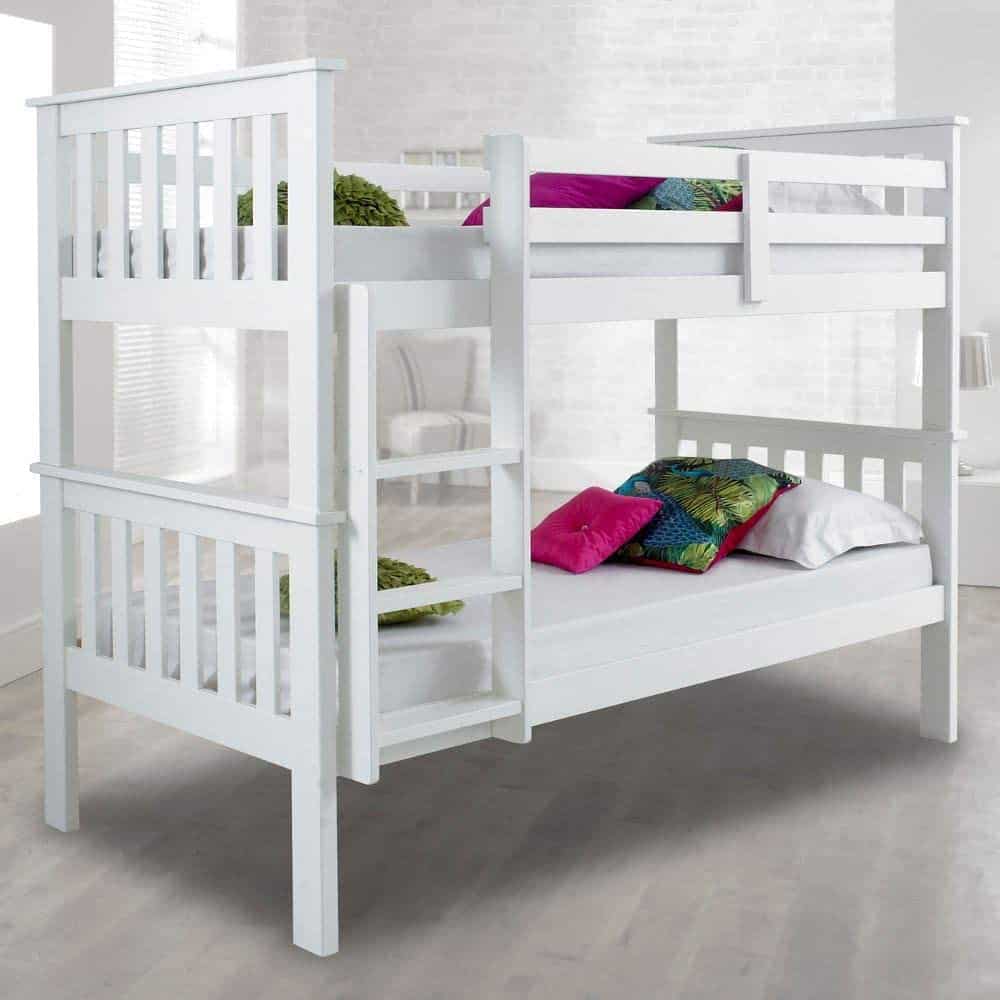 Happy Beds Domino Children's Bunk Bed
Stylish contemporary bed that is available in a range of colours: grey oak, grey, maple & white, oak and white.
Excellent reviews – from over 300 reviews 86% of buyers gave this four stars or above.
Extremely solid construction.
Solid wooden slatted base for additional comfort and longer mattress life
Built in storage shelves on both beds.
Pros: Unlike many the ladder is comfortable to club with wide steps and rail, luminous stripes on each step that glow in the dark.
Cons: Tricky to assemble.
Consumer Score: Great reviews with 74% of buyers giving it 5 stars out of 5.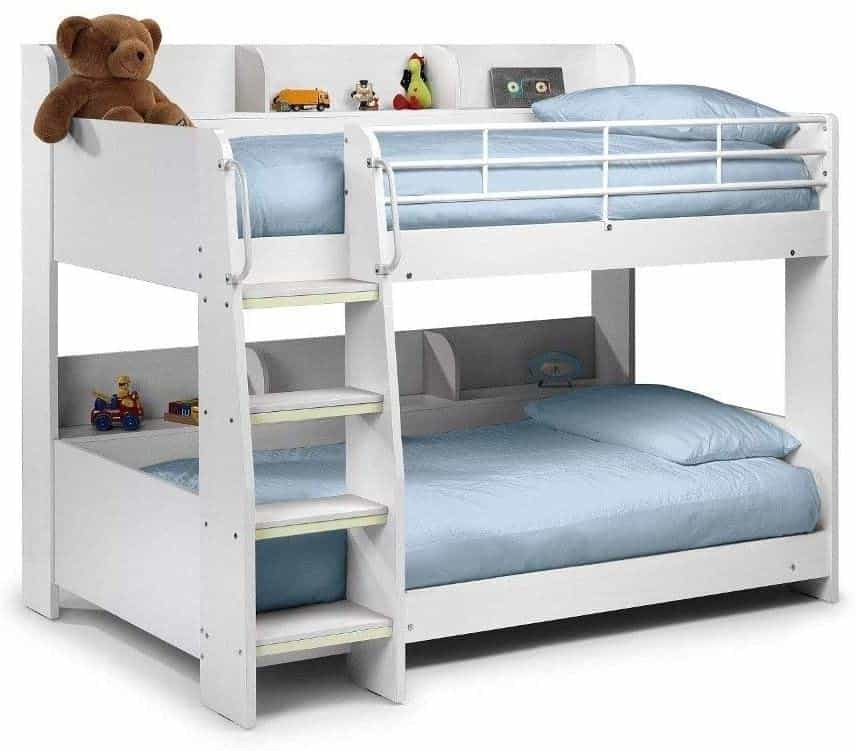 Argos Home Kaycie Triple Bunk Bed -White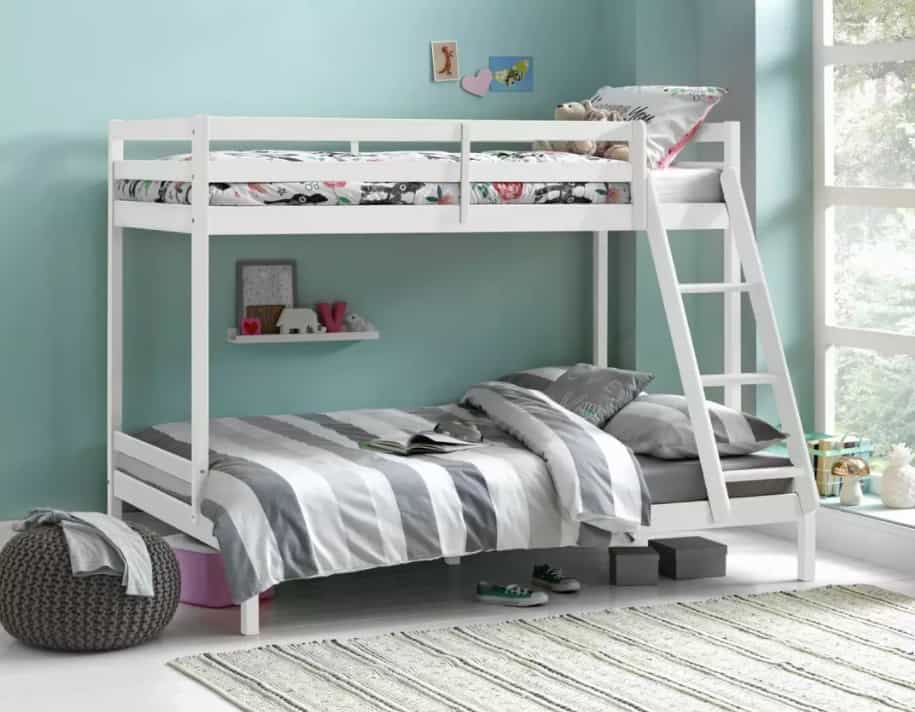 Minimalist Scandi style bed made from solid wood with a white painted finish.
Features a sloping ladder with foot-friendly flat rungs for comfort. Can be placed at either end of the bed to suit the room.
Pros: Plenty of room underneath for storage.
Cons: Assembly at home requires two people.
Parents are pleased with the value and level of sturdiness.
Consumer Score: Average customer ratings of 4.5/5.
Chatham Double Bunk Bed for Kids or Adults – Just Kids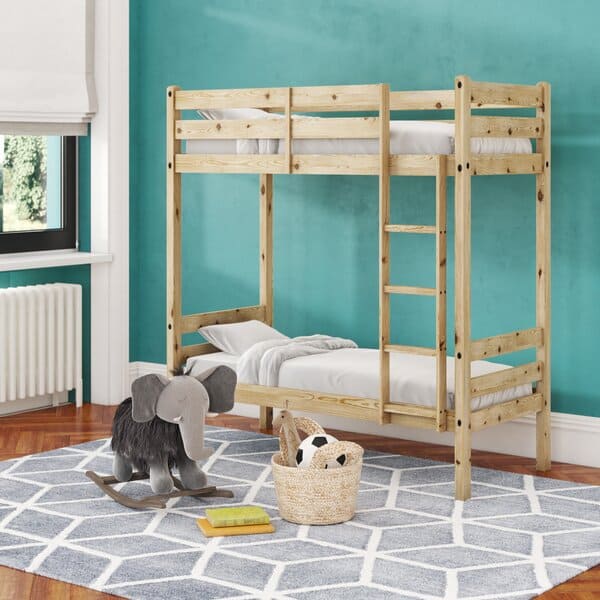 Solid and sturdy bed, made from solid Scandinavian pine with a natural pine finish
Minimal look but does everything right when it comes to practicality and durability.
Has the added benefit of being able to securely sleep adults.
You can choose from a number of sizes to suit your needs and the layout of your child's room: Small single, single, small double or double.
Manufactured in England.
Pros: Built-in ladder can be positioned left or right, excellent value for money.
Cons: A minimal look, no added extras.
Consumer Score: Average customer ratings of 4.5/5.
Oslo White Wooden Double Bunk Bed – Happy Beds
Larger, spacious option that fits two small double beds.
Pros: You have the option to split this into two separate beds, perfect option for sleepovers as will sleep four.
Cons: Instructions could be improved.
Modern, clean look with white exterior.
Parents rate this bed highly with its build quality and stability.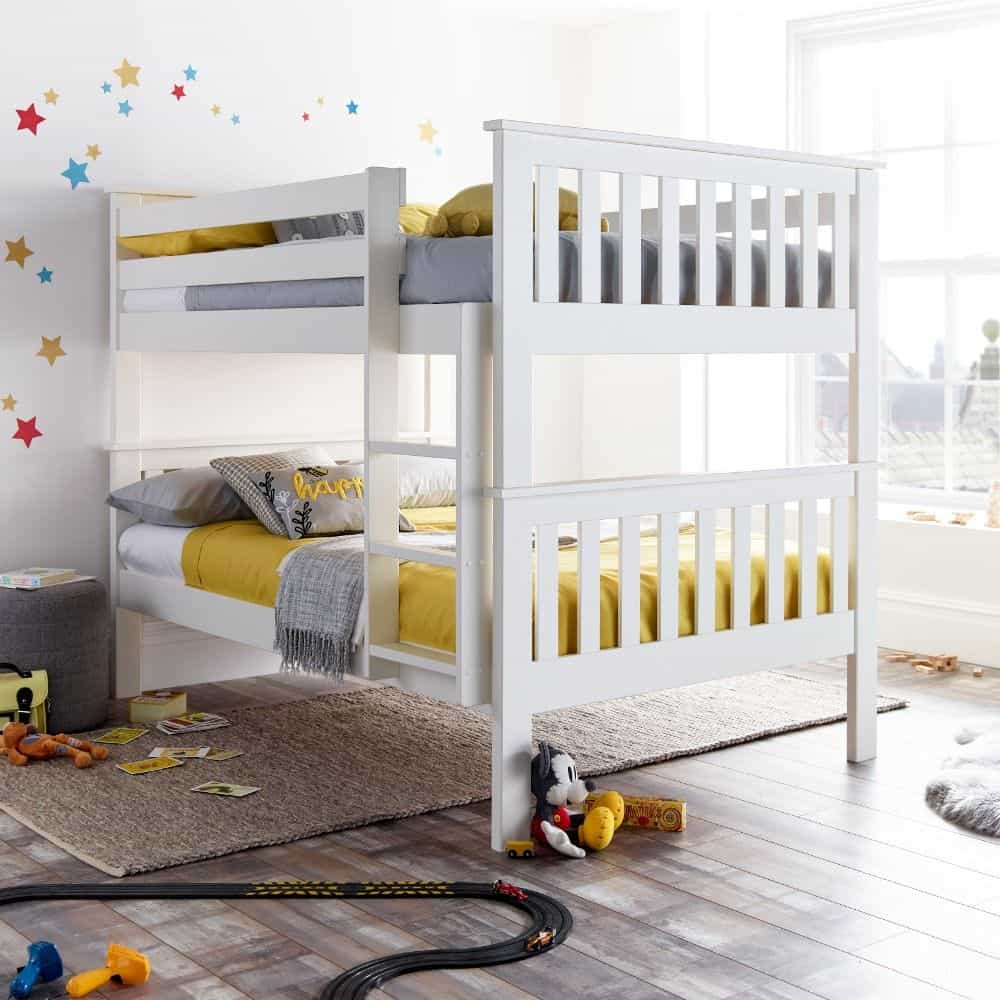 Noa and Nani – Kent Triple Bunk Bed with Single and Double Bed in Classic White
Excellent triple sleeper features a standard double with a standard single bed up top.
Made from solid pine and finished in a smooth classic white finish.
Simple to assemble taking around 2 hours if you're decent at DIY.
Minimal design means that although it takes up room it is not overbearing in a room.
Pros: Parents love the build quality and value for money, features a sloping ladder at a comfortable angle.
The double bed is a hit with bigger kids, as there's room to stretch out and also sit up and read.
Consumer Score: Great reviews with 77% of buyers giving it 5 stars out of 5.
You can also compare price and availability at Noa and Nani.
Angelynn Bunk Bed with Drawers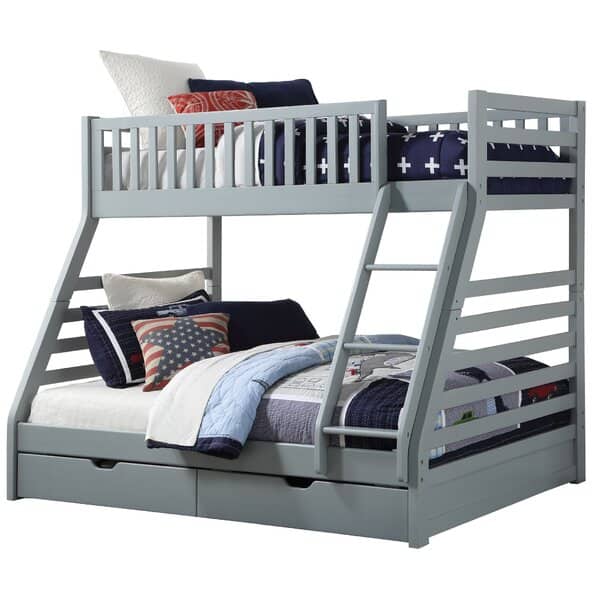 The Angelynn bunk bed features a single top bunk and a bottom double bed.
Angled built-in ladder makes for a straightforward climb.
Two under-bed drawers provide plenty of useful storage space.
Very well reviewed bed with parents scoring this 4.6/5 from over 100 reviews.
Available in grey or white.
Pros: Easy to follow instructions, simple to assemble.
Cons: Will require two people to assemble.
Consumer Score: Average 4.6/5 star ratings.
Panana Metal Double Bunk Bed
Available in black, silver or white
Simple, no frills and excellent value for money.
Suitable for small children, teenagers and adults.
Pros: Can be split into single beds.
Built with premium silver finish solid steel in a sturdy design of construction
Consumer Score: Good reviews with 64% of buyers giving it 4 stars out of 5.
What To Consider When Buying A Double Bunk Bed
Safety
There are a number of things to consider when buying a bunk bed. As you or your child are going to be sleeping high off the floor, you need to make sure there is no way of you falling out.
Height of mattress, safety railings, and age of child (high sleepers are unsuitable for children under 6 years of age) all need to be checked and considered.
Durability
You will want a bed which is sturdy, durable and will stand the test of time.
Because of the height of a bunk bed, you want to make sure it is assembled well so that it doesn't wobble.
FAQ's Double Bunk Beds
Cheap Double Bunk Beds & Today's Bestsellers
Final Thoughts
My personal favourite is the Happy Beds Domino Children's Bunk Bed because it looks fantastic, it stands out with its sturdy construction, is available in 5 finishes, is loved by parents and a particularly well thought out ladder design.
For a more budget friendly option the Noa and Nani Kent Triple Bunk Bed is an excellent choice – great value, very strong for both adults/children and receives fantastic reviews.
I hope this list of the best double bunk beds was helpful.
If you think I left out one that is important or have a suggestion for a future article, let me know in the comments below.
Dominic
Last Updated: May 2022
Added 'How We Selected.'
Added Pros/Cons on all products.
Added 'Things To Consider'.
Added Consumer Scores.
Added FAQ's.
Added Final Thought.
Moved OOS.
Kids Beds Guides
---
Mecor Triple Sleeper Beds for Adult and Children (currently unavailable)
Aesthetically not as pleasing as many of the others this is a very reasonably priced bed for those on a budget.
It is very strong so is suitable for both adults and children.
Three quarters of buyers rate this at least 4 or higher out of five.
Available in silver, white and black colours.
The metal steel provides for a very stable bed base.