For this post, I have put together a collection of the best triple bunk beds currently available. Also see my complete guide to beds for kids.
Top Picks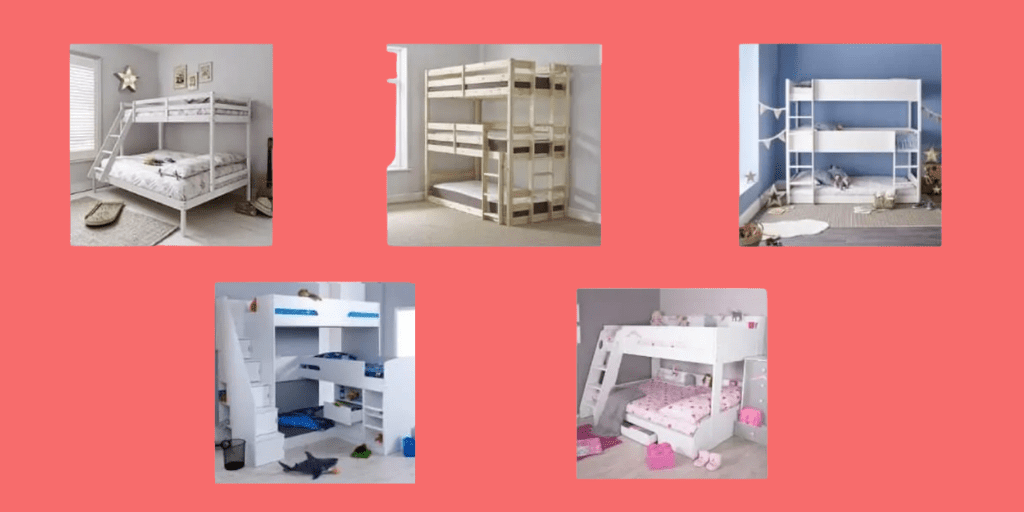 How We Selected
I've searched the web looking for the best triple bunk beds available. All of my picks have excellent buyers feedback.
If you have three children or after a bed that will give you more room for guests/sleepovers then I've picked out some excellent choices to cover all requirements and budgets.
See the best reviewed kids mattress or my guide to the best double bunk beds and high sleeper beds.
So here's my picks of the best triple bunk beds. Enjoy!
Noa and Nani – Kent Triple Bunk Bed with Single and Double Bed in Classic White
Excellent triple sleeper features a standard double with a standard single bed up top.
Made from solid pine and finished in a smooth classic white finish.
Simple to assemble taking around 2 hours if you're decent at DIY.
Minimal design means that although it takes up room it is not overbearing in a room.
Parents love the build quality and value for money.
Features a sloping ladder at a comfortable angle.
Pros: The double bed is a hit with bigger kids, as there's room to stretch out and also sit up and read.
Cons: Mattresses not included.
Consumer Score: Very good reviews with 77% of buyers giving it 5 stars out of 5.
You can also compare price and availability at Noa and Nani.
Argos Home Kaycie Triple Bunk Bed & 2 Kids Mattresses -White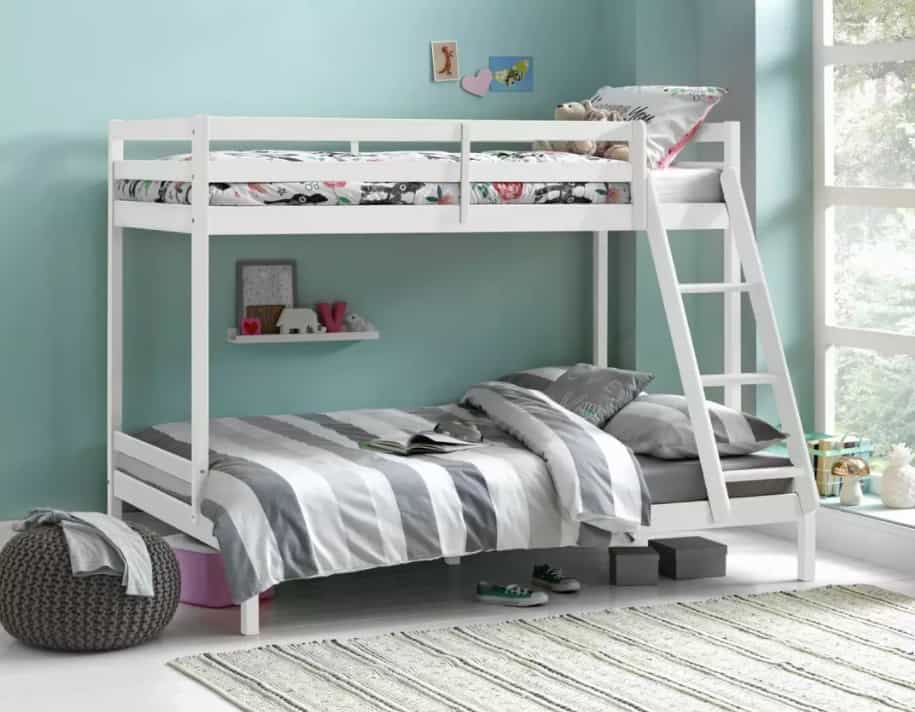 Minimalist Scandi style made from solid wood with a white painted finish.
Features a sloping ladder with foot-friendly flat rungs for comfort. Can be placed at either end of the bed to suit the room.
Plenty of room underneath for storage.
Supplied with two Silentnight mattresses – 1 single for the top bunk and 1 small double for the bottom.
Cons: Assembly at home requires two people.
Pros: Parents are pleased with the value and level of sturdiness.
Consumer Score: Excellent reviews with buyers giving this triple bunk bed average score of 4.6/5.
You can purchase this without mattresses.
Oscar Triple Bunk Bed by Flair Furnishings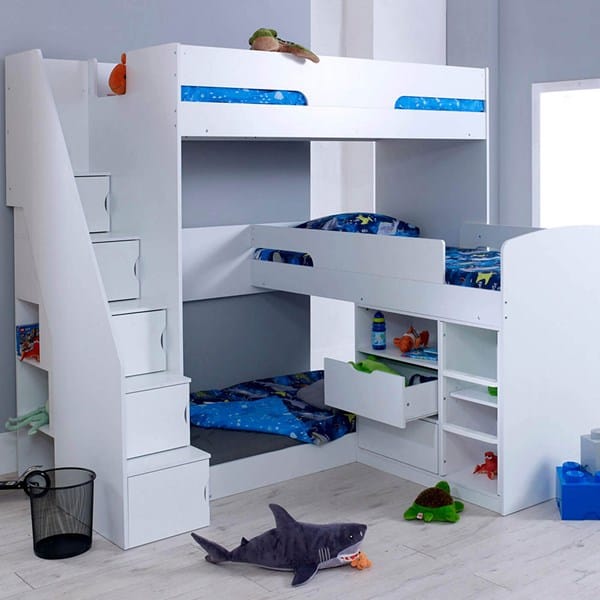 The Oscar Triple Bunk Bed is a clever L-shaped triple bunk bed results in lots of storage space.
Pros: These include an array of drawers, shelves and even hidden storage in the steps.
Cons: Takes up a lot of floor space.
See our guide for Toddler Bedding.
Consumer Score: Good reviews with buyers giving this triple bunk bed average score of 3.7/5.
Strictly Triple Pine Bunk Bed
Very well reviewed – from over 300 reviews 76% are five stars.
A great sturdy choice, particularly for bigger kids – with many parents using it for teenagers.
Pros: Many buyers commented on how it is easy to put together.
Cons: Assembly will require two people.
Does not included mattresses.
Made in the UK.
Consumer Score: Great reviews with 79% of buyers giving it 5 stars out of 5.
Flick Triple Bunk Bed in White by Flair Furnishings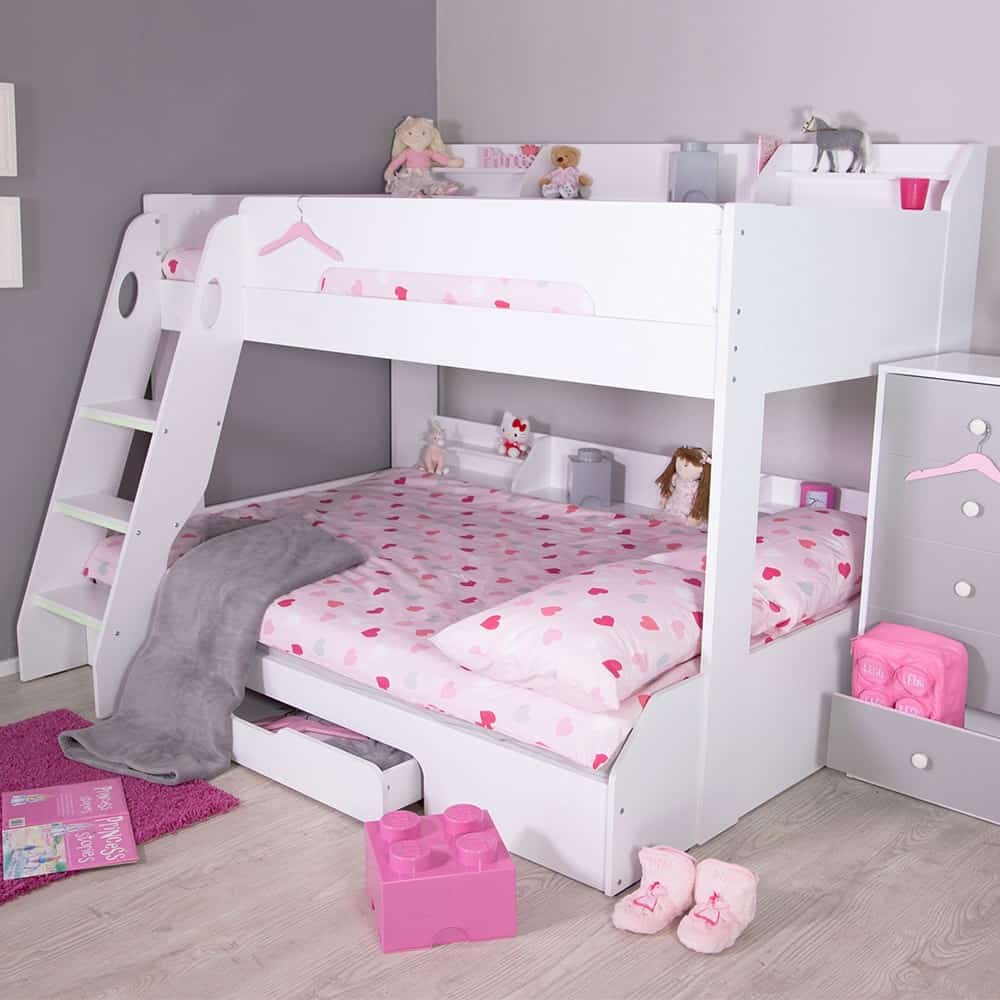 Lovely multi-purpose unique sleeping station can either be used in a child's bedroom as a double bed for an older child or teen, and a bunk up top for a younger sibling.
Or can be used in a family bedroom with Mum & Dad below and the little one above.
Available in white or beech and white.
Top bunk fits a standard UK single mattress: 90 x 190 cm
Bottom bunk fits a small double mattress: 120 x 190 cm
Storage features include under bed storage drawer and shelving on both bunks.
Cons: Wide ladder but can only be positioned on the left hand side.
Pros: Parents love the style and build quality.
Consumer Score: Fabulous reviews with 100% of buyers giving it 5 stars out of 5.
You can also compare price and availability at Cuckooland.
Snowdon White Wooden Triple Sleeper Bunk Bed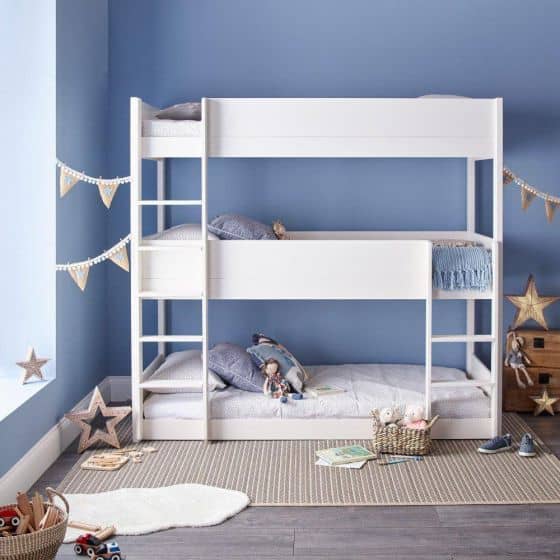 Good option for space saving with it's innovative vertical structure.
Modern clean minimal white design.
Highly secure barriers for maximum safety.
High-grade wooden construction.
Pros: Wide steps on the ladder, parents love the very high quality, room on each bunk and that it's simple to construct.
Cons: Can't be split into separate beds.
Consumer Score: Great reviews with buyers giving this triple bunk bed average score of 4.9/5.
Lifetime Family Bunk Bed with Steps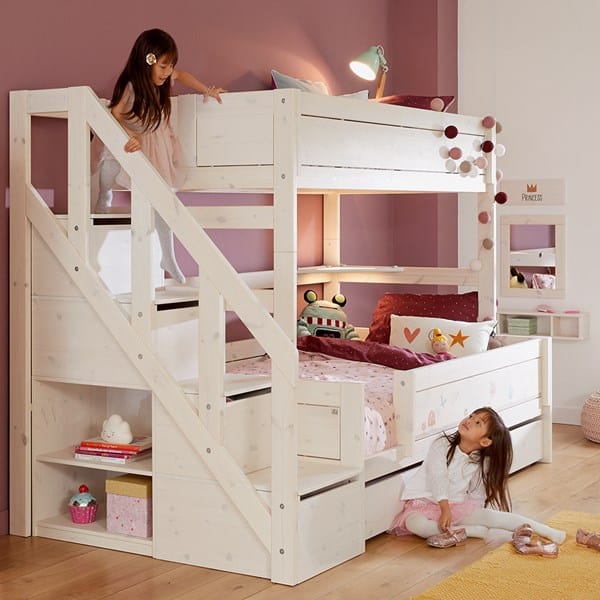 With a price tag to match this is the most luxurious triple bunk featured.
Manufactured by hand in Denmark from solid pine.
Whitewash finish plus the front panel can be customised with a range of colours and designs to choose from.
Complete with its own staircase to access the top bunk.
Pros: Lots of storage between each step along with shelving at the side.
Cons: Expensive.
Three sizes to choose from.
Consumer Score: Great reviews with buyers giving this triple bunk bed average score of 4.7/5.
Julian Bowen Trio Triple Bunk Bed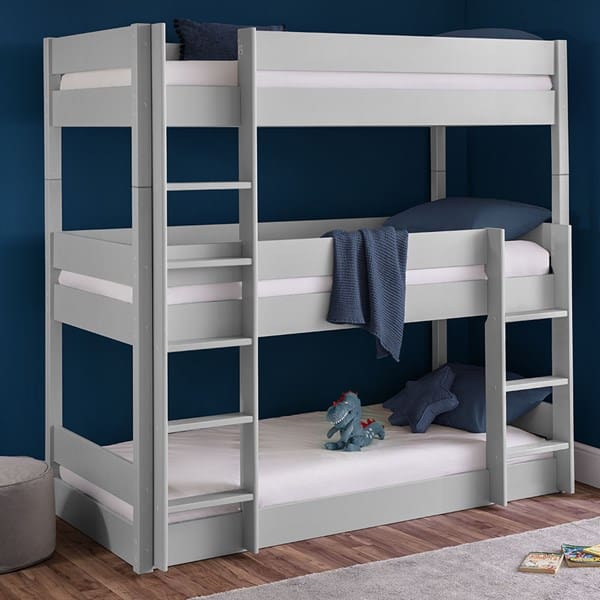 Good option if you don't need all three beds all the time.
This Julian Bowen triple bunk bed is a bunk bed with a trundle bed.
Perfect for sleepovers and occasional guests.
Manufactured from solid pine and MDF.
Dove grey or white surf lacquered finish.
Pros: Nice simple design.
Cons: Trundle bed is low down on floor.
Consumer Score: Good reviews with buyers giving this triple bunk bed average score of 4.3/5.
What To Consider When Buying A Triple Bunk Bed
Safety
There are a number of things to consider when buying a bunk bed. As you or your child are going to be sleeping high off the floor, you need to make sure there is no way of you falling out.
Height of mattress, safety railings, and age of child (high sleepers are unsuitable for children under 6 years of age) all need to be checked and considered.
Durability
You will want a bed which is sturdy, durable and will stand the test of time.
Because of the height of a triple bunk bed, you want to make sure it is assembled well so that it doesn't wobble.
FAQ's Triple Bunk Beds
Cheap Triple Bunk Beds & Today's Bestsellers
Final Thoughts
A personal choice but my favourite is the Noa & Nani Kent because it features a spacious bottom bunk to sit up and read, has excellent build quality, its minimal design makes it not too overpowering in a room and it's excellent value for money.
I hope this list of the best triple bunk beds was helpful.
If you think I left out one that is important or have a suggestion for a future article, let me know in the comments below.
Dominic
Last Updated: May 2022
Updated Image.
Added 'How We Selected.'
Added Pros/Cons on all products.
Added Consumer Scores.
Updated Links.
Added 'Things To Consider'.
Added FAQ's.
Added Final Thought.
Moved OOS.
Kids Beds Guides
---
American Pine Wooden Triple Sleeper Bunk Bed Frame (currently unavailable)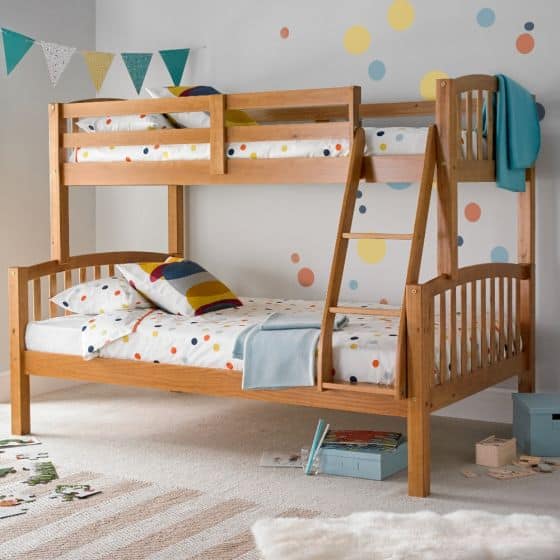 Pine wooden construction means this bed is robust but also looks warm and stylish.
It's also available in white.
Handy feature means it can be separated into two bed frames. This means the bed can adapt as your situation change.
The single top is 3ft and the small double bottom is 4ft.
Safety rail in the top bunk gives great security.
Parents rate this bed very well particularly it's quality construction, sturdiness and easy instructions.
Mecor Triple Sleeper Beds for Adult and Children (currently unavailable)
Aesthetically not as pleasing as many of the others this is a very reasonably priced bed for those on a budget.
It is very strong so is suitable for both adults and children.
Three quarters of buyers rate this at least 4 or higher out of five.
Available in silver, white and black colours.
The metal steel provides for a very stable bed base.