For this post, I have put together a collection of the best car beds currently available. See my toddler bed ultimate guide.
Our Top Picks
A personal choice but my favourite is the Storm Children's Racing car bed because I love the sleek design, durable plastic and construction, realistic wheels and in-built headlights.
For a more budget friendly option is the Toddler F1 car bed – it's well made and available in 10 different designs.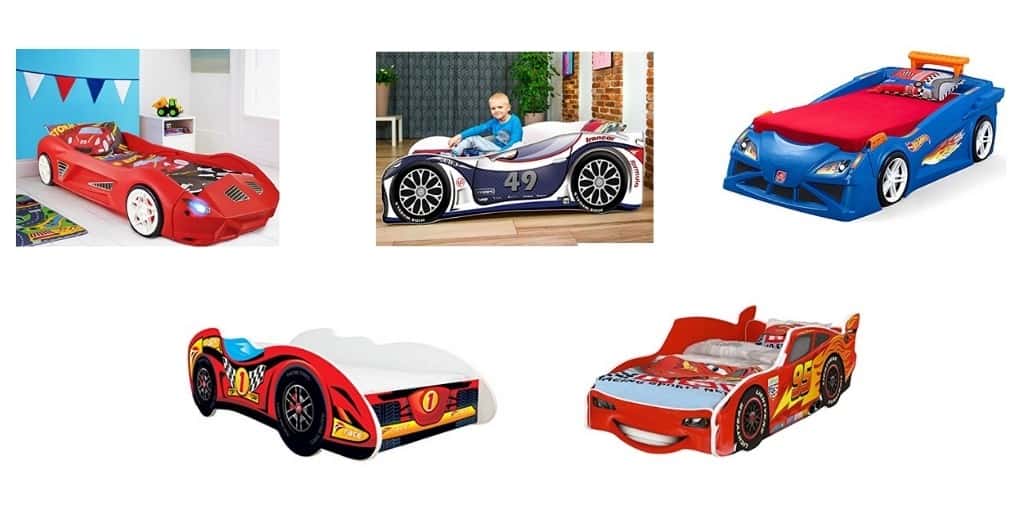 There are some amazing car beds on the market and we can clearly see why they are a hit with children – they're fun and bright and anything that can encourage them to get a good nights sleep is great in our book.
They can also be a great transition step between a cot and their own bed.
Related: See my top picks of a mattress for kids. For more themed bedrooms for children see my best buys for bus beds and the most amazing princess beds.
On this post I've picked a range of budgets so here's my list of the 10 best car beds for kids.
Storm Children's Racing Car Bed (With Lights)
The sleek red contoured design looks fantastic.
Realistic racing wheels
In-built LED headlights
For the lights you have to leave the mains adaptor plugged in. This may impact where you need to place the bed.
Parents like that it's easy to assemble.
Very strong and durable blow moulded plastic
Mattress included 160cm x 70cm x 7.5cm
Toddler F1 Car Bed
Available in 10 different colours and designs.
Parents love the sturdiness and comfort levels.
Varying thoughts on buyers for assembly – some find it very easy. Will need two to put together.
It does not include lights but you can pick up an LED strip of lights.
Good budget option when compared to many car beds.
Disney Cars 3 Lightning McQueen Toddler Bed
Great all round car bed with excellent reviews.
Straight forward assembly in 40-60 minutes.
Solid construction with the majority of parents happy with its sturdiness.
Really colourful design, perfect for any Lightning McQueen's fan with a character footboard and headboard.
Does not come with a mattress – a standard cot mattress will fit. 140 x 70 cm.
Features a storage drawer.
Low sides with safe rounded edges.
Nobiko Toddler Car Bed (With Mattress)
Available in 8 different colours and designs.
Most parents found it simple to assemble.
Buyers found the quality to be high and very durable.
Comes with a mattress which some parents found to be quite thin.
Extremely popular car bed with overall positive reviews.
MCC Racing car Junior Bed (With Mattress)
Good budget option but is still sturdy and strong.
Easy to assemble.
Mattress made in England.
Good size for toddlers transitioning from cribs before an adult bed.
Julian Bowen Scorpion Kids Race Car Bed
Stunning brilliant red finish.
Excellent details on the wheels and spoiler headboard.
The brand Julian Bowen also stock a matching Scorpion bedding set. This is sold separately.
Natural cot sides to keep in those wrigglers.
Fits Mattress size: 90 x 190cm
This car is not always in stock. You can also check with Cuckooland as they often sell it.
Jaelyn Hot Wheels Toddler to Twin Race Car Bed
Very popular (but expensive) car bed for younger children.
It looks fantastic with a classic Hot Wheels shape.
Features battery powerd tap-on headlights and realistic race car rims.
There are moulded-in Hot Wheels car tracks that run down the side of the bed.
Air intakes on each side of the bed provide a flat surface for a cup, book or children's car collection.
As you'd expect (but not always the case!) the build quality is excellent.
Zig Zag Lightning McQueen Toddler Bed
Looks fantastic with colour prints, rounded elements and soft veneer.
Frame can withstand a weight of up to 100kg.
Bed frame is made of pinewood and is 18mm thick.
Supplied with a mattress – 5cm thick foam.
Hello Home Lightning McQueen Toddler Bed
Well reviewed bed for those transitioning from cot to first big bed.
Two handy underbed, fabric storage drawers
Fits a standard toddler bed mattress size 140cm x 70cm. Mattress not included
Cilek GTS Twin Series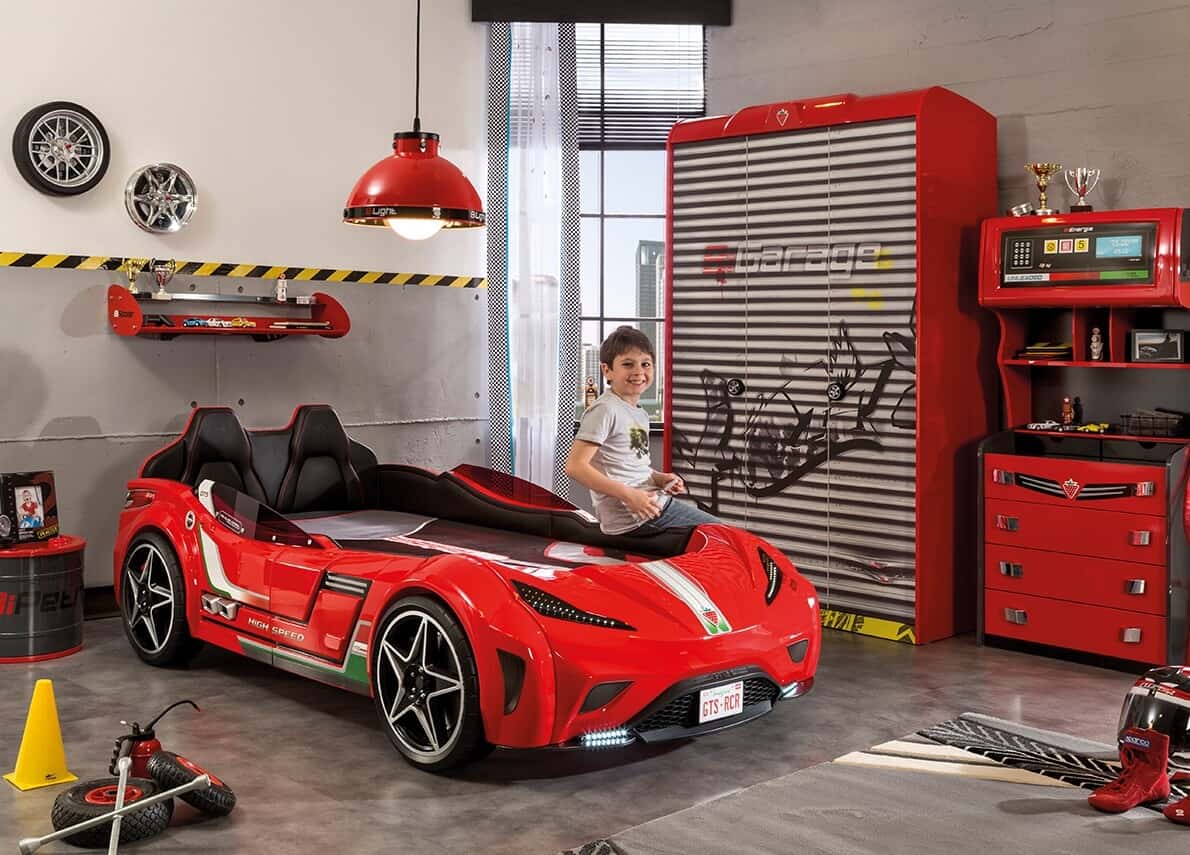 Cilek is a Turkish brand that makes incredible car beds.
The GTS Twin Series is one of their models. It is expensive!
Available in red, white, black and blue.
Do keep an eye out for inferior copies.
You may be able to pick up a Cilek bed on eBay or Amazon.
Take a look at this video tour of the GTS model. Amazing!
Cilek stock a number of other amazing car bed models. These include:
BiTurbo Series
Turbomax Series
Coupe with Friend Bed Series
Coupe Series
Check eBay for Cilek car beds.
Today's Top Deals & Bestsellers
What To Consider When Buying a Car Bed
Assembly
Most beds should be simple to assemble and come with clear instructions. This is very much a subjective factor – some parents will find it easy, others not so much.
In most cases it's preferable to have two of you to construct the bed. You can also pay extra for the delivery person to assemble it at home for you.
Dimensions
Check the dimensions so that the bed will fit in nicely and you don't get any nasty surprises on delivery day.
If there are lights do check how these are powered – if by mains then you'll need to position the bed near a power outlet.
Mattress
Some beds will come with a mattress supplied. Do check the quality of this. Some parents find that the supplied mattress is not thick enough – this applies to all beds, not just car ones.
If it doesn't come with a mattress do check what size it takes and that you can source one without too much trouble.
Storage
Do you want storage drawers underneath? Depending on the size of the room you may prefer the car bed to have storage in-built.
Lights
The pricier car beds tend to have built-in light options. Don't worry if the budget doesn't stretch to this.
You can always purchase a pack of LED strip lights to make it look amazing!
Safety
This will depend on the age of the child and in terms of how low the bed should be and the degree of support to stop any wrigglers.
Most car beds have been designed with rounded corners to avoid any sharp edges. Another thing to look out for is the maximum weight.
If you plan to tuck in to read a bedtime story many of these beds might not be able to take the weight of another adult.
Child Age
There's no fixed age when a child should move from the cot into their own bed. It's usually in the range of 18 months up to 2+ years.
Budget
As with most things the cost of car beds varies greatly. There are ones on this list from around £100 but to get something a lot better, expect to pay in the region of £250.
Of course there are ones that cost a lot more, more than a real car!
I hope this list of the best car beds was helpful.
If you think I left out one that is important or have a suggestion for a future article, let me know in the comments below.
Dominic
Kids Beds Guides
---