For this post, I have put together a collection of the best cabin beds with slide currently available. Looking for more beds? See my guide to toddler beds in the UK.
Our Top Picks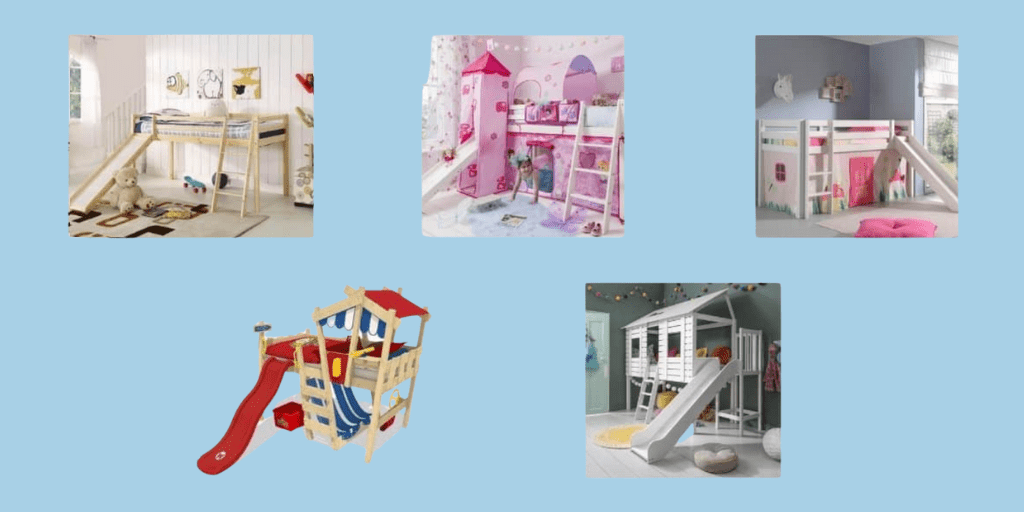 Cabin beds with slides means your child can enjoy their beds day and night.
How We Selected
I've selected a wide range of design options. Some in addition to a slide also feature tunnels and tents.
There's also plenty of storage space alongside the den space under the bunk.
Looking for a suitable toddler bedding set and mattress? See my buyer's guide to kids mattresses and toddler bedding. For another option for a fun children's bed see my best buys for a teepee bed.
So here's my list of the best cabin beds with slide available.
Argos Home Kaycie Mid Sleeper with Slide – White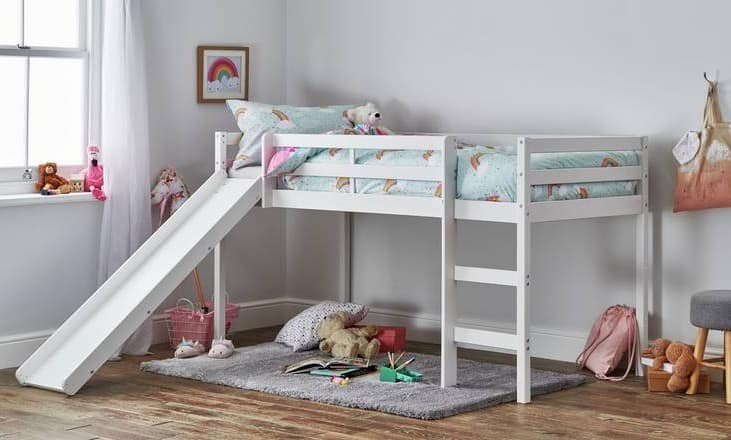 Made from solid wood this bed is strong and sturdy taking up to 100kg.
Pros: Assembly is straightforward, the slide can be positioned at either end.
Cons: Does require two people.
Consumer Score: Parents love this bed – giving it 4.8 out of 5.
A whopping 96% of buyers would recommend this bed.
Excellent value for money.
Moro Cabin Bed Midsleeper with Slide & Fairies Package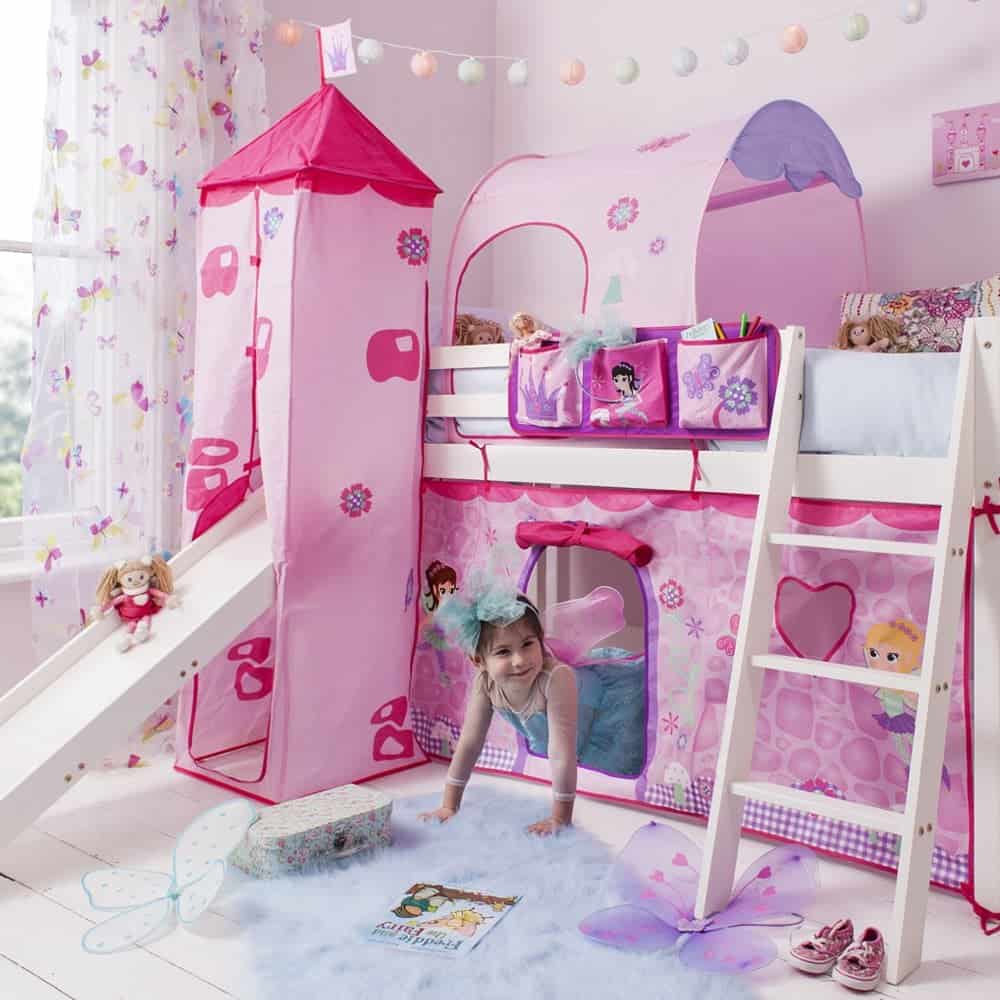 Noa and Nani have an excellent selection of Cabin beds and this model, the Moro Cabin bed with fairly style is one of their bestsellers.
Made from solid pine wood
Parents love the price, sturdiness and simplicity to assemble.
You can choose the finish to be classic white or silk grey.
The ladder is at a good angle and can also be positioned left or right.
The bright pink fairy den is sure to fire your little one's imagination.
Pros: The bottom area can be used as a play den or as a good sized storage area.
Cons: Slightly tricky to assemble.
Consumer Score: A great 4.63/5 stars average in reviews.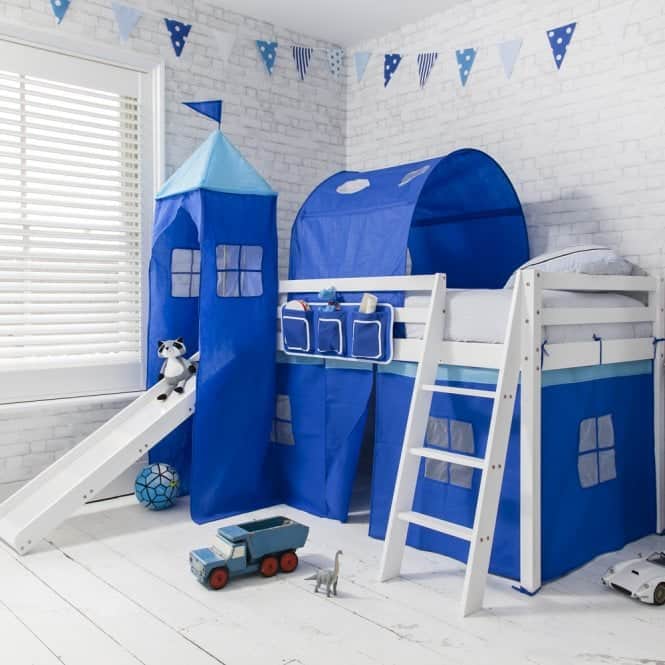 The blue version of the fairies one above sold by Noa and Nani.
Made from solid pine wood.
You can choose a finish of classic white or contemporary silk grey.
Pros: Parents love this bed – it's good value, super easy to assemble ans sturdy. Den also doubles up a storage area to keep toys tidy.
Children love everything about the bed including the bright colour, den and tent.
Consumer Score: Good reviews – 4.52/5 stars.
Moro Cabin Bed Midsleeper with Slide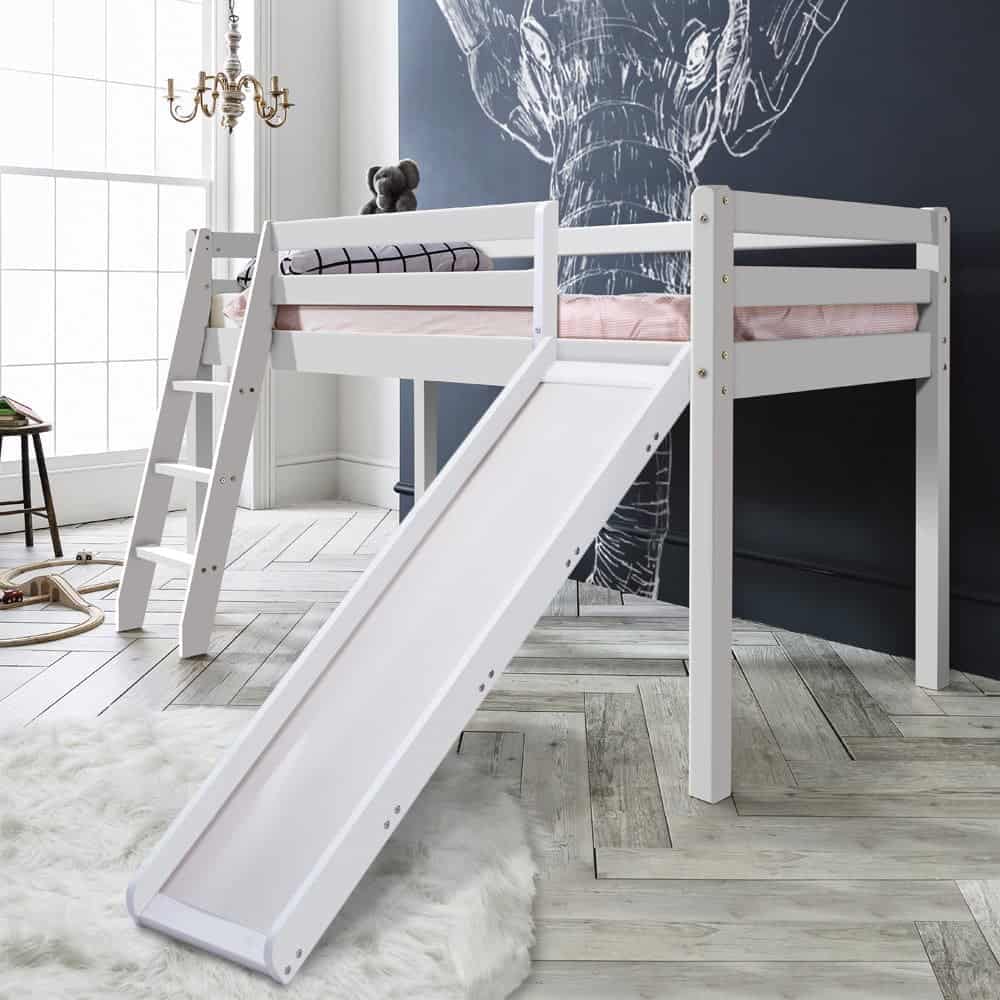 Similar to the two beds above this one does not come with a tent. You can always order this separately if you want a particular one.
This Moro Cabin Bed is made from solid pine wood.
Pros: The angled ladder can be positioned either to the left or right to suit the room layout.
There's lots of room underneath the bed for you little one to play.
This is one of Noa and Nani's bestsellers due to its reasonable price, solid sturdy build quality and ease of assembly.
Consumer Score: Excellent reviews- 4.78/5 stars.
Christopher Treehouse Midsleeper Bed with Slide in Classic White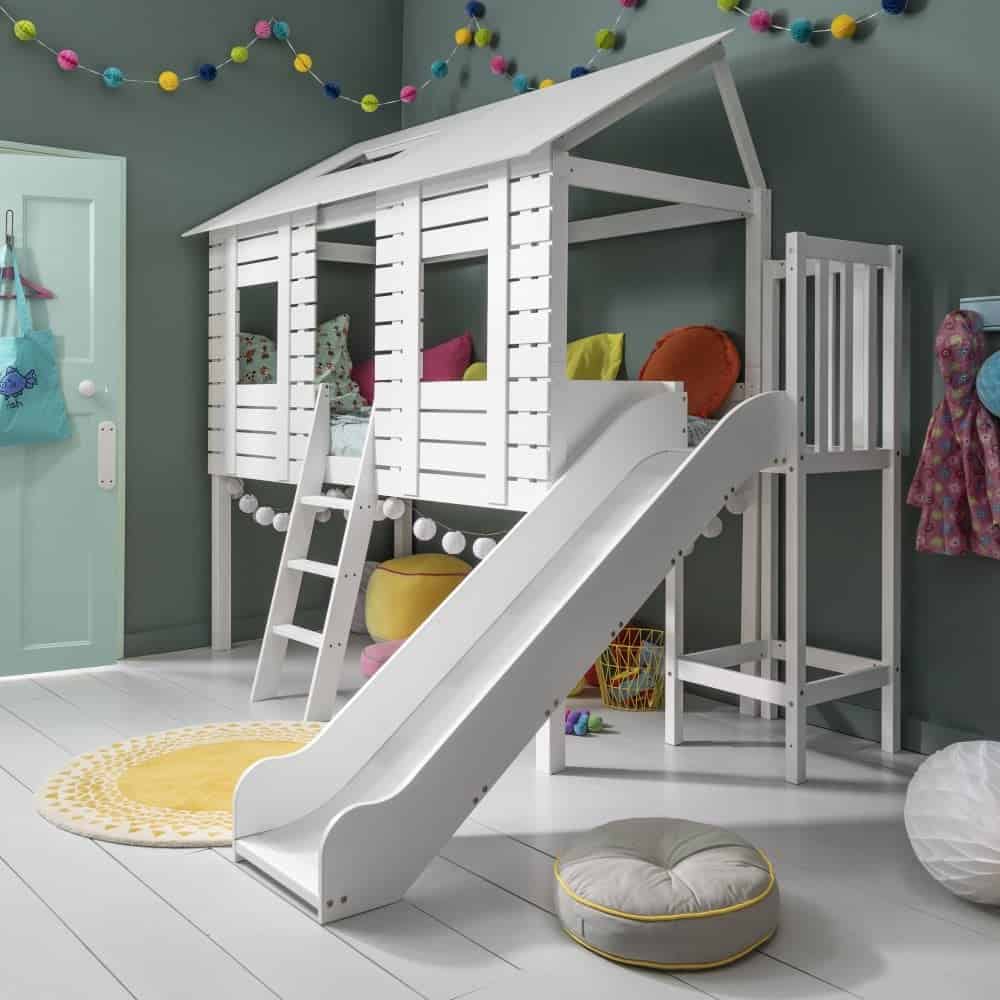 Beautiful treehouse bed from the child bedroom furniture specialist at Noa and Nani.
This bed is made from solid pine wood.
Parents found this bed easy to put together with all parts clearly numbered.
Below the bed is plenty of room for storage or den fun time.
Inside the treehouse are two cut out windows, door and skylight so there is plenty of light streaming through.
Pros: The ladder is angled can be placed left or right depending on the room setup.
Consumer Score: Very good 4.69/5 stars.
Lifetime Kids Camp Canyon Mid-Sleeper Bed with optional Slide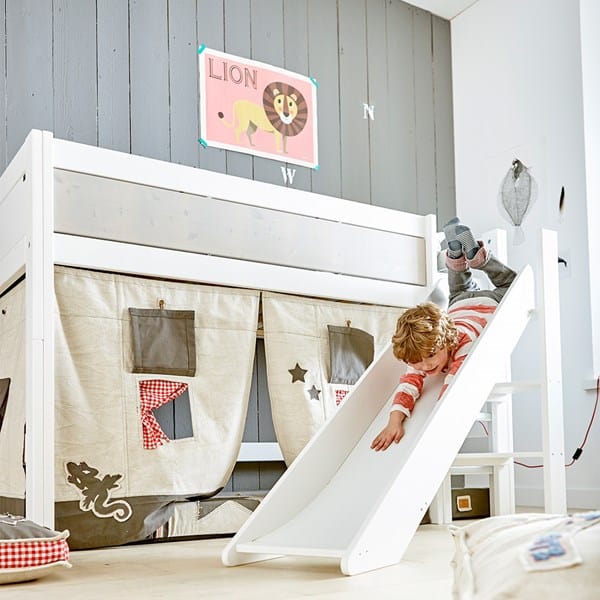 Luxury range from Cuckooland the Lifetime brand is handcrafted in Denmark.
Responsibly sourced solid pine this bed is extremely sturdy.
You can choose to have the front panel from a number of colours including greywash, chalkboard, white or whitewash.
Pros: The ladder can either be angled or straight vertical.
Optional play curtain is perfect for those secret den times.
Consumer Score: 4.7/5 star reviews.
Pino Kids Mid Sleeper with Slide & Curtain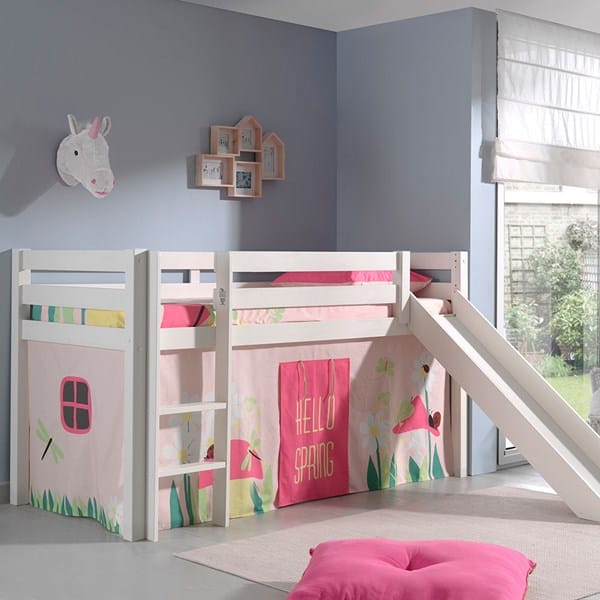 The Pino Kids Mid Sleeper from Cuckooland is constructed from MDF and solid pine.
You can choose from two colours of finish: white or natural wood.
The ladder can be positioned at either end of the bed.
There are nine designs of curtain you can choose from.
Consumer Score: Good 4.7/5 star reviews.

Thor Cabin Bed Midsleeper with Slide & Hello Kitty Package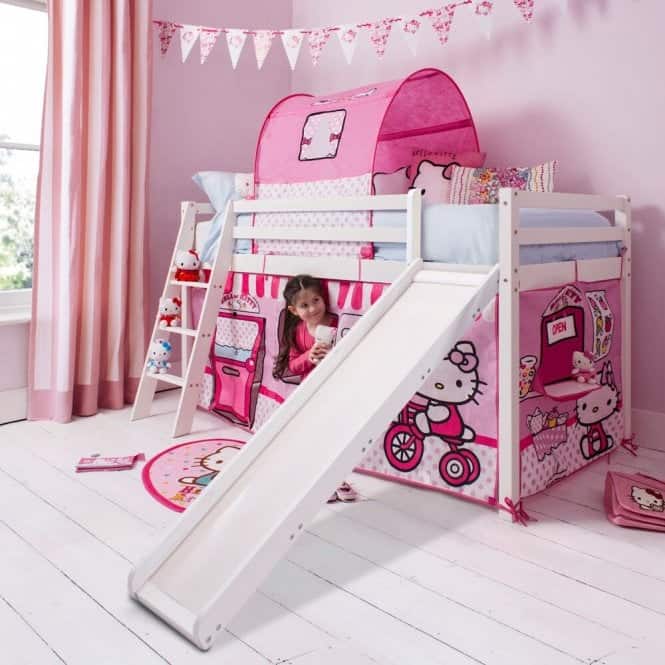 The Thor range from Noa and Nani is high quality and full of imaginative pieces.
This Hello Kitty cabin bed will be a sure fire hit.
Like all of their brands the construction quality is A gradde.
You can choose to have a finish of Classic White or Contemporary Silk Grey.
Pros: The Angled ladder can be placed either to the left or right.
Consumer Score: Fantastic 5/5 star reviews.
What To Consider When Buying A Mid Sleeper Bed
Safety
There are a number of things to consider when buying a bunk bed. As your child is going to be sleeping high off the floor, you need to make sure there is no way of them falling out.
Height of mattress, safety railings, and age of child all need to be checked and considered.
Durability
You will want a bed which is sturdy, durable and will stand the test of time.
Because of the height of a mid sleeper bed, you want to make sure it is assembled well so that it doesn't wobble.
FAQ's Bunk Beds
What age is suitable for a bunk bed?
Manufacturers recommend bunk beds for children of the age of 6 years old and over.
Cheap Mid Sleeper Beds & Today's Bestsellers
Final Thoughts
A personal choice but my favourite is the Noa & Nani Kent because it features a spacious bottom bunk to sit up and read, has excellent build quality, its minimal design makes it not too overpowering in a room and it's excellent value for money.
If you are looking for the best overall, I recommend the Moro range from Noa and Nani of which I have included three.
They are beautifully designed, with expert construction materials, good sized den areas below that double up as great storage areas. They are also very good value for money.
I hope this list of the best cabin beds with slide was helpful.
If you think I left out one that is important or have a suggestion for a future article, let me know in the comments below.
Dominic
Last Updated: May 2022
Added 'How We Selected.'
Added Pros/Cons on all products.
Added 'Things To Consider'.
Added FAQ's.
Added Final Thought.
Moved OOS.
Kids Beds Guides
---
Children's Cabin Bed Frame with Slide & Ladder (currently unavailable)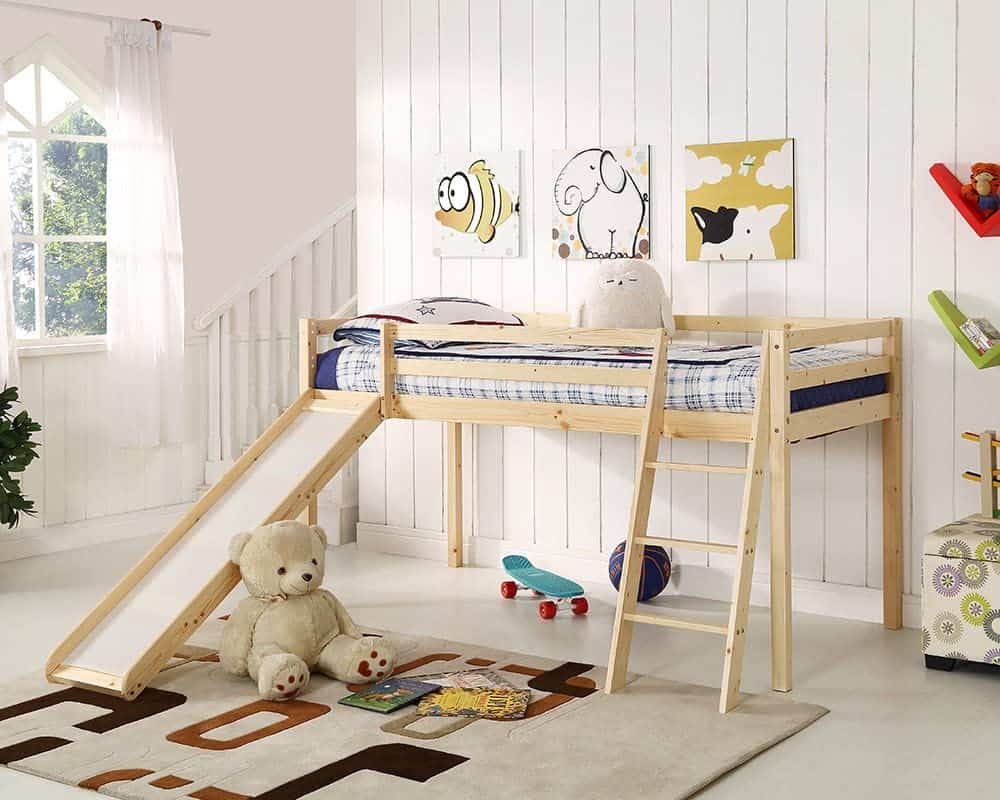 Available in white or natural wood.
Excellent budget choice with 85% of parents giving this bed 5 out of 5.
Made from solid wood with fixed slatted base.
Includes a slide and ladder which can be attached to whatever end works best for your child's room.
Parents love its sturdiness, value and simplicity to assemble.
The minimal design means you can customise its look easily.
WICKEY Children's Bed with Slide (currently unavailable)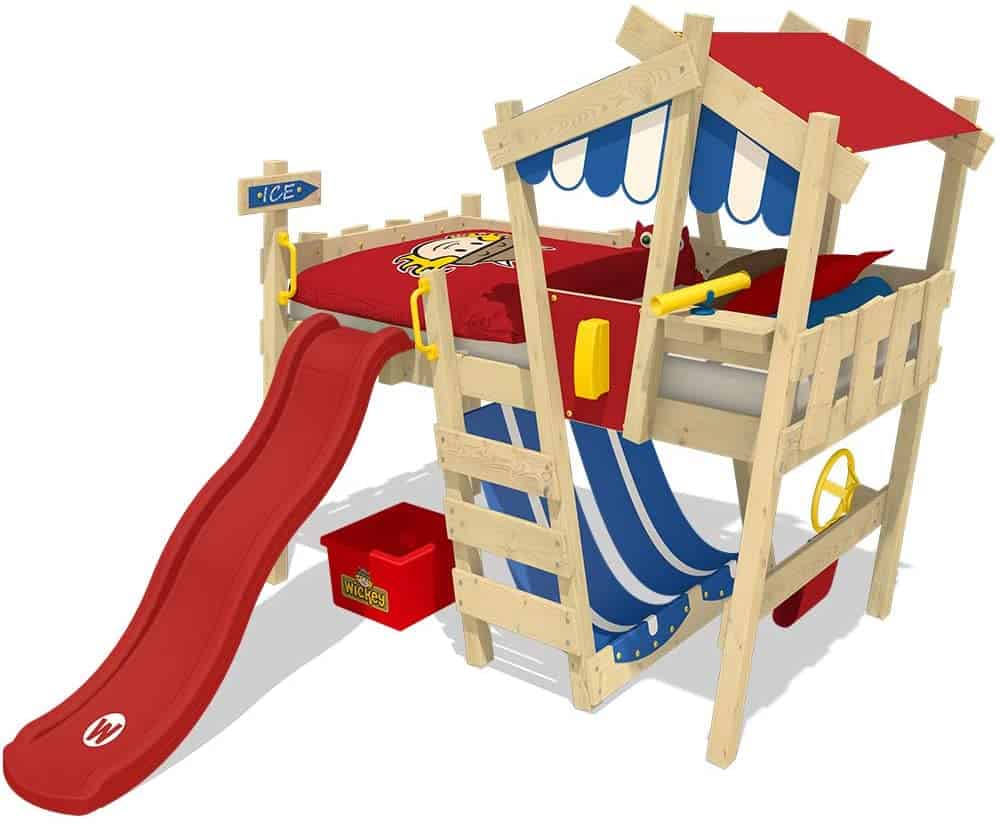 Fun loft bed with slide, racing seats and climbing ladder.
Lots to keep your child busy including roof, signpost, two handles, play telephone, steering wheel and telescope.
Over 80% of parents give this bed 4/5 or higher.
Some buyers did find this bed hard to construct – if you plan to do yourself recommend you are good at DIY.
Made from natural and untreated wood,
The fantasy tarp can be painted and is washable.
No products found.