For this post, I have put together a collection of the best bus bunk beds currently available. For all my top recommendations bed related see my complete guide on children beds.
Our Top Pick
If you are looking for a classic red bus bed, I recommend the Julian Bowen London Bunk Bed, because of its classic bright design, detailed features like the movable steering wheel and that it's very sturdy and high quality materials.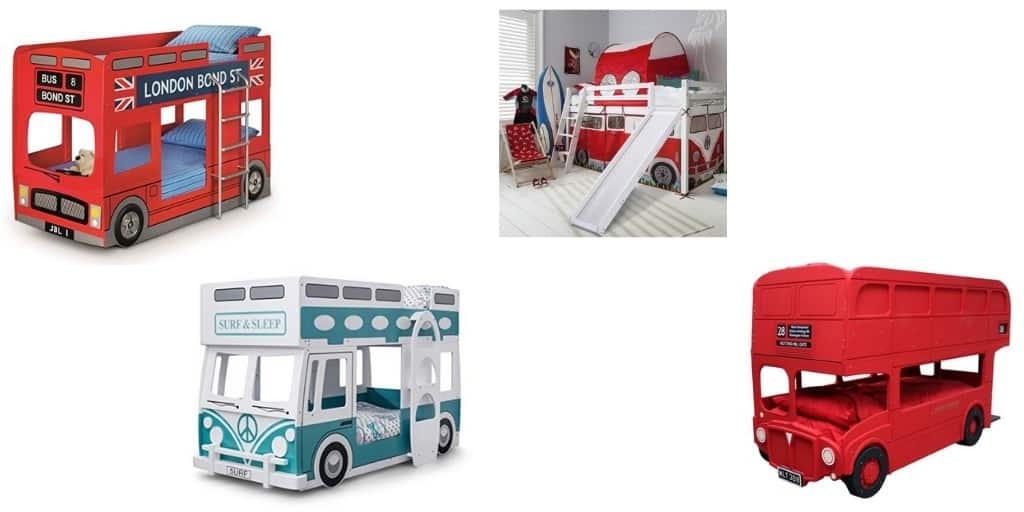 Why settle for a simple single bed when your kids could be going to sleep in one of these fantastic quirky bus beds?
Any of these bus bunk beds will delight them and are perfect for sleepovers.
Related: Looking for more recommendations for themed beds? See my top pick for a stunning princess bed or browse the best car beds for kids. I also look at the best reviewed mattresses for kids.
So here is my list of the the best bus beds. Enjoy!
Julian Bowen London Bus Kids Bunk Bed
Striking London double decker design with bright red lacquered finish
Features a movable steering wheel
Accepts two standard UK single mattresses.
Sold and secure metal ladder for access to the top bunk (bear in mind the ladder is not reversible).
Parents love the very sturdy structure (made of hardwood)
Be prepared for a long assembly time for two people.
Not loads of room for getting out / into the bottom bunk
The bold design won't suit all rooms.
You can personalise the front name plate sticker for up to 8 characters. (costs extra).
Julian Bowen Campervan Bunk Bed
Brilliant cool design with lovely detailing
Also from Julian Bowen this is a campervan theme with surf vibes.
Features a movable steering wheel.
Climb the top bunk with a surfboard style ladder (bear in mind the ladder is not reversible).
Vintage green and white design is more understated than the red bus so is likely to suit more bedroom styles.
Parents love the sturdiness and build quality. You would expect that with the cost of this bed.
The straight vertical ladder might take a short while to get used to for your little one.
Moro Cabin Bed Midsleeper with Slide & Campervan Package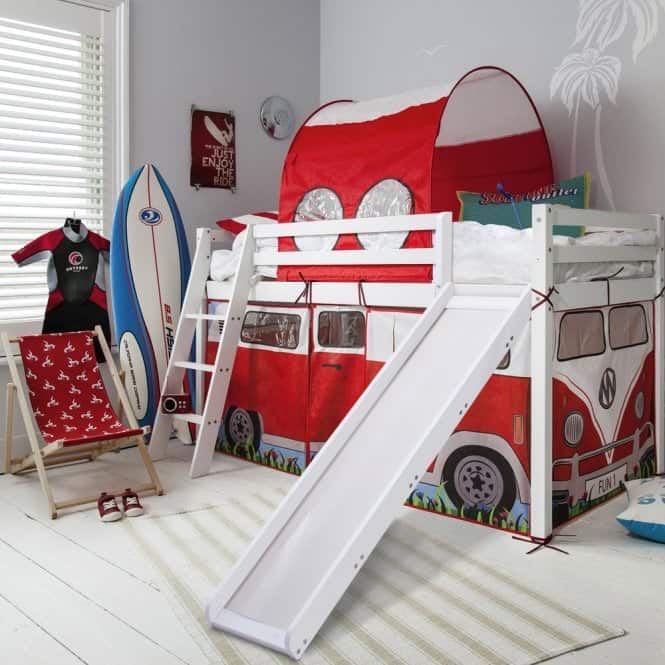 Campervan tent with tunnel and slide setup.
Extremely solidly constructed from solid pine wood.
Finished in classic white or contemporary silk grey.
The ladder is angled and can be placed to the left or right.
Not supplied with mattress.
Simple enough to put together, will take 2 hours.
Kids love the den aspect of it.
The slide is removable which helps with cleaning.
Route Master London Bus Kids Bunk Bed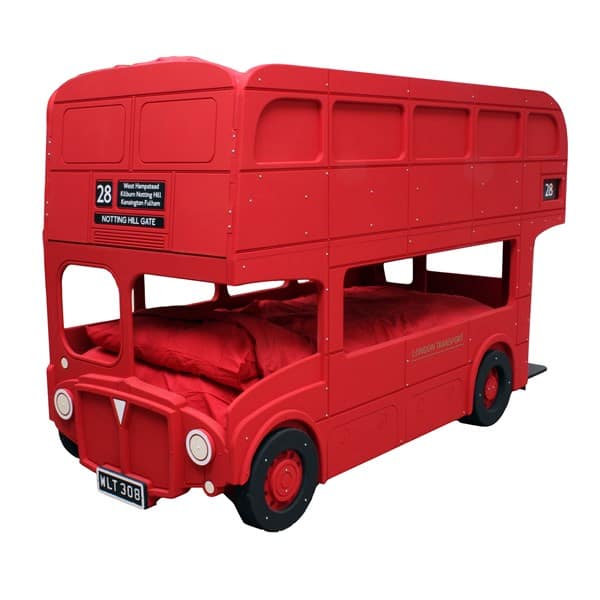 Stunning London Bus bed handmade in the UK by a family company.
Lots of details across the wheels, ladder and on the back of the bus.
You can personalise the number plate both front and back.
This is a large bed measuring 240cm (L) x 101cm (W) x 147cm (H).
Fits a standard single mattress.
Available in a huge range of colours which are available on request.
As they are made to order to expect lead time of 5-7 weeks.
It is delivered as flatpack with full build instructions. But if you're spending this much on a bed I would suggest you hire a professional to put it together.
I hope this list of the best bus beds was helpful.
If you think I left out one that is important or have a suggestion for a future article, let me know in the comments below.
Dominic
Kids Beds Guides
---