For this post, I have put together a collection of the best gaming beds currently available. Looking for more beds? See my ultimate guide to best bed for kids.
OUR TOP PICKS:
This depends if you are looking for a gaming bed to house desktop monitors or large screen tvs.
For monitors my favourite is the X Rocker Battle bunk because it is well reviewed, has room for up to 3 monitors and made from solid metal components.
If you are looking for one to house a large TV then my best overall is the Galaxy Wooden Gaming High Sleeper frame because it's strong, stable, can accommodate a TV up to 65 inches and has lots of storage space.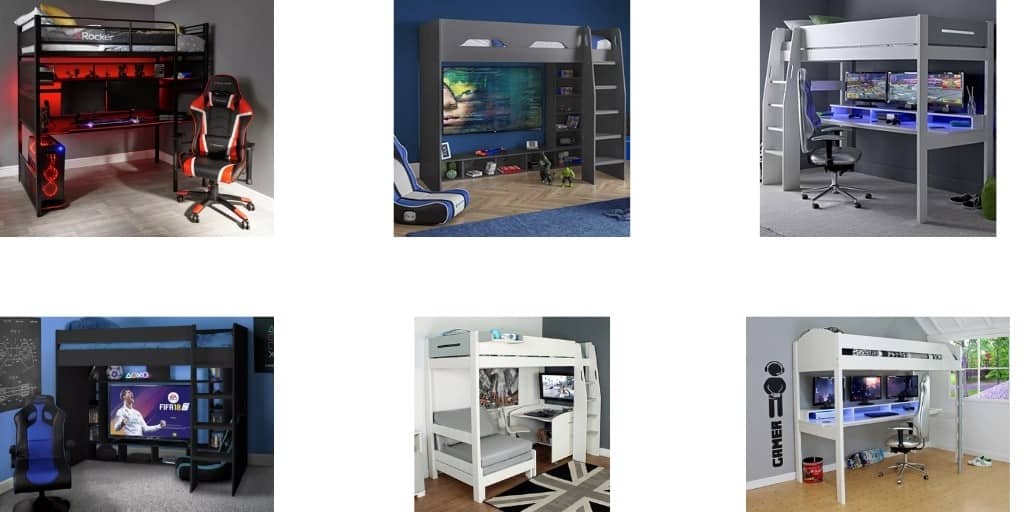 There's a growing market for gaming beds and they can be great saves of space depending on the size of your room and gaming needs.
The type of gaming bed you'd choose will depend if your child is a console only or desktop gamer or both. I have included gaming beds that are good for both.
Related: Also see my buying guide for a double bunk bed or triple bunk bed.
So here's my list of the best gaming beds available.
X Rocker Battle Bunk Gaming Bed with XL Gaming Desk – Black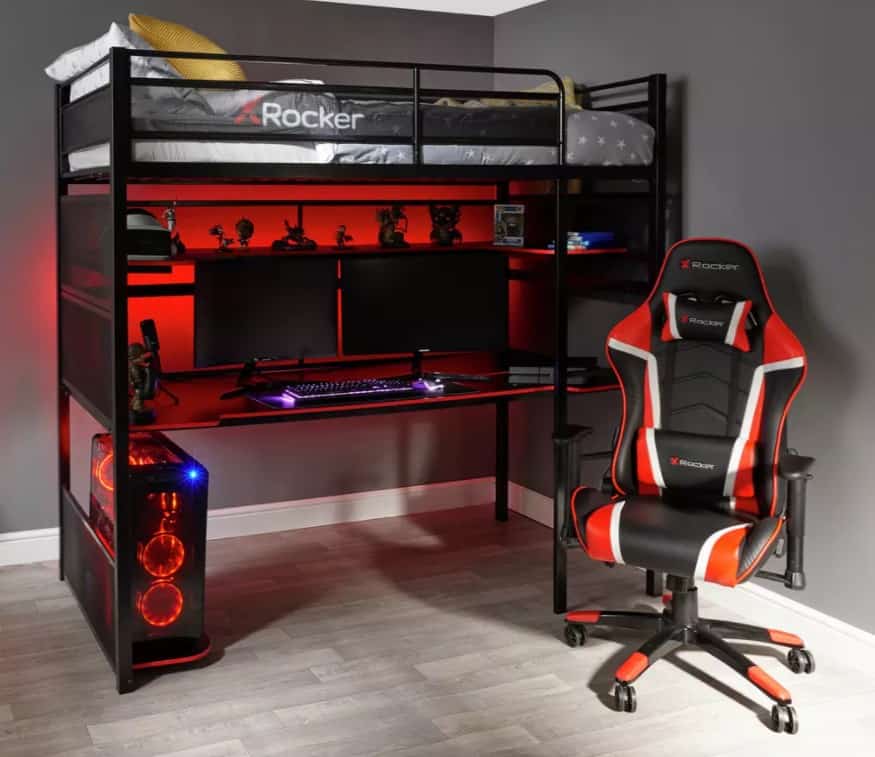 Parents rate this gaming bed very highly with 4.6 / 5 from 17 reviews. 94% of buyers would recommend this bed.
Black metal frame and slats.
The ladder is in a fixed position on the right hand side.
Built in desk and shelving for collectibles and storage.
Excellent sturdy build quality.
It has plenty of space and you're able to fit 3 x 24″ monitors. Ample room if there is a friend over for gaming fun!
Although it's straightforward enough to assemble it will take a few hours and involve two people.
Modern style. LEDs not supplied.
The XL Rocker Battle Bunk Gaming Bed can also be bought with the Alexis Mattress Package.
Argos Home Gaming High Sleeper Bed – White or Black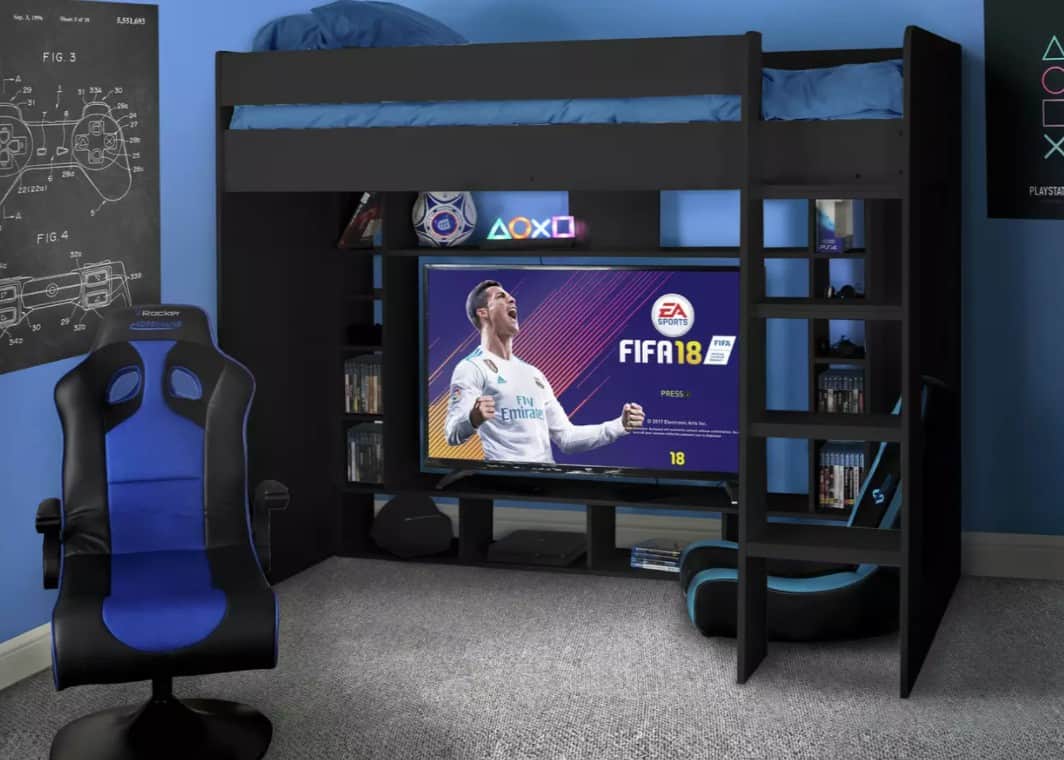 Parents love this bed giving it 4.2 out of 5 from 121 reviews. 86% of buyers recommend this product.
Most found this bed relatively straightforward to put together but does help to have a good level of DIY knowledge. Will take a few hours and require two of you.
Most parents found it good quality with a little movement which is common in high sleepers. There is also the option to secure it to the wall.
This gaming bed is designed more for consoles and a large tv, up to 55 inches.
Contains lots of space with up to two gaming rocker chairs.
Black bed with a wood effect frame.
Ladder is in a fixed position.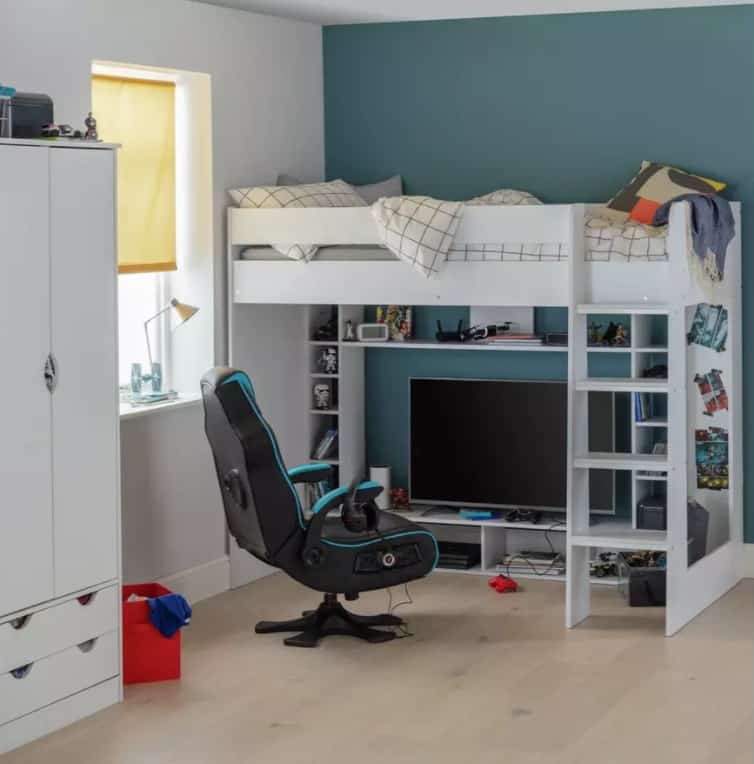 The bed is also available in white from Argos.
Galaxy Grey Wooden Gaming High Sleeper Frame
Very modern look available in sleek Grey lacquered finish or white.
Well reviewed bed with 4.1 out of 5.
Most parents found it to be strong and stable.
Requires two people for set up and will take a good few hours.
It does not include a mattress but there is the option to add one from a selection including: memory foam, orthopaedic, pocket sprung or spring mattress.
High safety security border around the bed to ensure a safe night's sleep.
Can accommodate a TV of up to 65 inches.
Lots of shelving units running vertically and horizontally.
Urban Grey Console Gaming High Sleeper 4
High sleeper which features a large design, 2m wide and can hold up to 3 monitors.
The desk features a raised shelf with open compartments below.
Lots of space for monitors, consoles and favourite games.
Finished in simple white with grey details so will go in any room.
Add a touch of atmosphere with LED strip lighting supplied.
Made from solid pine and MDF.
Good ladder with handles and wide steps.
Ladder can be positioned on either the left or right hand side.
The Urban Grey Console Gaming High Sleeper 4 can be also be purchased from Cuckooland.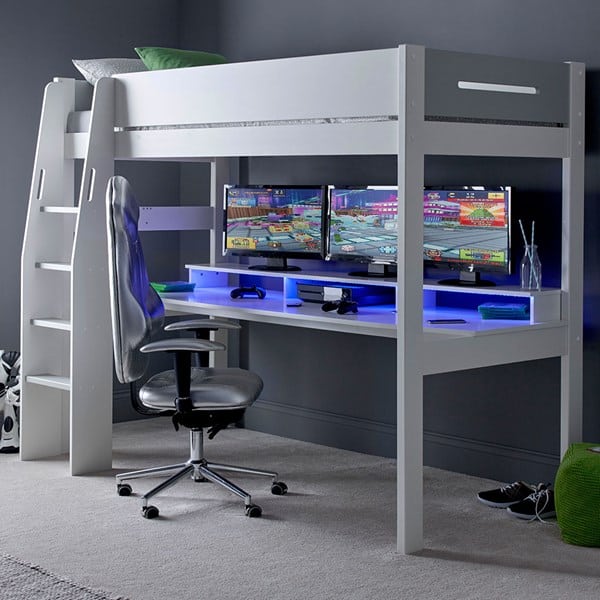 Urban Grey PC Gaming High Sleeper 5
Similar to the Urban Grey Sleeper the 4 model, this 5 model features storage units beneath for PC tower and other accessories.
Other than that it is the same dimension.
Urban Grey High Sleeper 1 Bed in White & Grey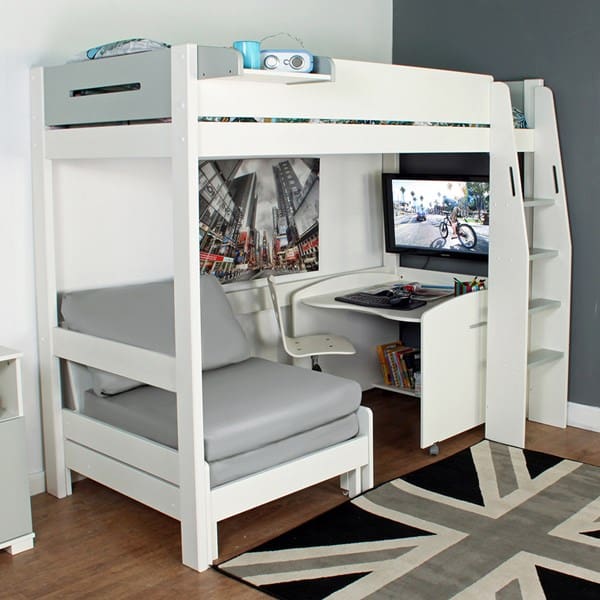 This provides less gaming space and so is very much for a single gamer rather than enough room for multiple monitors or friends to bring their own console/machine.
Urban grey high sleeper is available from Cuckooland.
Available in white & grey or white & birch.
Made from solid pine and MDF.
Includes a ladder with handles and wide steps.
Ladder can be positioned either side.
Includes a free standing sofa in a grey fabric.
Free standing desk on castors that can be moved around with ease.
Cerberus X Rocker® Gaming Bed in a Box
This is different to the ones above in that it does not include a desk itself, it's just a bed from a gaming chair/bed brand with some features aimed at gamers.
E-sports design available in blue or red.
Integrated headboard with emboss pattern.
Available in 3 UK standard sizes – single (3ft), small double (4ft) and double (4ft6).
Lots of storage space underneath to keep all the gaming hardware.
Cerberus X Rocker Side-Lift Ottoman TV Gaming Bed
Electric TV lifting mechanism which can hold a up to 32″ TV screen with 8cm depth
Controlled using the side-mounted buttons for easy operation
Ample under-bed ottoman storage space
E-sports inspired design with striking deboss pattern, high quality faux leather upholstery
Available in blue or red.
Noah Console Gaming High Sleeper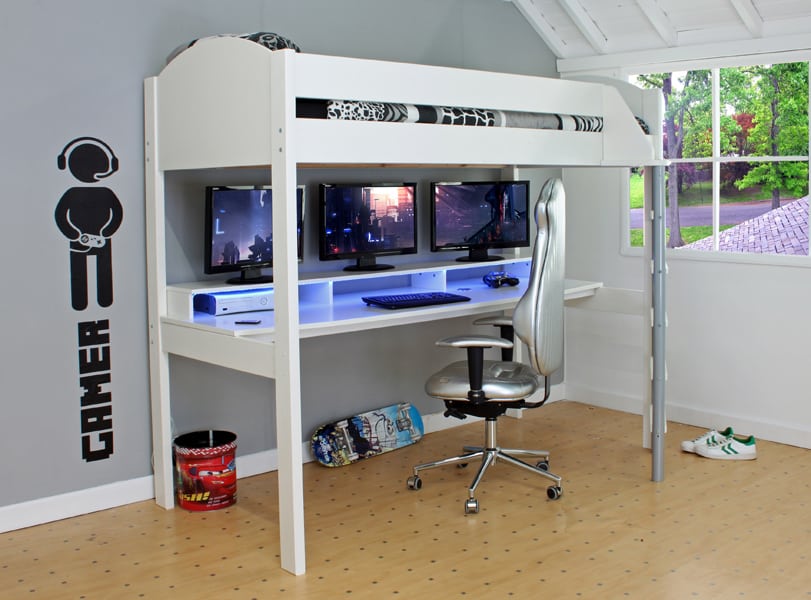 Excellent high sleeper the Kids Avenue Noah Gaming 1 Highsleeper.
Large desk with raised platform to hold 3 screens.
Ladder can be positioned to the left or right.
Choice of colour head boards and ladder steps.
Remote controlled coloured LED light strip.
Wireless charger with USB.
Bauhutte Japanese Gaming Bed
Not one we'd recommend but we had to show this crazy gaming bed from Japan with headphone hangers, cup holders and desk for your computer monitors.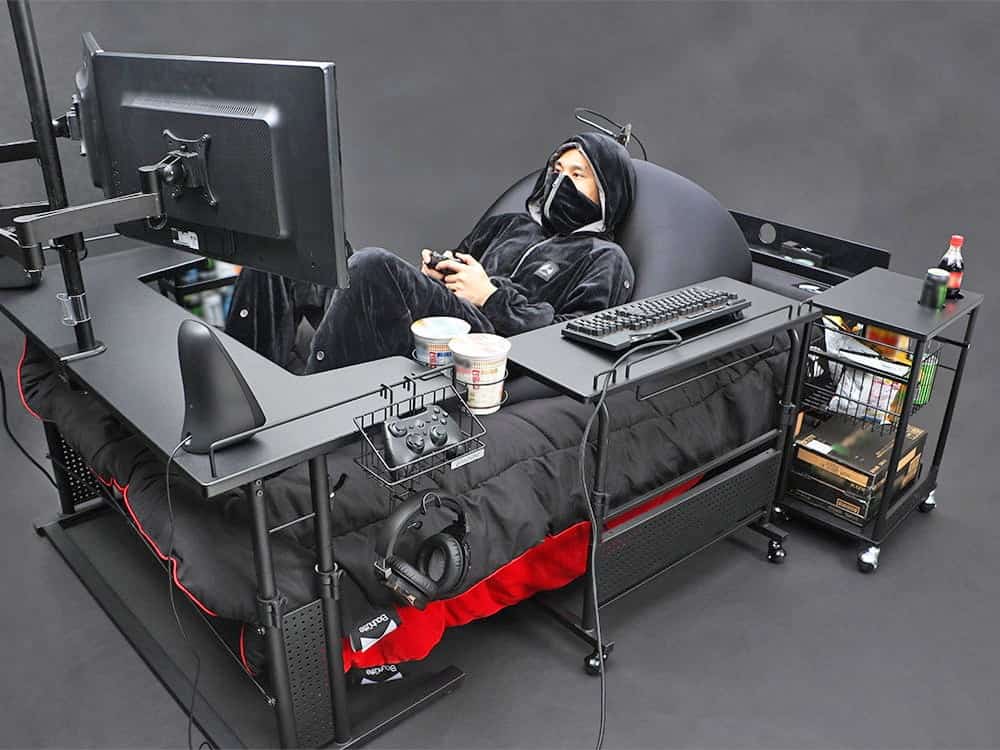 This bed is available for around £450 from the Bauhutte website.
I hope this list of the best gaming beds was helpful.
If you think I left out a good one or have a suggestion for a future article, let me know in the comments below.
Nicola
Kids Beds Guides
---